January 15, 2021
11:45 am
TSLA appears to be stuck in a sub-minute Triangle formation that could break either way.  There is open interest of 12,645 call contracts at 850.00 the largest cluster of calls with 2071 contracts at 845 and 3331 contracts at 855.  It appears that there is no interest in chasing the 850 contract by market makers.  Should there be no further movement by 3:00 pm, there may be a monster sell-off on Monday.
It's interesting that a Triangle formation usually precedes the final probe to the top.  However, we sometimes see a failure to thrive resulting in a stunted or truncated Wave.  So much for the blow-off ending!
ZeroHedge reports, "While we must say that while we were a little confused about the results of the National Highway Traffic Safety Administration's recent investigation into sudden unintended acceleration incidents with Teslas (the agency cleared Tesla and it was later revealed that the head of the investigation may be a Tesla sympathizer), it is no surprise to us that Tesla is being forced to recall 158,000 vehicles due to faulty touchscreens.
Tesla shares slipped Thursday morning after the NHTSA asked the automaker to recall about 158,000 Model S and Model X units that could potentially suffer from failing display consoles. When a display console in a Tesla fails, drivers can experience "loss of audible and visual touchscreen features, such as infotainment, navigation, and web browsing and loss of rear camera image display when in reverse gear."
11:10 am
SPX has declined to its Short-term support and Orthodox Broadening Top trendline at 3751.94.  A break at that level may bring SPX down to the mid-Cycle support at 3712.74 or the Ending Diagonal lower trendline at 3700.00, where a panic may set in.  Single stock options are falling out of the money, which may set off more dealer selling.
ZeroHedge comments, "As we showed recently, single stock open-interest has increased to all-time-high levels, which is why today's expiry is important for stocks, especially for names with large open interest in at-the-money (ATM) 15-Jan options, because as Goldman notes, market makers delta-hedging their unusually large options portfolios are likely to be very active (see the odd report on Exxon from the WSJ which has crashed the stock just as call open interest exploded, leaving countless investors suddenly out of the money). This flow is exacerbating stock price moves in an already jittery market.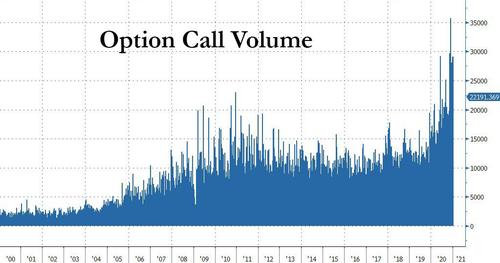 As Goldman further explains, at major expirations, options traders track situations where a large amount of open interest is set to expire. In situations where there is a significant amount of expiring open interest in at-the-money strikes (strike prices at or very near the current stock price), delta-hedging activity can impact the underlying stock's trading that day. If market makers or other options traders who delta-hedge their positions are net long ATM options, expiration-related flow could have the effect of dampening stock price movements, causing the stock price to settle near the strike with large open interest. This situation is referred to as a "pin" and can be an ideal situation for a large investor trying to enter/exit a stock position. Alternatively, if delta-hedgers are net short ATM options (have a "negative gamma" position), their hedging activity could exacerbate stock price moves, read accelerate sell offs."
7:20 am
Yesterday may have marked the peak of the liquidity Cycle.  It was only five days past a Peak-to-Peak Cycle lasting 12.9 months, from December 13, 2019.  No wonder the current Master Cycle was stretched to 297 days. The larger Cycle needed completion.  The market has been stormed by liquidity in anticipation of the $2000.00 stimulus checks.  Only $600.00 was passed.  Now it turns out that the $1400.00 catch-up may not be passed.
ZeroHedge reports, "The latest real-time data from BofA credit and debit card usage showed a marked turnaround in spending from the December slump – according to BofA economist Michelle Meyer, total card spending was up 9.7% YOY for the 7-days ending Jan 9th, owing in large part to the $900bn COVID-relief stimulus passed at year-end. This is up from -0.6% just 9 days earlier, and confirmed that the latest  government-funded spending spree has arrived."
Also in the news:  JPM Reports Record Revenue Offset by Surprise Jump In Credit Loss Provisions and Wells Slides After Another Dismal Quarter.
SPX futures slid to 3765.38 after disappointing news on the stimulus last night.  The trendline at 3790.00 may have been crossed, taking out any likely support for a surge higher.  Now we must see how much damage occurs at the open, after the larger index options expire.
ZeroHedge reports, "US equity futures and global shares slumped on Friday after Joe Biden unveiled his massive – and perhaps untenable – stimulus plan as concerns grew that the president-elect will struggle to gain support for his $1.9 trillion pandemic relief plan. Stocks dropped while bonds were mixed.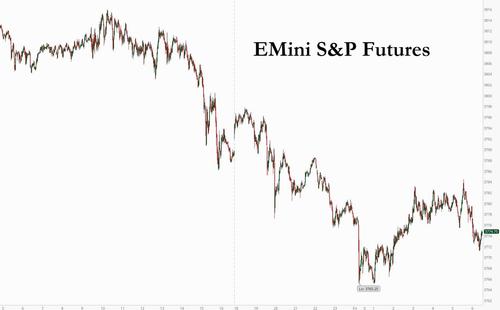 In prime-time remarks, Biden outlined a proposal that includes $415 billion aimed at the COVID-19 response, some $1 trillion in direct relief to households, and roughly $440 billion for small businesses and communities hard hit by the pandemic."
NDX futures bounced at Short-term support at 12827.72, returning back to the closing price.  The Elliott Wave structure appears complete, suggesting a muted snap-back, if any.  Trendline support lies at 12800.00, where a sell signal awaits.
VIX futures crossed above the 50-day Moving Average at 23.93 this morning, providing us with a probable aggressive buy signal.  To be on the safe side, one may wish to wait for the minor breakout at 25.15 or mid-Cycle resistance at 27.12.  Either way , the follow-through may be spectacular.
USD futures appear to have crossed above Intermediate-term resistance at 90.46, making a new high at 90.52.  As mentioned before, today begins a period of strength that may last through the end of the month.  The next resistance is the declining Wedge trendline and 50-day Moving Average at 91.28.
This breakout may culminate in a Master Cycle high at the end of February.  Normal retracements would take the rally to the mid-Cycle resistance at 94.33.  However, this retracement may be rather strong, with the Cycle Top as an alternate target.
DBA is approaching the end of its Master Cycle.  Today is day 256, so we may see a top either today or early next week.  It still has the potential of reaching its Head & Shoulder target and even higher, as the structure allows it to rise over 17.00.
To some extent, DBA is also driven by the Liquidity Cycle and may show highs and lows that correspond.  However, at some point we may see DBA break away from the rest of the markets, as supply and demand kicks in.  Global food demand is rising, while other food producing countries are having difficulties with their own production and are curtailing sales on the global market.
TNX is lower this morning, hitting a low of 10.95.  It is due for a Trading Cycle low today or early next week.  The retracement target appears to be the 50-day Moving Average at 10.25.  A reversal from that level may result in a month-long rally to a new Master Cycle high.  The goal appears to be the Head & Shoulders target at 14.46.
January 14, 2021
4:00 pm
It appears that this top is ending in a whimper instead of a bang.  It is a distinct possibility that the top was put in on Friday, but the markets had to pay off on options…or maybe not?  No supports were crossed, so we're in no-man's-land.  Either we see a huge overnight ramp or things could become chaotic by the opening bell.
ZeroHedge comments, "It may not be quite $2 trillion as CNN leaked last night, quoting "one lawmaker" in close contact with the Biden team who said it was "taking a shoot for the moon" approach with the package", but it's close.
With less than 4 hours to go until Biden's 715pm ET speech in Delaware, in which he is expected to unveil his fiscal program, the NYT reports that Biden's spending package "to combat the coronavirus pandemic and its effects on the economy, with an initial focus on large-scale expansions of the nation's vaccination program and virus testing capacity" will be $1.9 trillion.
The first package, which "will cover the pandemic, the economy, health care, education, climate change and other domestic priorities" according to Brian Deese, the incoming director of the National Economic Council who spoke at the Reuters Next conference on Wednesday, will include money to complete $2,000 direct payments to individuals, and aid to small businesses and local and state governments.
One thing that markets may not like is that contrary to previous expectations that the "stimmy" check will be $2,000, Biden will instead propose additional $1,400 stimulus checks, "topping up the $600 checks that Congress approved in December." This means roughly one-third less purchasing power to buy out of the money call on stocks trading at all time highs."
3:05 pm
XLE is in a final blow-off of Wave (C) of Primary Wave [4].  Not a good place to hop on the train.  This is a classic short squeeze that will leave investors high and dry.
ZeroHedge reports, "Earlier this week, we showed why the energy sector in general, and the largest energy company in particular – Exxon – were set for a major melt up: simply said, the gamma melt up that dominated the tech space had shifted to energy stocks.
For those who don't, on Tuesday we asked readers if they recalled the "gamma squeeze" in various tech names amid the unprecedented Robinhood/SoftBank call buying frenzy from the summer/late 2020? Well, while SoftBank's market manipulation unit may have been "incapacitated" for the time being after suffering major losses, the record call buying has continued into 2021 as retail daytraders have put their $600 (and soon $2000) "stimmy" checks to "good" use. In fact, just last week we saw that 4th and 5th highest call volume days in history!"
12:00 pm
Wave (iii) expanded so that the new target is 3844.00.  Since Wave (iii) is now larger than Wave (i), the "cap" on this last probe to the top may be higher.
7:15 am
Good Morning!
Little Maggie is improving.  She is breathing on her own and most of her physical functions are normal.  Unfortunately, she had a concussion during delivery and there is bleeding around her brain.  The doctors are keeping her in a cooling unit to keep the swelling down.  Keep praying that little Maggie makes a full recovery.  I'm sorry that I cannot share a picture of her.  She is a beautiful little girl.  I will be away for a time this morning, but plan on being back before noon.
SPX futures are maintaining above 3800.00 as the final push higher develops.  Believe it or not, markets are governed by rules.  On of them is that Wave 3 cannot be the smallest of a series of 5 waves.  In this case, sub-minute Wave (i)  is 29.99 points in length.  Wave (iii) is 29.46 points in length.  Therefore, Wave (v) cannot be more than 29.46 points.  If this observation is correct, the final wave to the top cannot exceed 3838.30.
ZeroHedge reports, "US equities futures and global markets shrugged off President Donald Trump's second impeachment and focused instead on a report on that Joe Biden will unveil a new U.S. $2 trillion stimulus program later in the day, far bigger than even the most "optimistic" expectations. Yet despite the newfound optimism, Emini futures remained in a tight 20 points range in which they have been stuck since Friday's payrolls report.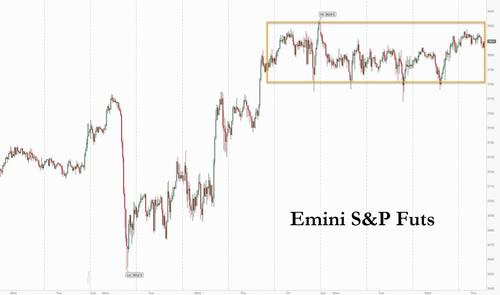 Nasdaq 100 E-minis were flat as heavyweight Tesla Inc dropped 1.3% premarket after the electric-car maker was asked to recall 158,000 Model S and Model X vehicles for touchscreen failures that could lead to safety risks. U.S.-listed shares of Taiwan Semiconductor Manufacturing Co Ltd rose 3.1% after it posted its best-ever quarterly profit and hiked revenue and capital spending estimates to record levels as it forecast "multiple years of growth opportunities".
VIX futures did not make a new low this morning, bottoming at 22.00.  It appears to be consolidating near the low, but this is a good sign of an impending change.  VIX options and futures have expired, leaving it positioned to bounce.  The 50-day Moving Average is at 24.21 with additional confirmation at the mid-Cycle resistance at 27.22.
TNX futures jumped to an overnight high of 11.17 as the news of a massive new stimulus hit the wires.  The Cycles Model suggests that a Trading Cycle low may be due this weekend, so it appears that TNX may resume its corrective decline.
ZeroHedge reports, "Last week, Goldman sparked a buying frenzy in the market (and selling in treasuries) when the bank said it expects the Biden admin would unveil a "modest" $750 billion fiscal stimulus plan, including some $300 billion in "stimmy" checks to Americans.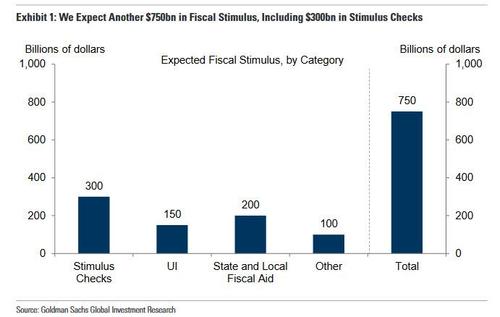 However, as bank after bank tried to upstage Goldman and threw around stimulus estimates as high as $1 trillion or even more, the market barely noticed when late this afternoon, incoming Senate majority leader, Chuck Schumer reportedly "pressed" (in Bloomberg's words) Joe Biden to propose more than $1.3 trillion in spending for his initial round of Covid-19 relief."
USD futures made a new overnight high at 90.48 after news of a gargantuan stimulus package being proposed by the Biden administration.  The declining Wedge formation suggests a very strong retracement.  Normal retracements would target the mid-Cycle resistance at 94.39.  However, the decline appears to be impulsive Primary Wave [1].
January 13, 2021
8:30 am
Good Morning!
Our family welcomed a new baby girl, Margaret into the world yesterday.  Unfortunately, little Maggie had complications at birth and is in ICU.  Your prayers for a recovery and healing would be most welcome.
SPX futures dipped to 3776.88 this morning and are bouncing.  The zone between 3776.00 and 3826.00 is the neutral gamma zone.  A breakout or breakdown from that range will provide a clue on what happens next.
ZeroHedge reports, "The dollar rebounded from Tuesday's selloff, as global markets dropped with S&P futures down 8 points, or 0.2%, to 3,786 trading in a narrow 20 point range since Friday, as investors focused on comments from the Federal Reserve and European Central Bank about the outlook for monetary stimulus. The outlook for Federal Reserve bond purchases was in focus after two Fed officials said there was no rush to start tapering given the pandemic is still raging. Boosting risk sentiment, U.S. yields dropped following a strong auction, easing concerns of an imminent inflation surge."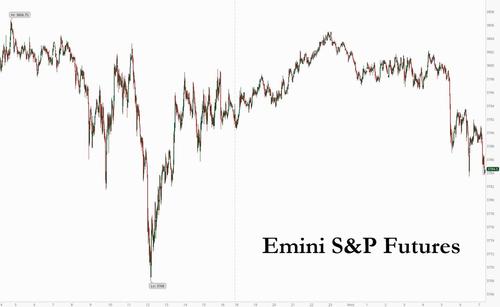 NDX futures made a low of 12821.38, within yesterday's trading range.  Should it ramp higher, it may test the Cycle Top at 13135.65.  Due to TSLA's influence (see last night's commentary), we may see an overshoot as high as 13180.00-13200.00.
NorthmanTrader observes, "Ive been saying it for a while: The extremes are becoming ever more extreme, to the upside as well as to the downside. Last year I kept highlighting multiple warning signs in markets leading into the 35% crash ( example: Never go full retard) and now I feel like I'm repeating the same exercise again. People forget tops are processes and bottoms are events and as processes take time to unfold, but when things crack they tend to move quickly.
Indeed markets seemingly keep repeating the same cycle:"
VIX futures appear to be consolidating within yesterday's trading range.  Today is options and futures expiration for the VIX.  Yesterday's spike to the 50-day Moving Average did not break out above it.  It may be due for a Trading Cycle low in the next day before moving higher.
TNX pulled back from yesterday's high at 11.87 to test the Cycle Top support at 10.12.  That test may provide an excellent long position in TNX (short UST).
ZeroHedge reports, "After yesterday's mediocre, record-large 3Y auction there was some consternation that today's issuance of benchmark 10Y notes (in the form of a 9-year 10-month reopening of cusip AC3) would be met with less than stellar demand especially following today's blowout in rates. Well, not so fast, because as we noted ahead of the auction, with a massive short overhand which pushed the 10Y to a -0.65% special rate in repo, it was likely that we would see significant short covering into today's auction…
…. despite the massive $38BN offered for sale today."
USD futures eased down to 89.94 in the overnight session after yesterday's decline from Intermediate-term resistance.  The Cycles Model suggests that this pullback won't last, as strength may come back before the weekend begins and extend for the next two weeks.
Investing reports, "The US dollar reversed back south against all the other G10 currencies on Tuesday and during the Asian session Wednesday. It lost the most ground versus NOK, GBP, AUD, SEK, and NZD in that order, while it underperformed the least against CAD and EUR.

The weakening of the US dollar, combined with the strengthening of the risk-linked Aussie and Kiwi, suggests that markets traded in a risk-on fashion yesterday and today in Asia. That said, turning our gaze to the equity world, we see that major EU indices continued their Monday slide, with UK's FTSE 100 falling the most, perhaps due to a strengthening pound after BoE Governor Andrew Bailey said that there were "lots of issues" with cutting interest rates below zero, and that such a move could hurt banks."
January 12, 2021
10:30 pm
Just to see who's looking at this blog…
I have been saying there may be one more surge to the all-time high in equities.  Here is the one stock that outweighs all the others in market cap.  I have constructed the Wave pattern and I have concluded that TSLA may go as high as 1000.000 before rolling over.  The precise target is closer to 974.00.  But what the heck, once it gets that high, what's to stop it from hitting 1000.00 for just a moment of time before it crashes?
Talk about a blow-off!  Wave 5 may be as much as six times the size of Wave 1.  What's more astounding is its target…
…the bottom of Wave 4 at 328.33.  And it may be all wrapped up by this weekend.
Happy hunting!
2:45 pm
The liquidity proxy (BKX) got an extra shot of juice in January, but still cannot break above its consistently lower highs.  This is a classic overshoot of its pattern that begs a violent reversal.  Note the Head & Shoulders target.  Big Tech wants to take away the power of the banks through a digital currency with no backing whatsoever.  They don't understand that by promoting debt forgiveness there is no currency because there is no confidence. The system is set up to crash and burn.
2:16 pm
Some entity is buying the index with both hands on every dip.  This morning's dip seems no different.  This may lead to a final probe higher.  Remember, the maximum target under the current Wave structure is 3852.18.  The market is getting very stretched…
ZeroHedge remarks, "FANG Stocks have plunged to two-month lows…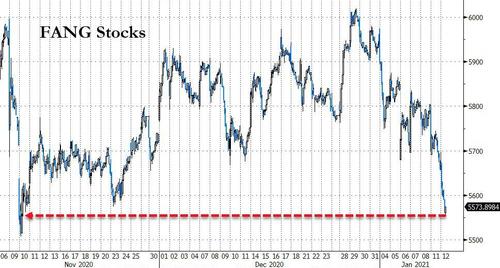 And ahead of this week's option-expirations, the S&P seems pinned around its critical Gamma level of 3800…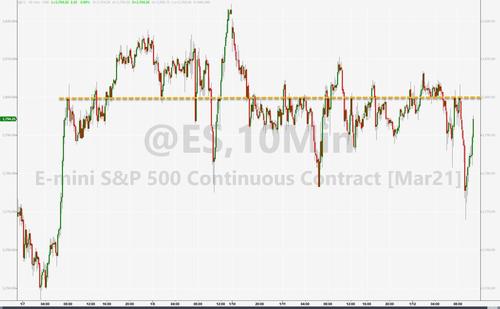 And as SpotGamma notes, realized volatility is further coiled ahead of the large expiration. This volatility could manifest in either SPX price direction as we "unpin" the 3800 level. The VIX (24) remains well above post Covid lows (20) indicating the market is pricing in higher forward volatility as well."
7:55 am
Good Morning!
SPX futures continue to consolidate in the "neutral gamma" zone between 3775.00 and 3850.00.  Should this Wave structure be correct, the maximum the SPX may rise is 3852.18.  The structure appears complete, or nearly so.  In addition, Cyclical strength appears to be waning.  The throw-over that began on January 4 completed Wave [c] of 5 in 4 days.  Most do not recognize the Wave structure of a Super Cycle Wave (b), which is the culmination of 5 degrees of trend at 18.25 years (since October 10, 2002).
Why not measure from March 9, 2008?  Because Super Cycle Wave (b) was structured as an irregular a-b-c with Cycle Wave b ending on March 9.  Barack Obama was fortunate enough to take office at the market trough after George Bush Jr.'s forgettable presidency.
The market makes the President.  That is why Ronald Reagan is so revered.  Obama also ranked high in the polls because he presided over the recovery.  Donald Trump will remain even more popular because the market made all-time highs all the way through his 4 years.  The cancel culture will try to erase all credit to Trump.  Already they are rewriting history to say the past 4 years were the worst in history.  That is why they want to impeach him with only a week left before he leaves.
ZeroHedge reports, "Global stocks and US equity futures rebounded from the recent selloff as investors paused to assess how much worse the COVID-19 pandemic could get while waiting for a new earnings season on Wall Street to inject fresh direction, even as 10Y yield jumped to new post-covid highs.
S&P futures were 0.3% higher, while Europe's Stoxx 600 Index traded little changed. Oil jumped to a 10 month high as the dollar resumed its decline and benchmark Treasury yields spiked to a level where CTAs are now shorting. After Bitcoin tumbled more than 20% on Monday, with many fly by night "experts" predicting the bursting of its bubble, the largest cryptocurrency quickly bounced back above $36,000. Tesla and Twitter are among the best performers in premarket trading.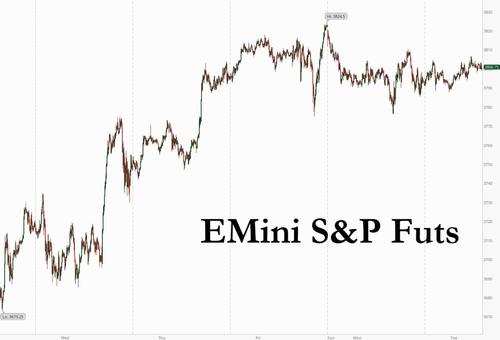 NDX futures have formed a weak consolidation, only rising to 12958.75 before easing back down in the morning futures.  However, there is a possibility of a final surge to the top of its tracing channel at 13134.81.  Tomorrow may present the final probe to complete the Wave structure.
ZeroHedge observes, "Over the last month, we made it quite clear to readers that there was no other way to characterize today's market behavior as one of the most euphoric periods in history.
One of the most stunning charts outlining today's insanity is the Citi Panic/Euphoria model that just hit a record high of 1.83. "
VIX futures were beaten down to 22.83 this morning, but keep springing back.  The final push down may be tomorrow at VIX options and futures expiration.
TNX continues its march higher.  The current Master Cycle runs out at the end of January.  And it appears that it may exceed the March high by then.
ZeroHedge remarks, "Something's changed…
US Treasury yields are now up for 7 straight days – every day in 2021…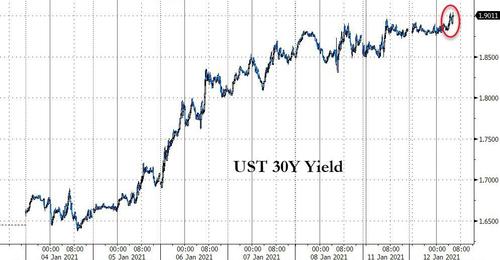 Gold is now fading…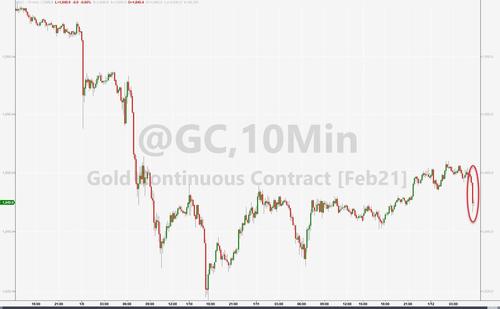 Crypto is rolling over…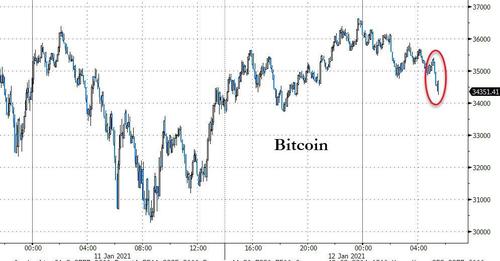 And Stocks have given up overnight gains…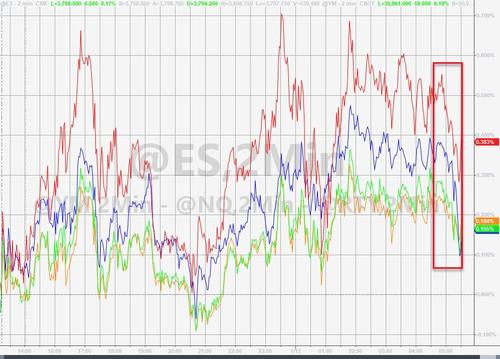 USD futures are consolidating beneath Intermediate-term resistance at 90.65.  This appears to be only a minor pause, as the Cycles Model shows growing strength over the next four weeks.
January 11, 2021
1:45 pm
SPX remains in throw-over mode, although not making new highs.  Speculators appear to still be eager to buy the dip, but running out of momentum.  Supports have not yet been broken.
ZeroHedge reports, "The world appears to be stock in what Nomura's Charlie McElligott calls "Robinhood / YOLO / 'weaponized gamma'" nonsense as the equity buy-to-open premium is soaring in individual stocks (and indices)…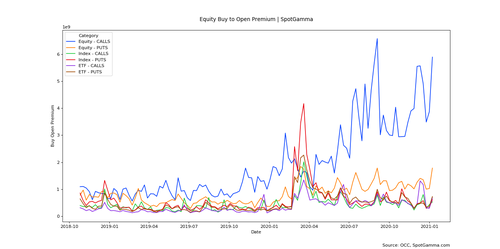 Specifically, the Nomura MD notes that it is Op-Ex week, and the options positioning is absolutely going to matter, particularly off the back of this recent market heater and potential speculative sentiment overshoot."
8:50 am
Good Morning!
SPX futures are down, challenging the upper trendline at 3780.00, with a low of 3783.38 thus far.  Beneath the trendline lies an aggressive sell signal with yet another confirmation beneath the 9-year trendline and Short-term support at 3723.78.  The swamp wins, but it may be a hollow victory.
ZeroHedge reports, "US equity futures and world stocks dropped from Friday's record highs on Monday as a mood of caution swept across trading desks as faltering economic indicators tripped a solid run on hopes of more fiscal stimulus. Anxiety ahead of Trump's second impeachment process was also palpable coupled with concerns over rising coronavirus cases, while elevated Treasury yields helped the dollar hit its highest levels in over two and a half weeks, in a reversal of the most consensus trade of 2021 which as we predicted would happen last week.
S&P 500 E-minis were down 22.5 points, or 0.60% after rising 1.8% last week; Dow E-minis were down 223 points, or 0.7% and Nasdaq 100 E-minis were down 81.25 points, or 0.7%."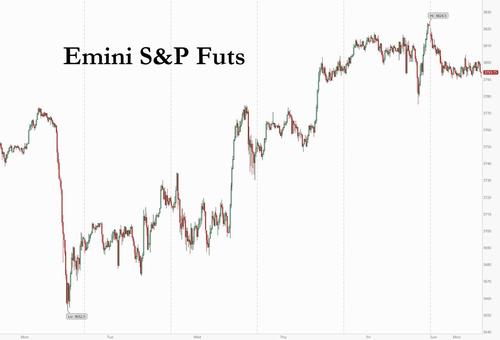 VIX futures made a morning high of 24.35 as it approached the 50-day Moving Average at 24.91.  The VIX buy signal lies above that level.  The Cycles Model suggests growing strength over the next two weeks.  How it reveals itself during options week is to be determined.  However, the heaviest SPX call options expired in December.  This month is lighter than usual for options expiration.  Promotion of the short volatility trade is off the charts.
TNX continues to rise, but hasn't broken above Thursday's high at 11.26.  Now that TNX has burst above its neckline, it may return to test it as a potential support.  There may be a potential Trading Cycle low due by the end of the week.
ZeroHedge observes, "Now that the deflation narrative which marked most of 2020 is dead and buried, and instead traders are focusing not only on breaking out 10Y nominal yields…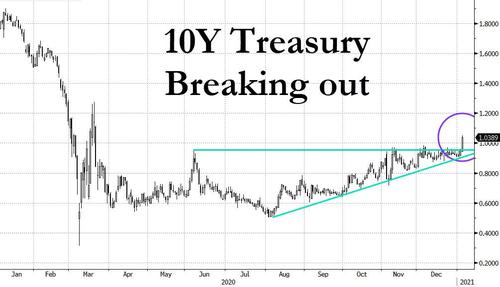 … as well as the highest 5Y5Y fwd swaps and breakevens in years…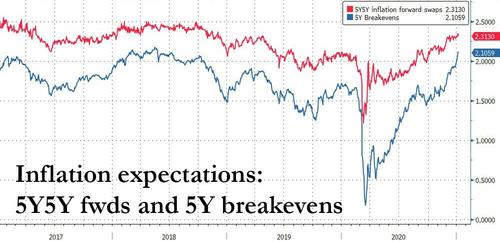 … prompting Morgan Stanley to list five reasons why even higher inflation is coming in the next few months, attention has turned to the only key variable that matters: what yield on the 10Y Treasury will be the catalyst that send stocks plunging?
USD futures are making new highs reaching 90.52 over the weekend.  This week shows an unusually high surge of strength in the Cycles Model.  Rising rates may be the primary driver for a stronger USD.
Gold futures reached a new low at 1817.35 before bouncing.  It is likely to test mid-Cycle resistance at 1852.32 before resuming its decline.  There may be a Master Cycle low near the end of January.
FXEmpire reports, "The gold futures contract lost 4.09% on Friday, as it quickly retraced most of the December's advance. In late November the market has reached new local low below $1,800 price level. Since then it has been retracing the decline. Last week, the yellow metal got closer to its early November local high but then it has retraced the whole advance, as we can see on the daily chart."
January 8, 2021
1:22 pm
SPX gave up its morning gains for the second time today as CTAs begin paring their longs in bonds.  The first chart sell signal is at the Cycle Top at 3795.00 while the trading channel trendline lies at 3780.00.  This is a verrry stretched Cycle at 291 days, so when it snaps back, it may do so quickly and forcefully.
ZeroHedge observes, "The spike in Treasury yields this morning has triggered weakness in stocks once again this morning…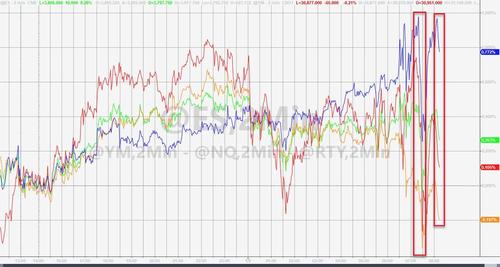 This is the second time this morning that stocks have broken down on a break of that technical level…"
10:24 am
This may be the last hurrah for the Liquidity Cycle.  Earlier this morning I had featured an article entitled, "The Fed Is Juicing Stocks".   Evidence of this is that today is day 290 in the Liquidity Cycle!  The Cycles call for a hard break down into mid-February.
A classic argument for higher stock prices is "Cash on the sidelines."  The Fed is the penultimate provider of excess cash.  However, it may have had its position taken down a notch.
ZeroHedge reports, "At the end of 2020, Steven Mnuchin created a mini media tempest (in a teapot) when he demanded that the Fed return tens of billions in unused funds backstopping the central bank's various emergency, 13(3) programs. While the news spark a mini furore in financial circles and in Congress where reps and Senators scrambled to understand just what had happened and grilled Mnuchin over the request, with far too much drama to list since then everyone promptly forgot about this until today when the Fed announced on its website that it has returned $42 billion to the U.S. Treasury, and will soon transfer another $20 billion in excess funds connected to emergency lending facilities that stopped offering new loans last month."
NorthmanTrader observes, "The Federal Reserve and other central banks represent a clear and present danger to future financial stability.
I've been saying for a while central banks are fueling an asset bubble and as global market distortions keep expanding week after week there's no reason to back to walk away from that assertion but rather to stand up and scream the message from the rooftops especially now that central bankers are casually letting some key truths slip (intended or not).
10:15 am
DBA may have complete Primary Wave [1] on Monday, day 252 of its Master Cycle.  The pattern fits all the rules of a completed wave and the Cycles all seem to be lining up in unison.  Generally, we do not often see a retracement beneath a Head & Shoulders neckline.  However, a Primary Wave [2] may be more powerful than usual as liquidity is drained from the system.  (See the next entry.)
ArmstrongEconomics has a startling revelation, "While this is 7 months old, the trend is set in motion. The agenda is to reduce our consumption of meat because they believe that cows are the #2 cause of CO2. The EU regulations have led to the wholesale slaughter of even sheep. The EU was moving to reduce cattle because they are creating global warming by passing gas. These people are truly authoritarian.
To this day, many things are not available because of the response to COVID. These people are either the dumbest in history for they cannot see what they are doing, or they are diabolical and know exactly what they are doing – reducing the world population of humans and animals."
8:00am
Good Morning!
SPX futures peaked at 3817.62 at 7:00 am, then started dropping.  This corresponds with the Cycles Model showing strength up until today.  There may be other attempts at the high today, but some resolution may emerge by the end of the day.
ZeroHedge observes, "Following GMO's co-founder Jeremy Grantham's renewed warning about extreme overvaluations, RIA Advisors Chief Investment Strategist Lance Roberts chimed in on the conversation Thursday morning.
In "Three Minutes on Markets & Money," Roberts agrees with Grantham, saying, "the stock market is in a bubble."
ZeroHedge reports, "While there is broad consensus that today's payrolls report will be ugly, with economists expecting a sharp slowdown in December job growth in the U.S. due to the second wave of covid lockdowns and a quarter of those surveyed (including Goldman) predicting a negative print when the data is published at 8:30 a.m. ET, that did not dent the euphoric sentiment unleashed with the Democrats' blue wave victory in Georgia, and as traders walked into their basement offices on Friday the Emini was trading up 13 pts ot 0.3%, to 3,808 having hit a record high of 3,817.75 earlier. The dollar erased gains and 10-year Treasury yields were flat.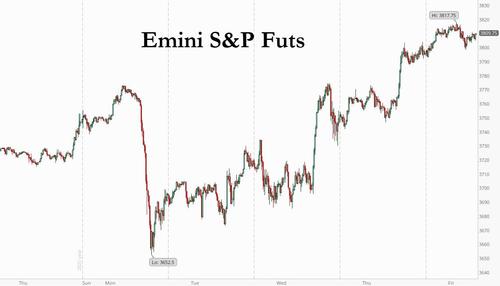 The NYSE's highest print since January 2020 tells us something is going on under the hood.  This does not correspond with the SPX Cycles nor does it match the VIX Cycles.  The high print at 595 shows that someone or thing is buying stocks across the board and doing so indiscriminately, juicing small caps as well as large cap stocks..  This is not the FOMO trade that we saw a year ago, because it lacks the consistency of the crowd chasing stocks.  Instead, it appears that the buying kicks in big time at the slightest hint of a reversal.  This surge follows Tuesday's open when the  NYSE Hi-Lo fell to 0.00.  Today is day 255 in the current Master Cycle in the Hi-Lo.
Michael Lebowitz at RealInvestmentAdvice explains, "We came across the following bullet points from a Seeking Alpha article titled- The Fed is not Juicing the Stock Market.
It makes for a great headline, but the Fed is not the cause of this rally.
Every dollar the Fed has pumped into the economy is spoken for, and it is not in equities.
The truth is a lot more boring and scary than the conspiracy theory.
After explaining how the Fed is not culpable for rising stock prices, the author ends the article with the following challenge: "So please, I invite anyone to explain to me, like I was a 5-year-old, what exactly is the mechanism that explains "the Fed is juicing the market," when we know exactly where all the Fed's money is, and we know that it isn't in the market."
We are always up for a challenge."
VIX futures declined to a low of 21.73 this morning, before bouncing back to unchanged.  VIX  is "building a base" from its last Master Cycle low in November with an anticipated high at the end of February.  If this is a Cycle Wave III we may see the VIX go as high as 150.00.  You may say that's impossible, since the VIX is a derivative based on a percentage (up to 100%).  However, we have seen crowded trades on bankrupt stocks rally 100% or more when a mania strikes.  Right now it is very uncrowded.
TNX is marching higher.  It could turn ugly for bond yields.
ZeroHedge reports, "Yesterday's unexpected "blue wave" reality washed over US markets, catalyzing a rise in 10Y Treasury yields past the CTAs' near-term liquidation point of 1.02% (see "CTAs Will Puke Once 10Y Yield Hits 1.02%, Sparking Liquidation Cascade") with yields rising as far at 1.050% at one point…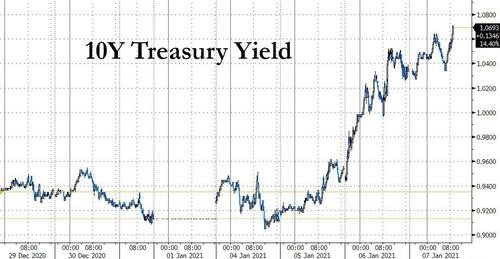 … a level that has been surpassed this morning with the 10Y yield rising as high as 1.07%."
USD futures reached a high of 90.13 as it reverses away from its Master Cycle low on Wednesday.  Thus far the move hasn't elicited any  reaction from traders, but this is a very crowded trade.
ZeroHedge observes, "Suddenly the single most "consensus", not to mention crowded trade of 2021 (as profiled earlier this week), looks like it is on the verge of blowing up.
We touched on this earlier, laying out how a dollar correction higher – which while welcome with both arms by China – is perhaps the one single development that could spoil the market party. Also touching on the possibility for a dollar short squeeze, is SocGen FX strategist Kit Juckes, whose Thursday note was aptly titled "Short-Squeeze for the Dollar", in which he writes that "Valuations and relative rates suggest dollar weakness has some way to go this year, but there are plenty of reasons to be long here."
It should be no surprise that gold futures sold off to a low of 1875.10 this morning after Wednesday's master Cycle high.  It may have bounced from the 50-day Moving Average at 1873.13.  The series of supports between the mid-Cycle support at 1851.76 and the 50-day may provide temporary stability at this juncture, but rising rates and a rising dollar will make it difficult to hold the line.
FXEmpire reports, "The gold futures contract gained 0.26% on Thursday, as it fluctuated following its Wednesday's decline of 2.3%. In late November the market has reached a new local low below $1,800 price level. Since then it has been retracing the whole decline. The yellow metal got closer to its early November local high of $1,966.10 this week but then it has retraced the advance, as we can see on the daily chart"
January 7, 2021
10:20 am
Good Morning!
This morning I have been the designated sitter for a 2-year old girl waiting for her baby sister to arrive.  The joys of grandparenthood!
Yesterday's turn was too good to be true.  However, the analysis still stands.  Important Fibonacci relationships have been/are being met and I look at the markets as a ticking time bomb.  I mentioned that yesterday was approximately a week away from an important time relationship.  The Cycles Model suggests a period of strength ends this weekend.  We are counting down…
A quick calculation on the SPX suggests that it may not be able to go beyond 3850.00.  Of course, there are no guarantees, but throw-overs usually don't last beyond a week.
In anticipation of the onset of Super Cycle Wave (c) of Grand Super Cycle Wave [IV], I would like to make some comments on what may come from a Cyclical point of view.  The last time the markets experienced a Super Cycle Wave (c) was from April 22, 1930 to July 5, 1932, 2.15 years.  That was Super Cycle Wave (c) of Grand Super Cycle Wave [II].
I believe this Super Cycle Wave (c) may take the same amount of time.  Based on a market high on Friday, January 8, we may estimate the decline to last until March 4, 2023.  In terms of price, we only have the DJIA to compare.  This Wave (c) of Grand Super Cycle [IV] has only one limitation, not to go beneath the top of Grand Super Cycle Wave [I].  That is 381.17 on September 3, 1929.  That means, theoretically, the DJIA may decline below 1000.00 in the next two years.  A year ago, I could not imagine what would cause such a crash.  Today I can see what will cause confidence to plummet and cash to go underground. It's called the Great Reset.
January 6, 2021
3:48 pm
SPX appears to have made the turn.  The Cycle Top resistance and trading channel trendline  at 3774.29 may have triggered an aggressive sell signal.  The next confirmation  is the Broadening Top trendline near 3725.00.  Sorry for the late call , but it may not cross until tomorrow.  Good luck and good trading!
1:22 pm
So, what's going on with this market?  SPX has hit 3782.65 on day 289, a full month beyond its normal Master Cycle.  What gives?  Cycles are about time and price, so there must be an explanation.  I have studied the Cycles at various degrees and have come up with a possible explanation.  The Cycles and Fibonacci are closely intertwined, so here goes.
A look at the weekly charts show the Orthodox Broadening Top in detail, so I will start there.  Wave (A) was exactly 2.15 years long (sound familiar?).  Wave (C) is .8 years in length, a week shy of a 38.2% relationship.
Wave (A) travelled 1046.94 points.  A Fibonacci 1.5 times Wave (A) yields 3762.27, which was achieved today.  But there's more.  Wave (B) at 1201.66 points times 1.33 gives a target of 3787.33.  While the predominant relationship is Wave (A) to Wave (C), the Broadening Top may bring the second relationship into play, as well.
So, are we in the reversal zone?  Your guess may be as good as mine.  However, the Wave and Fib relationships make a compelling case for an imminent turn.
8:40 am
Good Morning!
NDX futures swooned, reaching a low of 12493.62 as the Georgia election results came in.  I am highlighting the NDX since it appears to have taken a leadership role in the decline.
SPX futures declined to 3685.88, the bottom of the gamma neutral zone, where they found support and bounced back above 3700.00.  Traders know about this "shift" in sentiment once that support is violated, so there may have been a very large player buying at that level.
ZeroHedge reports, "Bond yields, bitcoin and small cap stocks surged while tech stocks and the dollar tumbled on Wednesday on the prospect of more stimulus and tougher tech regulation if Democrats take control of the U.S. Senate following a run-off election in Georgia. Stocks in Europe rose and those in Asia were mixed as traders digested what's next for global politics. Despite all the turmoil, S&P futures were surprisingly flat, trading down just -0.2% at last check.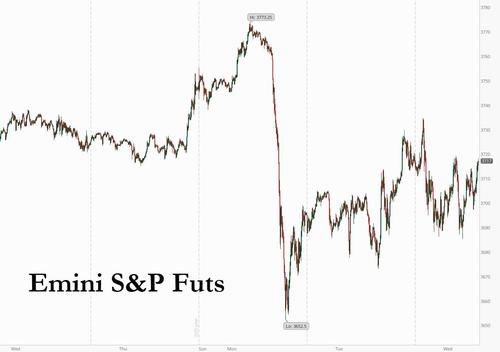 The real action however was below the surface with Nasdaq futures sinking 1.5% with Apple, Microsoft, Intel and Cisco all falling up to 2% or more in U.S. pre-market trading as investors priced in the prospect of a Democrat-controlled Senate that could lead to tighter regulations on technology mega-caps…"
Meanwhile, VIX futures declined beneath the 50-day Moving Average at 25.20.  VIX appears to be climbing back to the 50-day.  Should it open above that level, the rally may resume.  Today appears to be a day of strength in the Cycles Model.  Should strength reassert itself, it may build on itself through the end of the month.
TNX futures reached an overnight high at 10.36, but subsided at the open.  Nevertheless, TNX opened above the Head & Shoulders neckline at 9.75 and is keyed for a run above its March high a 12.66.  The New Master Cycle projects a new high at the end of January.  This ma not bode well for stocks, whose high valuations are premised on yields staying near zero.  Forever.
USD futures made a new low at 89.17 in the overnight session, but seem to have reversed.  Today is day 267 in the Master Cycle, so the reversal is due.  We will be watching this development.  The Cycles Model suggests a probable six week rally to mid-Cycle resistance at 94.70.
Gold futures reached an overnight high of 1962.45 before making a strong reversal.  Today is day 267 of the (former) Master Cycle, so the reversal was expected.  In addition, it nearly made its target at 1966.10.  Stand by for a month-long decline that may erase more than 500 points from its current level.
January 5, 2021
3:04 pm
SPX appears to have performed a perfect 78.6% retracement.  Usually beyond that point retracements may turn into something else.  The Orthodox Broadening Top trendline is now near 3720.00.  You may wish to add shorts beneath that level.
2:00 pm
DBA is on the rise again today after a very brief pullback.  It appears that it may reach or exceed its Head & Shoulders target, since today is day 254 in the Master Cycle.  While it is late in the current Cycle, there will still be opportunities to come aboard after the next pullback.
ZeroHedge reports, "Chicago-traded corn futures are up more than 2% Tuesday morning, hitting 6-1/2 year highs on Monday, as commodity traders are concerned about export disruptions in South America and new weather models that suggest dryness, according to Reuters.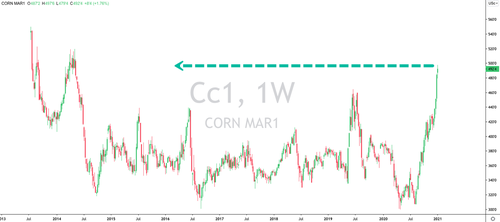 Argentina announced last week that sales of corn for export would be suspended until late February. The move by the government was to ensure domestic food supplies were stable."
12:37 pm
SPX has made two attempts at the Orthodox Broadening Top trendline,  the first at 3722.46 and the second at 3718.01.  There may be a third attempt, but trendline resistance appears to be holding.  A reversal from here is referred to as "the kiss of death."  The reason is that the decline may be surprising and chaotic.  The Cycle Bottom may be the minimum target with the potential of going to 3200.00.
RealInvestmentAdvice comments, "Welcome to 2021. As we kick off a new year, we begin with the S&P 500 trading at historical extremes. It is essential to have some perspective to set reasonable expectations for future returns and quantify the "risk" of something going wrong.
As we discussed with our RIAPRO.NET subscribers yesterday, the real risk to the market in 2021 is over-confidence."
9:10 am
Brace For "Another Volatile Day"
ZeroHedge observes, "After yesterday's 'malarkey' – the worst start to a year for the S&P 500 in years – Robinhood'rs and their emotional support pigs were/are expecting a BTFD ramp. So far, not so much as stocks languish lower, unable to maintain any bounce overnight as China's currency markets come back into play.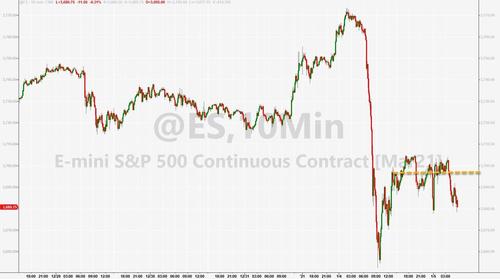 S&P 500 futs are trading around 3680, unable to break above the 3700 level which, as SpotGamma notes, is the gamma-neutral spot for the markets…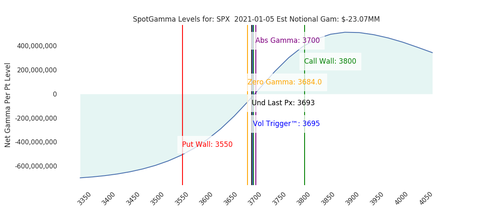 Due to this zero gamma position the options positioning experts are anticipating another volatile day."
8:00 am
Good Morning!
SPX futures traded in a range between 3677.88 and 3704.88 in the overnight session.  Futures slipped beneath 3700.00 a about 6:00 am and are struggling beneath Short-term resistance and round number resistance at 3700.49.  Yesterday I mentioned that level (on a closing basis) would trigger the first tranche of selling by CTAs and hedge funds, not to speak of institutional investors and pensions who haven't yet done their quarterly/year-end rebalancing.  In the event of a probe higher, very strong resistance lies at the 50% retracement level and Orthodox Broadening Top trendline at 3716.35.  The Ending Diagonal trendline at 3675.00 may open the floodgates for selling.
ZeroHedge observes, "US equity futures and global stocks tried and failed to rebound from Monday's rout which was the worst first day to a new year since 2016.
Emini futures failed to turn green and were last trading down 7 points or 0.2%, at 3,685, as investors looked to twin Senate runoff elections in Georgia that would determine the balance of power in Washington. Europe's Stoxx 600 Index reversed earlier gains and dropped to session lows -0.5% even though Asian stocks climbed as China's equity benchmark rose to a 13-year high; the dollar dropped, yields rose and bitcoin was flat."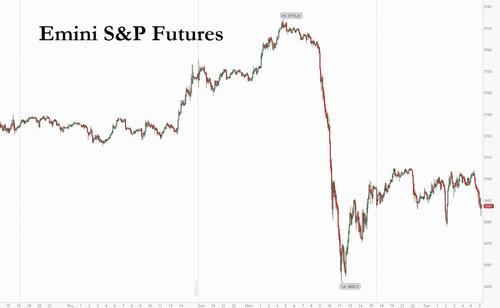 VIX futures are on the rise again, probing at mid-Cycle resistance at 27.89.  The complaint by traders is that the VIX did not give any advance clues to this event.  I disagree.  The Cyclical downtrend ended on the November 27 Master Cycle low.  Without that filter, we would not be aware of the fundamental shift in the outlook of the VIX until it stages a breakout above the December 21 high.
AdvisorPerspectives comments, "In the story, "The Adventure of Silver Blaze", Sherlock Holmes solves a mystery in part by when no one he'd spoken to during an investigation mentioned that they heard a dog bark the night a famous race horse was stolen and the horse trainer was killed in a stable. See the exchange below:
Scotland Yard Detective to Holmes: "Is there any other point to which you would wish to draw my attention?"
Sherlock Holmes: To the curious incident of the dog in the night-time."
Scotland Yard Detective: "The dog did nothing in the night-time."
Sherlock Holmes: "That was the curious incident!"
TNX is making a healthy comeback after yesterday's Master Cycle low (day 258).  There is no buy signal until TNX surpasses its Cycle Top resistance at 9.65.  However, the requirements for a Master Cycle low were made in a timely fashion.  This week shows Cyclical strength, so it may be surmised that TNX may break above the Head & Shoulders neckline.
USD futures made what may be its final low at 89.56, hitting the Cycle Bottom , as anticipated.  Today is day 266 of the Master Cycle, so both time and price objectives have been met.  A bounce above the Cycle Bottom may be construed as a buy signal, so be prepared for a rally lasting up to 2 months to mid-Cycle resistance at 94.76.
ZeroHedge observes, "Mighty dollar is the consensus trade that, keeps on working without drawdowns (short-squeezes), is getting even more consensus (especially asset managers are adding to shorts). DXY attempted a small reversal yesterday, but is fading today again. After such a strong down trend you need to be on the alert should px action start to get bouncy. Gold on the other hand, is so far one of the hot assets of 2021. The move yesterday was brutal, but despite the "feeling" of gold having traded badly, it managed bouncing 100 USD from early December levels until the real squeeze started yesterday. As we wrote in early Dec; "In case you missed it, gold has seen record outflows and has a strong seasonality pattern. Looks we can add gold to another "chase" missed opportunities asset for now." Gold is a big dollar related play, and despite the recent move higher, the gap is still present between gold and the DXY (although smaller). Last chart shows gold net specs. People are far from "meaningfully" long gold."
Gold futures are trading higher, with a new retracement high at 1954.40.  You may recall that I had estimated the target for gold at the same level as the November high at 1966.10 (an Expanded Flat correction).  We are approaching that level and, more critically, gold is now overdue for a reversal, as today is day 266 of the current Master Cycle.  Based on those observations, I would not hesitate to sell longs/go sort at a simple reversal from this level.
January 4, 2021
12:19 pm
VIX has exceeded its mid-Cycle resistance at 27.90 after rising above the 50-day Moving Average at 25.31.  A breakout above the prior high at 31.46 may bring on a full fledged panic.
12:11 pm
This is a fast moving market.  SPX has fallen beneath its Ending Diagonal trendline, creating a confirmed sell signal.  The next opportunity for a bounce is the mid-Cycle support at 3660.00.  Should we see a bounce, it gives latecomers the opportunity to sell into the bounce.  The CTIs and hedge funds are already reducing their long exposure beneath 3700.00.  Should selling continue without a significant bounce, the target for this decline appears to be either the 50-day Moving Average at 3579.68 or the Cycle Bottom at 3554.56.
11:18 am
What's Behind Today's Sudden Selloff: The Answer Lies In Georgia
ZeroHedge observes, "There has been some confusion about the catalyst behind this morning's sudden market selloff which followed promptly after the S&P hit a fresh all time high.
While there has been no single, definitive news catalyst, the answer for the risk weakness is to be found in Georgia, which goes to the polls in special run-off elections for its U.S. Senate seats. As a reminder, if Democrats win both, then the Senate will be split 50-50, and they will control it thanks to the vice president's casting vote.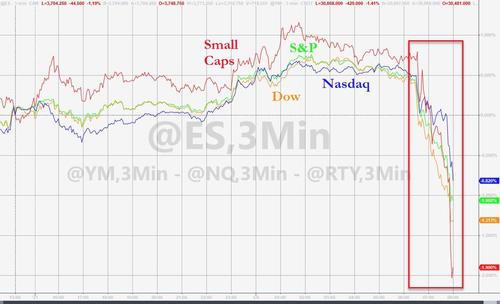 So why is Georgia suddenly a concern?
As Bloomberg's John Authers explains overnight, while there have been few polls over the last two months, and with so much depending on getting people out to vote in the middle of winter during a pandemic, much must be left to conjecture, "but the prices on the Predictit prediction market show it is close."
First, this is the race between the Democrats' Raphael Warnock and Republican Kelly Loeffler:"
10:20 am
TNX tested the Intermediate-term support at 9.09 on Thursday and this morning made a probe at 9.62, its Cycle Top resistance.  Thursday was day 24 of the Master Cycle, so it may be the end of that Cycle.  We are looking for a breakout in either direction.
ZeroHedge weighs in, "Update (1020ET): The Wall Street Journal's 'speculation' that the euphoria will continue in stocks is falling short this morning as equity markets give up anticipatory gains overnight…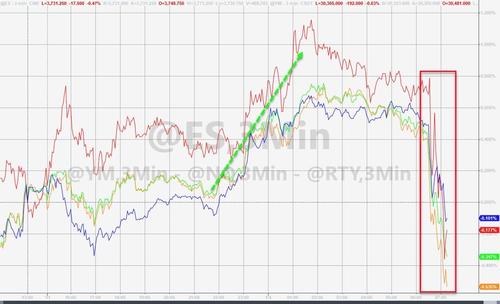 10:11 am
VIX has surged to test the 50-day Moving Average at 25.22.  That puts the VIX back on a buy signal.
In the meantime, the SPX has declined further to 3739.75.  On a cautionary note, the NYSE Hi-Lo has risen to 320.00.  The indicators are in conflict, suggesting smallcaps are getting inflows, while the mega-caps are getting outflows.
10:00 am
What a difference an hour makes!  SPX made a new high, but was repelled at the Cycle Top at 3769.77.  This may be the Key Reversal that I have been looking for.  We still need to see SPX decline beneath the trendline at 3715.00 for an aggressive sell signal.  Short-term support is at 3700.54 where the algos switch to selling.
What may be the cause of this reversal appears to be the much anticipated year-end rebalancing that was delayed due to the holidays.  There are no commentaries on the reversal thus far.
7:30 am
Good Morning and Happy New Year!
After careful analysis I have concluded that the low on December 21 at 3636.48 was the Master Cycle low at day 273.  This is about as stretched as it can be under the Cycles rules.  That leaves the new Master Cycle high ahead of us.  The Cycle Top is at 3768.95, which may prove to be resistance this morning.
ZeroHedge reports, "Virtually every risk asset including Bitcoin is melting up – while the dollar continues to crumble – on the first trading day of the year when the same FOMO euphoria that slammed stocks to all time high in the last seconds of trading on Dec 31, 2020 continued overnight, when world stock markets hit fresh record highs on Monday, as investors hoped the rollout of vaccines would ultimately lift a global economy decimated by the COVID-19 pandemic. S&P futures were up 0.5%, after touching an all time high of 3,773.25 earlier on the back of broad-based moves higher in Asia and Europe after upbeat manufacturing data and rising commodities prices boosted risk appetite. …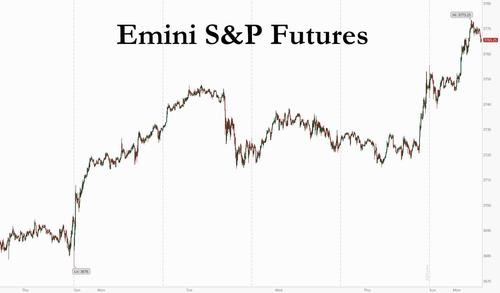 … which also helped push MSCI's All-Country World Index reach a new record high, up 0.6% on the day.
"The year kicks off as 2020 ended, an everything rally with the double V dichotomy (virus vs. vaccine) seeing the hopes that either things get worse and stimulus ramps up or things get better and, well, things get better so long as there's no hint of liquidity withdrawal and a taper tantrum," a trader told Reuters."