July 31, 2020
4:00 pm
A complex move such as this (a double zigzag) can only be a Wave B.  This is designed to keep the short sellers out of the market for another day, but the clock is ticking on the Cycle and the NDX only managed to break even after blow-out earnings by AAPL and GOOG.  What do they have to follow that up?
ZeroHedge tweets, "
Hey @federalreserve you did it, you officially blew the biggest bubble ever:
All-time high monthly close in S&P 500
All-time low 10Y yield close
All-time high in gold
Stocks managed gains on the month (4th month in a row) – Nasdaq best, Dow worst…"
10:57 am
SPX has just crossed Short-term support at 3235.49 and is back on an aggressive sell signal.  The Orthodox Broadening Top is at 3208.00 where we may obtain a confirmed sell signal.
ZeroHedge observes, "Update (1020ET): Wow! From gains of over 2% overnight, Nasdaq is now almost red along with the rest of the US major equity indices…
Small Caps are crashing hard and The Dow has broken back below its 200DMA…
8:00 am
Good Morning!
SPX futures are higher, but haven't exceeded Wednesday's high.  This qualifies it as a correction, as yesterday's decline appears to be an impulse.  A new low beneath yesterday's low at3204.13 qualifies for a confirmed sell signal.  Today being the end of the month offers mixed sentiments between awful economic conditions and blowout earnings from some megatech companies.
ZeroHedge observes, "S&P futures rose (but faded much of their earlier gains) alongside European shares with Nasdaq futures jumping nearly 1% as stellar earnings from US tech giants lifted sentiment amid dismal economic data and a resurgent virus. Gold climbed to a record even as the dollar rebounded from two year lows.

NDX futures rallied to 10938.88 after stellar earnings were reported by Apple and Google.  However, futures did not rise above the July 21 high at 11017.43.
ZeroHedge reports, "At a time when the "big four" mega tech companies are in the public spotlight for anti-trust, anti-competitive behavior, watching their collective market cap explode by a quarter trillion dollars may not have been the most prudent outcome. But that's what happened when Apple, Amazon, Facebook and Google reported generally blockbuster earnings last night, sending the price of the first three stocks higher by at least 5% in the premarket, and pushing the collective market cap of the four gigacaps to nearly $5 trillion.
Below we summarize Wall Street's reactions to Apple and Google's earnings which were broadly indicative of the mood set by big tech last night, and which has carried over into this morning's futures:"
VIX futures made a low of 23.87.  Holding above the July 23 low indicates a readiness to move higher.
ZeroHedge comments, "The market is massively "short" volatility
[W]hen it is time for us to sell, or even to stop buying, the response could be quite strong; there is every reason to expect a strong response. So there are a couple of ways to look at it. It is about $1.2 trillion in sales; you take 60 months, you get about $20 billion a month. That is a very doable thing, it sounds like, in a market where the norm by the middle of next year is $80 billion a month. Another way to look at it, though, is that it's not so much the sale, the duration; it's also unloading our short volatility position.

Jerome Powell, October 23-24 2012 FOMC Meeting
The early March virus fears and economic uncertainty caused a spike in market volatility which then translated into large scale and indiscriminate selling across asset classes
Objectively speaking, a Biden win in November would result in US economic policy volatility given it would result in a total reversal of Trump's recently enacted measures
Based on current polls, the probably weighted outcome is for increased market volatility ahead of the US election which could lead to wide scale de-risking for the 2 nd time this year
Risk parity funds, CTA strategies, and retail ETF liquidation coupled with VaR constrained swap dealers could lead to a perfect storm of risk-asset selling in the back half of this year
In short, we see volatility as the key to unlocking cross-asset performance going forward and a rise in vol, whether triggered by the elections or imminent threats, could lead to a sequence equities falling, USTs gaining further ground, and USD reversing its recent weakness."
TNX may be due for its Master Cycle low as today is day 267 in the current Cycle.  There are two possible outcomes:  The first is a rally that could negate the Head & Shoulders formation.  This would leave a possible inverted flat correction.   The second is that the bounce to 6.10 one Monday (day 263) may have been the high inversion of the Cycle.  That suggests the Head & Shoulders formation may continue.  I am leaning toward the fake-out MC low today with a surprising and powerful panic rally in Yields/ decline in the UST.
USD futures made a new Master Cycle low at 92.55 on day 273 of its Cycle.  Should this MC be complete, we may see the USD rally to the mid-cycle resistance at 98.01.  Many are looking for the USD to crash here, but that may not be in the cards, yet.
July 30, 2020
Good Morning!
SPX futures again tested the trendline at 3208.00 while being deflected by Short-term resistance at 3229.23.  This time there may be a breakdown.
ZeroHedge reports, "S&P futures tumbled, European stocks slumped to a three week low, 10Y Treasury yields dropped near all time lows (where the 5Y already was at 0.2374%, the lowest yield on record), and the EUR slid from near a 22-month high after the market reassessed that Powell's message could have been even more dovish, and as German GDP crashed the most on record, alongside a surge in Covid-19 cases. Meanwhile, today's US GDP report is expected to show shortly that the US economy contracted by a record 34.5%. The dollar strengthened against most Group-of-10 peers, with Scandinavian currencies leading losses.
VIX futures spiked higher this morning as protection was being bought in the options market.  Mid-Cycle resistance and the 50-day are drawing closer, suggesting a breakout may give us a confirmed buy.
TheStreet warns, "March's volatility spike that saw the VIX climb into the 80s appears to be a thing of the past, but that doesn't mean the market isn't susceptible to another sharp and potentially violent rise.
In fact, if we look at the chart of the VIX, there are some patterns developing that could indicate another spike may be coming soon.
The 25 level has been key for the VIX going back nearly three years. It's provided resistance at several points, indicated by the four down arrows on this chart, but has turned into support ever since the bear market earlier this year, indicated by the two up arrows."
TNX finally broke through the Head and Shoulders neckline, confirming the sell signal beneath the 50-day Moving Average at 6.76.  This purports to be a monster decline with a target beneath 2.00.
CNBC reports, "Treasury yields moved lower on Thursday as investors await key economic data to gauge the pace of the recovery.
The yield on the benchmark 10-year Treasury note dipped 2 basis points to around 0.56%, its lowest level since Aprill 22, while the yield on the 30-year Treasury bond was also down 3 basis points at 1.21%. Yields move inversely to prices."
I have outside commitments that require me to be gone most of the day.  I will report back as soon as possible.  Stay alert!  Confirmation in the SPX comes beneath 3208.00.
July 29, 2020
Good Morning!
SPX futures bounced off the trendline at 3204.00 but was repelled by Short-term resistance at 3223.23.  It is likely to stay in this very tight range until the FOMC announcement at 2:00 pm.  Don't b e surprised if an breakout higher is attempted before a breakdown beneath the trendline.  The initial 4.3-day Cycle may be complete near 11:00 am.
ZeroHedge reports, "US equity futures and European shares fluctuated on Wednesday, treading water and generally unchanged ahead of the latest FOMC meeting at 2pm today, while a resurgence of COVID-19 cases in Asia (especially China, Japan and Hong Kong) kept investors cautious. The dollar slipped in the run-up to Wednesday's decision from the Federal Reserve's policy meeting.
Wall Street closed lower on Tuesday and the negative sentiment continued through the Asian session, with Japan's Nikkei falling on a rising yen and a weak start to the corporate earnings season. The MSCI world equity index was flat in early trading while mixed corporate earnings sent MSCI's main European Index down by a quarter of a point.
Deaths from coronavirus in the United States registered their biggest one-day increase since May on Tuesday, with this month's spike in infections having forced some states to make a U-turn on the reopening of their economies. Asia and Europe have also been hit by new surges in COVID-19 infections, with several countries imposing new restrictions and Britain imposing 14-day quarantines on travellers from Spain. Global airlines cut their coronavirus recovery forecasts on Tuesday, saying it would take until 2024 – a year longer than previously expected – for passenger traffic to return to pre-crisis levels."
VIX futures also treaded water beneath yesterday's close.  A rally above the mid-cycle resistance at 27.92 would offer a buy signal with confirmation at the 50-day, currently at 29.30.
NDX futures were a bit more positive as FOMO kept investors glued to their favorite tech stock in anticipation of the FOMC announcement.
FinancialTimes has an article on the expectations coming out of the FOMC meeting.
USD futures are also holding steady, albeit near the bottom of its Cycle.  The normal relationship calls for a rally in the USD as stocks sell off.  The Cycles support that move.
Bloomberg comments, "Goldman Sachs Group Inc. put a spotlight on the suddenly growing concern over inflation in the U.S. by issuing a bold warning Tuesday that the dollar is in danger of losing its status as the world's reserve currency.
With Congress closing in on another round of fiscal stimulus to shore up the pandemic-ravaged economy, and the Federal Reserve having already swelled its balance sheet by about $2.8 trillion this year, Goldman strategists cautioned that U.S. policy is triggering currency "debasement fears" that could end the dollar's reign as the dominant force in global foreign-exchange markets."
Gold may have made its Master Cycle high yesterday on day 258 of the Master Cycle.  Gold futures are consolidating near the top.  The upper trendline is near 1960.00, which was tested last night.  This may be an opportune time for an aggressive short position, with confirmation beneath 1876.64.  Remember, gold is included in the "everything bubble."
CNBC observes, "As the price of gold continued to climb to new heights on Tuesday, CNBC's Jim Cramer advised against trading the precious metal, as it could be peaking.
For investors looking to make a long-term play on the space, he recommends buying Barrick Gold.
"The charts, as interpreted by Carley Garner, suggest that the recent rallies in gold and silver are very precarious," the "Mad Money" host said. "She thinks they could both have one last leg higher, and it might even be substantial, but after that she expects the precious metals to come plummeting back to earth."
Gold, a safe-haven asset, is up 8% this month, and the commodity is gearing up to close out its fifth-straight positive month for the first time in nearly a decade. The price climbed above $1,974 during the trading day but has since come back down to about $1,950. Meanwhile, the stock market is moving closer to its own hits in February before the S&P 500 collapsed as a novel coronavirus outbreak swept the globe.
TNX is hovering near its trendline, but hasn't broken it.  Should it do so, it may result in a mad rush into treasuries as stocks decline.  However, the Cycles imply that yields may rally instead.  Stay alert.
FinancialTimes observes that the US treasury market almost imploded in March as trading became dysfunctional.  This may happen again as the financial markets careen toward the edge of an abyss.
July 28, 2020
10:12am
BKX has dropped beneath its 50-day Moving Average, signaling a looming liquidity crisis.  It appears to have had its Master Cycle inversion on Friday, on day 260.  While US banks appear to be solvent, European banks are sitting on the edge of insolvency.
CNBC reports, "Banks in the euro area could soon face difficulties if the current crisis deepens and erodes their capital positions, Andrea Enria, chair of the European Central Bank's supervisory board, told CNBC in an exclusive interview on Tuesday.
The financial system has so far weathered the economic downturn sparked by the coronavirus, with academics and policymakers arguing that, in contrast to the global financial crisis, lenders are part of the solution to the ongoing shock."
8:00 am
Good Morning!
SPX futures appear to be testing the Short-term support at 3216.94 after challenging the 50% retracement level at 3240.62.  The Orthodox Broadening Top trendline is at 3202.00 where confirmation of the sell signal awaits.  SPX is currently on an aggressive sell.
ZeroHedge reports, "S&P futures and European stocks slumped as market optimism faded during the busiest week of earnings season…
… while Gold was hammered moments after the December future hit an all time high of $2000 following a record-breaking rally, with spot gold tanking more than $30 in minutes and silver dropping as much as 2% before regaining composure.

Gold futures hit an overnight high of 1974.00 before pulling back on day 258 of its Master Cycle.  This, or something very close by appears to be the final peak.  It changed the Wave structure as My original count did not allow for a new all-time high.  However, it is also due for a massive correction that may tike it well below 1000.00.  Should this final probe be part of a Cycle Wave III, Wave IV may go as low as the 1981 high at 800.00.
ZeroHedge observes, "Gold and Silver futures prices have extended their gains after hours, with the barbarous relic hitting $2000…
…and silver topping $26.
VIX futures recovered their positive stance, rising to a high of 25.83.  Mid-Cycle resistance is at 27.86, where a buy signal resides.
NDX futures have pulled back from Short-term resistance at 10710.12.  It is on an aggressive sell with confirmation at the trendline at 10350.00.  The debate still rages whether the NDX is being bullish or bearish, but the bears have the upper hand as the NDX was unable to confirm the July 22 high in the SPX.
CNBC observes, "The stock market debate lately has taken place largely from the extremes.
The believers are calling the powerful rebound from the Covid-shock lows a brand-new bull market, with a close resemblance to the 2009 post-recession bottom in terms of magnitude and velocity against a brimming reservoir of pessimists. Equity gains were well above average for a decade thereafter.
Market skeptics look at the same market and see the year 2000 — one of the worst entry points for stocks in history — with extreme concentration of value in a few expensive tech stocks and a rush of novice at-home speculators whipping long-shot stocks into a froth."
TNX pulled back this morning, but the trendline at 5.73 is still holding.  Despite the massive purchases of treasuries by the Fed, yields have hit an impasse.  The low on July 10, although early, appears to be the final low for the current Master Cycle.  If so, we may see rising yields as stocks decline.
Investing passes on this observation, "NEW YORK (Reuters) – The Federal Reserve's whatever-it-takes approach to stave off economic calamity has kept interest rates near zero and helped drive U.S. stocks back to pre-pandemic record levels, while weakening the usual dynamic between safe-haven U.S. Treasuries and riskier equities.
Stocks and bonds' moving in parallel is one of the distortions Fed policy makers may ponder when they meet next week, although they are expected to let the emergency measures already implemented in the wake of the coronavirus outbreak work through the financial system.
The recent rise in Treasury prices, which typically climb when investors seek safe harbors during uncertain times, appears at odds with the exuberance seen on Wall Street, where the S&P 500 last week came within 3.5% of its February all-time high, set before it was clear the spread of COVID-19 would wreak havoc around the world.
The S&P 500 500 (SPX) and U.S. 10-year Treasury notes (US10YT=RR) typically move in opposite directions, such that when equities rise during periods of confidence and risk-taking, bond prices fall, pushing yields, which move inversely to prices, higher."
USD futures continue to linger near yesterday's low at 93.44.  Yesterday was day 270 in the Master Cycle.  Normal retracement guidelines suggest that USD may retrace to its mid-Cycle resistance at 98.07 over the next 30 calendar days or so.  However, the retracement may go as high as the Cycle Top at 101.30.  This is in agreement with the probability of a stock decline through the end of August.
MarketWatch observes, "The U.S. dollar is looking shaky. Barring some sort of currency meltdown, a weaker dollar should be a positive for equities, though foreign stocks will likely benefit more, analysts said.
On Monday, the ICE U.S. Dollar Index DXY, 0.05%, a measure of the currency against a basket of six major rivals, slipped to a two-year low below 94.00, after a 1.6% slide last week.
That comes after hitting a more-than-three-year intraday high on March 22 just shy of 103, a day before the S&P 500 stock indexSPX, -0.17% hit its low during the worst of the coronavirus pandemic. As the dollar has faded, stocks have rallied smartly, with the S&P 500 now just around 5% below its all-time high set on Feb. 21 after a 34% plunge earlier this year.
Knowing exactly what to make of the dollar can be confusing for investors. After all, a weaker dollar is typically seen as a positive for the U.S. economy and for big multinationals that book a large chunk of revenues overseas, but bear most of their costs at home. However, stocks have done just fine during recent dollar bull markets, which have reflected the strength of the U.S. economy relative to the rest of the world."
Crude oil futures appear to be breaking down after being repulsed over the past week at mid-Cycle resistance at 42.55.  A decline beneath Intermediate-term support at 39.81 gives it a sell signal with confirmation at the 50-day Moving Average at 38.19.
OilPrice opines, "As Covid-19 infections continue to increase around the world and the implications of the pandemic's spread are acknowledged in key markets in the Americas and Asia, Rystad Energy is now changing its base case scenario for oil demand, incorporating a mild second wave effect. The updated base case scenario assumes a temporary pause in global demand recovery, as the reopening of Europe and other regions is offset by Covid-19 outbursts in populous and high oil-consuming countries in the Americas and Asia such as the United States, Brazil and India, among others.
There is downside risk to our base case. We have identified a category of oil demand at risk – that is, the maximum number of barrels that could be lost if a full lockdown is reinstated globally. In this worst-case scenario in which strict lockdown measures return, we expect demand to edge around 3.7 million bpd lower for the rest of 2020, compared to our updated base case scenario."
July 27, 2020
8:00 am
Good Morning!
I had a great time with my daughter and her fiancé in Fairbanks.  Alaska is a wonderful state to live in.  The people are fiercely independent and very friendly.  The high point of the trip was a fishing charter out of Valdez, home of "The Deadliest Catch".  The day was successful with everyone on our charter catching their limit of halibut.  One of them was the second largest halibut caught that week at the port at 95 lbs.  None of the "keepers" were under 50 lbs.
SPX futures have bounced from Friday's low at 3200.05.  The 50% retracement from Wednesday's high is at 3240.20 and the 61.8% retrace is at 3249.45.  The current futures high is at 3223.62.  It appears that last week's high may have been the final gasp of the retracement from March 23. It was 121 calendar days and 86 market days from the March 23 low.
Investing comments, "(Reuters) – U.S. stock futures rose on Monday after a two-day slide for Wall Street, as bets on a more dovish outlook from the U.S. Federal Reserve brightened the mood ahead of a busy week for quarterly earnings reports from companies including Boeing and Apple.
The S&P 500 and Dow logged their first weekly decline in four on Friday, following concerns over escalating coronavirus cases in southern and western U.S. states, rising tensions between the U.S. and China, and data that showed a recovery in the U.S. job market unexpectedly stalled.
Trillions of dollars in fiscal and monetary stimulus have been pivotal in bringing the S&P 500 to within 5% of its record high in hit February."
VIX futures are higher despite the bounce in the SPX.  This action suggests accumulation of hedges by "smart money."  The buy signal comes at the mid-Cycle resistance at 27.79.  The 50-day Moving Average at 28.65 confirms the change in trend.
MotleyFool comments, "It's never been a better time for young people to start investing, and many have turned to the Robinhood mobile app to buy their first stocks. The stocks Robinhood investors are buying have inspired a lot of debate about their suitability for people who are new to the market, but it's still good to see newcomers embracing the idea of getting their money to work through investing.
Yet thousands of Robinhood investors are actually taking the opposite view on stocks. Rather than expecting good times ahead, these bearish app-users have focused their attention on ETFs that are tied to stock market volatility. These volatility ETFs typically do rise in value when stocks fall, but their long-term behavior leaves a lot to be desired."
NDX futures reached an overnight high of 10586.00 as it approaches Short-term resistance at 10710.53.  Friday's low bounced from the Broadening Wedge trendline at 10313.90.  NDX is currently on an aggressive sell signal with confirmation beneath the trendline and mid-Cycle support nearby at 10327.91.
TNX is hovering above what may be a brutal Head & Shoulders pattern after challenging it with a low at 5.69.  It may be triggered by the decline of the SPX beneath 3200.00.
Keep in mind that today is day 263 in the Master Cycle.  A bounce above the 50-day may provide an opposite reaction.  We are in an "everything bubble."  We may see bonds go down with stocks as liquidity freezes up.
USD futures are nosediving today on day 269 of the Master Cycle.  I expect a bounce here which may test the 50-day Moving Average currently at 97.34.
July 16, 2020
3:15 pm
I will be out of the office for 9 days, starting Friday.  I will be visiting my daughter and meeting her fiancé in Fairbanks, Alaska.  I will return on July 26, but may have some time zone changes to adjust to on the 27th.
3:04 pm
SPX is now testing the Orthodox Broadening Top trendline between 3198.00 and 3200.00.  Its most recent low was 3200.38 at 3:00 pm after making a morning low of 3198.59, so it is still testing the trendline which has an approximate 2 point daily increase in trend.  There is still a possibility of a quick jump to 3250.00, but a breakdown beneath 3198.00 confirms our chart sell signal.
10:10 am
ZeroHedge reports, "Despite the hope-restoring nonfarm payrolls "recovery" and the over-hyped bounce in 'soft' sentiment surveys (which are biased by their nature as diffusion indices to bounce back hard), for the seventeenth week in a row, over 1 million Americans filed for unemployment benefits for the first time (1.30mm was slightly worse than the 1.25mm expected).
Source: Bloomberg
That brings the seventeen-week total to 51.275 million, dramatically more than at any period in American history. However, as the chart above shows, the second derivative is slowing down drastically (even though the 1.30 million rise this last week is still higher than any other week in history outside of the pandemic)
Continuing Claims did drop very modestly but hardly a signal that "re-opening" is accelerating! And definitely not confirming the payrolls or sentiment data…
8:00 am
Good Morning!
ZeroHedge observes, ""Hey, it's already Thursday."
"Ugh, it's only Thursday."
Both statements are legitimate ways of looking at the world. But they sure bring you to different conclusions. Traders have spent the entire night taking a dour view of every piece of news. And I guess if your focus is Chinese equities, that's understandable. But, that aside, it just doesn't feel right. And it will be interesting to see if this mood lasts the day. It has barely started and I'm dying to see how it ends.
SPX futures have been bouncing along the Orthodox Broadening Top trendline near 3195.00 in the overnight session.  It needs to break through to become overhead resistance.  At that point, the sell signal is confirmed.  It has been acting either as support or resistance since last August and has a powerful influence on what happens next.  Yesterday was day 286 in the Master Cycle.  I don't believe that I have seen one this long before.  I will also be watching the Liquidity Cycle to monitor its reversal as well.
ZeroHedge reports, "S&P futures slipped back under 3,200 and Chinese stocks finally cracked overnight, after a surprise drop in China's retail sales signaled a bumpy economic recovery, with investors now turning to for guidance from the ECB on on its massive stimulus program. The dollar jumped and Treasury yields drifted lower.
Nasdaq futures led declines among the main American equity benchmarks, with Twitter plunging 6.6% in the premarket as hackers accessed its internal systems to hijack some of the platform's top voices including U.S. presidential candidate Joe Biden, reality TV star Kim Kardashian West, former U.S. President Barack Obama and billionaire Elon Musk and used them to solicit digital currency. Tesla dropped 4.9% as its vehicle registrations nearly halved in the U.S. state of California during the second quarter, according to data from a marketing research firm.
The Shanghai Composite Index took a nosedive overnight after a reversal pattern which began on Monday.  As mentioned before, the whole world has been looing at the Chinese markets to determine the extent of liquidity being poured in.  Today it fell to its Cycle Top support and upper trendline of the Orthodox Broadening Top (sound familiar?).  A further decline through that level confirms the sell signal.
ZeroHedge observes, "Judging by the Chinese stock market, Chinese credit impulse data, and Chinese PMIs, tonight's GDP data should be a big winning rebound proving the communist nation has overcome the viral enemy and is back on its path to global economic domination.
Source: Bloomberg
The "v-shaped" recovery in all the PMIs is rather impressively well managed…
VIX futures climbed in the overnight session, but still beneath the 50-day Moving Average.  We await the breakout above the 50-day at 30.58 for the confirmed buy signal.
S&PGlobal reports, "Whereas most measures of stress in financial markets have flattened, albeit at elevated levels compared to pre-coronavirus, the heightened volatility in U.S. equities is the clearest signal of insecurity among investors.
The CBOE Volatility Index, or VIX, rose 4.9 points on July 13 to 32.2, the largest single-day rise in the so-called fear gauge since June 11, amid increasing COVID-19 cases in southern and western U.S. states and worsening Sino-American relations.
The VIX — a measure of expected volatility on the S&P 500 — fell back to 29.5 on July 14 but remained higher than the 90th percentile level of 28.7 and more than double the 13.9 it averaged in January."
NDX futures were repelled by the upper trendline of its Orthodox Broadening Top and declined to test the Cycle Top support at 10487.91.  Again, it is a matter of working through the support levels to make a clean break to the Cycle Bottom and Point 6.
ZeroHedge observes, "
"When there is an increase in insolvency risk, what you do not need is more debt. You need less debt."
That is the common-sense warning from Ed Altman that every talking head in the world seems incapable of understanding or admitting.
Altman, who, along with Oldrich Vasicek, is often described as the father of credit risk modeling, warns that this year's spate of "mega" insolvencies is just getting started.
On the back of Fed guarantees, global firms have sold a record $2.1 trillion of bonds this year, with nearly half coming from U.S. issuers, according to data compiled by Bloomberg."
Today is day 252 in the Liquidity Master Cycle.  Thus far, the retracement rally has cleared the 50-day Moving Average at 74.31.  However, the bounce may be over early, leading to a truncation of the Cycle.  It appears that the bounce may have been a "wishful thinking" reaction to the quarterly reports from the banks.  However, with Bank of America reporting this morning, there is nothing left but reality.
ZeroHedge notes, "Concluding the reporting by the big US money center banks, Bank of America this morning published Q2 earnings which were more of the same observed earlier in the week: strong trading results offset by a deteriorating balance sheet and surging credit loss provisions.
Specifically, the bank reported total Q2 revenue of $22.3BN, slightly better than the $22.01BN expected but down 3.3% Y/Y. This resulted in Net Income of $3.5BN, down 52% Y/Y, and EPS of $0.37, down exactly half from the $0.74 a year ago."
CharlesHughSmith writes, "The lower reaches of the financial food chain are already dying, and every entity that depended on that layer is doomed.
Though under pressure from climate change, the dinosaurs were still dominant 65 million year ago–until the meteor struck, creating a global "nuclear winter" that darkened the atmosphere for months, killing off most of the food chain that the dinosaurs depended on. (See chart below.)
The ancestors of modern birds were one of the few dinosaur species to survive the extinction event, which took months to play out.
It wasn't the impact and shock wave that killed off dinosaurs globally–it was the "nuclear winter" that doomed them to extinction. As plants withered, the plant-eating dinosaurs expired, depriving the predator dinosaurs of their food supply.
This is a precise analogy for the global economy, which is entering a financial "nuclear winter" extinction event. As I've been discussing for the past few months, costs are sticky but revenues and profits are on a slippery slope.
Businesses still have all the high fixed costs of 2019 but their revenues are sliding as the "nuclear winter" weakens consumer spending, investment in new capacity, etc."
TNX appears to have consolidated beneath the Head & Shoulders neckline.  This is not the normal behavior for the Head & Shoulders formation.  My observation is that the markets are too calm.  All hell may break loose when the supports are broken.
ZeroHedge observes, "OK, it's actually worse.
Mortgages that are in forbearance and have not missed a payment before going into forbearance don't count as delinquent.
They're reported as "current." And 8.2% of all mortgages in the US – or 4.1 million loans – are currently in forbearance, according to the Mortgage Bankers Association. But if they did not miss a payment before entering forbearance, they don't count in the suddenly spiking delinquency data.
The onslaught of delinquencies came suddenly in April, according to CoreLogic, a property data and analytics company (owner of the Case-Shiller Home Price Index), which released its monthly Loan Performance Insights today. And it came after 27 months in a row of declining delinquency rates. These delinquency rates move in stages – and the early stages are now getting hit:"
July 15, 2020
3:35 pm
The NDX bounced off its Cycle Top support at 10370.00 and rallied up to the Orthodox Broadening Top trendline at 10780.00 for a 58.5% retracement.  This may constitute an aggressive sell signal with confirmation on a decline beneath the Cycle Top at  10487.10.  Good trading!
8:00 am
Good Morning!
It appears that, once again, SPX futures are exceeding their prior high.  This appears to be a combination of Groundhog Day and a seemingly unending short squeeze that defies all common sense.  The prospective low on July 22 may, in fact, be another inversion.  However, I have found a prospective structure that fits all the EW rules, giving one final probe to the upside before crashing.
ZeroHedge reports, "Global stocks surged, and US equity futures jumped rising to the Monday pre-dump highs, on coronavirus vaccine optimism (with headlines now conveniently appearing every time stocks appear poised for a selloff) and looking past record daily death rates in some states and brewing tensions between Washington and Beijing. Yields rose and the dollar slumped to a one month low.
US stocks staged a late session surge on Tuesday after news that Moderna's coronavirus vaccine produced antibodies to the coronavirus in all patients tested in an initial safety trial. The vaccine developments brought optimism to financial markets that have been struggled to make headway recently in the face of new outbreaks across the U.S. and Asia."
BKX is now in rally mode in the face of the upcoming Master Cycle.  Today appears to be the last day for a turnaround if the Master Cycle is to be bearish.
This morning ZeroHedge reports, "If Wells Fargo plunged yesterday due to being one of the few US banks without a trading desk to offset its balance sheet woes, then Goldman was the opposite, and without much of a balance sheet to talk about (its attempts to attract subprime borrowers to its Marcus product have had mixed success), the company reaped all the benefits of the Q2 record refi and trading frenzy with almost none of the downside.
Indeed, as Goldman reported moments ago, the bank smashed both top and bottom line expectations, on the back of blockbuster FICC revenues while overall trading revenues almost doubled in Q2 from a year ago:"
But don't forget that the banks know what is coming next.  ZeroHedge observes, "For many years after the financial crisis, US commercial banks were mocked when instead of generating earnings the old-fashioned way, by collecting the interest arb on loans they had made, or even by frontrunning the Fed with their prop (and flow) trading desks, they would "earn" their way to just above consensus estimates by releasing some of their accumulated loan loss reserves, an accounting gimmick if there ever was one, which would end up boosting the bottom line thanks to a few "kitchen sink" quarters in the aftermath of the Lehman bankruptcy. The thinking here went that having suffered massive losses during the financial crisis, when all banks suffered crushing losses so they would then get bailed out, these same banks would then "recoup" billions in losses over time that would be run through the income statement as a reversal of accrued loss provisions.
Well, after the longest expansion in history, this process has gone aggressively into reverse, and instead of releasing loan loss reserves the banks are now building them up again as the "biblical" wave of consumer and corporate defaults due to the US economic shutdown hits US banks."
VIX futures are revisiting the mid-Cycle support at 27.26 again.  This is happening despite having broken out above the 50-day Moving Average.  Today is likely to be a good accumulation day for the VIX.  Today has the potential of being a Trading Cycle low.
NDX futures have not been able to probe above the 2-hour Cycle Top resistance at 10855.01.  This may be the first day that NDX futures are not making new highs as the SPX futures forge ahead.  I have commented before that NDX often leads the blue chips in the reversals.  This is something to watch today as it may be the first indicator of something wrong with the equities markets.
July 10, 2020
1:40 pm
Today is the 5th day at the Orthodox Broadening Top trendline.  The impulses higher are no longer getting through resistance.  The Island Reversal from the June 8 high still stands out as the final high in the SPX.
7:40 am
Good Morning!
I will be taking an extended weekend with relatives in northern Michigan and will be unavailable for comment on Monday and Tuesday.  I also plan on travelling to Alaska July 17 to July 26 to visit my daughter.  I hope the world isn't locked down again before then.
SPX futures are struggling to make it back to yesterday's close before the open.  Should that occur, it may not last.  The next support to be tested is the 2-hour mid-Cycle  (Intermediate-term) support at 3101.55.  A decline beneath that level confirms the aggressive sell.
ZeroHedge observes, "US stock futures slipped on Friday as the buying frenzy in China fizzled and fears re-emerged that record increase in coronavirus cases could lead to another hit to Corporate America with several states delaying the easing of business restrictions. Treasuries jumped, sending five-year yields near a record low.
Chinese stocks slumped for the first time in over a week after Beijing acted to cool the speculative frenzy in its $9.5 trillion stock market, ending a euphoric eight-day surge that had fueled worries of a new bubble in the making. The selling in the Shanghai Composite started after Bloomberg reported that two government-owned funds announced plans to trim holdings of stocks that soared this week.
VIX futures have challenged the 50-day Moving Average at 30.88 this morning with a high of 30.91.  Once completed, the move above 30.88 confirms the buy signal.  The author below can't read charts.
SeekingAlpha comments, "As you can see in the following chart, the ProShares VIX Short-Term Futures ETF (VIXY) has taken a tumble over the past few months on a rally in the S&P 500 which has pulled volatility levels lower.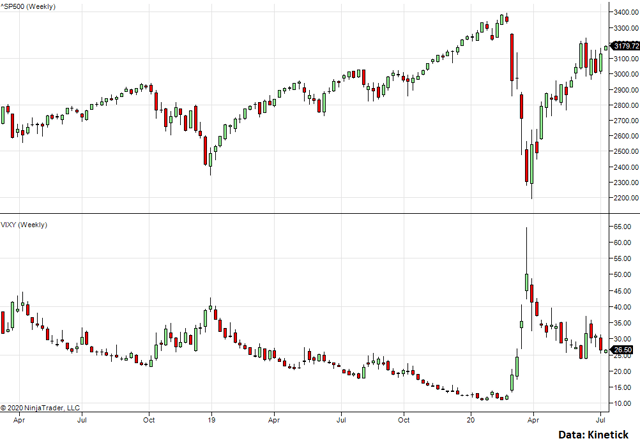 It is my view that this momentum is going to carry forward. Specifically, I believe that, over the coming weeks, VIXY will continue to make new lows, and over the period of a few months, we will likely press to new yearly lows. In other words, I'm quite bearish VIXY at this point.
NDX futures are lower this morning, breaking a bullish run in tech stocks. Futures have challenged the trendline at 10, 666.00.  A further decline beneath that level gives us an aggressive sell signal.
This reminds me of early 2000.  While the DJIA had peaked in January, the NDX was marching higher until March 23.  From that point, the Industrials barely made a mere 11.2% decline by May, while the NDX was down 40%.    This decline may be a much higher magnitude than 2000.  The point is, different markets are not in sync with each other.
NorthmanTrader observes, "Raising red flags during a bubble is a thankless job. The crowd gleefully cheers the momentum and as tops are processes anyone voicing contrarian reservations looks to be wrong while the bubble proceeds.
I'm a big boy I can handle it. I was faced with the same issue late last year into Q1 this year as they kept chasing stocks into the high heavens before the 35% crash. Oh but it was Covid, nobody could've seen this coming. Nonsense. Covid was the trigger but the technical and excess were long building and now we're in such phase again, except this one may be worse.
I know, we live in the age where trillions are tossed around candy by centra banks and governments and everybody's eyes just glaze over as the numbers defy context and comprehension.
TNX has clearly made the break beneath the Head & Shoulders neckline and is on its way toward its intended target.  The next Master Cycle low is due on July 2.  Considering how quickly Wave [3] declined, this on may be for the records.
ZeroHedge reports, "For the third straight month, US Producer Prices deflated on a year-over-year basis in June.
Against expectations of a 0.2% decline, PPI Final Demand fell 0.8% YoY…
Source: Bloomberg
The headline PPI print fell 0.2% MoM against expectations of a v-shaped bounce back +0.4% MoM.
Food prices fell 5.2% in June as Energy rose 7.7%.
Core PPI also fell (down 0.1% YoY)
Which helps support the ongoing plunge in Treasury yields…
USD futures are hovering near the Broadening Wedge trendline at 96.50.  The current Master Cycle due next week may only go as far as the Cycle bottom at 95.28 simply because there is very little time to make an extended decline in this Cycle.  However, the next Master Cycle is due to terminate near the end of August.  However, a lot may happen in 4.3 days!
West Texas Crude futures made a new overnight low after breaking the Ending Diagonal trendline yesterday, giving us an aggressive sell signal.  This may be confirmed with a decline beneath Intermediate-term support at 37.98.
July 9, 2020
11:20 am
There's a possible bounce at 3100.00.  It's not actionable, other than to add shorts on the bounce.  First bounce at 3115.70.  Expect a possible further decline to 3100.00 then a bounce to 3140.00-3155.00.
ZeroHedge reports, "Update (1100ET): US Treasury yields are now lower on the month…
And The Dow and Small Caps also in the red for the month…
…as derisking post-SCOTUS is accelerating.
*  *  *
In a somewhat surprising decision, the Supreme Court has ruled that a NY Grand Jury can get access to Trump's tax returns.
This sparked instant selling pressure on the market, as it seems investors may have suddenly come to the realization that Biden could win (and Dems take the Senate) sending the S&P into the red…
8:00 am
Good Morning!
SPX futures could not have been more flat in the overnight session.  Perhaps it awaits the burst of the Chinese stock market bubble.  Yesterday's high was a very late 278 days in the soon-to-be expired Master Cycle.
ZeroHedge reports, "S&P futures were flat on Thursday, rebounded from an earlier dip in a low-volume session ahead of the closely watched weekly jobless claims report, with investors weighing the risk of another business shutdown amid soaring U.S. COVID-19 cases.
Despite the muted overnight session, the S&P 500 has now risen more than 40% from its March lows and is now about 7% below its February record high. The Labor Department's most timely data on the economy is expected to show 1.38 million Americans filed for state unemployment benefits in the latest week, down from 1.43 million claims in the prior week. Cisco Systems rose 2% in premarket trading as Morgan Stanley upgraded its rating on the network gear maker's stock to "overweight". Walgreen's slumped 3% after the company reported disappointing results with sales hit by the pandemic, announced it would suspend its buyback and cut 4,000 jobs. Best Buy was down 8.8% also as a result of sales and margin hits due to the pandemic.
The United States reported more than 60,000 new COVID-19 infections on Wednesday, setting a single day global record. And yet, investors continue to look past news of rising virus infections, concentrating on the continued reopening of economies. Confidence in policy support measures has mostly held firm, even as Hong Kong reported its biggest jump in cases since the start of the pandemic. The number of U.S. infections topped 3 million, more than a quarter of the global total."
The NYSE Hi-Lo Index is weakening, but must decline beneath the 50-day Moving Average now at 29.22 for a sell signal.  Its high was on Monday, giving us an early warning of what may come.
The Shanghai Composite Index shows us where the excess liquidity may be coming from.  Today is day 263 in its Master Cycle.  This rally may be suffering from exhaustion.
ZeroHedge reports, "Now that Hong Kong is facing a creeping monetary boycott by the US, and more importantly, by the US financial system as a result of its de facto annexation by China, a pesky question has emerged: how will China procure those much needed dollars which are oh so critical to keep the Chinese financial system, all $40 trillion of it, functioning smoothly.
While there has been surprisingly little discussion of this critical topic in the financial media, which looking at soaring stocks in China and the US is left with the false impression that all is well, one person who has continued to hammer this topic home has been Rabobank's Michael Every, who this morning once again raised the alert level over China's USD access:
Note this South China Morning Post article titled "Time for China to decouple the yuan from US Dollar, former diplomat urges". Zhou Li, a former deputy director of the CCP's International Liaison Department is "the latest in a series of voices in China" to warn the USD Weapon is real and "has us by the throat", will pose an "increasingly severe threat" to Chinese development –USD oil sanctions seen as a key area of vulnerability– and so preparations for gradual decoupling and CNY internationalisation should begin "now". Li adds China should "give up the illusion" of friendship and instead prepare for full-fledged conflict with the US.

His specific proposal is to increase cross-border payments and clearing, local FX settlement, and maximize CNY usage in industrial supply chains. The problems in internationalizing CNY are manifold, however, which is why the USD weapon exists. The capital account would need to be opened, precipitating a collapse in CNY as money floods out.
So with the natural gateway for more inbound dollars suddenly clogged up, China has to find other, just as effective ways to attract US dollars into its economy: by drawing foreign investors into its stock market."
NDX futures are making a new all-time high this morning.  What started as a 5-point reversal pattern (Broadening Wedge) is now a 7-point reversal pattern.  Take a look at the NDX weekly chart below.
There are three Broadening formations within one another showing the redoubling of liquidity by the Fed to keep the market rising.  The NDX is now at the upper trendline of a 15-month-old Orthodox Broadening Top.  Point 6 is at 6500.00, which breaks the uptrend from October 4, 2011.
VIX futures challenged the mid-Cycle support at 26.92 this morning, but re-emerged above it.  VIX is in the "accumulation" stage just prior to a very large move, possibly to the Cycle Top at 59.14 or higher in the next two weeks.
TNX is lingering just above the Head & Shoulders neckline at 6.35-6.40.  Its next Master Cycle (low?) is projected to end on July 22.
Gold futures consolidated modestly between 1811.55 and 1825.35 after making a new 9-year high at 1829.80 yesterday.  Today is day 258 of the Master Cycle.  We should be watching for a strong reversal out of its high in the next few days.  It has already reversed beneath its Cycle Top at 1826.80, which may be actionable for aggressive investors.
Remember, gold prices are driven just as much by excess liquidity as stock prices are.  This is an everything bubble and gold bugs may get crushed in the onslaught.
July 8, 2020
10.47 AM
I had failed to mention this morning that the SPX and NDX had made Key Reversals yesterday.  It doesn't look like much, but the formations are valid, nonetheless.  This mornings spike made a 62% retracement of yesterday's decline.  Based on the formation, this may be considered an aggressive sell signal.  Otherwise, the next sell signal lies beneath 3100.00.
ZeroHedge observes, "Nothing says panic-buy like the markets opening…
Small Caps are being squeezed the most since the open…
8:30 am
Good Morning!
SPX futures challenged critical support at 3138.00 by declining to 3125.38 before rising back above it.  This back-and-forth appears to be a test of that support (3150.00 cash) and may lead to a further decline.  You can see that the rally to 3184.15 did not break through the trendline, which appears to offer solid resistance.
ZeroHedge reports, "S&P futures traded in a narrow range even as European stocks slid amid new tensions between Washington and Beijing, as well as worries that an alarming rise in coronavirus caseloads across the country pose a risk to the recovery in business activity and will hit consumer spending. The dollar was flat as gold continued its surge, rising  above $1,800 and rapidly approaching its Sept 2011 all time high.
Global markets have been struggling for traction ever since the Fed's balance sheet started shrinking modestly in mid-June…
… after a sharp rally last week amid concern it'll take a long time for the broader economy to recover from the pandemic. Many Americans are planning to spend less on things like movies, event tickets or at bars, even as states allow businesses to start re-opening, according to Bloomberg.
VIX futures appear to be trading in a narrow range above the mid-Cycle support at 26.85.  It is on an aggressive buy signal with confirmation at the 50-day Moving Average at 31.27.
FXStreet reports, "S&P 500 has seen its expected rejection from the top of the price gap from early June and downtrend from March at 3190 and a small bearish 'reversal day' should see the immediate risk stay lower with support seen at 3130/25. Meanwhile, the VIX is again holding key support from its 200-day average and June low at 26.22/23.54 and analysts at Credit Suisse look for a fresh rise from here."
TNX appears to be getting dangerously close to the Head & Shoulders neckline at 6.50.  A decline beneath it may send TNX to new all-time lows.
Gold futures rose to a new 8.6-year (that's right) high of 1816.85.  The Master Cycle is in day 257, so it may be just a matter of hours to the top, if not already.
Investing observes, "XAU/USD traded higher on Wednesday, breaking above yesterday's high of around 1797 and surpassing the 1800 mark for the first time since November 2011. Overall, the precious metal continues to trade above the upside support line taken from the low of June 5th, as well as above all three of our moving averages on the 4-hour chart. This, combined with the move above 1800 paints a positive near-term picture, in our view.
We believe that the break above 1800 may have encouraged more bulls to join the action, something that may lead to a test of the 1817 zone, which is marked as a resistance by the high of September 21st 2011. Buyers may decide to take a break after hitting that zone, thereby allowing a retreat. However, as long as the yellow metal would continue to trade above the aforementioned upside line, we would consider the setback as a corrective move before the next positive leg. Another leg north may drive the action above the 1817 area and perhaps aim for the peak of September 19th, 2011, at around 1828."
July 7, 2020
Good Morning!
SPX futures were down this morning, just as traders were touting the "breakout" above 3150.00.  What they fail to realize is that the same trendline that stopped Wave [B] on March 3 is still at work.  The trendline is rising at a pace of .37 points per day, just under the radar of analysts using horizontal lines to recognize their breakout.  The fact is, the futures low at   3139.38 has tested the cash equivalent of 3150.00, so there is some justification to that level, even if is a product of groupthink.
ZeroHedge reports, "One day after a torrid ramp in Chinese stocks sent US futures surging and the Nasdaq hit a fresh all time high, on Tuesday Emini index futures slipped following the benchmark S&P 500 and Nasdaq's five-day rally, as European stocks slumped after officials warned the economy will take longer to recover and Germany reported weaker-than-expected industrial data, the rally in China fizzled after officials talked back their previous urges to buy stocks, and investors weighed the risks to the conomy from tens of thousands of new coronavirus cases nationwide.
On Monday, Miami became the latest U.S. coronavirus hot spot to roll back its reopening while Texas registered an all-time high in the number of people hospitalized at any one moment with COVID-19 for the eight straight day. Travel-related stocks fell in premarket trading. United Airlines Holdings and American Airlines were down 3% and 2.8%, respectively. Royal Caribbean Group and Norwegian Cruise Line Holdings also dropped about 3% each, even as they announced a joint task force to help develop safety standards for restarting their businesses."
VIX futures reached a morning high at 29.15.  VIX has moved off its mid-Cycle support at 26.79, giving us an aggressive buy signal.  The signal is confirmed as the VIX rises above its 50-day Moving Average at 31.81.
Bloomberg comments, "Fear is still rife across volatility markets even as greed powers U.S. stocks anew after their best quarter since 1998, in a historic divergence making life harder for Wall Street speculators.
While the S&P 500 Index has rallied a whopping 40% from the March trough, a measure of implied equity swings known as the Cboe Volatility Index remains elevated at around double its February low.
Systematic traders who make a living by wagering on price gyrations ahead are in a bind. On the one hand, a flat but elevated VIX futures curve is flashing risks on the pandemic-driven economic trajectory, the November election and liquidity threats. On the other, S&P bulls tanked on policy stimulus see good reason to defy caution in the VIX landscape.
NDX futures made a new all-time high yesterday evening after the close, but has sold off since then.  Here we also see the Orthodox Broadening Top trendline at work, capping the rally, as we also did on February 19.  Earnings season has just begun and tech stocks may not be exempt from earnings shortfalls as the season progresses.
The Shanghai Composite Index rose to a high of 340.28 before easing back for the day.  It is possible that the massive move on Monday may have been an attempt to escape the clutches of the Orthodox Broadening Top formation shown in the SSEC.   The upper trendline at 3200.00 offers the first opportunity to short the SSEC, since today is day 267 of its Master Cycle.  It is possible that the mid-session turn may have marked the Master Cycle high.
TNX has retreated beneath its 50-day Moving Average at 6.89.  It now appears that the trendline may be a Head & Shoulders neckline.  The target if crossed is 2.89.  Stay alert on this one.
USD appears to be hovering just above its trendline at 96.50.  A break beneath it triggers the Broadening Wedge formation.
July 6, 2020
Good Morning!
SPX futures have risen to 3172.38, a new retracement high in the futures and likely to carry over to the cash market this morning.  The next Cyclical segment is about to be concluded in the first hour of the day, with 129 hours/18.5 (4.3 squared) days complete from the June 8 high.
ZeroHedge reports, "After two consecutive weeks of cautious Sunday sessions entering the new week, overnight futures blasted out from the gate, surging more than 1%, sparked by fresh animal spirits out of China, after the country's state media stoked bullish enthusiasm. S&P futures were up 35 points, rising to 3,165 and finally breaking above the 3,150 zone that has proven to be stern resistance over the past month. The dollar index fell for a fifth day and Treasuries dipped even as surging coronavirus cases delayed business re-openings across the United States, while precious metals and oil rose.
VIX futures remain above the mid-Cycle support at 26.74 and are marginally higher this morning, supporting the thesis that the SPX retracement is in its final throes.  The low on Friday came at day 274 of its Master Cycle, nearing the limit of what may be considered normal for its turn window.
CCN observes, "The Fear Gauge Shouldn't Be That High
After a strong S&P 500 rally, the VIX has remained high in historical terms. The VIX has more than halved since mid-March peak of just below 83 to close around 28 on Thursday.

NDX futures have made a new all-time high at 10503.12, but the structure may be complete.  The rally from the March 23 low has taken 74 days (4.3 squared X 4), which is an appropriate interval for a corrective rally.
The Cycles have taken a different form in the NDX, but are nonetheless bearish.  An alternate view of the pattern suggests that this rally may be an enormous Wave [B] instead of Wave [5].   Primary Wave [C] comes next with the description given on July 1.   This is a triple threat because it appears to be a Primary Wave [C] of Cycle Wave c of Super Cycle Wave (c).  The anticipated level of degrees have never been seen before.  Be prepared.
The Shanghai Composite Index has risen to challenge the upper trendline of its own Orthodox Broadening Top near 3200.00.  This is day 266 of its own Master Cycle and may be overdue for a reversal.  Buyer sentiment is at its peak.
The SouthChinaMorningPost gives an ominous warning (emphasis is mine), "Hong Kong stocks stampeded their way into a bull market Monday, joining the US and other global exchanges that clawed their way out of bear territory triggered by the coronavirus.
How did the Hong Kong bulls wrest control from the bears in just over three months?
Investors can thank record mainland inflows, sexy new listings, massive global stimulus, and positive data signalling recovery in China, all of which gave them a much-needed confidence boost, analysts said. And there was also some good-ole bravery – as traders bet the worst was behind and decided it was time to bargain hunt.
Meanwhile, the Shanghai Composite Index saw its biggest one-day percentage gain since the volatile summer of 2015, when the stock market bubble burst."
TNX has risen dramatically through Intermediate-term resistance at 6.88, but appears stymied at the 50-day Moving Average at 7.11.
CNBC reports, "U.S. government debt prices were lower on Monday morning, as surging coronavirus cases delayed reopenings across the world's largest economy.
At around 4:25 a.m. ET, the yield on the benchmark10-year Treasury notewas higher at 0.6923% and the yield on the30-year Treasury bondwas up at 1.4584%. Yields move inversely to prices.

In a

Fourth of July speech

, President Donald Trump promised to "safeguard" American values from enemies within, stoking national divisions on a day typically meant for unity and celebration.
USD futures are declining toward the trendline at 96.50.  Should it cross beneath, it may invoke the Broadening Wedge formation.
(Reuters) – The dollar held steady against most currencies on Monday as investors awaited data expected to show the U.S. services sector stopped contracting, and highlighting the economic recovery from the coronavirus pandemic.
The euro moved in a narrow range before economic data from Germany and the eurozone that are also forecast to show a sharp rebound in corporate activity and retail sales, which would ease concerns about the economic outlook.
A steady rise of new coronavirus infections in the United States has discouraged some investors from taking on excessive risk, but most market participants remain focused on the growing likelihood that major economies will continue to recover.
July 3, 2020
8:00 am
Good Morning!
SPX futures are weakening as the June Employment Situation Summary released a day early indicates 4.8 million new jobs.  While they beg credibility, they still offer a catalyst for moving markets.  Yesterday was day 262 of the Master Cycle.  The peak occurred shortly after the BLS announcement and the SPX has been lower since.
There are two near-term dates that appear to be important in the Cycles Model.  The first occurs in the week of July 20, less than 3 weeks away.  I expect that the SPX may at least exceed the March 23 low by then.  The second is mid-August when it may be possible for Cycle Wave III to be complete (below 1000).  I don't wish to speculate too far ahead, but things may get very  messy this fall as we near the election.
ZeroHedge reports, "Europe's Stoxx 600 index opened at three-week highs only to quickly see the 4-day rally reverse, and turn negative by as much as -0.8% with banks and energy indexes leading the decline with losses of 1.5% and 1.3% respectively, after Bloomberg reported that a conflict was brewing at the ECB over its "priced in" stimulus package coupled with political upheaval in France which saw a blitz-replacement to the prime minister.
According to Bloomberg, ECB President Christine Lagarde's signature crisis-fighting tool "is becoming the focus of disagreement among policy makers in what could amount to her first major test of discipline."
July 2, 2020
Good Morning!
SPX futures are higher this morning, but not a new high.  I had anticipated that the top-to-top Cycle would last 8.6 days, suggesting a high yesterday afternoon.  The decline was 43 hours and a rally of 17.2 hours would have completed that (60.2 hour) Cycle.  Instead, this Cycle has a mind of its own, now approaching 21.5 hours of rally between 10:00 and 11:00 am.
ZeroHedge reports, "After sliding to 2,983.5 in early Sunday trading on fears of a second wave of covid infections, futures have completely forgotten what they were concerned about at the start of the week, and have since levitated in largely linear fashion some 150 points higher, rising to 3,130.75 overnight, on even more hope and optimism, this time for a reassuring job report coupled with yesterday's hopes for positive vaccine developments. The dollar slipped and 10Y yields rose.
At 7:20 a.m. ET, Dow e-minis were up 275 points, or just over 1%, S&P 500 e-minis were up 25 points to 3,128, and Nasdaq 100 e-minis were up 52 points to 10320. Travel-related stocks were among the biggest gainers in premarket trade, with cruise line operators Carnival, Royal Caribbean Cruises and Norwegian Cruise Line Holdings rising between 3% and 4%, while economically-sensitive stocks including Morgan Stanley, Goldman Sachs, Citigroup, JPMorgan Chase and Bank of America up between 1% and 3%. Tesla was up another $100 overnight, rising to a new record high above 1,200."
9:42 am
VIX opened beneath mid-Cycle support/resistance at 26.73 this morning.  That suggests an aggressive buy signal is made as it re-crosses that resistance.  My model shows a minimum target in the next couple of months to be 94.00.  However, the long term calculations show a possible target of 142.08 by October.  As you know, VIX is calculated on a percentage basis, with 100 as a maximum.  Go figure.
Here is an important read from ZeroHedge: 

Many people claim that economics is not a science. Some of them say that because predictions often fail on the long run, while others think that a human science should not be treated like "rigorous disciplines" such as physics or chemistry.
However, that postulate is misleading. There are too many intriguing similarities between economic activity and natural phenomena such as seismic activity, species evolution, or epidemics.
According to Danish physicist Per Bak, science can be divided into two distinct categories:
"Hard sciences, in which repeatable events can be predicted from a mathematical formalism expressing the laws of nature, and soft sciences, in which, because of their inherent variability, only a narrative account of distinguishable events post mortem is possible."
From that perspective, economics and finance can be treated as soft sciences.
It is true that predictive models are likely to fail, but mainly because of nonlinearity and unboundedness issues. Economics is a science, but most people apply wrong methodologies."
9:53 am
NDX has made a new all-time high, stretching the Master Cycle to 273 days.  Not much to say, other than this is unprecedented.  So will be the decline.
ZeroHedge comments, "This morning we have the somewhat unprecedented situation where both the monthly non-farm payrolls data and weekly jobless claims data coincide.
Even more 'unprecedented' is the fact that the two measures of the labor market are expected to diverge dramatically with a 1.35 million increase in new jobless claimants occurring at the same time as the BLS is expected to report an increase of 3.058 million jobs in the US economy.
Of course, this all sits against the backdrop of an unprecedented surge in the stock market as the economy remains mired deep in collapse…
As Jesse Felder points out rather shockingly, echoing the thoughts of most rational Americans: "this might be the craziest thing I've seen in my stock market career"
July 1, 2020
12:55 pm
SPX appears to be completing a 78.6% retracement which appears to be complete just in time for an 8.6 day Cycle from the 3155.53 Wave [B] high.  Be prepared for a powerful panic decline that may at least challenge the March 23 low.  A Primary Wave [C} of Cycle Wave III of Super Cycle Wave (c)may be a monster.  Read Pages 76 through 80 of Elliott Wave Principle.
ZeroHedge reports, "Global hedge fund data reveals a massive liquidation of funds was seen in the first quarter of 2020, marking the highest level of fund liquidation since 2015, as coronavirus market gyrations led to steep losses and soaring redemptions, according to Reuters, citing a new HFR Global Hedge Fund Industry Report.
HFR released the report on Tuesday that shows 304 funds liquidated in 1Q20. This was the highest level of fund liquidation since the fourth quarter of 2015, when 305 funds shut down. Shown below, the number of closures in 1Q20 is about 50% higher than the last quarter in 2019."
8:00 am
Good Morning!
SPX futures declined as pension, hedge fund and mutual fund rebalancing has begun.  A decline beneath Short-term support at 3081.72 brings an aggressive sell signal while beneath the 2-hour mid-Cycle support at 3060.58 confirms the sell.
ZeroHedge reports, "Following Tuesday's last 10 minute spike which only emerged as there were not as many sellers as some had predicted (such as JPMorgan whose forecast of $170BN in forced quarter-end selling failed to materialize), global markets have been under pressure to start the new quarter, and S&P futures fell on Wednesday as today the corona mood was one of concern over hope (this is sure to reverse tomorrow) as a record single-day spike in coronavirus cases in the country heightened fears of another lockdown, while fresh signs of geopolitical tensions involving Hong Kong where the first protesters were arrested under the new security law also triggered some selling.
After notching up its biggest three-month gains since 1998 in the previous session, the S&P 500 looked set to begin the third quarter on a glum note as COVID-19 cases rose by more than 47,000 on Tuesday, with California, Texas and Arizona emerging as new epicenters.  A warning from Anthony Fauci that the number of daily cases could soon double to 100,000 also took the shine off data showing a slump in global manufacturing was easing as economies reopened from sweeping lockdowns imposed to contain the spread of the novel coronavirus."
The selling may have already hit the European Markets and overwhelmed their trading systems.  Further glitches such as this may heighten the sense of panic as the markets reopen down after an unexplained blackout.
ZeroHedge reports, "Trading in Germany's main index DAX and various other European cash and futures exchanges was halted for nearly three hours on Wednesday due to a "technical issue" at German electronic trading platform Xetra. The interruption in the fully-electronic cash market trading system affected stock exchanges in Frankfurt, Vienna, Ljubljana, Prague, Budapest, Zagreb, Malta and Sofia as they use the Xetra T7 system, exchange operator Deutsche Boerse said.
Xetra's T7 system for cash stock trading was unavailable starting around 847am CET, the exchange operator says on its website. Trading of derivatives on Deutsche Boerse's Eurex also faced technical difficulties, and only about 30 of 99 stocks on Germany's HDAX large and mid-cap index were showing trades as of open of trading in Frankfurt.
"Due to technical problems, the Eurex T7 system is not available at the moment. We are investigating and will keep you informed," Eurex noted on its website. However, alternative exchanges like the Tradegate Exchange in Berlin were functioning properly."
VIX futures began their rally, but remained beneath the 50-day Moving Average at 32.34.  Those intending to go long the VIX should be accumulating shares.
NDX futures remain above Short-term support at 9973.74, where a potential sell signal lurks.  The confirmation of the sell signal lies at the trendline and mid-Cycle support at 9727.77.
TNX has rallied to test the 50-day Moving Average at 6.85 this morning.  Crossing it, and especially Intermediate-term resistance at 7.07 provokes a buy signal for TNX.  Note that in early March TNX rallied to 12.66 during the height of the decline in equities, topping on March 18.  The choppiness since mid-April in the TNX usually denotes a corrective pattern.  However, there is an exception in a Leading Diagonal which may show a completed Wave [1] and an emerging Wave [3] now being formed.  I will change the labels accordingly should TNX exceed its resistance levels.
CCN reports, "The 2020 pandemic has rendered government bonds virtually obsolete to hedge against market volatility, according to BlackRock. The asset manager is advising investors to look for alternatives in the age of negative interest rates.
In its Midyear Global Outlook report, BlackRock says Covid-19 is "fundamentally reshaping the investment landscape."
Once viewed as a "ballast" against stock-market volatility, nominal government bonds are not as reliable as they used to be.
BlackRock says that monetary policy will depress returns across developed-market government bonds over the next five years. As central banks anchor interest rates at zero or below, bond holdings could generate negative returns for the foreseeable future.
USD futures remained flat in the overnight session after making a new correction high (possibly completing the move).
(Reuters) – The dollar slipped on Tuesday, alternating between gains and losses, as markets digested less bearish comments from U.S. monetary officials along with a more dire prognosis from the country's top medical expert on the spread of the novel coronavirus.
The dollar gained against the euro and the yen, but fell versus sterling, the Swiss franc, and commodity currencies such as the Australian, New Zealand and Canadian dollars.
Treasury Secretary Steven Mnuchin and Federal Reserve Chairman Jerome Powell, in testimony before the U.S. House of Representatives Financial Services Committee on Tuesday, suggested a willingness to do more for the U.S. economy as it battles the enormous fallout from the virus outbreak.
The Japanese Yen is on a buy signal (accumulation phase) above its mid-Cycle support at 92.25.  This index is gaining recognition as a likely safe haven from a stock market decline.