June 30, 2020
12:30 pm
SPX is challenging Short-term resistance at 3080.00  Be on the alert for a reversal beneath the 2-hour mid-Cycle support at 2058.47 for confirmation of the reversal.  The decline may be a fast one, so stay on your toes and good luck!
8:00 am
Good Morning!
SPX futures dipped to 3030.38 in the early morning, but has since recovered.  The Intermediate Wave (2) correction needs completion.  Under normal circumstances, Wave (2) may take the entire day to completion.  With that in mind, this afternoon's rally may be used to exit remaining longs and go short.  This may be the last best chance to do so.  In the event of an expanded correction, the 50-day Moving Average at 2984.41 may act as a final support for Wave B of Wave (2).  An expanded correction may take another half day.
Pension, hedge fund and mutual fund managers would normally want to own their winners by the end of the quarter, but rebalancing may begin early if the SPX ventures beneath the 50-day today.
ZeroHedge reports, "There was some sound and fury in a very illiquid overnight session, which ended up signifying nothing, and futures were little changed from their Monday closing ramp as markets puts a close to the best quarter for stocks since 1998.
The MSCI world equity index was up about 0.1% in early trading after Asian shares rose on strong data from the U.S. housing market and Chinese factories. European shares continued the rally.  S&P futures fluctuated and the dollar index strengthened to a one-month high amid concern that new virus infections could slow the pace of business re-openings.
VIX futures are declining after challenging the 50-day Moving Average at 32.52 in the overnight session.  A decline beneath last week's low of 29.26 indicates a probable extension of Wave (2).
TNX has broken lower, indicating its probable decline to the next Master Cycle low over the next three weeks.  Pension and mutual fund rebalancing may accelerated the decline as treasuries are considered the safe haven in a market decline.  The trendline becomes a possible Head & Shoulders neckline with a probable target near 3.45.
The FinancialTimes suggests that there may be a "demand gap" between government issuance of new debt and the amount of debt scheduled to be purchased by the Fed.  However, approximately $170 billion needs to find a new home in the next few weeks after exiting the stock market during "rebalancing."
The USD Index rose this morning and may challenge Intermediate-term resistance at 97.98 before heading lower.  The Broadening Wedge formation cannot be ignored, since it may have a powerful effect on the near-term direction of the USD.  The next Master Cycle low is due on July 22.
European banks are on a knife's edge with potential oblivion lurking beneath the March low.  The only possible outcome may be the nationalization of the major banks while letting smaller banks fall by the wayside.
ZeroHedge reports, "The measures implemented by governments in the Eurozone have one common denominator: A massive increase in debt from governments and the private sector. Loans lead the stimulus packages from Germany to Spain. The objective is to give firms and families some leverage to pass the bad months of the confinement and allow the economy to recover strongly in the third and fourth quarter. This bet on a speedy recovery may put the troubled European banking sector in a difficult situation.
Banks in Europe are in much better shape than they were in 2008, but that does not mean they are strong and ready to take billions of higher risk loans. European banks have reduced their non-performing loans, but the figure is still large, at 3.3% of total assets according to the European Central Bank. Financial entities also face the next two years with poor net income margins due to negative rates and very weak return on equity."
BKX may appear healthier than their European counterparts, but may also be headed for a government takeover/bailout.  There are two governing formations that inform us what may happen.  The nearest structure is the Head & Shoulders that formed the neckline off the February 2016 low (55.99) and the March 2020 low, as illustrated on the chart.
The second formation is Super Cycle Wave (a) which declined 103.41 points, ending in 2009.  If Super Cycle Wave (c) is equal to Super Cycle Wave (a), the target may be a positive 13.73.  However, that decline is older, suggesting the more recent formation may rule.  Either way, it appears that having cash (not in the bank) may be necessary.
June 29, 2020
Good Morning!
SPX futures bounced back from an open that probed toward the 50-day Moving Average at 2972.81.  However, the bounce appears to have been stopped at the mid-Cycle resistance at 3024.19.  Further opposition lies above at the Intermediate-term resistance at 3039.41. The close beneath mid-Cycle support/resistance on Friday shows a significant weakening of the SPX and probable confirmation of further losses.
ZeroHedge reports, "Yesterday, shortly following the reopen for electronic trading at 6pm, we wrote that futures slumped "in a repeat of last Sunday's gloomy open" however previewing that this slump "had fully reversed overnight with futures nice and green by morning" and sure enough the magical overnight ramp emerged once again, with Eminis reversing all early losses and trading near session highs at 3,016 at last check, with the dollar turning red and 10Y yield higher on the day even as the yield on 5Y Treasurys hovered near a record low.
One catalyst cited for the overnight strength is a report out of China that a coronavirus vaccine developed by a Chinese firm received approval for military use and a stronger-than-expected yuan fixing weighed on demand for haven assets.
VIX futures remained above the 50-day Moving Average at 32.70 over the weekend.  It remains on a buy signal with a potential high targeted for the week of July 20.
NDX futures declined to 9780.25 and remain without a significant bounce.  The NDX Hi-Lo index closed at 40.00 on Friday, beneath its 50-day Moving Average at 60.70.  This helps to confirm the aggressive sell signal beneath the Cycle Top at 10135.29.
ZeroHedge reports, "acebook shares are set for a second day of declines as a boycott of advertisers on the social media platform is quickly gaining momentum.
The list of major companies that have said they're decreasing or halting ad spending with Facebook is growing:
Unilever
Verizon
Hershey's
Honda
The North Face
Ben & Jerry's
REI
Patagonia
Eddie Bauer
Upwork
Mozilla
Magnolia Pictures
Birchbox
Dashlane
TalkSpace
LendingClub
And now, Bloomberg reports that Starbucks Corp. and Diageo Plc. would also be pulling back on spending. Facebook shares tumbled over 4% in pre-market trading on Monday before bouncing back modestly after plunging 8.3% on Friday after Unilever, one of the world's largest advertisers, halted advertisements on the social media channel. From last week's high, shares are down 16%."
Even more critically, BKX closed beneath its 50-day Moving Average on Friday, removing all supports down to the Head % Shoulders neckline.  The liquidity Cycle shows further weakness to July 22.
TNX appears to be testing the trendline that it has broken on Friday.  I am hesitant to call a sell signal on TNX because of its heavily oversold position.  Of course, markets can become even more oversold.  However, the structure of TNX over the past two months has been erratic, leaving me "guessing" rather than confident of what may happen next.
June 26, 2020
Good Morning!
SPX futures traded within an approximate 1% range in the overnight market.  Futures were priced approximately 12 points beneath the close of the cash market.  The discount gradually wears off as the next expiration approaches in September.  The 50% Fibonacci retracement level is at 3089.46 while the 61.8% retracement is at 3104.90.  Neither have been achieved as I write.
ZeroHedge reports, "US index futures swung in an illiquid overnight session in which Bloomberg's Richard Breslow said "volumes have been utterly abysmal", concluding a volatile week for stocks, this time ignoring the resurgence in new virus infections across the country that sent them lower earlier in the week. European shares gained on low volumes, 10Y yields dropped by 1.5bps, while the dollar was unchanged.
And speaking of Breslow, he summarizes the overnight moves perfectly:
You know it's going to be a tough day when the answer to the question of "why thus-and-so has done what it has, such as it has," is simply, "because." Ask for more color than that and you get a blank stare. Or, that the S&P 500 was up yesterday, so it's sagging this morning.
VIX futures traded back an forth across the 50-day Moving Average at 32.75 in the overnight, making a high of 33.57 and a low of 31.62.  VIX is in the accumulation stage as it prepares for a Wave (3) surge.  The minimum target for this surge is 65.34, but may go considerably higher.
NDX futures could not go above the Cycle Top resistance at 10122.37 after closing beneath it yesterday. This action signifies weakening momentum and may be interpreted as an aggressive sell signal.
The NDX Hi-Lo Index closed at 58.00, which is below the 50-day Moving Average at 59.50.  Although this is a close shave, pension rebalancing before the end of the month may begin momentarily and the 5 largest companies by price may have its largest effect on the NDX.  The FinancialTimes offers a review of what may come in the next week or so.
USD futures remain positive in the overnight session, but within yesterday's trading range.
FXEmpire observes, "he U.S. Dollar is trading nearly flat against a basket of major currencies early Friday as investors continue to assess risk sentiment. Despite two solid days of gains, the index is trading lower for the week, but still in a position to change the main trend to up.
The primary driver of the rapid turnaround in the Dollar Index since Wednesday has been a possible shift in risk sentiment. The catalysts behind the volatile price action are concerns that the increasing number of coronavirus cases around the world and especially the United States could slow down the pace of the economic recovery.
TNX has eased lower, but remains above its trendline.  A bounce above Intermediate-term resistance at 7.11 tells us that yields will go higher in the month of July, despite the Fed's machinations.
Gold may have made its Master Cycle high on Wednesday.  Gold futures appear to be consolidating near the top, but haven't made a serious decline yet.  The Cycles Model suggests that gold may make a dramatic decline in the next 2-3 weeks.
Everyone likes a winner.  CNBC reports, "Gold has continued to rise of late as a resurgence of coronavirus cases, particularly in the U.S., has dented some of the investor optimism about the speed of a post-pandemic recovery.
Spot gold edged up slightly to $1,763 per troy ounce by Thursday afternoon in the European trading day, down from the $1,779.06 touched early on Wednesday, its highest since early October 2012.
However, the precious metal is up by around 16% since the start of the year, and analysts see the broad rally continuing as uncertainty abounds over the virus and reemerging global trade tensions."
WTIC is trading lower this morning, but has not exceeded yesterday's low at 37.08.  The shift in the Cycle is coming right on time for a decline into the third week of July.  his may be a disaster for all the retail investors who went "all in" on USO.
June 25, 2020
7:40 am
Good Morning!
SPX futures declined through the mid-Cycle support at 3022.76, and bounced, but does not seem to be holding that support.  The mid-Cycle is at the Cyclical 185-day Moving Average and serves as a proxy for the commonly used 200-day Moving Average.  Intermediate-term support at 3031.12 which held the low yesterday is now broken.  The sell signal strengthens.
ZeroHedge reports, "US stock futures fell for a second straight day on Thursday following Wall Street's worst day in two weeks, as risk appetite took a hit from an alarming rise in new coronavirus cases and on expectations of elevated weekly jobless claims, although futures rebounded from a sharp drop thanks to gains in large-cap tech shares following Europe's open which dragged down the Emini as low as 3,005 before stabilizing above 3,030. Treasury yields dropped to 0.66% while the dollar rose for a second day.
As has become the norm in recent overnight sessions, Nasdaq 100 futures erased most of an earlier decline. Walt Disney slipped 1.4% in premarket trading after it delayed the reopening of theme parks due to the health crisis. Boeing fell 2.7% as Berenberg reduced its rating to "sell", noting the planemaker's near-term risks are elevated due to the COVID-19 pandemic, the pace of recovery in air travel and uncertainty related to production rates.
VIX closed above the 50-day Moving Average at 32.93 yesterday and strengthened overnight.  VIX futures climbed to 36.92 in the overnight session.
The NYSE Hi-Lo Index closed beneath its 50-day Moving Average at 19.28 yesterday after hitting its Master Cycle high at 73.00 on Tuesday.  As you can see, this has been a difficult indicator since March.  However, the sell signal is now clear, due to the rise of the 50-day to an actionable level.
NDX futures fell to 9893.75 before recovering most of its losses.  NDX appears to be resilient and seems to be attracting dip-buyers.  However, the Cycles Model suggests the reversal from the Cycle Top at 10101.29 indicates a potential change in trend (an aggressive sell signal).  Short-term support is at 9949.13 and a Broadening Wedge trendline is at 9630.00, which may strengthen the sell signal.
ZeroHedge reports, "Wolf Richter just published some charts that, for anyone with a sense of stock market history, are pretty ominous. It seems that the major market indexes that recently soared back to record highs are being elevated by an amazingly small number of stocks – Apple, Microsoft, Amazon, Google and Facebook to be specific — which he calls the "Giant 5."  These stocks now account for nearly one-fifth of the Wilshire 5000 stock index's value:
That kind of dependence on just a handful of companies is intuitively scary. What's even scarier is that we've been here before, and each time the result was ugly.
US dollar futures are positive, but no breakout at this time.
CNBC reports, "The U.S. dollar edged higher on Thursday as factors ranging from rising trade tensions to fears of a second wave of coronavirus fuelled demand for safe-haven currencies.
The dollar index advanced 0.1% to 97.30 but remained below a 2020 high of near 103 in late March.
"A plethora of bad news about the virus led to a major sell-off in risk assets yesterday as volatility returned to financial markets once again", Deutsche Banks analysts said in a note.
TNX appears to be probing the rising trendline which may dictate whether the next Master Cycle will end at a high or a low.  There is a tension between the Fed, which is trying to keep interest rates low and investors, who are looking at a rising default risk.
MarketWatch reports, "U.S. Treasury yields stood their ground on Tuesday after traders took down a record large auction for short-dated maturities, reflecting the strong demand for government bonds amid the uncertainty around the U.S. economic rebound and the COVID-19 pandemic's trajectory.
What are Treasurys doing?
The 10-year Treasury note yield TMUBMUSD10Y, 0.664% rose 0.4 basis point to 0.708%, while the 2-year note rate TMUBMUSD02Y, 0.179%, sensitive to expectations for U.S. interest-rate policy, was virtually unchanged at 0.708%. The 30-year bond yield TMUBMUSD30Y, 1.404% climbed 2.8 basis points to 1.489%. Bond prices move inversely to yields."
Crude oil futures declined to 37.09 in the morning session.  A decline beneath Intermediate-term support at 34.52 may give a sell signal.
BusinessInsider reports, "Oil futures plummeted on Wednesday after new industry data and coronavirus case counts pointed to an aftershock in the critical commodity market.
Inventories jumped by 1.75 million barrels in the week ended June 19 to 545 million barrels, according to an American Petroleum Institute report seen by Reuters. Economists expected an increase of just 299,000 barrels. The larger-than-expected buildup threatens to flood the market with unwanted inventory as demand remains well below pre-virus levels.
West Texas Intermediate crude contracts slid as much as 7.6%, to $37.31 per barrel, before paring some losses. Brent crude, oil's international standard, fell 7.1% to $39.62 at intraday lows.
ZeroHedge reports, "NatGas prices near a 25-year low on Thursday morning as the summer heat has yet to materialize, and oversupplied conditions persist.
August NatGas futures slid 2% to 1.612 MMBtu on Thursday morning, weighed down by the lack of heat-driven demand and continued LNG weakness. "
June 24, 2020
12:43 pm
The NYSE Hi-Lo Index is on a sell signal, below the 50-day Moving Average at 19.26.  The VIX is on a buy signal above its 50-day Moving Average at 32.94.
The SPX declined to the 2-hour mid-Cycle support at 3033.78, then bounced.  The bounce may rise back to Short-term resistance, now at 3121.13.  However, whether it makes it there or not, it may be good to be short by the close of the day.
8:00 am
Good Morning!
SPX futures have slipped beneath round number support at 3100.00, but not beneath Monday's opening low of 3079.39.  Assuming no new high, this is the level that may confirm the decline has further downside potential.  Market sentiment is at an emotional peak, hanging on every bit of news and blather from perceived authorities.
ZeroHedge reports, "After several days of surging on "recovery and trade deal optimism", overnight sentiment took a big hit on "virus resurgence and trade deal pessimism" sending S&P futs and European stocks sliding the most in a week "following a surge in the number of coronavirus cases globally" according to Reuters. Spoos dropped following European shares lower, amid an acceleration in virus cases the American South and cautious remarks on a recovery by ECB's chief economist.
Futures took a second leg lower following a Bloomberg report that the U.S. is weighing new tariffs on $3.1 billion of exports from France, Germany, Spain and the U.K. According to the report, the USTR wants to impose new tariffs on European exports like olives, beer, gin and trucks, while increasing duties on products including aircrafts, cheese and yogurt. The European Union is also debating whether to keep the door shut to American travelers this summer."
VIX futures have probed to a high of 33.76, but receded back down beneath the 50-day Moving Average at 33.08.
In the meantime, the NYSE Hi-0Lo Index made a new high at 73.00 yesterday, breaking above the June 3 high at 69.00.
NDX probed its Cycle Top at 10272.03 yesterday, then pulled back beneath it.  The NDX Hi-Lo Index made a Master Cycle high of 191.00 yesterday.
NDX futures have pulled back even more, making a morning low of 10106.38.  Short-term support is at 9932.15, a good distance away for a Cycles signal.  However, a gap open beneath 10134.00 may produce an Island Reversal which may be used as an aggressive sell signal.
USD futures rose in the overnight session to a high of 96.92.  However, the Cycles Model suggests the decline may resume through mid-July.
Gold futures rose to a new not seen since October 2012, making a futures high of 1796.10 this morning.  It is in the window for a Master Cycle high.
TNX remains above its support area and on a potential buy signal.
June 23, 2020
2:33 pm
SPX just completed 4.3 days of decline followed by 6.45 days of retracement.  Today's high may be the completion of a Master Cycle inversion on day 264 of the Master Cycle.  Be prepared for a reversal.  A decline beneath Short-term support at 3128.93 may give an aggressive sell signal.  A VIX rally above 33.06 may confirm the SPX sell.  Good Luck!
10:00 am
Gold futures appear to be making a new high this morning.  Unfortunately, it is also the end of a Master Cycle.  There is a slight discrepancy between the futures values and the cash values of the market.  The April 15 futures high was 1782.90 while the cash market recorded 1788.80. Today's futures high thus far is 1785.85.
8:00 am
Good Morning!
SPX futures rallied back above Short-term support/resistance at 3126.40 in the overnight session after another threatened breakdown that took the futures down to 3061.62.  The market is getting awfully touchy.
ZeroHedge reports, "To anyone who had tight stops heading into the overnight session: our condolences.
Futures were lazily levitating higher in the early after-hours session, when one phrase out of place prompted the fastest plunge since March, sending the ES down 60 points in minutes after Trump's trade advisor and China hawk Peter Navarro responded to a long question by Fox News interviewer Martha MacCallum asking whether aspects of the deal were "over" by saying: "It's over. Yes", linking the breakdown in part to anger over Beijing not sounding the alarm earlier about the coronavirus outbreak. That's all the algos needed to send risk assets, the Chinese yuan and bond yields, plunging.
However, the digital ink on triggered stop loss alerts was not even dry yet, before a just a violent reversal took place, when Navarro – seeing the dire impact his words had on stocks – said the remark was taken "wildly" out of context, which was followed shortly after by Trump who tweeted that the deal was "fully intact."
Futures then took another step higher after an across the board beat by Eurozone PMI, which further bolstered the case for a V-shaped recovery."
ZeroHedge observes further, "The roiling of the entire complex of global markets last night was utterly irresponsible.
Out of context or not, it's on a spokesman to speak clearly. For people who are so intrinsically involved with how asset prices will take their every word, they don't seem to know the very basics of Trading Room Communication 101. It's hard to tell, with each episode, what is the cause. Whether it's frustrated and angry people trying to prove their virility, people who don't respect the markets having a bit of fun, or sheer incompetence, I doubt we will ever fully settle the matter."
This gave the NDX futures the chance to run to a new all-time high at 10204.62.  Today is day 264 in the current Master Cycle.  The reason for the extension for both the SPX and NDX is the new highs in the NDX.  There are only 5 market days left in the quarter to rebalance an estimated $170 billion in equities by pensions, balanced funds and hedge funds.
CNBC reports, "
Quiet session follows the old low-growth/high-liquidity playbook. Most stocks started soft with the cyclical reopening/value trade slipping, but the super-cap growth leaders that trade almost like bonds are flattering the indexes and the average stock firmed up on vague headlines of White House support for more stimulus checks.
The S&P has been sideways for about three weeks, but with very little net damage done to the benchmark. Seasonal headwinds tend to show up around now, the week after June options expiration often weak and a sizable pension-rebalancing trade out of equities is anticipated into month-end. Yet the S&P hangs around 3100 thanks to the familiar FAANGM and similar names.
VIX futures fell to 29.88 after closing beneath the 50-day Moving Average at 33.31.
TheStreet observes, "The VelocityShares Daily 2x VIX Short-Term ETN (TVIX) is effectively closing up shop.
Credit Suisse, the issuer of the ETN, announced today that it will plan on delisting it along with several others in an effort to "better align its product suite with its broader strategic growth plans". The company will suspend any new issuances although existing shares will remain available on the over-the-counter (OTC) market."
USD futures have begun declining towards the Broadening Wedge trendline at 96.50.  It appears to have begun the final stage of its decline in the Master Cycle with a potential low in mid-July.
9:13 am UPDATE:  USD futures made a new low at 96.44, beneath the Broadening Wedge trendline and triggering the formation a second time.  This may lead to a panic decline toward its target zone.
MarketWatch comments, "Stephen Roach, a Yale University senior fellow and former Morgan Stanley Asia chairman, tells MarketWatch that his forecast for a sharp deterioration of the U.S. dollar could be a very near-term phenomenon, not an event that looms off in the distance.
"I do think it's something that happens sooner rather than later," the economist told MarketWatch during a Monday-afternoon interview.
His comments come as the financial expert has been warning for weeks of an epic downturn of the buck that could signal the end of the hegemony of the greenback as a reserve currency — an event that would ripple through global financial markets."
ZeroHedge adds, "The dollar index is suddenly legging lower again this morning as USDJPY snaps back below 107, taking out last week's lows.
A chaotic overnight session, thanks to Navarro, but Yen is bid now with some market chatter about Softbank's flows…
Pushing yen back to its strongest against the dollar since early May…"
TNX is climbing again this morning after becoming seriously oversold at 6.51.  This development tells us that the 10-year Treasury yield is going higher in the next four weeks.  The rally is complex and appears corrective, but may lend itself to a Leading Diagonal formation…going much higher.
June 22, 2020
11:25 am
JPMorgan Warns Of $170 Billion In Forced Month-End Selling
ZeroHedge reports, "Last week, when previewing Friday's massive, $1.8 trillion quad witching Op-Ex, which culminated a material swing lower in stocks if without any major fireworks, we also observed that according to Goldman, as of last Tuesday's close, there was a net $76bn of equities to sell as pension funds rebalance for quarter end; this would be the third largest estimate on record, only behind Mar 2020 and Dec 2018, both of which happened to be extremely volatile periods.
In retrospect, Goldman may have been conservative because when adding all the other possible sources of month- and quarter-end forced rebalancing, the total amount "for sale" soars to an unprecedented $170 billion according to calculations by JPMorgan."
8:30 am
Good Morning!
SPX futures declined toward the daily mid-Cycle support at 3020.69, but bounced back to breakeven this morning.  We are dealing with an illiquid, news-driven market that cannot focus on reality.  However, the Cycles Model tells us to expect four weeks of decline, whether steady or chaotic.  The minimum target appears to be given by the Orthodox Broadening Top at 1806.42.
ZeroHedge reports, "Welcome to a new week, and a new rollercoaster in illiquid overnight futures trading, which saw spoos start off sharply lower on fresh coronavirus concerns after new cases in California rose by a record (4,515) and Florida infections up 3.7% from a day earlier, compared with an average increase of 3.5% in the previous seven days, while the German R-naught surged almost 3x to 2.88 in three days. As a reminder, on Friday stocks slumped late in the day after Apple said that it will again close almost a dozen stores in the US because of a recent rise in coronavirus infections in the South and West, denting the optimism that the US recovery is in full swing.
However, sentiment reversed sharply around 9pm ET when China reported that Beijing saw only 9 new cases suggesting that the latest breakout in the capital had been contained while South Korea saw the smallest daily increase in about a month, prompting renewed optimism that everything is once again under control. Futures then continued their ascent into the early European open, when Eminis rose as high as 3,097 before once again hitting the brakes and reversing modestly lower. Despite the rise in virus cases in Germany and the U.S. states of Florida, California and Texas.
VIX futures declined to 33.86, remaining above the 50-day Moving Average at 33.60.  The VIX buy signal (SPX sell signal) is intact despite the pullback.  The NYSE Hi-Lo Index has not offered a sell signal yet.  The 50-day Moving Average is at 17.40.  A decline and close beneath that level give the sell signal.
IBD observes, "Famous investor Baron Rothschild is credited with saying, "The time to buy is when there's blood in the streets." But how can investors measure the amount of panic "in the streets?" Enter the Volatility Index, or the VIX.
According to the Chicago Board Options Exchange (Cboe), "The VIX Index is a calculation designed to produce a measure of constant, 30-day expected volatility of the U.S. stock market, derived from real-time, mid-quote prices of S&P 500 Index call and put options." The VIX was introduced in 1993.
NDX made a high of 10121.67 on Friday, unable to break the June 10 high at 10155.20.  However, the NDX Hi-Lo Index made a new high on Friday not seen since February.  While the NDX closed beneath its Cycle Top resistance at 10032.42.
NDX futures made a weekend low of 9844.12, then challenged the Cycle Top with a peak of 10038.00.  Futures have eased back down below 10000.00, but bear watching as the index finds its direction.
TNX has declined beneath Intermediate-term support/resistance at 7.00 and the 50-day Moving Average at 6.89, confirming the sell signal for TNX.  Yields are due to continue their decline through July 22, the end of the current Master Cycle.
BKX, the proxy for liquidity, has fallen beneath the lower trendline of the Orthodox Broadening Top.  The oddity of this formation is that it had exceeded the target of its Orthodox Broadening Top at "point 6."  What's next is a potential Head & Shoulders formation that implies a negative outcome.  What that means is not entirely clear.  However, it seems likely that our banking system may be nationalized, since the Head & Shoulders suggest bank stocks may have "no value."
ZeroHedge reports, "Having closed the US Mint and halted production (blaming COVID-19)  after a surge in demand for gold and silver coins, and warned of the danger of using bills (once again blaming the pandemic and choosing to "quarantine" cash for the sake of Americans' health), Fed Chair Powell quietly admitted to lawmakers this week that The Fed will be rationing coins as the circulation of coins across the US economy ground to a halt due to the pandemic.
"What's happened is that with the partial closure of the economy, the flow of coins through the economy … it's kind of stopped," Powell told lawmakers.
He said the shortage was due to the mass business closures that prevented people from spending their coins, as well as a lack of places that are open where people can trade coins for paper bills.
"We've been aware of it, we're working with the Mint to increase supply, we're working with the reserve banks to get the supply to where it needs to be," Powell said, adding he expected the problem to be temporary.
June 19, 2020
2:00 pm
VIX has crossed above the 50-day Moving Average at 33.57 for the second time today, giving a strong buy signal.  This confirms the chart sell signal given by the SPX.  The lagging NYSE Hi-Lo Index is still hovering near its high for the day at 56.00.  The Hi-Lo gives a sell signal beneath the 50-day Moving Average at 17.25.
SPX has now made a Key Reversal, where it made a new high this morning and is now trading beneath yesterday's low.
12:00 pm
SPX declined beneath Short-term support at 3126.22.  This is an aggressive sell signal not supported (yet) by either the VIX (must rally above 33.50) or the NYSE Hi-Lo (must decline beneath 17.28).  However, we now know that the 8.6-day Cycle is over and the SPX is in decline.
10:30 am
SPX has made a new retracement high this morning.  The target for today has been minimally met at the open, just a few hours short of  a 4.3 day Wave [B].
A brief comparison is warranted.  February's Wave [A] of I was 6.45 days, while Wave [B] of I was only 2.15 days, totaling 8.6 days from top to top.
Wave [A] of III was 4.3 days long on June 15, while Wave [B] was 4 days long at the open this morning.  4.3 days would be reached by 12:00 – 1:00 pm.  Should it go higher, the revised target may be near 3160.00.  However, there is some conflict with that, since the decline from the top appears to be impulsive. Should the SPX not exceed the opening high at 3155.53 by noon, then it's time to clear the decks and go short.  A decline beneath Short-term support at 3126.36 gives us a sell signal.
Wave [C] of I in March was 12.9 days long.  Wave [C] of III appears to have the potential of 21.5 days, including a decline through the July options expiration.
ZeroHedge observes, "In a mirror-image move of May's WTI collapse, S&P 500 futures had a 'WTF' moment this morning as the March contract expired.
In the final 5 seconds of trading ahead of the expiry of the March futures contract, the S&P exploded over 30 points higher (from around 3160 to close at 3196) on notable volume…
…as we suspect some options market-maker's algo went wild in its last ditch effort to minimize pin-pain."
9:20 am
Trader: "It's Going To Be One Of Those Days"
ZeroHedge comments, "After weeks of chaotic surges and reversals in US equities, today has all of the hallmarks of being one of those sessions that, at the end of the day, if you didn't trade you will look at your screens and wish you had.
On the other hand, however, as Bloomberg's Richard Breslow notes, if you do trade, there is a good chance you will wish you hadn't."
8:15 am
Good Morning!
SPX futures finally began their final probe at 2:00 am after the Triangle flattened out for a day.  The  launch of Wave 5 has the potential to go above Tuesday's high at 3153.45, in the range of 3175.00-3180.00.    It appears that the calls have it.
ZeroHedge reports, "What do you get when you mix reopening optimism with stimulus hopes and throw in some good old "2019-style" US-China trade optimism? You get a session like overnight, where headed into what is usually an especially volatile quad-expiration day, at the curious time of 2:34am ET, or just before the European open, Bloomberg reported that with the Phase 1 trade deal largely forgotten, China planned to accelerate purchases of American farm goods to comply with the phase one trade deal with the U.S. following talks in Hawaii this week: "the world's top soybean importer intends to step up buying of everything from soybeans to corn and ethanol after purchases fell behind due to coronavirus disruptions" Bloomberg reported citing sources, and that's all last year's trade war algos needed to push futures to overnight highs.
VIX futures pushed down to 30.79 this morning and is hovering near the lower end of that range.  The 61.8% retracement is at 31.50.  A probe beneath that level may not last beyond today.
YahooFinance reports, "(Bloomberg) — U.S. equity volatility won't likely return to normal levels until there's a vaccine for Covid-19, according to Cantor Fitzgerald LP.
The Cboe Volatility Index has more than halved since its mid-March closing peak of just below 83 to trade around the 33 level Thursday. That's still almost 15 points above its lifetime average of 19, and it may not retreat much further anytime soon, strategist Eric Johnston said in a June 18 note.
"Given continued uncertainties as the economy reopens, an upcoming election, along with the daily bid for volatility ahead of case data on select U.S. states, we don't foresee a VIX below 20 until an approved vaccine for Covid is achieved," he wrote.
Cantor recommends investors buy call options on the VIX — a bet on an increase in market swings — when the gauge reaches the mid-20s.
TNX jumped overnight, causing me to rethink the Wave structure.  A further rally above Tuesday's high at 7.84 may suggest an inverted Master Cycle in July.  The corrective nature of the rallies since April have suggests more downside.  However, a Leading Diagonal Wave [1] may also sport a corrective pattern.  Remember, the overwhelming investor positions in TNX are bearish.
Axios reports, "The newly reissued 20-year U.S. Treasury bond saw strong demand in its second auction of 2020 on Wednesday, selling $17 billion worth of notes for a high yield of 1.31%.
Why it matters: That was around two basis points lower than where they had traded before the auction and yields declined further to 1.24% in overnight trading.
The market movement suggests a continued appetite for safe-haven U.S. government debt at all maturities."
USD futures have eased down to 97.12, still within Thursday's trading range.  A decline beneath the Broadening Wedge trendline at 96.50 may set off a panic decline.
MarketWatch observes, "Stephen Roach, Yale University senior fellow and former Morgan Stanley Asia chairman, has a warning for U.S. dollar bulls. The prominent economist says that the era of the U.S. buck may be coming to an end and is forecasting a 35% decline soon in the U.S. currency against its major rivals, citing increases in the nation's deficit and dwindling savings.
The lecturer said during CNBC's "Trading Nation" on Monday that the rise of China and the decoupling of the U.S. from its trade partners is setting the stage for a dramatic weakening of the U.S. currency in the next few years that is likely to end the supremacy of the monetary unit as the world's reserve currency."
June 18, 2020
12:41pm
Having a Cycles Model may give us an advantage, but also comes with its own set of problems.  As an example, I had suggested (I try not to predict) that we might see a Cycle bottom on or around June 3.  Instead, we had an inversion that peaked on June 6.
Sometimes they shrink.  An example of a shrinking Cycle was the Master Cycle Low on March 23.  It occurred 17 days prior to the average low which would have occurred on April 9.   There was a minor low on April 2.
Sometimes they stretch.  We may be in a situation where the Master Cycle may stretch, or even reset.  Currently we are in such a situation.  Monday's Cycle low leaves a bit of a problem being so close to the prior Master Cycle Top.  It may only be an iteration of the Trading Cycle, which happens every 60 days and often coincides with the Master Cycles.  The next Trading Cycle iteration (low) appears to be July 22.
The problem presented here is that there appears to be no Master Cycle low in July.  However, that observation disagrees with numerous other Cycles that I monitor:
The NYSE Hi-Lo Index projects a Master Cycle low on July 20.
The Liquidity Cycle projects a Master Cycle low on July 22.
TNX also projects a Master Cycle low on July 22.
USD projects a Master Cycle low on July 17.
WTIC projects a Master Cycle low on July 15.
Gold projects a Master Cycle low on July 20.
VIX enters its Master Cycle turn window on July 24.
CRB has a Master Cycle low on July 21.
Nikkei has a Master Cycle low on July 23.
European and South American stocks have  Master Cycle low on July 20.  China does not…
That leads me to believe that the Master Cycle ending on June 15 may be reset to the week of July 20.  A comparison to the February 19 to March 23 decline follows:
The peak-to-trough decline ending on March 23 was 33 calendar days and 22 (21.5) market days.
The peak to trough decline starting on June 8 may be 43 calendar days and 30 market days should it end on July 21.
You may wish to plan accordingly.  By the way, taking profits early may be advised, since the collective strain on the system may cause systems to break down.  Banks may fail.  There is a Head & Shoulders neckline on the BKX that projects a negative outcome.
A final note, God willing, I have a trip to Alaska planned for July 16-26.  You may not hear from me during some of the most critical days.  It may be for the best.
ZeroHedge notes, "In our preview of tomorrow's massive, $1.8 trillion op-ex, which will be the third-largest non-December expiration on record, we quoted Goldman who said that as a result of a substantial amount of the open interest located below spot (largest concentration is at 2800-2900) "it is not immediately clear if this alone will have a material move on the market in the immediately preceding period", and also whether this impact would be bullish or bearish.
So if Goldman is correct, tomorrow's should be generally a non-event. But what about after?
According to Nomura's Charlie McElligott, "the short-term setup for an SPX pullback coming out of tomorrow's Op-Ex is there, particularly as we see a "clustering" of the CTA deleveraging- and Dealer Gamma- levels not far below market into next t+1w / t+2w relative to spot—which then aligns with seasonal propensity to pull-back post the serial expiration."
9:00 am
ZeroHedge reports, "Despite the hope-restoring nonfarm payrolls "recovery" and the over-hyped bounce in retail sales (ignoring the lack of 'V' in industrial production), in the last week 1.508million more Americans filed for unemployment benefits for the first time (notably worse than the 1.29mm expected).
Source: Bloomberg
That brings the thirteen-week total to 45.7million, dramatically more than at any period in American history. However, as the chart above shows, the second derivative has turned the corner (even though the 1.508million rise this last week is still higher than any other week in history outside of the pandemic)"
8:00 am
Good Morning!
SPX futures declined to 3064.62 overnight, losing its struggle to maintain Short-term support at 3118.92.  The Triangle formation appeared legitimate, but the final thrust higher at 2:00 pm failed to make a new retracement high.
All of that being said, the Monday low (an 8.3% decline from the high)best qualifies for a Master Cycle low, only 4.3 market days after the previous high.  The 6.3% retracement just doesn't cut it for a Master Cycle high.
ZeroHedge reports, "S&P futures slumped on Thursday alongside European stocks as investors weighed the latest reports about fresh outbreaks of the coronavirus in China and America ahead of a weekly jobless claims report. A resurgence in coronavirus cases has upended bets of a swift post-pandemic economic recovery, with the S&P .SPX and the Dow snapping a three-day winning streak on Wednesday.

VIX futures leaped above the 50-day Moving Average at 34.03 this morning, putting it back on a buy signal.
Investopedia reports, "Last Thursday marked the unofficial start of triple witching options expiration, with the rollover of June futures contracts into the September forward month at many brokers. The period from the rollover through this Friday's expiration have a well-earned reputation for whipsaws and reversals, raising the potential for high volatility. The CBOE S&P 500 Volatility Index (VIX) is sounding this message loud and clear, with the "fear gauge" lifting to a two-month high above $40."
NDX futures made a dive to 9868.12 before recovering above 9900.00.  This may be indicative of selling pressure beginning before options expiration and quarter-end.
ZeroHedge observes, "With market liquidity stubbornly stuck near all time lows (which permits retail investor trades to have such an outsized impact on the broader market)…
… the next two weeks promise to be volatile for stocks for two reasons: first, there is a rather massive option expiration set for this Friday (with some caveats), and then for quarter end, we are facing what appears to be one of the biggest pension fund dumps in history.
TNX appears to be testing the 50-day Moving Average at 6..89 this morning.  A decline beneath that confirms the probability of the Master Cycle low in July.
USD futures have remained flat in the overnight market.  The Cycles Model still calls for a Master Cycle low in mid-July.
CNBC reports, "The stronger dollar era may be on borrowed time.
Stephen Roach, one of the world's leading authorities on Asia, is worried a changing global landscape paired with a massive U.S. budget deficit will spark a dollar crash.
"The U.S. economy has been afflicted with some significant macro imbalances for a long time, namely a very low domestic savings rate and a chronic current account deficit," the former Morgan Stanley Asia chairman told CNBC's "Trading Nation" on Monday. "The dollar is going to fall very, very sharply."
June 17, 2020
11″38 am
SPX is sporting a small triangle that suggests a final probe to 3175.00-3200.00.  If this analysis is correct, we may see a reversal happen either late today or early tomorrow.  Watch out below!
7:45 am
Good Morning!
SPX futures remained positive in the overnight session, but no new high.   The 61.8% retracement is at 3130.96 and it appears to be hovering near that level.  Last Thursday's gap down from the trendline near  3180.00 needs to be filled for the SPX to resume its rally.  In the meantime, options expiration approaches and the need to remain elevated through options expiration remains high as to prevent a chaotic panic decline during expiration.  Today is day 258 in the Master Cycle.  Not having made a new high puts the SPX in the position of making a potential flash crash, completing Wave [A] of Wave III in the next 4.3 days and completing the Master Cycle.
ZeroHedge reports, "For the third day in a row, global markets have shrugged off concerns about rising global coronavirus cases and that China is set to suffer a "second wave" as much of Beijing is once again under lockdown, with US equity futures advancing and European shares adding to their best gains in almost a month thanks to continued government and central bank stimulus and hopes of a rapid economic recovery.
VIX futures appear to be trading just beneath the 50day Moving Average at 34.39.  This is a good place to add long positions.  Today is day 258 of a very short Master Cycle.  There are two possibilities to explain this.  The first is that it made a Master Cycle high on Monday, day 256.  That is not very satisfying, since the prior Master Cycle low was only a week ago.  The second possibility is we may see a delayed (up to 17 days) Master Cycle high following options expiration…or a flash in the VIX during expiration and beyond.  A flash/crash only needs 4.3 days to complete.
NDX futures have exceeded 10000.00 again this morning.  The reversal point is at the Cycle Top at 9967.40.  A decline beneath that level gives us an aggressive sell signal.
TNX has already made a morning low of 7.25 as investors pile into treasuries.  A decline beneath the 50-day Moving Average a t6.98 confirms the decline.
June 16, 2020
8:55 am
SPX is soaring above the 61.8% retracement level at 3131.00 after the retail sales report gave better than expected news.  This does not materially change the earlier analysis, although an elevated market through options expiration would default to option one.
In addition, ZeroHedge reports, "Futures spiked on news early Tuesday that a life saving steroid, dexamethasone, has proven effective in the treatment of patients who are seriously ill with coronavirus.
The low-dose steroid which has been around since the 1960s was found to cut the risk of death by 35% for patients on ventilators, and 20% for those on supplemental oxygen without intubation. It's currently part of the world's largest trial testing existing treatments, according to the Associated Press, citing UK researchers.
7:45 am
Good Morning!
SPX futures have challenged Short-term resistance at 3104.89 in the overnight session, creating a new retracement high at 3112.88.  This is day 257 of the current Master Cycle, which leaves us two alternatives.  The first is that today may be another Master Cycle inversion.
I favor the second possibility.  That is, the Cycles Model is setting up a "slingshot move" where, after the high is finished, there is the probability of a panic decline over the next 4.3 days that finishes Wave (C) of [A] and the Master Cycle at a low beneath March 23..  Last Thursday was just a foretaste of what may come.  Should this be the case, we may see a key reversal today.
ZeroHedge reports, "After Monday's dramatic intraday reversal which saw the S&P500 surge more than 100 points from session lows and closing above its 200-day moving average, ES futures continued their levitation overnight and were trading at 3,110 last, propelled both by Monday's Fed announcement it would start to buy corporate bonds on Tuesday, and a late Bloomberg report that Trump was seeking a $1 trillion infrastructure proposal to stimulate the economy which would focus on 5G and rural broadband, although reports added it would still under discussion and would need the backing of Congress."
VIX futures made a new retracement low at 33.22 this morning.  This is in the range of a 53% retracement.  Keep in mind that the 50-day Moving Average is at 34.84 and a rally above that tells us the decline in SPX will be serious.
The NYSE Hi-Lo Index closed at 21.00 yesterday.  The 50-day Moving Average has risen to 9.48, giving us a higher transition point to a sell signal.
SeekingAlpha comments, "The VIX volatility index has been slowly drifting lower since peaking around 85 in the middle of March. The big move lower in the S&P 500 on June 11 sent the VIX index surging higher, and now increasing open interest levels suggest traders are betting it rise even more in the weeks ahead.
Should the VIX spike as some traders are betting, it likely means that the S&P 500 sees a pretty sizable downdraft over that same period. One could say that the move lower on June 11 was merely the start of something more protracted."
TNX has made a 35% retracement of its initial decline from the 9.57 high.  While it could make a higher retracement, the Cycles Model suggests the period of strength may be over.
USD futures are hovering above the Broadening Wedge trendline at 96.50.  A breakdown beneath that level announces the resumption of the decline to the next Master Cycle low in mid-July.
Bloomberg comments, "Scorn has long been heaped on those daring to question the supremacy of the U.S. dollar as the world's dominant reserve currency. I certainly received more than my fair share in reaction to a column I recently wrote for Bloomberg Opinion on the likelihood of a sharp decline in the greenback. The counter-arguments were strong and highly political, basically boiling down to the so-called TINA defense – that when it comes to the dollar, "there is no alternative."
June 15, 2020
7:20 am
I have an early morning appointment to make.  I will make further comments after the open.
6:30 am
Good Morning!
SPX futures declined to 2925.12 this morning before a bounce.  In the process it broke through the 200-day Moving Average at 3013.88 and the Intermediate-term support at 2977.20, confirming the sell signal.  Friday morning's decline gave us an (A) of [A] Wave with Wave (B) at the high.  Wave (C) of [A] is set to decline to a minimum of 2766.64, but may develop into a 4.3-day panic decline that could challenge the March 23 low.  Should that be the case, the decline may proceed until mid-day on Thursday, followed by a wicked Wave [B] recovery through options expiration.  I suggest profit taking on Wednesday, since the market may be untradable on Thursday.
While the SPX is due for a Master Cycle low on Wednesday, the Hi-Lo, VIX and Liquidity Cycles doe not support it.  This is the same behavior that we witnessed for Wave [A] of Wave I.  The next Master Cycle low supported by the VIX, Hi-Lo and Liquidity Cycles (Wave [C]) may be due the week following options expiration in July.
ZeroHedge reports, "In a continuation of the selloff that started
 

overnight, US equity futures and world stocks are plunging on Monday on signs that a second wave of the pandemic is emerging in parts of the United States and China, dousing investor hopes of a quick economic rebound that had powered the Nasdaq to record levels last week. Beijing closed the city's largest fruit and vegetable supply center and locked down nearby housing districts after dozens of people associated with the market tested positive for the virus. A record number of new infections and hospitalizations were reported in more U.S. states, including Florida and Texas over the weekend.
After dropping as much as 1,000 points, Dow futures were down about 600 points at last check, with S&P futures dropping as much as 3.4% in early London trading in what some have dubbed "Meltdown Monday", although S&P 500 futures managed to trim their losses in half, last down about 1.6%.
VIX futures gapped up to 43.11 at yesterday's open but has pulled back a bit.  It remains near the high, so we appear to be likely for a further advance in the VIX.
Bloomberg reports, "Cboe Global Markets Inc. is looking to cater to smaller-scale traders who have embraced options in recent months as volatility increased.
The Chicago-based firm's Cboe Futures Exchange is planning to relaunch mini futures on the Cboe Volatility Index, or VIX, which it had offered from 2009 to 2014, according to a filing with the Commodity Futures Trading Commission dated June 9. It aims to debut the VXM product later this year, pending regulatory approval. Commodity Trading Advisors, "sophisticated" retail investors and proprietary-trading firms could be among potential users, according to the filing.
TNX futures are trading within Friday's range.  However, it is beneath the 50-day Moving Average and on a sell signal.  The next Master Cycle low appears to be due during the week after options expiration in July.
June 12, 2020
1:52 pm
VIX found support at the 50-day Moving Average and is not trending higher.  This is a very good sign for the bears.  We may be seeing a "whipsaw" VIX that may hit its Master Cycle high in the next week.
1:48 pm
The NYSE Hi-Lo remains sticky near the 50-day Moving Average at 6.78.  No explanation, other than buy-the-dippers are still chasing the stronger stocks.  Considering the bounce this morning, I will try to look in on this near the close.
1:40 pm
SPX tested the 38.2% retracement at 3088.00, then turned back down.  Just above that is Short-term resistance at 3103.02.  It appears that SPX just had another running correction of a higher magnitude than yesterday's.  Prepare for a deeper dive over the weekend.
ZeroHedge reports, "Earlier this week we published an in-depth note from Goldman laying out "all you need to know" about gamma and option-driven equity flows, which explained why "gamma has the potential to be one of the most important non-fundamental flows in equity markets (particularly when "short gamma" causes volatility to accelerate), but tracking gamma is complex and dynamic."
In this context, overnight Nomura's Charlie McElligott described Thursday's furious market moves from a "Greek" background, noting that the "Dealer gamma position flipped short midday yesterday in SPX/SPY consolidated options on the initial move through 3085 to the downside, which coincided with the level break lower around the EU cash equities close (where a number of large vol Dealers reside and thus, we often see signif moves in the US 10:45-11:45 EST window) and remained very heavy into/around the US cash close, when the majority of said US Dealer hedging occurs."
And while McEligott then pointed out that the overnight bounce helped push spot above the "gamma neutral" line of 3046 "as those vol Dealer flows subsided and / or "reset"—specially on the variance swap delta hedging side" the sharp selling seen in the past few minutes following the report that Florida Covid-19 cases jumped 2.8% to 70,971, the biggest daily jump since May 1, and compared with an average increase of 2% in the previous seven days, as deaths among Florida residents reached 2,877, an increase of 1%…
7:30 am
Good Morning!
SPX futures bounced off the 2-hour Mid-Cycle  and round number Support at 3000.00 in the overnight session, reaching a high of 3073.88.  This falls short of the 38.2% retracement level at 3088.00.    The question is, is this just the preliminary bounce (Wave A) or could the market be in such dire straits as to resume the decline at the open?  Today's behavior may give us some indication whether the decline continues through options expiration, causing a massive crash.  There have been many comments about how fast the markets declined in March.  This may be even faster as a full blown panic begins.
ZeroHedge observes, "After the worst market rout since the March crash, which saw the S&P plunge almost 6% on Thursday, U.S. stock index futures surged about 2% on Friday along with European stocks, pointing to a quick rebound for Wall Street from its biggest one-day dive in about three months on fears of a resurgence in coronavirus infections. Big U.S. lenders including Bank of America Corp , Citigroup Inc and Morgan Stanley rose between 3% and 5% in premarket trading after taking a hammering earlier this week. The dollar dropped along with the yen and Treasurys as investors sold safa havens. The VIX eased about 4.5 points after spiking to 40, its highest level since April 23.
Why are stocks surging? Because it appears that the lunatic have taken over the asylum again, with Hertz stock up over 50% after the company announced on Thursday it would try to sell bankrupt stock (to manic Robinhood daytraders), in order to fund its operations during bankruptcy, something that has never been attempted before as bankrupt stock is traditionally worthless but to Robinhooders it has about $600MM in value."
VIX futures declined to 36.07in the overnight session, remaining above the 50-day Moving Average at 35.61.  VIX is on a confirmed buy signal.
The NYSE Hi-Lo closed on a sell signal by a whisker, beneath the 50-day Moving Average at 4.30.  The overnight bounce may not affect the Hi-Lo this morning, since the usual stocks bought may still remain on the advancers' list.
NDX futures rose to 9795.00 this morning, just shy of the 38.2% retracement at 9803.00.  It now appears to be giving up its gains, as is the SPX as well.  Short-term resistance at 9789.80 may have come into play.
TNX rose back to challenge Intermediate-term resistance at 6.99 this morning.  The 50-day Moving Average is just beneath it at 6.83.  We may see the TNX remain oversold during the entire Wave C  decline.
June 11, 2020
1:15 pm
NDX is clearly beneath its Cycle Top support at 9916.44 and on a sell signal.  The reason for the confirmation is that the NASDAQ Hi-Lo Index is at 11.00, having declined beneath the 50-day Moving Average at 29.78.  This decline has the makings of a swift, volatile panic tumble beneath the March low.  The February decline to the first low took only 6.45 days.  I am looking for a repeat (at least) performance, but will monitor the possibility of declining through options expiration.
ZeroHedge observes, "Update (1220ET): Well that really escalated quickly…
*  *  *
Small Cap stocks are now down over 5% from before Friday's payrolls surprise and only Nasdaq is holding on to gains for now…
10:40 am
The bounce appears to be weak and lacking in follow-through.  Be alert to go short beneath 3098.74, should the decline resume.  Normally we might see a bounce to 3150.00.  This has the earmarks of a potential "running correction."  This implies there is too much downside momentum to stage a normal Fibonacci retracement.
10:30 am
TNX has declined beneath its 50-day Moving Average at 6.82.  This may be starting a meltdown of all the trades that were just reversed to short UST last week.  In addition,
ZeroHedge observes, "Well that de-escalated quickly…
The Fed statement and Jay Powell's downbeat press conference are acting as a powerful curb on the hope-filled (and extremely rapid) allocation shift that had been unfolding in recent days.
In general terms, the meeting ended with the dovish outcome of continued monetary easing measures and a cautious stance on the economy.However, recent positive surprises in the incoming economic data had led some quick-footed investors in particular to start adopting an optimistic take on the economy.
As a result, Nomura's Masanari Takada notes,

 

the gap in perceptions between the market and policy authorities lent support to the idea that such an abrupt allocation shift was not really necessary in the first place,

 

and as a result, the market trends that got under way last week did an about-face, with investors selling equities and buying bonds while selling the value factor and buying the momentum factor.
We have seen this pattern before (the recent 'value' explosion vs Sept 2019) – and it didn't end well then either…"
10:20 am
The NYSE Hi-Lo Index has given a potential sell signal, subject to closing beneath the 50-day Moving Average at 4.28.  You will note that this morning's high was 4.00, not exceeding the 50-day.  However, the SPX bounced at Short-term support at 3098.73.   Should the SPX not close this morning's gap, it will have left an Island Reversal, which is a reliable reversal pattern.
ZeroHedge reports, "With stocks tumbling, it was only a matter of time before Trump trotter out the "plunge protectors", and sure enough just minutes after cash reopen, Steve Mnuchin dialed into CNBC, where he said that "we can't shut down the economy again" amid growing fears of a second virus wave, and just to get the Robin hood traders extra pumped, the Treasury Secretary said that another $1 trillion will be pumped into the market economy.
MNUCHIN SAYS OVER NEXT MONTH ANOTHER $1 TRILLION WILL BE PUMPED INTO U.S. ECONOMY
MNUCHIN SAID 'WE CAN'T SHUT DOWN THE ECONOMY AGAIN'
MNUCHIN 'QUITE OPTIMISTIC' IN MEDICAL PROGRESS THAT HAS BEEN MADE ON COVID-19
MNUCHIN SAYS FURTHER AID TO STATES WILL BE SUBJECT TO DISCUSSION WITH CONGRESS
Unfortunately for the stock market president, unlike previous Mnuchin appearances, this time the market was largely oblivious to his message, and was trading near the worst levels of the session, just around 3,100."
8:00 am
Good Morning!
SPX futures declined beneath the trendline at 3180.00, making a low of 3101.62 this morning.  This is our sell signal.  Short-term support is at 3093.00, so there is a likelihood for a bounce.  Use your best judgement for a short entry.  I will comment later today, should I see an opportunity.  As mentioned earlier, this may be a very fast decline as retail investors are "all in."  Be prepared for some wild volatility in both directions.
ZeroHedge reports, "According to analysts, it was one of the most dovish Fed statements in history. It was also not enough to offset the Fed's gloomy and uncertain outlook which sees unchanged rates until 2022 and an economy that fails to recover its 2019 highs for at least three years. As a result global stocks dropped the most in five weeks and US equity futures tumbled on Thursday not only on the Fed's sobering outlook but also on rising signs that a second wave of the pandemic has arrived; bonds rallied on bets yet more stimulus would be needed to ensure recovery and the dollar ominously rebounded indicating that financial conditions are about to get tighter again.
The MSCI All-world index slid 0.75% in its largest daily loss in five weeks, while E-Mini futures for the S&P 500 fell 2% to extend the previous session's pullback on Wall Street, sliding as lows as 3,100 a day after Powell suggested the pandemic could inflict long-lasting damage on the economy. Futures legged lower after the WSJ reproted that the EU is reportedly mulling formal antitrust charges against Amazon in the next week or two over treatment of third-party sellers, according to WSJ citing sources."
VIX futures rallied above 30.00, confirming the buy signal.  This is where professionals start taking notice of the VIX and adding positions.  This may be a very crowded trade as more investors pile on and VIX shorts have to cover.
FXStreet comments, "The Volatility Index currently sits around 27, having retraced 50% of the highs made in March. The decline has stalled in recent weeks, though, and could potentially be setting up for a rally that repeats history as VIX tends to rests highs after significant spikes, per Charles Schwab."
VIX futures challenged the Cycle Top support/resistance at 9898.00 this morning by declining to 9896.50 before a modest bounce.  An open beneath the Cycle Top is considered an aggressive sell.  However, we will also monitor the NYSE Hi-Lo Index and the NASDAQ Hi-Lo Index to allow additional confirmation after the open.
ZeroHedge comments, "We have extensively discussed the topic of retail daytreaders flooding the market in recent months, but the following chart summarizes everything we have said clearly and succinctly: it shows that google trends for "day trading" and "call options" have exploded in recent weeks, surging to never before seen levels.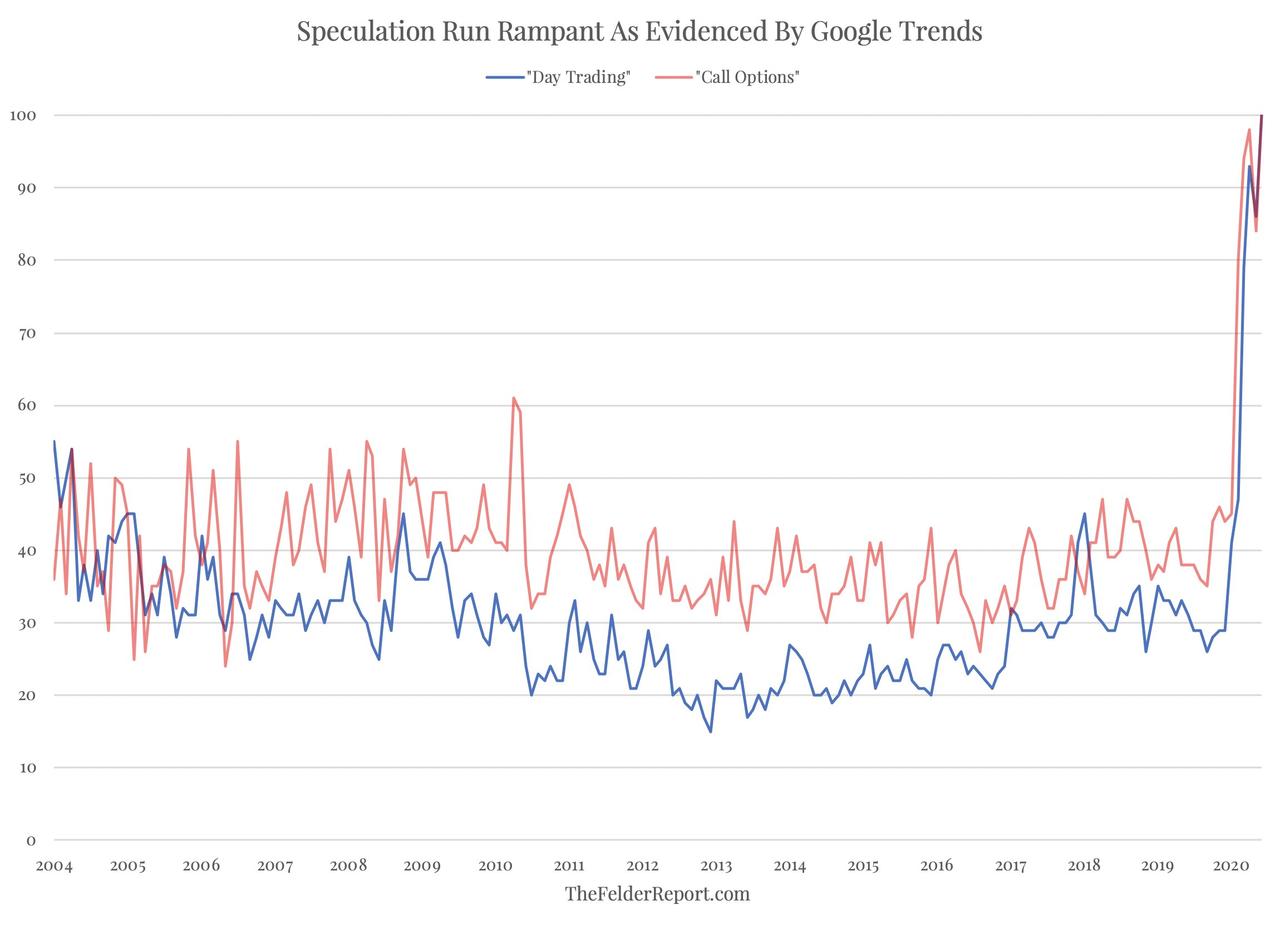 We hope this satisfies all those journalists who are searching for an explanation for what we described three weeks ago in "how retail traders taking over the stock market."
TNX had the trap door open overnight as yields fell below .70.  You may recall my previous comment that the lower trading band (Cycle Bottom) has not leveled off.  It is currently at 3.30 and still on a decline.  The suggested lower target may be near 2.50 in the TNX.
USD futures have bounced back to the Broadening Wedge trendline at 96.50  by rallying to 96.49 this morning.  Yesterday's low was on day 253 of the Master Cycle, suggesting the decline may be nearing its end.  Should it break through the trendline, this suggests a Cycle high, which may be bearish.  However, it is more likely that there will be one more push down through the end of the week.  Day 258 is on Monday.
WTIC futures declined to 36.59 in a strong reversal from Monday's high at 40.00.  While there are no nearby supports to create a sell signal, a reversl of this magnitude coupled with the SPX signal may justify a short entry today.
June 10, 2020
Good Morning!
SPX futures continue to trade in a narrow range between 3193.00 and 3227.00 while NDX continues upward.  It appears that the markets are waiting for the Fed announcement at 2:00 pm.
ZeroHedge reports, "For the second night in a row, US equity futures peaked overnight then slumped around the time Europe opened, sliding along European stocks as investors were spooked by a grim economic forecast by the OECD (it is unclear why bad news isn't good news in this case) ahead of what is expected to be another very dovish statement by the Fed, which pushed the

 

dollar to the most oversold level since 2007.
The Fed will publish its first economic projections since the coronavirus pandemic set off a recession in February that ended a decade-long expansion. Investors will also look for any hints on yield curve control measures amid a recent surge in U.S. Treasury yields.  Investors will be looking for reassurance on the central bank's willingness to keep providing extraordinary support for the economy. Policy makers may also comment on potentially targeting yields for some Treasury maturities. Markets are balancing that with the OECD's assessment that the economic hit from the pandemic may be deeper than anticipated.
NDX futures have risen higher to 10048.00 in early morning trading.  The pattern has taken the form of an Expanding Diagonal.   The Cycles Model suggests a reversal takes place at a decline beneath the Cycle Top support/resistance at 9870.48.
ZeroHedge observes, "Meet

 

Fangdd

 

Network Group – a Chinese real estate service provider with the ticker symbol DUO.
Yesterday, and more this morning, the company – whose name bears a strong resemblance the FANG stocks that make so many headlines day after day at their record highs – has

 

seen its stock soar 600%!!!
Some context..
  VIX futures have eased down to 26.59.  This is within yesterday's trading range.  It appears that the whole world is waiting for the Fed.
TNX has declined beneath the 8-handle.  A confirmed sell signal may await the decline beneath the combined supports at 6.92.
June 9, 2020
Good Morning!
SPX futures appear to be testing the trendline at 3180.00 with a morning low at 3190.12.  Should it succeed, it will also have left round number resistance at 3200.00.
The Cycles Model suggests two possible outcomes.  The first is that the decline begins momentarily, if not already.  The issue here is that investors are (1) all in and (2) the June options week,s a quadruple witching week, is less than two weeks away.  A decline through quad witching would certainly send the SPX to new lows by the end of June.  That is what I am expecting, since the Orthodox Broadening Top target appears to be 1806.00.
The second possible outcome is that the markets stay elevated until options expiration, then decline into mid-July.  At this point, the probability of the SPX making a new high becomes elevated and makes the Orthodox Broadening Top a 7-point reversal structure instead of the normal 5-point reversal.  The ultimate target would be beneath 1000.00.
ZeroHedge reports, "After hanging around at 3-month highs well into the overnight session, U.S. equity futures took a sharp leg lower around the time Europe opened, sliding back under 3,200 along with European stocks on worries that the historic rally in risk assets has overshot the economic recovery giving back some of the gains from the recent historic rally after the Nasdaq notched a record closing high in the previous session, with focus now on the Federal Reserve's two-day policy meeting. Treasuries advanced with gold and the yen.
The drop comes one day after the Nasdaq hit a fresh record closing high on Monday, while the S&P 500, which is about 5% below its own all-time high, also erased its year-to-date losses.
NDX futures have pierced the upper trading band at 9845.00 and appear to be in line for a reversal day today.  This falls in lie with option 1 that was discussed earlier.  NDX is so far out on a limb that a reversal at the upper trading band by necessity puts us on high alert.  Confirmation comes from the VIX and Hi-Lo Indexes.
NorthmanTrader comments, "President Trump is mocking Warren Buffett for having sold his airline stocks, Druckenmiller crying on TV about having been humbled by the market while every Robinhood retail trader piling into ever more into calls is laughing all the way to the bank. The professionals gobsmacked at the complete upside down events in markets compared to any other time in recorded history given the economic backdrop while retail is giddy jumping into any ticker symbol that's moving valuations be damned, hey let's even chase bankrupt companies, why not?"
VIX futures made a new overnight high at 27.03 after closing above its mid-Cycle support/resistance at 25.19.  It is on a buy signal. 
The NYSE Hi-Lo Index made its Master Cycle high on June 3.  Since then it has eased down a bit, but has not crossed the 50-day Moving Average at .42.  A decline beneath that level puts the Hi-Lo on a sell signal.  It is a slower signal than the VIX, but the combination of the two is about as good as it gets.  It closed above the 50-day Moving Average on March 24.
The Hi-Lo Cycles Model supports a probable new low on or after July 20, while the SPX and VIX Cycles Models do not.  The Liquidity Model and the TNX Model also support a possible Master Cycle high or low during the week of July 20.  There appears to be an interesting confluence there.
Yesterday I warned that there may be a false rally in the TNX, due to the fact that Friday was the last possible day for a Master Cycle high.  Sure enough, we got a reversal on Monday and this morning's TNX futures are down even further.  What alarms me is that the lower band of the Cycles Model has not leveled off.  This is a classic sign that the decline may not be over.  It appears that, for the last time, UST may be used as a safe haven during a potential stock decline, only to trap investors in a potential whiplash reversal.  By the way, the next Master Cycle low is due on July 22.
Investing comments, "G7 government bonds? Check. Gold? Check. But that may not be enough as the coronavirus crisis accelerates a hunt for a wider pool of assets to better balance investment portfolios during stressful times.Corporate and Chinese government debt are among alternatives being explored by multi-asset portfolio managers with mandates to invest across sectors, currencies and countries.
It's been a moot point for years now whether U.S., Japanese and German bonds can adequately offset equity volatility. Given how relentlessly yields have fallen, many fear these bonds can no longer rally much when stocks fall – effectively losing the inverse correlation that made them a valuable defensive asset."

June 8, 2020
7:45 am
SPX futures appear to be testing the trendline at 3175.00.  The range has been 3183.38 to 3210.88.  A breakdown here is possible and highly likely, according to the Cycles Model.  That may give the next Master Cycle 8.6 days to completion, enough time for a panic decline or even a crash to a defined target beneath the March low at 2191.86.
ZeroHedge reports, "One day after a record surge in Nasdaq trading volumes on Friday, which was coupled with a record spike in call option activity as both retail and hedge fund investors rush into stocks, global stocks inched higher again on Monday, adding to a 42% surge from their March lows, as the unexpectedly strong US jobs report data fuelled hopes of a quicker global economic recovery from the coronavirus pandemic. Emini futures jumped in early trading overnight then drifted in a range between 3,185 and 3,210.
In stock-specific news, Bloomberg over the weekend reported that AstraZeneca approached Gilead regarding a potential merger which would mark the largest healthcare deal on record. However, sources via The Times downplayed the prospect of any AstraZeneca interest, stating that it has abandoned a tentative interest, while Wall Street analysts puked on the prospects of the deal. Gilead was 3.3% higher in pre-market.
The MSCI all-country world stocks index was 0.1% higher and just 7% away from a fresh record high, while the benchmark S&P 500 is within striking distance of turning positive for the year.
VIX futures are challenging the mid-Cycle resistance at 25.13 this morning.  The mid-Cycle area is a sticky level that, once broken tell us that the reversal may have been made.  Therefore, it can be considered an aggressive long entry when the VIX re-emerges abe it.
The NYSE Hi-Lo retested its Wednesday Master Cycle high on Friday.  You can see how thin this rally has been, with only 69 out of 3200 stocks making new 52-week highs.  The 50-day Moving Average closed at -0.98 Friday.  A decline beneath that level gives us a sell signal.  The next Master Cycle ends on or near July 20.  While it has no corresponding Master Cycle in the SPX or the VIX, it does correspond with the Liquidity Cycle and the UST/TNX Cycle.  That suggests another possible high in the NYHL in July.  If so, those who are short the SPX should be ready to take profits at the June SPX Cycle low.
TNX is lower this morning after a potential breakout on Friday, causing massive short covering.  The high crowded the outer limits of a Master Cycle, but the Wave pattern suggests a false breakout.  This falls in line with the Liquidity Cycle and the UST/TNX Cycle suggesting yields at a new low in late July.  I may be proven wrong if yields spike higher, especially above 12.66.
USD futures reached a possible high at 97.07.  However, the Cycles Model suggests another week of decline ahead.  The next Master Cycle low is due during the week of June 15.  It appears that the lower trendline of the Broadening Wedge at 96.50 may be crossed, triggering that formation.
June 5, 2020
3:25 pm
SPX has risen above, then slipped beneath the upper trendline of the Broadening Wedge formation shown in the 2-hour chart.  Considering today's position in the Master Cycle (day 260) and the exact interval from today's high to the next Master Cycle low due on June 17 is 8.6 days, I suggest an aggressive short on the market may be taken.  That is especially recommended, given today's euphoria and the loss of momentum that may hit stocks very hard on Monday.  Remember, Wave [A] of the February decline only took 6.45 days, resulting in a 15.85% decline.  This decline may be of a larger magnitude, since the NDX may participate more fully this time.
Good Luck and good trading!
2:15 pm
"Optimism Has Become Excessive"

 
ZeroHedge remarks, "While many have applauded the fact that VIX is back below 25, that remains an extremely elevated level historically speaking and has decoupled from the exploding price levels of the broad market…
Source: Bloomberg
This decoupling – relative demand for 'options' – is typically interpreted as a more risk averse perspective. However, instead of put demand (protecting soaring profits), the decoupling could signal call demand (levered long and all in) and that is exactly what we are seeing.
1:25 pm
Quant Carnage: Momentum Melts Down By Most On Record As Yields Spike
ZeroHedge observes, "The "large gatherings" across the nation appear to have crushed any fears of COVID contagion and today's jobs data (heavily impacted by massive swings in the birth/death model adjustment) has removed all fear from FOMO-minded investors as they chase stocks (and bond yields) higher.
Dow futures up over 2000 points from Sunday night's open…
This dramatic acceleration in investors' willingness to take on risk has become evident at the level of equity market factor preferences, with value (low-P/B over high-P/B) staging a rebound and momentum (12-month winners over 12-month losers) losing ground.
9:00 am
"These Numbers Are Incredible."
ZeroHedge reports, "In our preview of today's historic job's report we said that on one hand "the labor picture will be far worse than anything observed before in US history, eclipsing the darkest days of the Great Depression"; on the other nobody will care and markets will likely soar as the report "tells us what we already know" and there is "little in the BLS report that will offer any forward-looking insight – that will depend on progress regarding the reopening of economies, and official support measures."
Well, take all that and throw it out of the window, because moments ago the BLS shocked markets when it reported that, contrary to week after week of millions in initial jobless claims, and in line with the much more optimistic ADP report, not only did May payrolls not drop by the 7.5 million expected drop, but actually SOARED by 2.5 million, crushing expectations, and indicating that already in May when the country was under widespread lockdowns, jobs came soaring back."
7:;45 am
Good Morning!
SPX futures have made a new retracement high at 3154.50.  The question is, will the May Employment Report be bad enough to send stocks lower?  Today is day 260 in the current Master Cycle.  Should the cash market record another new high followed by a key reversal, the next Master Cycle low may occur on June 17, an 8.6 day span from top to bottom.
ZeroHedge reports, "Just when it seemed that the record 40% rally from the March lows was coming to an end, as Treasury yields blew out and tech names rolled over on record volume, the euphoria came back with a vengeance, sending stocks around the globe and US futures surging as the delivery of both monetary and fiscal stimulus in Europe supplanted virus concerns and trade fears on the day the US is expected to report a record 19.1% unemployment rate (luckily, in "Jay's market" trivia such as fundamentals does not matter).
On Thursday, the Nasdaq 100 became the first U.S. equity index to reclaim its all-time high, with the rebound driven partly by tech-related firms including Amazon.com Inc and Netflix. The broader Nasdaq Composite which is more closely watched than the Nasdaq 100, is just about 2% below its own record high, while the S&P 500 and Dow Jones indexes are 8% and 11% below their respective all-time highs.  The S&P 500 is on track for a third week of gains as VIX and V2X returned to the week's lows, and the sliding dollar has fallen to the lowest since March, while Treasury yields jumped to 0.87%, rising above a key level of 0.84% that sees CTA turn short on Treasurys."
VIX futures made a fresh retracement low at 23.90 this morning as SPX futures spike to new retracement highs on the May Jobs report.
NDX futures did not make a new high this morning, topping out at 9703.62 in the morning session.  It has started to decline toward 9600.00.
TNX rose to 9.59 this morning, triggering a burst of short covering as suggested over the past week.  The Cycles Model suggests that rates will continue to rise for the next 7 weeks!
ZeroHedge reports, "Update (0840ET): Yields exploded higher after the massive beat in jobs data.
Long-Bond Futures prices crashed…
As 10Y yields spiked above 95bps (up 12bps on the day)…"
Gold futures declined beneath the 50-day Moving Average at 1704.98, confirming the sell signal.  The Cycles Model suggests a possible 6-week decline may lie ahead in gold.
June 4, 2020
7:30 am
SPX futures hit  a low of 3099.12, challenging round number support at 3100.00.  The ADP jobs report show 2,760,000 lost jobs in May.  While less than the 20,236,000 jobs lost in April, it is still a striking contrast to the 75,000 jobs created in May 2019.
Today the reaction to the news may tell us whether the current Master Cycle is complete.  Should it be complete, we may see an 8.6-day decline to the next Master Cycle low on June 16-17.  Should it continue through Options Expiration we may see a crash into the following week.  Wave [A] of III may be set to decline beneath the March 23 low.
ZeroHedge remarks, "When even Bloomberg has articles such as this one "

A Stock Melt-Up Looks Like the Fed's Latest Feat of Engineering

", you know it was time for the Fed to ease off the overnight ramp gas pedal, and that it was time for the insane rally from the past 2 months to ease a bit. And it did… until the ECB decided to pick up the monetary firehose when at 745am the European Central Bank announced it would nearly double its emergency QE to €1.35 Trillion from €750BN and
 

extend it to at least June 2021, sparking a new bout of buying.
And while U.S. stock index futures slipped on Thursday as a rally fueled by optimism over an economic rebound from a coronavirus-led downturn ran out of steam, the ECB bailed out all those retail momentum daytraders who were about to suffer their first down day in over a week, when it announced a massive expansion to its QE program, which not only send stocks surging, but also pushed the Euro to a nearly three-month high, because in today's banana world printing money is bullish for the currency (and why not, we already showed that easing is deflationary).
VIX futures have come off their Master Cycle low at 25.04 yesterday.  Mid-Cycle support at 25.02 may give the VIX its safety net.
NDX reached a high of 9729.69 yesterday.  After the close, NDX futures backed down, but a reversal is not yet evident.  Today may be a cliff hanger unless the NDX caves in to selling pressure.
ZeroHedge reports, "In the last week 1.877 million more Americans filed for unemployment benefits for the first time (slightly higher than the 1.83mm expected).
Source: Bloomberg
That brings the eleven-week total to 42.644 million, dramatically more than at any period in American history. However, as the chart above shows, the second derivative has turned the corner (even though the 1.877 million rise this last week is still higher than any other week in history outside of the pandemic)
SPX futures are slumping beneath 3100.00.
TNX appears to be consolidating this morning after yesterday's breakout.  Should it continue to rise, it may seriously alter investors' view on treasuries.
USD futures appear to be consolidating and may be due for a minor bounce before resuming the decline into mid-June.
June 3, 2020
7:40 am
Good Morning!
SPX futures are higher on this day 258 of the SPX Master Cycle.  Futures topped out at 3094.88 before easing lower.  A possible Fib retracement level is the 75% marker at 3093.40.  The next chart resistance is round number resistance at 3100.00.  The daily Cycles suggest the rally may terminate near mid-afternoon, if not sooner.
ZeroHedge reports, "What rioting, what 40 million unemployed, what second wave? The MSCI All Country World Index has risen for 8 days in a row, a testament to the fact that not only retail investors but global markets now view stocks as a risk free asset, assuring that the next bursting of the bubble will be unforgettable, prompting even Bill Dudley to say on BBG TV that "some Fed intervention has created a bit of moral hazard." That's right Bill, and it may have something to do with the fact that overnight America burned for an 8th consecutive day in nationwide riots as tens of thousands of people defied U.S. curfews to take to the streets.
Anyway, until the next crash all one can do is buy, confident that central banks will always be there to step in and bail everyone out, and sure enough world shares hit three-month highs on Wednesday and the dollar fell for the sixth day on the usual narrative of "hope" and "optimism" for more monetary stimulus and the global economic reopening, while ignoring the worst civil unrest in the United States in 50 years as well as rising COVID-19 tolls.
Large tech (FAAMGS) plays a dominant role in this rally as the NDX nears 100% retracement.  However, the broader-based NYSE Composite closed just 29 point shy of its Fibonacci 61.8% level.  The DJIA just exceeded that level yesterday.  While the top five companies account for over 20% of the market capitalization, not every one can invest in them.  That is why so many mutual funds are "underperforming."
NDX futures reached a high of 9696.50 this morning, a 98.6% retracement.  The primary reason for this is the Mega-Caps are making new all-time highs, due to the fact that the NDX did not break its 8.6 year uptrend line, currently near 7000.00.
VIX futures are hovering near the close, having reached a low of 26.54.  While it appears to have a Master Cycle low last week, there may be some interaction with the new SPX high today bewfore moving higher.  The people running the algos know that the VIX can be used like the tail wagging the dog.  Therefore the pressure on the VIX remains until the Cycle reverses.
TNX spiked above the 50-day Moving Average at 6.83 this morning.  This may be the start of a fast-moving rally to mid-Cycle resistance at 13.74.  The next Master Cycle (high) is due in mid-July.
June 2, 2020
8:30 am
Good Morning!
The pattern in the SPX is becoming decidedly more complex as the SPX futures rally to 3075.12 this morning.  Today is day 258 in the SPX Master Cycle and day 265 in the NDX Master Cycle.  From that view we should see an imminent resolution.
ZeroHedge observes, "The Fed's "administered market" just refuses to stop.
Global stocks and S&P futures rose to three-month highs as central banks looted shorts and as investors looked past the worst social unrest in decades and the risk of a second round of corona virus infections, to signs on even more fiscal and monetary stimulus propping up what BofA called "fake markets." The dollar fell for a fourth straight day, and yields rose.
S&P 500 futures surged alongside European stocks after initially dropping in the wake of President Donald Trump's vow to deploy large numbers of troops if cities and states don't act to contain violence from the ongoing riots, and reports China had ordered U.S. soybean purchases to be halted but Europe got the bulls back on track.
VIX futures hit a low of 26.79 this morning as pressures on the VIX continue to keep it down despite the growing risk in the markets.  For the past month, VIX has become a ho-hum non-performing asset.  I personally have been adding to my positions on each dip.
NDX futures rose to a new retracement high at 9668.00 this morning.  It is threatening to reach the Cycle Top at 9730.38, thereby threatening the February high at 9736.57.  It is possible that the NDX Wave II may equal Wave I as it did not break the 8.6-year uptrend line just beneath 7000.00.  The Master Cycle is in overtime and begs an imminent reversal.
ZeroHedge remarks, "Apple is slashing prices of its iPhones in China as the country's economy works to re-open after the coronavirus lockdown. The price cuts come ahead of the country's online shopping festival called 6.18.
Apple announced early this week that the price cuts would go into effect on major online sales channels like Alibaba and JD.com, as well as on Apple's official store, according to CNBC."
TNX appears to be testing the 50-day Moving Average at 6.91, but hasn't succeeded yet.   It has been two weeks since the Master Cycle high recorded on May 19th.  Thus far we have seen a very shallow retracement.  The next Master Cycle (high) ends in late July.
ZeroHedge observes, "Several years ago, when conventional wisdom dictated that to push inflation higher and jumpstart lethargic economies, central banks have to push rates so low as to make saving punitive and force consumers to go out and spend their hard earned savings, several central banks including the ECB, SNB and BOJ crossed into the monetary twilight zone by lowering overnight rates negative.
Then, year after year, we would hear from the likes of Kuroda and Draghi how the BOJ and ECB will continue and even extend their insane monetary policy, which now includes the purchase of 80% of all Japanese ETFs…
… until the central banks hit their inflation targets of 2%.
And yet, year after year, the BOJ would not only not hit its inflation target but appeared to drift ever lower, as did the ECB, SNB and any other bank that had gone NIRP, confounding all economists and central bankers: why was this happened if rates were negative? Why were consumers not taking their money out of the bank and spending it, pushing inflation higher?"
USD futures continue to push lower, hitting a low of 96.68.  The current Master Cycle ends in about 2 weeks.
June 1, 2020
7:30 am
Good Morning!
SPX futures declined to challenge  mid-Cycle support at 3010.56 this morning, but has rebounded back to Friday's close.  Whether Thursday's high at 3068.67 is the high will be determined when the SPX declines beneath that support.
ZeroHedge reports, "The honey-badger market is back.
After initially dropping more than 1% at the start of trading on Sunday in kneejerk response to the worst US riots in decades, stocks recovered all losses by the time Europe opened for trading, then just after 4am ET reports hit that that state-owned traders Cofco and Sinograin were ordered to suspend purchases of some American farm goods including soybeans. At the same time China also accused the US of undermining bilateral relations and said its comments regarding Hong Kong "disregarded facts," days after President Donald Trump moved to rescind the city's special trading status.
Futures dropped quickly on this news, but then once again quickly recovered and erased most of the loss as the market is fully in "ignore all negative news" mode. As a result, the Emini was just up from the Friday close, trading at 3,044 last, after dropping as low as 3,008 overnight.
ZeroHedge observes, "If the 35% surge in the S&P in the past two months seems too good to be true as even hard-core optimists like JPM's Marko Kolanovic now admits, announcing that he is "dialing down" his optimism while Goldman sees little upside for stocks from here…
… it's probably because it is, as the latest Wall Street professional to join the chorus of naysayers and skeptics including such luminaries as David Tepper and Stanley Druckenmiller, claims.
In an interview with the Financial Times, Manolo Falco, Citigroup's co-head of investment banking said that financial markets were "way ahead of reality" with tougher times to come, and is warning corporate clients that they should raise as much money as they could before the pandemic's true cost is factored in by investors."
VIX futures hit a high of 30.60, challenging the May 19 high at 30.64 and round number resistance at 30.00.  Breaking this overhead barrier may launch the next rally higher.
S&PGlobal reports, "The U.S. equities market had a wild start in 2020. Following the March 2020 sell-off, the S&P 500® posted its largest monthly gain (12.8%) since 1987. Meanwhile, VIX® went from its long-term median to an all-time high within a month before it settled around 30. One thing that has been debated lately is whether VIX, often referred to as the "fear gauge," has gone back to normal and indicates that the market has hit the bottom. To answer this question, we need to investigate several aspects of VIX and its related trading activities."
NDX appears to have made a new high on Friday, but the NDX futures dropped to 9450.00 during the weekend session.  The nearest support appears to be a possible trendline at 9200.00.
ZeroHedge reports, "On Friday, Citi rekindled a mystery, or as we called it – a conundrum – that plagued markets for much of 2019: how was it possible that stocks have been rising (shaprly) even as outflows from equity funds have soared?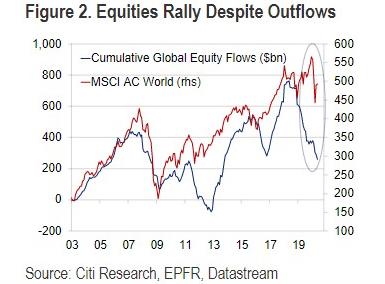 Citi's explanation was simple: according to strategist Robert Buckland, the 31% global equity rally since March lows has probably been driven by short covering, given the $120b outflows the asset class suffered over the period."
ZeroHedge observes, "One month ago, Goldman triggered a selloff in growth and momentum stocks, when it pointed out that  the five largest S&P 500 stocks, the FAAMGS (or MSFT, AAPL, AMZN, GOOGL, FB) have risen to account for 20% of index market cap, representing the highest concentration on record…
… resulting in the lowest market breadth since the tech bubble…"
USD futures dropped to a weekend low of 97.85 as it continues its decline to its Master Cycle low in mid-June.  The decline is being attributed to the riots.  However, it declined beneath mid-Cycle and trendline support last week, signifying a weakened state before the riots occurred.
FXEmpire comments, "The U.S. Dollar closed lower against a basket of major currencies on Friday, testing its lowest level since March 16 in the process. The greenback was under pressure all week, but uncertainty ahead of President Trump's late afternoon press conference led to a short-covering rally early in the session on Friday. After Trump's press conference the greenback edged lower into the close.
On Friday, June U.S. Dollar Index futures settled at 93.341, down 0.031 or -0.03%. The index settled lower for the week and month, falling 1.55% and 0.69% respectively.
Last week's stock market rally and reaction to what President Trump didn't say on Friday suggests the U.S. Dollar is losing its appeal as a safe-haven asset.
TNX has risen above its intermediate-term support at 6.57 this morning.  Despite the efforts by the Fed to supporess yields, TNX remains buoyant.
Investing comments, "(Bloomberg) — The Federal Reserve has already unleashed a barrage of new policies to keep the economy out of depression. Investors reckon it's lining up another one.The Fed's version of the strategy known as yield-curve control is expected to involve capping yields on government bonds of a chosen maturity -– by buying however much it takes. For central banks that already cut short-term interest rates to zero, it's a way to signal that they'll stay low for an extended period, while helping pin down longer-term borrowing costs too.Japan has been doing this for years, and Australia adopted the idea in March as the coronavirus struck. The Fed, which has responded to the pandemic by bulk-buying Treasuries and showering business and local government with credit, may not be ready to follow suit right now. U.S. states are tentatively emerging from lockdown, and policy makers will want to see how economic activity picks up.But with unemployment at levels not seen since the 1930s, and Congress deadlocked over another round of fiscal stimulus, Fed officials have been publicly warning that more action will likely be needed. They're taking another look at their own toolkits, in a policy review due to conclude this year. And the idea of tamping down Treasury yields keeps coming up."
The DB Agriculture Fund appears to be consolidating beneath the 50-day Moving Average.  This is not a good sign after the recent Master Cycle low on May 22.  A decline from here may take up to 2 months to resolve.
ZeroHedge reports, "Veteran traders couldn't help but laugh when they checked US equity futures last night and saw that – as some probably had suspected they might – Dow futures were tracking for a 100-point jump at the open. With so much emergency liquidity still sloshing around the financial system, it seemed the most near-term risk many could fathom was a probable spike in new coronavirus infections in the coming weeks, hardly an imminent, overnight risk.
But as futures faded into the red around 6amET, a headline showing Beijing had just given the US-China 'Phase 1' trade deal – which has been essentially moribund for weeks now even though President Trump spared it on Friday – one more 'kick' seemed to remind investors where the real near-term macro risk lies: That is, the light-speed "decoupling" of the world's two largest economies.