May 29, 2020
Good Morning!
I am writing early due to my schedule which is to be filled with a family event for the balance of the morning.
SPX futures have stayed near the close during the entire overnight session.  It remains above the mid-Cycle support at 3009.57.  A decline beneath that level gives us an aggressive sell signal.
ZeroHedge observes, "One week ago, when JPMorgan's Marko Kolanovic laid out a very controversial – to those in the anti-Trump camp – position, that the lockdowns resulting from the coronavirus may have caused more deaths than covid-19 itself, it sparked outrage among liberal circles, and nowhere more so than on CNBC where the JPM quant was literally yelled at by Andrew Ross Sorkin (the former NYT writer must be going through a very stressful period judging by his recent outbursts) for daring to suggest that ending the economy-crippling lockdown – with a presidential election just 6 months away – is the best option."
VIX futures are again consolidating within the prior fay's trading range under 50.00.  A rally above that level gives us an aggressive buy signal.  It would be confirmed above the prior high at 39.28 or the 50-day Moving Average currently at 43.43.
NDX futures also consolidated in a narrow range after failing to make a new high yesterday.  It peaked on Tuesday, day 257 of its Master Cycle while testing its Cycle Top resistance at 9714.95.  Further losses in the big tech stocks may carry over to the blue chips with a possible shorting opportunity by the close of the day.
ZeroHedge comments, "s we have discussed here over the past few days, there has been a tremendous rotation below the market surface in recent days, one on par with the great quant crash in early September 2019, with value stocks soaring – arguably on reopening optimism and expectations for a rebound in inflation on the back of the fiscal firehose we noted yesterday – as outperforming momentum names have been trampled…
… resulting in the latest shock to hedge funds, which were positioned for a continuation of the legacy momentum-over-value theme."
TNX continues to consolidate between Intermediate-term support at 6.62 and its 50-day Moving Average at 7.10.  Speculators are overwhelmingly bullish on UST, betting that yields may go lower.  On the other hand, the Cycles Model implies strength through mid-July.
Fortune observes, "In 2008, eager homebuyers and developers found themselves lured by adjustable-rate mortgages and flooded into the market, creating the housing craze of the mid-2000s. Then came a credit crunch as lenders lost confidence in borrowers' ability to make good. In 2008, the destruction that started with overstretched homeowners and developers walloped the widespread economy.
Now there's a similar danger brewing. But the catalyst isn't reckless consumers. Now it's the U.S. Treasury choosing daredevil financing. And because of the particulars of how the government has structured its debt, this plan could backfire down the road—and lead to a new financial crisis."
USD closed beneath its mid-Cycle support at 97.41 yesterday.  This morning the futures appear to have crossed beneath the Ending Diagonal trendline at 97.20.  The decline may continue through mid-June where a Master Cycle low awaits.
May 28, 2020
Good Morning!
SPX futures have been oscillating between 3028.00 and 3053.00 in the overnight session.  Today is day 252 in the SPX Master Cycle.  The final rally from the May 14 low at 2766.64 took 8.6 days to yesterday's close.  Wave (5) of [C] equals Wave (1) of [C] at 3055.00.    There may be a brief probe above yesterday's close, but a reversal is close at hand.
ZeroHedge reports, "The S&P's remarkable stretch of posting gains in the overnight session continued for another day, with the S&P rising as high as 3,053, and last trading 9 points higher at 3,044, tracking global stocks higher, with Europe's Stoxx 600 rising 1.3% to session highs as investors weighed again increased friction between America and China and the official passage of China's National Security Law in defiance of Trump, against fresh fiscal stimulus promised by the European Union. Treasuries edged up, while the dollar was modestly lower even as traders "treaded water" ahead of further escalations in the US-China clash.
The S&P – which hit a three-month high on Wednesday, closing above the key psychological level of 3,000 amid growing evidence of a pick up in business activity – continued its levitation on Thursday despite a dip in Nasdaq futures, which turned lower amid fear President Trump's upcoming social media executive order will target tech heavyweights and open door for penalties. Chipmakers, which are sensitive to China's growth, were also under pressure, with Intel Corp and Advanced Micro Devices Inc dropping about 1% each in premarket trade."
VIX futures have been trading within yesterday's range after extending its Master Cycle low to yesterday.  The extension appears to be irregular, as in a Wave (B) but Cyclically it fits the overall pattern.
S&PGlobal observes, "The U.S. equities market had a wild start in 2020. Following the March 2020 sell-off, the S&P 500® posted its largest monthly gain (12.8%) since 1987. Meanwhile, VIX® went from its long-term median to an all-time high within a month before it settled around 30. One thing that has been debated lately is whether VIX, often referred to as the "fear gauge," has gone back to normal and indicates that the market has hit the bottom. To answer this question, we need to investigate several aspects of VIX and its related trading activities.
VIX Futures Curve Not Completely Back to Contango
As pointed out in a recent VIX paper from the CFA Institute Research Foundation, the VIX futures curve is in contango about 80% of the time and usually goes into backwardation in distressed markets. On Feb. 24, 2020, the VIX futures curve flipped into backwardation, and it kept this downward sloping shape until May 6, 2020—the shaded area in Exhibit 1 shows the backwardation period of the VIX futures curve. However, the current price difference between the first- and second-month VIX futures is small, and the curve is more flat than upward sloping. In fact, the futures curve went back to mild backwardation on May 12 and May 13, 2020. This is unlike typical contango in VIX term structure."
NDX futures resumed the decline as Tuesday's high remains intact.  An aggressive sell signal may be made this morning with initial confirmation beneath Intermediate-term support at 9272.29.  Further confirmation awaits beneath the Broadening Wedge trendline and round number support near 9000.00.
USD futures slipped into the 98 handle again this morning as they approach the 50-day Moving Average at 98.41.  USD and equities are both heading down to their respective Master Cycle lows in mid-June.
(Reuters) – The euro was steady on Thursday as investors questioned whether a 750 billion euro (673.70 billion pounds) European Union plan to prop up the bloc's coronavirus-hit economies would be delivered.
Overnight implied volatility gauges inched up to hit a one-month high above 8%, suggesting investors were prepared for unexpected moves in the common currency.
TNX appears to be treading water as yields rise toward the 50-day Moving Average at 7.19.  A breakout above the 50-day and prior high at 7.45 may spark a dramatic move, since the majority  of investors are long the UST.
Investing reports, "The Federal Reserve has already unleashed a barrage of new policies to keep the economy out of depression. Investors reckon it's lining up another one.The Fed's version of the strategy known as yield-curve control is expected to involve capping yields on government bonds of a chosen maturity -– by buying however much it takes. For central banks that already cut short-term interest rates to zero, it's a way to signal that they'll stay low for an extended period, while helping pin down longer-term borrowing costs too.Japan has been doing this for years, and Australia adopted the idea in March as the coronavirus struck. The Fed, which has responded to the pandemic by bulk-buying Treasuries and showering business and local government with credit, may not be ready to follow suit right now. U.S. states are tentatively emerging from lockdown, and policy makers will want to see how economic activity picks up."
West Texas Intermediate Crude may have made its Master Cycle high on Tuesday as it prepares for the  next downturn.  This time the Master Cycle low may not occur until mid-July.
OilPrice reports, "The American Petroleum Institute (API) estimated on Tuesday a large crude oil inventory build, of 8.731 million barrels for the week ending May 22.
Analysts had predicted an inventory draw of 2.50 million barrels.
In the previous week, the API estimated a draw in crude oil inventories of 4.8 million barrels. Meanwhile, the EIA's estimates were for wildly different, with the industry body reporting last week that the inventories had fallen by 5 million barrels.
WTI was trading down on Wednesday afternoon prior to the API's data release, although the outlook for a rebalanced oil market is more positive than it was even just two weeks ago, with many U.S. states easing lockdown restrictions and the world's largest oil producers, including Saudi Arabia, Russia, and the United States, cutting production by more than many market analysts had predicted would be the case."
May 27, 2020
3:42 pm
NDX may have made its high yesterday, day 257 of its Master Cycle, While the SPX finishes at a new retracement high.  The NDX Hi-Lo also peaked yesterday at 114, while today it appears to be closing at 27.00.  Time to be extremely alert.  The Broadening Wedge trendline is just above 9000.00.  We may use it as our sell signal.
8:00 am
Good Morning!
While the SPX closed beneath its mid-Cycle resistance at 3009.72, it is making another attempt at overcoming that resistance.  SPX futures made an overnight high of 3034.88.  However, it is also in the final stages of forming Wave [C].  Today is market day 44 from the March 23 low and day 251 of the Master Cycle.
ZeroHedge reports, "A few weeks ago we proposed that what "Phase 1 trade deal hopes" were for 2019, so "Economic Recovery hopes" would be for 2020, and the overnight session was just another indication of that, and after sliding back under 3,000 just before the Tuesday close on renewed concerns about a US escalation over Hong Kong, S&P futures and European stocks stormed higher because, as Reuters put it "investors focused on progress in reopening economies" while an avalanche of fiscal stimulus including 117 trillion yen out of Japan and €750 billion out of Europe, helped spark animal spirits. The Euro jumped above 1.10 for the first time since March, Treasuries slumped further while gold tumbled below 1700.
VIX futures made an overnight low of 26.98.  The May 12 Master Cycle low remains valid.  Many speculators see the continued decline of the VIX as an "all clear," but  smart money is taking the opposite position.
NDX futures did not overcome yesterday's high.  The overnight high was 9507.62.  Today is day 258 in the NDX Master Cycle for NDX.  It is likely that the NDX may lead the decline while the SPX follows, as often happens at significant highs.
TNX is challenging the 50-day Moving Average at 7.16 this morning, in a possible renewal of the rally.  However, should stocks get slammed today, we may see TNX revisit Intermediate-term support at 6.64 before vaulting higher.
Gold futures slipped back beneath 1700.00 on its way to test the 50-day Moving Average at 1674.94.  Gold is on a sell signal with further confirmation beneath the 50-day.
ZeroHedge observes, "Yesterday saw the dollar, yuan, and gold all pushed lower – an unusual event – but this morning the threesome is more chaotic."

USD futures are making new lows, having bottomed at 98.72 and hovering near that level.  A Master Cycle low is due in mid-June.
May 26, 2020
Good Morning!
SPX futures are making new retracement highs near the mid-Cycle resistance at 3008.36.  Today is day 257 for the NDX and day 250 in the Master Cycle for the SPX.  Friday I had mentioned that Thursday was market day 43 from the March 23 low.  I was wrong, since I had not calculated the two holidays.  In actuality, today is day 43.  This reinforces the probability of a turn in the next 24-36 hours.
ZeroHedge reports, "S&P futures continued their Memorial Day surge, rising 2% and breached the key 3,000 level on Tuesday morning as global easing of lockdowns, hope over new vaccines and business restarts boosted optimism about economic recovery among investors returning from a long weekend while putting concerns over a Hong Kong crackdown on the backburner. The Bloomberg dollar index concurrently tumbled below the key 1,240 level while 10Y yields jumped to 0.70%.
VIX futures are hovering near their pre-market low at 27.57.  While not exceeding the May 12 low, it may yet do that, extending the Master Cycle up to 2 weeks.
Sorry, folks.  My schedule got slammed yesterday morning and did not allow me to revisit the blog.  Today may be better.
Tony
May 22, 2020
7:10 am
Good Morning!
My youngest daughter turns 30 today.  My how time flies.
SPX futures tested Short-term support at 2900.24 this morning as the breakdown begins.  Today being the Friday before Memorial Day, I don't expect a lot to happen.  An aggressive sell signal is given with a decline under 3000.00.  However, one may consider some action today even if the index remains above that level.  The Cycles Model identified the probable turn yesterday on day 43 from the Cycle low on March 23.
ZeroHedge reports, "S&P futures dropped alongside European and Asian stocks on Friday, while the Hang Seng index crashed 5.6%, the most in five years, as markets braced for an escalation in tensions between Washington and Beijing after China announced plans to impose a national security law on Hong Kong during its National People's Congress. Treasuries climbed with the dollar while oil snapped a six-day winning steak.
Still, Wall Street's main indexes were set to end Friday with weekly gains on the back of stimulus hopes and optimism over a pickup in business activity with a nationwide easing in lockdowns.  Hewlett Packard Enterprise fell 7.1% in premarket trade after missing second-quarter revenue and profit estimates, hit by global lockdowns since February."
VIX futures rose to 31.45 in the overnight session then appears to be testing the initial support at 30.00.  This places the VIX on an aggressive buy signal.  Consider buying or adding to VIX positions even if it should decline back below 30.00.  Aggressive signals imply that pullbacks are acceptable and may be used to bolster positions.
NDX futures made a low of 9243.00 in the overnight session.  Short-term support is at 9188.53, so supports have not yet been tested.  However, it appears to have broken beneath its prior low at 9296.25, which may be inferred as a breakdown.
Yesterday was day 252 in the NDX Master Cycle and is within the acceptable range of an average Master Cycle at 258 days.  It appears to be 7 days earlier than the SPX Cycle and may dominate the decline.  Should it decline beneath the March 23 low at 6771.93, a 60% decline may be anticipated.
USD rose to test resistance at 99.90 this morning, but remains beneath it.  The current period of strength may last through the weekend as markets weaken overseas and the flight to the USD may prevail.
The Yen appears to be drifting lower, perhaps to find support at the mid-Cycle line at 92.28.  However, its climb above the mid-Cycle support tells us that it may be on a long-term rise above the Broadening formation at 100.00.  The next Master Cycle terminates at the end of June.
TNX appears to have reached the 68% Fibonacci retracement level after breaking out above its prior high.  Long TNX positions may be taken above the Intermediate-term resistance at 6.68.
Crude oil futures made an overnight low at 30.74, reversing the uptrend from their April low.  A panic decline may have begun.  The decline may take as little as 4.3 days.  If so, only the early escapees may avoid annihilation.
May 21, 2020
9:10 am
ZeroHedge reports, "The string of unprecedentedly huge spikes in jobless claims continues. In the last week 2.44 million Americans filed for unemployment benefits for the first time (slightly worse than the 2.40 million expected).
Source: Bloomberg
The small difference WoW suggests a second wave of unemployment is hitting…"
8:00 am
Good Morning!
SPX futures declined to 2942.12 this morning, but did not violate any supports.  The nearest one is Short-term support at 2890.07.  If the Cycles Model has been keeping accurate time, market day 43 from the March 23 low should begin this afternoon.  That suggests a probable final probe toward 2990.00 before the reversal.  The rally already hit 2980.29, but doesn't seem ready to begin the decline.  As you can see, the trading bands on the 2-hour chart are narrowing.  The usual behavior is to hit the top band currently at 2994.49 before making the reversal.
ZeroHedge reports, "S&P futures drifted lower alongside European and Asian stocks on Thursday as Trump ramped up his criticsm of China and Xi Jinping, amid rapidly deteriorating Sino-US relations, souring the mood on the the recent rally in risk assets. Safe havens such as Treasuries edged up with the dollar. As reported here last night, in a rare outburst that went so far as to accuse the "very top" of China's government of a "massive disinformation campaign", Trump slammed China again just days before the biggest Chinese political gathering of the year, with traders betting that it was now just a matter of time before China retaliated in deed instead of just in word."
VIX futures are drifting higher, but no real change in direction, yet.  Initial resistance is at 30.00, where an aggressive buy signal may be triggered.
YahooFinance observes, "Some of the most speculative stock players are jettisoning bets on whether the U.S. market will be driven by fear or greed in the coming months.
As Wall Street frets a rally defying economic gravity, long and short exposures among non-commercial investors on the Cboe Volatility Index have sunk to near multi-year lows, according to the latest CFTC futures data.
Meanwhile, a vanishing number of retail traders are speculating on Wall Street's fear gauge, with volumes across VIX-focused exchange-traded products slumping. It's a world away from the frenzied action in the pandemic roller coaster just weeks ago.
"If this reflects a lack of conviction about the direction of volatility in the coming weeks, it is understandable," Tallbacken's Michael Purves wrote in a note, referring to VIX futures bets. "Educated guesses on the future moves in volatility are arguably pretty uneducated right now."
NDX futures drifted lower this morning, as well.  Today is day 252 in the NDX Master Cycle, which is 7 days earlier than the SPX but within the Pivot window for both.  It appears that the NDX may potentially be leading the imminent decline followed by the SPX.
NDX and especially the FAAMG stocks have had their best 43 day rally in history.  Now comes the pain.
BusinessInsider reports, "Shares of Facebook and Amazon hit all-time highs in intraday trading on Wednesday amid a broader market rally.
Facebook surged more than 6% to a record high of about $230 per share. The company announced a day earlier that it would roll out Facebook and Instagram shops this week.
The feature is designed to allow people to shop on stores' Facebook and Instagram pages, as many small businesses' physical stores remain closed during the coronavirus pandemic. It marked the largest move into e-commerce yet for the company."
TNX is testing Intermediate-term support at 6.62 this morning.  The 61.8% Fib retracement level is at 6.56.  This appears to be a good entry point for those shorting treasuries.
USD futures are also hovering within yesterday's trading range.  It is due for a Master Cycle low in mid-June, according to the Cycles Model.  It is on a sell signal beneath the 50-day Moving Average at 99.82.
May 20, 2020
7:00 am
Good Morning!
SPX futures are crowding the high at 2968.09.  Today we begin market day 42 from the March 23 low.  It appears that the rally may peak tomorrow, at the peak of its Cyclical market strength.  This may be the culmination of Cycle Waves I and II.  In summary, Wave I was 21.5 days and Wave II may be 43 days.  Should the Panic Cycle begin on Friday, the Cycles Model infers another 21.5 day drop from the high.  I am inclined to believe that this decline may only be Primary Wave [A] of Cycle Wave III.  That target appears to be 1800.00 to 2100.00.
ZeroHedge reports, "US equity futures staged another remarkable overnight reversal, recovering all late Tuesday losses and rising right back to the 2950 resistance level observed in recent weeks, as investors clung to hopes of a recovery from the global recession amid signs of more central bank and government stimulus while eyeing fresh outbreaks of the coronavirus.
"Sustained central-bank support should prevent a new market correction," wrote Xavier Chapard, global macro strategist at Credit Agricole. At the same time, "the main driver of asset prices should be the expectations regarding the timing, speed and extent of the economic recovery."
NDX futures are already challenging yesterday's high at 9422.90, having reached 9409.38 this morning.  Today is also day 42 from the March 23 low.  What is interesting is that the NDX shows best under the alternate view of the Elliott Waves.  I cannot rule out that the SPX may also have this Wave structure.
The implication is that Wave [A] of Wave III may be equal to or greater than the size of the entirety of Wave I.  I have mentioned multiple times that Crash Waves occur in 17 days.  The 1987 crash started on October 2 and bottomed on the morning of October 20, a total of 17.2 calendar days.  The March-April 2000 crash lasted 17.2 market days.  This decline may last 21.5 market days (30 calendar days).  It may be more in line with the August 11 to October 10 , 2008 crash, which lost nearly 42%.
VIX futures declined to a low of 28.42, not exceeding the low made yesterday.  Remember that 5th Waves are typically weaker than 3rd Waves.  That weakness often shows up in weaker Waves in the VIX and often in the Hi-Lo as well.
The NYSE Hi-Lo reached an intraday high of 41.00 on Monday.  Yesterday it closed at 19.00 after hitting an intraday high at 29.00.  While it could make a new high today, it is more likely to remain beneath Monday's high.
TNX has declined beneath its 50-day Moving Average at 7.19 after hitting its Master Cycle High yesterday.  The next area of support is the Intermediate-term support at 6.62.  The near term outlook in the Cycles Model is unclear, but likely to make some Fibonacci retracement.  Cycles strength may emerge in the first week of June.
Crude oil futures may have made their final probe on Monday as they have reached 32.78 thus far.  The rally had a duration of 21.5 days as of Monday.  The ensuing decline may have a minimum duration of 8.6 days, but may extend even further.  The next anticipated Master Cycle low may not occur until July options expiration.
ZeroHedge observes, "Although Beijing announced some new stimulus measures, it appears markets prefer to focus on the "great uncertainty" that Chinese officials see ahead (due to the coronavirus) leading to a decision to not release a target for economic growth has thrown the "v-shaped" recovery narrative out the window (for now).
"We have not set a specific target for economic growth this year," Li said, speaking in the Great Hall of the People.

"This is because our country will face some factors that are difficult to predict in its development due to the great uncertainty regarding the Covid-19 pandemic and the world economic and trade environment."
WTI has crashed over 9%, with the July contract trading back down at a $30 handle…
May 19, 2020
Good Morning!
SPX futures traded in a narrow range, allowing a final probe in the corrective Wave II today.  It also appears to be the early terminus of the current Master Cycle on day 243.  Why early?  See the NYSE Hi-Lo chart below.
As mentioned yesterday, the immediate target appears to be near 2990.00.  One of the reasons for this rally extension is that it is common for Wave twos to revert to the mean, which is the mid-Cycle resistance at 3006.65.
I had originally used the Fibonacci measurements, where the 61.8% retracement is at 2934.00.  When it had reached 2954.85 on April 29, it appeared that the Fib requirements had been met.  However, also noted was a Broadening top formation which indicated that sentiment had been pushed to an extreme.  The Cycle mean appears to be a more accurate target for Wave II.
Note that the Broadening formations indicate the ultimate bear trap.
ZeroHedge observes, "US equity futures tried, and failed, to stage a major breakout into 3,000 overnight, with the E-mini rising as high as 2,976 ahead of the European open (on virtually zero volume), before paring all gains alongside a drop and European stocks as investors weighed the return of the trade war against positive coronavirus news, while disappointing results from Home Depot weighed on sentiment and not even a huge beat by Walmart managed to reverse the mood.
What is more concerning is that now that the S&P has tried, and failed, to break out above the 2950 resistance level, a triple-top appear has formed, which suggests that the most likely next move is a retest of the support.
The Stoxx Europe 600 Index remained lower however as investors shrugged off both news of a $546 billion recovery fund for the region and a surprise jump in German investor confidence, with the ZEW Economist Sentiment surging to 51 from 28.2, beating expectations of a 32.0 print and far above the deeply negative print just two months ago."
Yesterday's rally to 41.00 on day 257 of its Master Cycle has confirmed the probability of an early Master Cycle high in the SPX.  It may go higher today (day 258) based on Wal-Mart earnings.
ZeroHedge reports, "Walmart reported blowout Q1 results, boosted not only by record high pickup and delivery as a result of the coronavirus pandemic, but also a 74% increase in online sales, as US consumers scrambled to stockpile products during the pandemic lockdown.
Walmart reported EPS of $1.18, beating expectations of $1.12, on Revenue of $134.622BN, also well above the $132.79BN expected, even as the company withdrew its full-year guidance due to the "significant uncertainty" surrounding the length and intensity of the coronavirus's impact."
VIX futures did not make a new low overnight and is currently positive.  It may remain positive today even if the SPX makes  yet another rally attempt.
Here's another reason the rally is running out of steam.  ZeroHedge reports, "Last week was remarkable for the capital markets, not because the S&P did something crazy (it actually suffered its biggest weekly drop in months) but because the companies that comprise it appeared to make a collective decision that after its 30% rebound from the March 23 lows, that was as good as it gets and proceeded to flood the market with follow-on and secondary equity offerings.
As we reported before, in just the first three days of the week, public companies raised more cash from selling shares than in any week in eight years. According to Bloomberg calculations, investment banks conducted no less than 16 secondary offerings on U.S. exchanges in the Monday thru Wednesday interval in stocks such as Zillow, Equinix, MyoKardia, YETI Holdings, and Q2 Holdings Inc. Over that three-day interval, companies raised more than $17 billion from investors, the most since 2012, thanks largely to PNC selling $12.1 billion of its BlackRock shares in the second-largest offering since 2009. That made for the busiest week of 2020."
TNX has pulled back to the 50-day Moving Average at 7.20 after breaking above it yesterday.  This is a major step up in the rally and may get recognition from traders and investors that treasuries may not be a safe haven as stocks start declining in earnest.
USD futures closed beneath their 50-day Moving Average at 99.72 yesterday, confirming its sell signal.  This morning the decline continues toward its next Master Cycle low in mid-June.
WTI futures continue their rally as they top 32.00 this morning.    The target for this rally appears to be near 34.50.  The Cycles Model suggests a reversal may occur in the next 24 hours.
May 18, 2020
10:00 pm
SPX has two possible outcomes here.  The first is that the rally may be finished at the close, leaving the chart below as the best fit.  The second outcome is above.  The target for Wave (5) may be near 2990.00.
The reason I originally labeled Wave (1) as Wave [C] is because it was nearly the size of Wave [A], thereby fulfilling a common Wave relationship.  While Wave (1) went to 2879.00, it would have reached equality with [A] at 2897.00.
But for some reason, the  rally needed more time.  Tomorrow is calendar day 57 from the March 23 low.  It will also be 40 market days from the low.  We may  know the final outcome by mid-morning. Have a good night.
12:29 am
The panic Cycle is about to begin.  This has been a complex formation that has given all the wrong signals to the buying public.  Wave [C] will be a monster.  It now appears that there may be five declining Waves at the Primary degree.  It may last up to 21.5 days, if this analysis is correct.
ZeroHedge observes, "Update (1100ET): Great news America – Robinhood and E*Trade are back online and the buying is back…
*  *  *
This is a major problem for the bulls…
"I felt a great disturbance in the farce, as if millions of bullish Millennials cried out in terror and were suddenly silenced. I fear something terrible may happen…"
8:00 am
Good Morning!
SPX futures have risen to a spike high of 2930.25 this morning, exceeding its retracement target at2907.48, the 78.6% Fibonacci level.
The Cycles Model presents two possible pivots today.  The first (most likely) occurs at/near 10:00 am after the momentum bots have given it their best shot.  The second occurs three hours later, at 1:00 pm.  The May 12 high at 2945.82 may be tested, but the Wave/Cycles structure suggests a low likelihood of it being surpassed.
ZeroHedge reports, "It took Jerome Powell just two days to confirm what we said late on Friday, namely that with the Fed expected to boost QE by over $3 trillion (assuming Powell doesn't cut rates negative), the Fed chair said that "there's a lot more we can do" and just so everyone, including Ben Bernanke understands what the Fed does, he added "We print [money] digitally… we have the ability to create money digitally and we do that by buying Treasury Bills or bonds or other government guaranteed securities." Of course, traders ignored the "other" part of Powell's message, namely that the recovery would take at least until the end of 2021, or the implication that stocks first need to crash before the Fed unleashes more QE, and as a result S&P futures surged more than 2% overnight, rising above 2,920, with the last 30 points in that burst coming after news out of biotech company Moderna which reported it may be getting closer to a coronavirus vaccine."
VIX futures have declined past the 78.6% Fib level at 30.08 this morning.  The pullback may be due to the gamma runoff from options expiration on VIX ETFs on Friday.  If so, VIX may begin its next period of strength imminently.
TNX is rising this morning.
May 15, 2020
2:46 pm
SPX extended its correction to 25.8 hours and slightly exceeded the 50% retracement at 2856.38 by 5 points.  It's time to sell the rally.
8:00 am
Good Morning!
SPX futures turned down near 6:00 am this morning.  The decline and retracement took 21 (21.5) hours with a retracement just under 50%.  It appears that this decline may take up to 17.2 days, as the Master Cycle low is due on or around June 3.  The minimal target appears to be 2100.00 with a potential lower target near 1800.00.
ZeroHedge reports, "Well, we did warn you just two days ago that "US-China Relations Are About To Fall Off A Cliff." Sure enough…
It was shaping up as a nice, quiet rampy end a tumultuous week, when at 630am ET all hell broke loose after Reuters reported that the Commerce Department moved to block shipments of semiconductors to Huawei Technologies from global chipmakers, by amending a foreign direct product rule to "strategically target Huawei's acquisition of semiconductors that are the direct product of certain U.S. software and technology" in the process "cutting off Huawei's efforts to undermine U.S. export controls."
And while the commerce department did extend the temporary general license for Huawei by another 90 days, the US now "anticipates" this will be the final 90-day extension, effectively giving Huawei – and Beijing – a 3 month ultimatum, one which expires just 2 months before the presidential election.
The report, which culminated a week of increasingly acerbic and belligerent war of words, sent the e-mini S&P future sharply lower into negative territory from modestly positive while triggering a flight to safety…"
VIX futures rose to an overnight high of 34.90 after making a near-50% retracement.    The next target for the VIX appears to be the Cycle Top at 57.07 as the fear gauge registers a higher uncertainty and investors begin to see VIX as a hedging device/indicator.  The Cycles Model suggests a potential double pivot for the VIX.  The first appears on or near June 3 (likely a high), while the second (maybe a low?) appears at the VIX options/futures expiration on June 17.   A lot of money may be made or lost on these dates.  The media still seems to be unaware of the potential in the VIX to rise even higher than before.
THE NYSE Hi-Lo Index closed even lower than the day before, even with the indices rising.  You can see that the Hi-Lo was on "thin ice" during the entire month of April.  This tells us that the internals are worsening and not to trust the bounces.  The Hi-Lo is on a confirmed sell signal and should be respected.
The NDX Hi-Lo closed at a -92.00 and is also on a confirmed sell signal.
After rising to 9136.50 during the overnight session, the NDX futures reversed solidly into the red by morning.
ZeroHedge reports, "If one asks companies why the market, by which we of course mean just the top 5 tech names that now comprise "the market"…
… has soared 30% in the past two months, the most likely response is a blank stare: after all nearly 30% of companies have pulled guidance as nobody has any idea what is coming. Not even the Fed in fact: in an interview with MNI, St Louis Fed president James Bullard said the Fed may not have enough clarity on the economy by its June meeting to offer a quarterly forecast.
One thing companies do know, echoing recent similar observations from both Stanley Druckenmiller and David Tepper, is that stocks have run up too far, too fast. And, as a result, CEOs, CFOs and Treasurers are all taking advantage of the tidal wave of liquidity that has propelled many shares back to all time record levels, and are selling stock at a furious pace not seen in almost a decade."
TNX made a new low this morning, suggesting the current Master Cycle may end at a low.  Today is day 255, leaving the possibility of an even lower probe on Monday or Tuesday.  The inability to make significant new lows is indicative of a change in trend that is still not apparent to the average investor.  Even respected analysts have a recency bias that is hard to shake.
USD futures fell to 100.20 this morning.  Intermediate term support (99.87) and the 50-day Moving Average at 99.61 are just beneath it.  The Cycles Model suggests the next probable Master Cycle low may occur in mid-June, in time for options expiration.  A decline beneath the two supports mentioned puts the USD on a sell signal theough mid-June.
DBA (Ag Commodities) continues its decline for possibly another week as it builds a base for the next phase higher.  The probable target appears to be the Cycle Top at 17.20.
ZeroHedge reports, "While COVID-19 is dominating headlines, another kind of emergency is threatening the lives of millions of people around the world – food insecurity.
However, as Visual Capitalist's Iman Ghosh notes, the two are very much intertwined. By the end of 2020, authorities estimate that upwards of 265 million people could be on the brink of starvation globally, almost double the current rate of crisis-level food insecurity.
Today's visualizations use data from the fourth annual Global Report on Food Crises (GRFC 2020) to demonstrate the growing scale of the current situation, as well as its intense concentration in just 55 countries around the globe."
WTI futures made a new high at 28.84 andappear to be on the cusp of the next decline as short-term Cyclical strength wanes over the weekend.  It appears that the next two weeks may be especially onerous as the bulk of the April fiasco have been transferred to the June options expiration.  There will be and undoubted scramble as the holders of the June contracts seek to divest themselves.  The potential Master Cycle low is likely to occur in the first week of June.
BusinessInsider reports, "One trader bought 250,000 barrels of oil and secured a rare payout as oil prices turned negative last month, causing jitters in markets and leaving most other traders scrambling to find storage options across both sides of the Atlantic, Bloomberg reported on Thursday.
But for BB Energy, a trading house based in London, the historic oil-market crash was a golden opportunity because it had storage capacity when other firms didn't, a source told Bloomberg. BB Energy bought about 10% of all barrels of West Texas Intermediate crude futures for delivery in May.
US oil prices hit an all-time low of negative $37.63 on April 20 because of an extreme shortage of storage options for oil, meaning many traders had to effectively pay others to take the oil off their hands."
Gold futures reached a high of 1755.65 this morning as it approaches its Master Cycle high.  Today is day 254, so it may happen as early as today or in the first few days of next week.
May 14, 2020
8:00 am
Good Morning!
SPX futures reached a low of 2790.38 thus far this morning, with a likely test of the mid-Cycle support at 2780.74.  A bounce may be due that may retest the Short-term resistance at 2882.98.  That may be the last chance to sell long positions and buy shorts for the duration of May.
ZeroHedge comments, "S&P futures slumped lower after Novartis CEO said a coronavirus vaccine may not be available until 2H 2021 and European stocks declined on Thursday as investors worried that the current economic downturn maybe be here for longer than initially presumed after Fed Chair Jerome Powell warned of unprecedented risks from the coronavirus, while waiting the latest American jobless data after another steep sell-off on Wall Street.
"Views are beginning to firm that the 2020 bear-market rally may have run its course," said Perpetual Investment Management head of investment strategy Matthew Sherwood."
VIX futures made a new overnight high of 37.51, confirming the support at 30.00.  It remains on a buy signal that should bring encouragement to the bears.
DailyFX reports, "Market volatility shows potential of snapping back higher and weighing negatively on trader sentiment once again. This follows a speech from Fed Chair Jerome Powell who voiced resistance to the idea of implementing negative interest rate policy, or NIRP, in the United States."
The NYSE Hi-Lo Index close beneath its mid-Cycle support at -23.68 yesterday, confirming the SPX sell signal.  That is not to say there won't be some blowback in a potential retracement rally later today.  The best course of action is to allow the bounce to take place and add more short positions near the peak.
ZeroHedge observes, "Speaking in a video conference organized by the Peterson Institute, turbo money printer Jerome Powell today reassured the market that negative rates are not something the Fed – which expanded its balance sheet by $2.6 trillion in the past two months – is contemplating now. Of course, that will change after the next market crash or if economic shutdowns return, but for now the Fed's message to traders was clear: don't push forward fed fund rates negative, which also catalyzed today's sharp market drop as a key source of potential forced easing was removed.
However, with Powell taking negative rates off the table (for now), it means the Fed has another problem on its hands, one which was first laid out by Deutsche Bank's credit strategist Stuart Sparks, who in a recent note said that "for all the measures taken by the Fed and fiscal authorities to counter the COVID19 shock, policy remains too tight." And, as Sparks adds, if the Fed opts to avoid negative policy rates – which appears to be the case – "further easing must be provided by the size and  composition of the Fed's balance sheet", meaning more QE."
NDX challenged Short-term support at 8990.52, closing above it.  This morning's NDX futures brought it below that threshold by nearly 100 points, confirming the sell signal.  There may also be a bounce in the NDX. but  not enough data is available to judge its height or duration.
MarketWatch reports, "A number of textbook "bearish engulfing" reversal patterns have appeared in the stock charts of large-capitalization technology companies to suggest the momentum in the tech sector may have swung from bulls to bears.
There are other technical warning signals that warn investors to beware buying on a dip, at least in the short term.
For candlestick chart followers, a bearish engulfing is a two-day pattern that starts with a new closing high for a recent uptrend. The next day starts with a gap higher at the open to a new high, before an intraday reversal to close below the previous day's open."
The NDX Hi-Lo Index closed yesterday beneath its mid-Cycle support at -38.72.  This also confirms the sell signal in the NDX.
TNX appears to be testing yesterday's low at 6.09.  A breakdown may signal that next week's Master Cycle may end at a low.
ZeroHedge reports, "A week of record sized refunding treasury auctions has concluded with today's sale of $22 billion in 30Y paper, which as we discussed last week, was the largest auction of this tenor in history.
However, unlike the 3Y and 10Y auctions which priced earlier this week, and ahead of next week's inaugural 20Y issuance, today's 30Y sale left much to be desired, especially as bonds rallied into the 1pm deadline.
Pricing at a high yield of 1.342%, it just barely missed out on being a record low yield after last month's 1.325%. It also tailed the When Issued 1.334% by 0.8bps.
USD futures are higher this morning after crossing above Intermediate-term resistance at 99.84.
(Reuters) – U.S. President Donald Trump on Thursday said he supported a strong dollar, as the U.S. dollar index extended its gains one day after Federal Reserve Chair Jerome Powell rejected the idea of using negative interest rates despite Trump's vocal support.
"It's a great time to have a strong dollar … Everybody wants to be in the dollar because we kept it strong. I kept it strong," he said in an interview on Fox Business Network.
The dollar index on Thursday extended its gains, rising 0.3% to a three-week high of 100.47.
DBA is on a corrective decline to test its Cycle Bottom at 13.34 as it has another week until its Master cycle low.  Should it remain above its April 27 low of 13.20, it may be primed for a surprisingly sharp rally to its Cycle Top at 17.19.  There is a lot of bad news in the Ag business, but that is what bull markets begin on.
ZeroHedge reports, "Tyson Foods Inc. will be reducing prices on certain products for the remainder of the week, according to The Wall Street Journal. This comes after surging meat prices and shortages at some retail shops in the first half of May.
The Arkansas company, which processes about 25% of the nation's beef, will discount prices of ground beef, roasts, and other beef products by as much as 30% through Saturday. Price reductions will be given to restaurants, grocery stores, and other customers for a limited time. "
In addition, ZeroHedge observes, "In early January, President Trump told his followers at a campaign rally in Toledo, Ohio, that the "economy is booming," and farmers should "go buy larger tractors" ahead of the trade deal that was signed mid-month. Farmers bought those tractors, extra seed, and fertilizer, gearing up for the "greatest year ever," as trade with China was supposed to ramp up.
In a cruel twist for farmers, a diplomatic spat between Washington DC and Beijing has unfolded in recent weeks as the US-China trade deal is at risk of falling apart. Beijing wants the Trump administration to renegotiate the deal due to the external demand for agricultural products that have collapsed from the pandemic. President Trump has responded by saying there's no appetite for negotiations as it now appears China will have trouble upholding its end of purchase agreements.
This is turning out to be a significant problem for US farmers who bought those new tractors and planted way too much seed this year. Farmers, already battered by the president's trade war last year, collapsing income, and plunging spot prices, could be left absolutely devastated this year with overplanting. "
May 13, 2020
9:45 am
The NYSE Hi-Lo has declined to test the mid-Cycle support at -23.50.  The Hi-Lo is on an aggressive sell with an upgrade to confirmed sell beneath this level.
8:00 am
Good Morning!
SPX futures fell another 45 points after closing beneath Short-term support/resistance at 2882.00, a significant decline in one day.  Traders ramped it back to breakeven this morning.   There may be an attempt to re-ignite the rally but, should it fail, it is likely to continue their decline.  As mentioned yesterday, there is a probable decline of 12.9 to 17.2 days from yesterday's high to complete Wave [A] of III.  The target is beneath the March 23 low in the 1800.00 to 2100.00 range.
ZeroHedge observes, "The pajama-traders were active again overnight, ramping US equity futures to overnight highs of 2,870 some 45 points above the late Tuesday lows when fresh fears about new China sanctions accelerated yesterday's selloff.
The rebound was facilitated by another sharp overnight dollar selloff…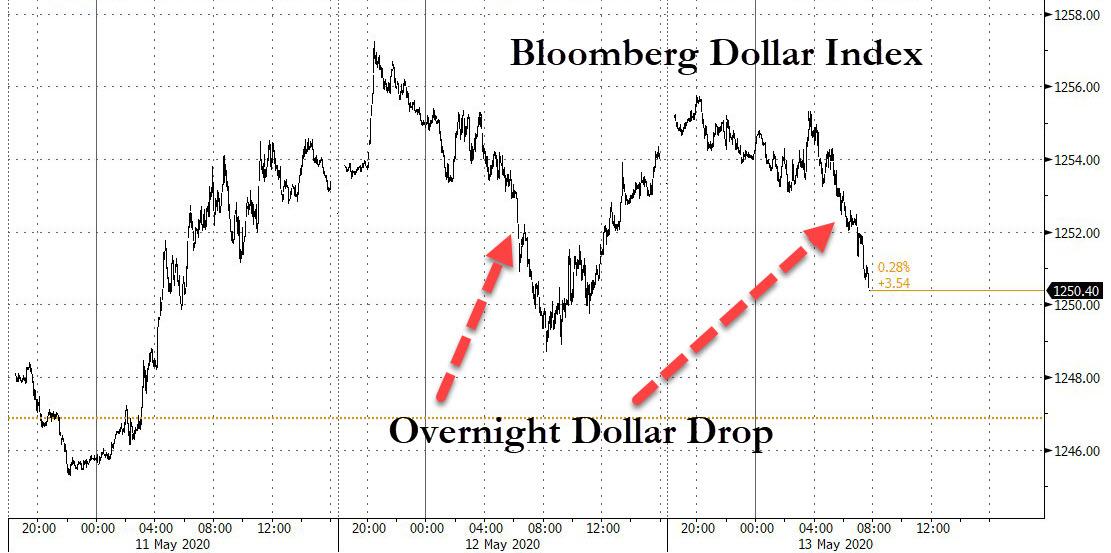 … as traders looked to today's address by Fed Chair Powell, who speaks on current economic issues at 9am ET, and whose remarks will be scrutinized amid rising bets that the United States might adopt negative interest rates for the first time to combat the coronavirus pandemic's severe economic blow. The Fed chair's speech comes after after President Donald Trump said earlier this week the U.S. should receive the "gift" of negative interest rates."
VIX futures declined to 30.77 this morning, but remains above support at 30.00 and on an aggressive buy signal.  The Cycles Model offers a major Pivot during the first week of June, but the Master Cycle ends on options expiration on June 17.  On the other hand, the SPX Model suggests two potential Master Cycle lows.  The first is on June +/-3 and the next is on June 17.  On the other hand, the media is still predicting more downside for the VIX.
NDX futures attempted a rally from its overnight low of 8998.88, probing to 9168.00 before losing its grip again.  NDX also spent 8.6 days forming Waves (A) and (B) with Wave (B) making a new retracement high.  This is possible but not common, so it adds to the confusion of this move.  In other words, Wave (B) is a rogue.
Because of this USNews is calling for a secular pivot into tech stocks in 2020.  Oops.
TNX has pulled back to retest Short-term support at 6.66.  The Cycles Model is calling for another week of rally, although yesterday's high may qualify for an early end to the Master Cycle.  A decline beneath 6.22 suggests a bearish outcome, while above 7.43 suggests a new Cycle high.  The Cycles are poised for a dramatic move in either direction.
ZeroHedge reports, "Update: and there it is – after failing to mention negative rates in his prepared remarks, Powell responded to a question from Adam Posen, saying that the FOMC's view on negative rates has not changed and even though Powell knows "there are fans of negative rates, evidence of effectiveness of negative rates very mixed" and as a result "negative rates is not something we are looking at."
As a result, the "Fed intends to continue using tools it has already tried." Powell's comment immediately reversed the initial kneejerk reaction in the market which was surprised there was no mention of NIRP in the initial remarks, and promptly sent gold lower after an initial spike…
… with the dollar and 10Y yields both rebounding from session lows."
USD futures declined further to 99.59 on Powell's remarks, but have bounced back somewhat.  It is currently testing the 50-day Moving Average and, once beneath it, may continue to decline through the end of the month.
May 12, 2020
3:39 pm
NDX appears to be crossing the upper trendline of its Ending Diagonal formation.  The throw-over is done, so we may also call this an aggressive sell signal.  Confirmation comes at the lower trendline and Short-term support at 8967.45.
3:35 pm
VIX has crossed above its first support/resistance line at 30.00.  Game on!
3:25 pm
SPX has crossed its trendline, giving an aggressive sell signal.  A further decline beneath the Short-term support at 2882.90 confirms the sell signal.  The NYSE Hi-Lo Index opened at 14.00, but has since declined to 2.00.  A close beneath 0.00 would be an additional confirmation.  VIX has reversed to positive for the day, but has not crossed its minimal threshold for a buy signal…yet.
The Cycles Model has been giving us a significant turn here, as this morning's high is exactly 8.6 market days from the April 29 high of 2954.86.
ZeroHedge comments, "Now that event quant signals suggest that the current 30% bounce from the March 23 low is nothing more than a bear market rally (as discussed earlier) the debate is whether policy and positioning can trump fundamentals, which according to Bank of America, "are already stretched to near historical extremes (despite near record earnings uncertainty)."
Furthermore, as we discussed over the weekend, many positioning measures suggest investors remain skeptical of this rally – with the exception of retail investors who see stocks as a "generational buying moment"…
… but as BofA's Benjamin Bowler asks, "is positioning really a Put that can be relied on?" and as he answers, "looking at equity call skew, which in recent times has had a strong correlation to buy-side futures positioning (as reported by the CFTC), we find that light positioning hasn't prevented historical bear markets from playing out (e.g. in 2008)."
8:00 am
Good Morning!
SPX futures are seeing every dip bought, although on very light volume.  Although the dips are getting the largest activity in the overnight sessions (suggesting the bots are at least inducing the momentum flows) the overwhelming response is coming from the retail side.
The Cycles Model suggests this is an ideal pivot point for the decline to begin.  Should it begin today, it would give us 17.2 market days to the next Master Cycle low in early June.  This compares with the 8.6 days it took for Waves [A] and [B] in Wave I.
ZeroHedge comments, "S&P futures rebounded from an overnight selloff, and are back at Monday's highs as European stocks rose on Tuesday despite a selloff in Asia as dip-buyers overwhelmed concerns about a "second wave" in China which is set to test all 11 million Wuhan residents and a up-tick in coronavirus infections in several nations as well as a deterioration in sentiment between the US and China, which overnight announced it would also ban a third of Australian beef imports. Oil advanced even as the June prompt WTI contract approaches its delivery date. Why the burst of optimism? Traders are looking at the Fed which today is expected to start buying various corporate bond ETFs like LQD and JNK.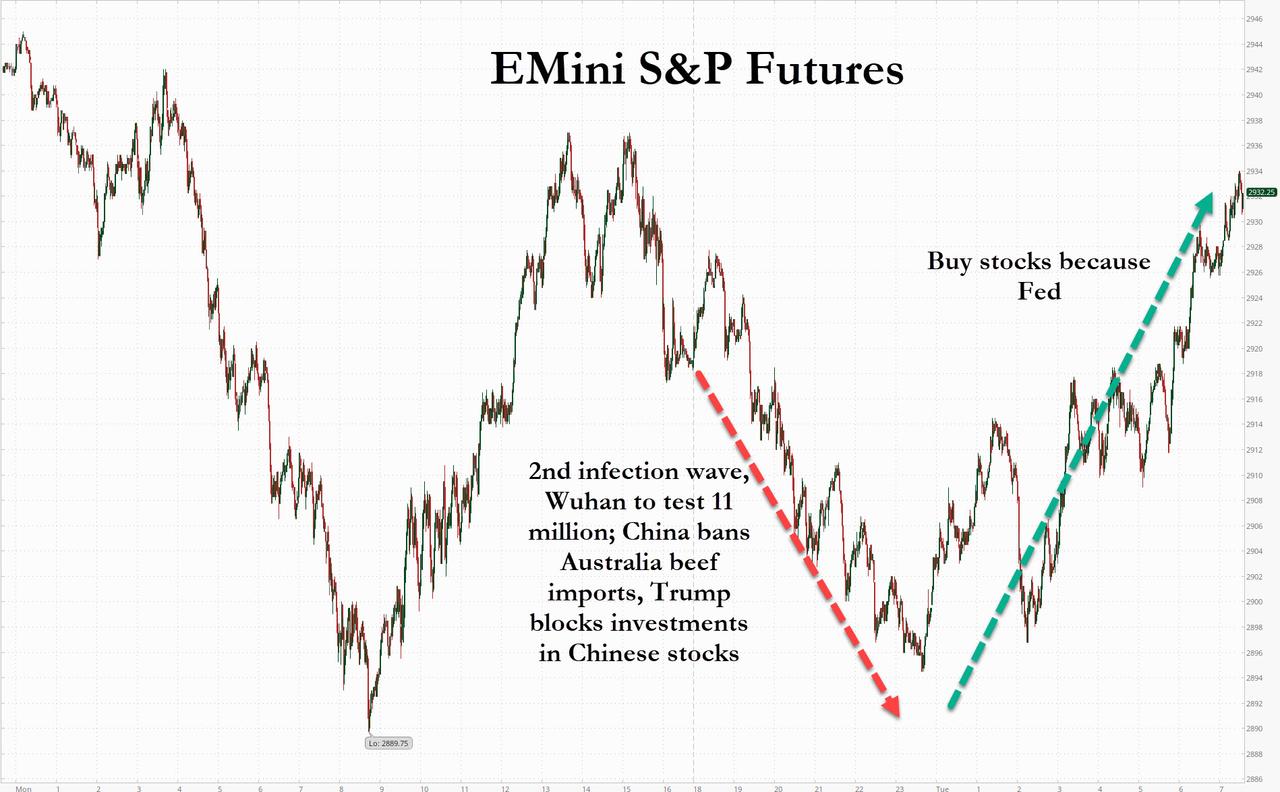 Equity futures fell after the Trump administration ordered on Monday night to block investments in Chinese equities by a government retirement fund, but they recovered through the early morning session as European equity indexes clawed back opening losses with the Stoxx 600 Index rising as gains for communications and healthcare shares offset declines for the real estate and travel sectors. The FTSE MIB outperforms peers with local banks gaining over 1%. Sector-wise, telecoms, retailers and healthcare names counterbalance losses in real estate and travel with most indexes trading either side of flat."
VIX futures made a new overnight low of 26.46.  The is nearing the maximum decline for this pattern in both time and value.  What is interesting is that, while the VIX continues its decline, SPX futures have been flat for the past week.  This is indicative of the bots selling VIX to spark another rally in the SPX.
BusinessInsider reports, "Wall Street's preferred volatility index on Monday slid to its lowest point since February 26, indicating the calmest market backdrop since the coronavirus sell-offs began.
Cboe's VIX index, which measures S&P 500 volatility through options contracts, is commonly viewed as a market "fear gauge." The metric soared to record highs through March as the coronavirus pandemic and global oil-price war drove outsized volatility. The index then peaked at 83 on March 16 before posting a bumpy decline over the following weeks.
Calming volatility has led more investors to return to the recently frothy market as prices swing higher. Volatility-tracking funds have similarly bought back in as the VIX tumbles, The Wall Street Journal reported Monday."
TNX has pulled back after testing last week's high at 7.43.  The 50-day Moving Average is at 7.54, which provides near-term resistance, but long term support once it rises above it.  TNX has another week to its next Master Cycle high.  The odds are good that it may punch through the 50-day and is likely to challenge mid-Cycle resistance at 14.45 in the next week.
BKX hit its Master Cycle high on April 29 and is on a sell signal beneath the 50-day Moving Average.  Currently it is supported by Short-term support at 68.54 while being repelled at the 50-day Moving Average at 70.26.  Liquidity is being drained from the market and the Cycles Model suggests that the decline may continue through the end of the month with a new Master Cycle low.
May 11, 2020
9:50 am
It appears that the SPX declined to a point above the trendline at 2903.24.  The break has not yet been made, although there is nothing bullish in this morning's moves.  We will wait for the break and the decline beneath Short-term support at 2866.82 for confirmation.
8:00 am
Good Morning!
I upgraded my computer system over the weekend and still have a few bugs to work out.  Please be patient with me.
SPX futures have declined beneath 2900.00, giving us an aggressive sell signal.  It appears that, after 35 market days (34.4) of rally from the March 23 low the NDX is complete at the upper Ending Diagonal trendline but the SPX appears to have made a truncated Wave (5).  This is the first time a truncation has appeared since 2008.  Additional confirmation occurs after the SPX declines beneath Short-term support at 2864.34.
ZeroHedge remarks, "US equity futures reversed overnight gains, and traded near session lows, dipping below 2,900  alongside European shares on Monday as investors turned cautious about a second wave of coronavirus infections with several countries reopening economies. Crude oil slipped, while the dollar rebounded after three days of losses.
Emini S&P futures gave up an earlier gain, with airlines including United Airlines dropping in pre-market trading after the carrier unexpectedly canceled a bond sale on Friday. Exxon Mobil and Chevron also fell more than 1% in premarket trading, as oil prices tumbled after Germany and South Korea reported a surge in COVID-19 cases after easing lockdowns. Battered cruise operators and airlines including Carnival, Norwegian Cruise Line Holdings were also among the early decliners.
Hopes of a pickup in business activity powered a Wall Street rally last week, with the Nasdaq recouping all its losses for 2020 as investors looked past dire economic data, including a historic 20.5 million plunge in jobs in April. However, the S&P 500 is still more than 13% below its February record high and analysts have warned of another selloff as macroeconomic data gets worse, foreshadowing a deep and lasting global recession."
VIX futures rose to a morning high of 31.46, after many analysts gave the "all clear" on short volatility trades after it declined beneath 30.00 on Friday.
TNX appears to be consolidating after a pullback on Thursday and Friday.  It may resume its rally shortly.
May 8, 2020
8:00 am
Good Morning!
SPX futures rose to a high of 2921.88 in advance of the April Jobs Report at 8:30 am.  Short-term support is at 2851.43, giving us a clear confirmation of the aggressive sell signal in a decline.
ZeroHedge reports,"While economic fundamentals ceased to matter about a month ago when the Fed went nuclear and not only injected trillions in the bond and repo market, but also directly backstopped the corporate bond market (with many expecting it will do the same in equities), there is something utterly surreal and terrifying watching futures equity surge just as the US reports its worst jobs report in history, which it did moments ago when the BLS reported that in April, the US lost a record 20.5 million jobs, (not quite as bad as the 22 million expected but at this level what does it matter) the biggest drop in history, and 10x more than the 2 million jobs lost at the peak of the Great Depression.
Similarly, the unemployment rate, which just a few short months ago was at a 50-year low of 3.5%, exploded to the highest on record, surging by 10.3% to 14.7% (modestly below the 16.0% expected). This is the highest rate and the largest over-the-month increase in the history of the series (seasonally adjusted data are available back to January 1948). The number of unemployed persons rose by 15.9 million to 23.1 million in April, reflecting the effects of the coronavirus pandemic."
VIX futures made a new retracement low at 29.78 on day 287 of its Master Cycle.  The short vol trade is a prime example of trying to pick up pennies in front of a steam roller.  Virtually all the pundits are saying, "Don't buy  the VIX."
NDX futures have gone to a new retracement high at 9235.50, but have since retreated beneath the trendline.  There is a possibility of a throw-over, but the Jpbs Report may put an end to the rally.
ZeroHedge observes, "The US is about to report that it lost some 22 million (according to consensus) jobs in April, and potentially as much as 54 million, with the unemployment rate soaring in what will easily be the worst unemployment report in US history…
… but futures continued their Thursday levitation alongside all other global markets because, rising above 2,900 and for the second day in a row hitting session highs after fresh hope for a US-China Phase 1 trade deal, as reports that China and the U.S. had a constructive phone call on trade added optimism over the reopening plans of major economies, outweighing concerns over the damage caused by the virus outbreak, even as many speculate that reopenings will simply lead to a second and potentially worse wave of infections.
TNX rose this morning on the Jobs Report.  It may continue to rise through options expiration, suggests the Cycles Model.
USD futures slipped back down beneath Intermediate-term support at 100.12 and approaches the 50-day Moving Average at 99.43
(Reuters) – The dollar extended gains against the yen and turned higher versus the euro on Friday after data showed the world's largest economy lost fewer jobs than expected last month in the wake of the fallout from the coronavirus pandemic.
Data showed U.S. job losses in April hit 20.5 million, compared to expectations of 22 million. The unemployment rate was 14.7%, lower than the market forecast of 16%.
May 7, 2020
1:50 pm
While SPX appears stymied at the 2900.00 level, the NDX has gapped above the 9000.00 level and its testing the upper trendline of its Ending Diagonal.  Unfortunately for the bulls, the [A]-[B]-[C] will be complete by the close today.  A decline beneath 9000.00 gives the NDX a sell signal.
Bloomberg reports, "As harrowing as it's all been, with the pandemic putting 30 million American jobs at risk, just as shocking has been the ability of technology stocks to shake it all off.
You'd barely known anything was wrong if your only guide was the Nasdaq Composite Index, which after its fourth straight advance Thursday erased year-to-date losses that in March had swelled past 20%. Propped up by companies whose online and automated businesses have proved bulwarks amid a stay-at-home scourge, the gauge is up 30% in two months."
Good Morning!
SPX futures appear to be gunning for the 61.8% retracement level at 2894.88, having reached a morning high of 2881.12.  this is a highly emotional time for traders and investors, since Broadening Tops tend to accentuate the manic behavior as investors are determined to recover recent losses that are still strongly felt.  This is in contrast to the February high where complacency reigned.
The NASDAQ Composite just went green for 2020 this morning.
ZeroHedge remarks, "It's been a while since we used the headline "Futures surge on trade talk optimism" but here we are again.
US equity futures rebounded from Wednesday's slump, climbing alongside stocks in Europe on Thursday following an unexpected jump in Chinese exports and, drumroll, optimism of trade talks between the US and China, while Asian shares mostly fell as investors sift the latest company earnings and brace for more data that will show the extent of the fallout from the coronavirus. Oil jumped after Saudi Arabia announced a sharp cut in discounts to clients around the globe."
NDX futures reached a new retracement high as they hit 9099.88 this morning.  The NDX Hi-Lo closed yesterday at 24 as a dwindling number of stocks make new 52-week highs.  This is not healthy, but not bearish, either.  NDX is caught in a no-man's land.
VIX futures hit a morning low of 30.87, Testing the limit of this decline.  The short volatility trade is going strong again, this time it is taken up by retail investors.  Back in February there was no limit to the number of VIX calls you could buy, suggesting an institutional presence.  Today the limit appears to be very small and are often filled one contract at a time.  The Alberta, Canada Sovereign Fund lost billions in the Short Vol trade in March.
A Google search of VIX shows all articles are bearish on volatility.
ZeroHedge observes, "Following a 1576.9% YoY surge in job cuts, according to Challenger, Gray, and Christmas…
Source: Bloomberg
It's not a huge surprise that the string of huge spikes in jobless claims continues. In the last week 3.169 million Americans filed for unemployment benefits for the first time (slightly worse than the 3.00 million expected)."
TNX is pulling back after yesterday's surge.  The Cycles Model suggests a spike in strength through options week that may surprise many.
CNBC reports, "The Treasury Department is launching a new 20-year bond in an effort to fund a record level of borrowing the government will need to do this year to support the economy through the coronavirus pandemic.
As part of its quarterly refunding, the department said it will introduce a 20-year coupon bond later this month. An auction May 20 will feature a sale of $20 billion worth as part of an effort to push the record-setting debt levels further out in terms of duration.
USD futures continue to test Short-term resistance at 100.23.  Yesterday it closed beneath it.  Today will be a test of USD strength with a close above resistance indicating the probability of fresh new highs next week.
May 6, 2020
2:58 pm
BKX is on a sell signal beneath its 50-day Moving Average at 71.77.  This signal may be confirmed beneath Short-term support at 67.71.  The BKX performance is indicative of the market as a whole, since it is the source of all liquidity in the market.  Simply put, banks are not lending to anyone.
ZeroHedge observes, "One month ago, with the S&P500 staging an impressive V-shaped rebound from the March 23 lows after the Fed unleashed a nuclear bomb of monetary stimulus, we showed that forward stock multiples had surged right back 19.4x, which was just above the level the S&P500 held on Feb 19 when it was trading at an all-time high above 3,330. In other words, at in the first week of April, stocks were valued the same as they were at the February all time highs, which we showed in the following chart.
Fast forward one month when two things have happened: stocks have risen further, with the S&P rising just shy of 3,000 last week, while earnings expectations across the entire world have continued to slide and are yet to stabilize let alone find an inflection point, as the following Goldman chart shows:
2:38 pm
Those who went short at yesterday's high are probably feeling better about it.  SPX appears to be easing down toward Short-term support at 2848.37.  The sell signal is confirmed at a decline beneath that support.  There is an outside chance of a retest of the high at 2898.23, but the Model does not support that option.  The likelihood of a sell-off into the close is very high.
The NDX is vulnerable to a sell-off beneath 9000.00, as well.
11:00 am
NDX is still making new highs, giving explanation for the SPX lingering near the highs.  The NDX Hi-Lo is currently at 27.00, beneath the retracement high at 55.00 made on April 27 while the NYSE Hi-Lo is at 1.00.  Cyclical strength appears to have peaked yesterday and we may simply be watching a brief "momentum coast" to a final retracement high in the correction.
ZeroHedge gives McElligott's comments, "Failing to take advantage of positive dealer gamma, the S&P is now stuck in "no man's land" and as Nomura's Charlie McElligott writes in his latest note, the market is "essentially near the Dealer "Neutral Gamma" level (~2845) and between 2 of the 3 largest Gamma strikes on the board (2850 w $1.355B and 2900 with $1.284B), while also now at the "Neutral Delta" level (2882 incl this week's expiry)."
Separately, after CTAs briefly flipped to 100% positive, Nomura's CTA model positioning in the S&P is quite small currently (signal is back "-69% Short," but only a 4% gross-allocation across the aggregate portfolio), at low gross exposures levels due to the recent signal chopping back-and-forth. CTAs are also somewhat distant from buy- / sell- triggers in either direction, with the next sell level is down at 2746 in order to go to back to -100%, while the nearest buy level is 2936 to go all the way back to +100%."
8:00 am
Good Morning!
SPX futures ran up to 2885.88 in the overnight session but made no new high.  It appears that the high of 2898.23 made near noon yesterday may be the top of the correction.  The morning action may appear as a pop-n-drop at the open.  The Wave structure suggests a 300 point decline may be possible.
ZeroHedge reports, "After some early jitters sent S&P futures sliding on Tuesday evening, the E-mini rebounded over 1% and traded near yesterday's session highs after President Donald Trump pushed again to reopen the economy warning that it would lead to deaths, while stocks in Europe turned higher despite mixed earnings, doubts about the easing of coronavirus lockdowns and simmering U.S.-China tensions, not to mention dismal economic data. Contracts on all three major American equities gauges rose as did the dollar while Treasuries edged lower, and oil traded unchanged after yesterday's tremendous rally.
The S&P 500 on Tuesday saw a gain of almost 2% cut in half in the last hour of trading after Fed Vice Chairman Richard Clarida warned the economy will need more government support. Walt Disney fell in after-hours trading, becoming the latest firm to detail the severity of the pandemic's impact on its business. General Motors reported earnings that while a big drop from a year ago, beat on the top and bottom line."
ZeroHedge reports, "Given the fact that over 30 million Americans have filed for initial jobless claims in the last six weeks, it is perhaps no surprise that economists expected a 20.5 million ADP job loss in April. In fact, silver lining, the number 'beat' with 20.236 million
Source: Bloomberg
For context, the largest monthly job loss during the great financial crisis was just 834,700!"
VIX futures exceeded yesterday's low by a tick at 31.94.  It has been gradually rising since then.  The Cycles Model anticipates an inversion high in early June.  No one is noticing the VIX at this time and today's activity is not likely to arouse suspicion of a new high.
TNX has broken above its prior high at 6.62 in an abrupt spike higher.  The Cycles Model suggests we may see higher yields through the end of May.
ZeroHedge reports, "Two days after the Treasury announce it would sell a record $3 trillion (sorry, $2.999 trillion) in debt in the current quarter…
… moments ago we got the details of what the upcoming issuance surge will look like when the Treasury issued its quarterly refunding announcement. Here are the details:
The Treasury will boost long-term refunding debt sales next week to a record $96 billion to refund approximately $57 billion of privately-held Treasury notes and bonds maturing on May 15, 2020, and raising $39 billion in new cash:"
USD futures probed over 100.00 this morning with a high of 100.19.  The rally may be blocked at Intermediate-term resistance at 100.27.  Should that level hold, then a decline beneath the 50-day Moving Average may produce a sell signal.  The Cycles Model has little to say until options expiration, which may reveal some strength that week.
WTIC futures exceeded its "high" target at 26 yesterday and is due for an abrupt reversal.  Look for crude oil to hit an an-time low by the end of May.
ZeroHedge reports, "It would appear no one told the machines that ADP would report a devastatingly ugly jobs print this morning…
Oil started sliding earlier but the 'better than expected' ADP print actually seemed to spark a panic puke for some reason ahead of this morning's EIA inventory/production report.
West Texas Intermediate Crude made a lower retracement high at 26.73 this morning, showing a loss of momentum.  Today is a potential Pivot Day, suggesting a possible decline into options expiration.    The next Master Cycle low is due at the end of May.
ZeroHedge reports, "After slumping much of yesterday, Brent soared on Thursday morning, after Saudi Arabia stepped in to prop up the recovery in the energy market by raising crude prices for its customers worldwide. Saudi Aramco increased pricing for most of its grades for shipment in June.
According to a price list seen by Bloomberg, Aramco raised its official selling price for flagship Arab Light crude to buyers in Asia by $1.40 a barrel, to a discount of $5.90 below the Middle East benchmark. The company was expected to reduce its official pricing by $2.50 a barrel, to a discount of $9.80, according to the median estimates in a Bloomberg survey of seven traders and refiners. By increasing pricing for Asia, Aramco is also indicating it sees demand beginning to recover in its largest regional market. The company is reversing three consecutive months of reductions in pricing for the world's largest oil-consuming region.
Saudi Arabia – which at the start of March launch an unprecedented price war that crashed the market – is now telegraphing that it will "do whatever it takes" to support an oil price recovery. The kingdom narrowed discounts most notably for Europe and the Mediterranean, the main market for Russian crude. That appears to be a signal to the Kremlin after Riyadh and Moscow agreed last month to work together again through the OPEC+ alliance and bring the price war to an end."
May 5, 2020
11:35 am
SPX is approaching the 61.8% Fib retracement value at 2894.88.  It appears that the reversal may happen within the hour.  Bad news may accelerate the decline.
8:00 am
Good Morning!
SPX futures have risen to 2865.00, a natural reversal point for corrective bounces.  The 50% retracement value is 2876.35, should it go higher.  Today is a day of strength, but may be overruled by a Cyclical Pivot as well.  Today would be a good day to sell the rally.
ZeroHedge reports, "Traders are buying in May and not going away.
For the second consecutive day, US equity futures rose on Tuesday, bolstered by continued gains in the price of oil which headed for its longest winning streak in nine months amid optimism demand is rebounding and the peak of the production glut is behind us, while a slew of countries eased coronavirus-led restrictions in an attempt to revive their economies bolstering optimism for some random letter-shaped recovery."
VIX futures declined to 34.32 as it corrects the initial rally off the Cycle Bottom.  The Cycles Model suggests we may see (have seen) the Cycle low today at an approximate 61.8% retracement.  The media has nothing new to report.
TNX broke above its prior high a 6.62 this morning.  It may be considered to be on a buy signal, having also crossed above its Cycle Bottom support/resistance line at 5.66.  Rising treasury yields will pos a particular dilemma to traders who view the 10-year as a save haven during the market crash.
WTIC futures have rallied to a high of 23.34, exceeding the 21.76 target where Wave C = Wave A.  The Cycles Model does not call for a reversal until Thursday/Friday, so it may probe higher in the ensuing days.   A decline back beneath the Cycle Bottom support indicates a potential sell signal.
Bloomberg reports, "Oil rallied for a fourth day as the pace of stockpile builds at the key U.S. storage hub slowed last week.
Futures rose 3.1% in New York Monday, closing above $20, after Genscape reported a 1.8 million-barrel build in inventories in Cushing, Oklahoma, the delivery point for West Texas Intermediate crude. If the U.S. government reports a similar number Wednesday, it would mark the smallest increase at the hub since mid-March."
USD futures rose to 99.97, making a 55% retracement of its decline.  Today may be the last day of Cyclical strength, so watch for a reversal beneath the 50-day Moving Average at 99.50 to produce a potential sell signal.
May 4, 2020
Good Morning!
SPX futures declined to a low of 2771.25, testing the 50-day Moving Average at 2759.22.  Should the SPX open beneath the 50-day, the decline may seek the next support level, the mid-Cycle support at 2668.36.  Otherwise, a bounce may occur, taking the SPX back up to round number resistance at 2900.00.
This weekend ZeroHedge reported, "Well, it's official: there won't be any "Buy American" op-eds by the Oracle of Omaha this time around. In fact, if anything, they will be titled simply "Sell."
Warren Buffett, who turns 90 in 4 months, had an unpleasant surprise for the permabullish Berkshire faithful during their annual pilgrimage to Omaha live-stream of Berkshire's annual meeting: one month after Berkshire surprised investors by selling parts of its Delta and Southwest Airlines stakes – both of which had previously been above a 10% ownership level and speculation was rife that Berkshire could purchase an airline outright in the near future – the Oracle of Omaha said that, 4 years after Berkshire took major stakes in the four largest US airlines, he had liquidated the sold the entirety of its equity position in the U.S. airline industry which included $6.5 billion worth of stock in United, American, Southwest and Delta Airlines.
This morning, ZeroHedge reports, "US equity futures, European stock markets and oil prices all fell on Monday as an escalating war of words between top U.S. officials and China over the origin of the coronavirus fuelled fears of a new trade war, derailing a rebound in global markets, while Buffett's admission he had liquidated all his airline stocks sent the sector tumbling.
European shares – which were closed on Friday – slumped 2.5% in mid-morning trading, catching up to the Friday drop in the US with sectors sensitive to economic growth including oil and gas, automakers and banks falling between about 4% and 5.5%. Volatility gauges for European and American blue-chip stocks shot up to a two-week high while U.S. stock futures were about 1% in the red.
VIX futures reached a high of 40.32, testing its own 50-day Moving Average at 40.86.  The inverted version of the SPX may happen here.  Should VIX emerge above the 50-day, then the Cycle Top resistance at 56.26 may be the next target.
ETFTrends comments, "Equity markets have had a wild ride in 2020, with stocks climbing to all-time highs across the board, only to plummet below 2018 lows with roughly a month, and then rally back to October 2019 highs within nearly another month.
All of this back and forth has many investors frustrated or elated, while volatility has gone from tepid, to boiling, and now reached a calm that seems ready to boil over at any minute.
Stocks finished the month well off the highs made Wednesday, as stocks reached some technical levels, and joblessness continued to surge. But one thing that has not been discussed as much lately, is how the CBOE Volatility Index or VIX, often referred to as the pain index, had done anything but induce pain lately, possibly suggesting that that may be about to change.
USD futures are testing its 50-day Moving Average at 99.40 after breaking beneath it last week.  The Cycles Model suggests that the USD may resume its decline through mid-June.
TNX futures have declined to test the Cycle Bottom support at 6.12 this morning after rising above it on Friday.  The Cycles Model suggests that the yields may continue to invert through options expiration in May.
May 1, 2020
Sell In May And Go Away.
1:58 pm
SPX has completed its first impulsive decline beneath Short-term support at 2836.15.  There is likely to be a bounce going into the close today that may erase much of the decline.    If not already short, you may wish to make that move.  Any short position taken at this time would be considered aggressive, since the VIX is still trading beneath its 50-day Moving Average at 45.90 and the NYSE Hi-Lo Index is still positive, although both of them may have seen their Master Cycle reversals.  Earlier positions are subject to whipsaw, but may have the advantage in the event of a gap down on Monday.
ZeroHedge reports, "When yesterday we discussed the recent bizarro ramp in stocks that sent the S&P just shy of 3000 on the day the latest GDP print confirmed the US had entered a recession if not a depression, we explained that – in a world now totally disconnected from fundamental and economic reality – the move higher was entirely due to machines chasing momentum as CTA had flipped form net short to max 100% long…
… coupled with the sticky dealer "gamma" gravity at SPX 3,000 which served as a "strange attractor" for the market, pushing it just shy of this particular bogey.
Well, a lot can change in 24 hours, because as we closed out the best month for stocks since 1974, the rabid buying reversed violently after Trump warned he would seek retribution against China on their COVID19 response, which as Nomura's Charlie McElligott writes created the dreaded "macro shock-down" catalyst to trigger an "accelerant (sell) flows" in the other direction."
ZeroHedge comments, "Today in "buying the dip" news…
Scores of retail investors took their first shot at the stock market this past March, while equities fell more than 30% as a result of the coronavirus shockwave that hit the country. And it's retail that has helped act as a "formidable force" to put a bid under stocks for the last month, according to Bloomberg.
In fact, E*Trade, Ameritrade and Schwab all saw record signups in the three months ending in March as a result of retail investors wanting their first taste of the market.
Schwab opened a record 609,000 new accounts with almost half of them coming in March alone. It also saw 27 of its 30 most active trading days ever, including every session in March. Ameritrade saw net new assets of $45 billion – of which, about 60% of which came from retail clients. "
8:00 am
Good Morning!
SPX futures have declined to 2830.88 thus far, challenging Short-term support at 2836.25.  This is the first clean break of the Ending Diagonal trendline and a confirmed sell signal.  The Top appears to be in in with the broken trendline after 21.5 days of decline and 26 (25.8) days of rally.  The Cycles Model now calls for 26 market days of decline.
ZeroHedge reports, "With most global markets shutdown for May 1 celebration, US equity futures sank after President Donald Trump threatened to block a government retirement fund from investing in Chinese stocks and to slap new tariffs on China over the coronavirus crisis, while Apple and Amazon became the latest companies to warn of more pain in the future. As a result, the Emini wiped out virtually all of the weekly gains in one session.
Late on Thursday, Trump said his trade deal with China was now of secondary importance to the pandemic, as his administration crafted retaliatory measures over the outbreak. The threat confirmed that the global pandemic was now a top political issue for Trump who will seek to bash China as the US heads for the November election, and pulled attention back to the trade war between the world's two largest economies that has kept global financial markets on tenterhooks for nearly two years."
VIX futures have risen to a high of 93.42 in the overnight session.  While not on a confirmed buy signal, the evidence is in that the Master Cycle low was made on Tuesday.  Today we may see the VIX challenge the 50-day Moving Average at 45.43.  As one would expect, all of the media are either "optimistic" or "bullish."
NDX futures reached a low of 8725.75, crossing beneath the Ending Diagonal trendline near 8800.00 and challenging Short-term support at 8731.53.  This action also leaves an Island Reversal, also a reliable sign of a change of trend.
NorthmanTrader observes, "The Fed poisons everything, and I mean everything. From markets, the economy, and I will even go as far as politics. Sounds far fetched? Let me make my case below. But as much as the Fed poisons everything this crisis here again reveals a larger issue: The system is completely broken, it can't sustain itself without the Fed's ever more monumental interventions. These interventions are absolutely necessary or the system collapses under its own broken facade. And this conflict, a Fed poisoning the economy's growth prospects on the one hand, and its needed presence and actions to keep the broken system afloat on the other, has the economy and society on a mission to circle a perpetual drain.
So how does the Fed poison everything?
Let's start with the Fed actual process of working towards its stated mission: Full employment and price stability.'
USD futures appear to be hovering near their lows.  The Cycles Model suggests the USD may have up to 5 weeks of decline ahead of it.
FXStreet reports, "The US Dollar Index (DXY), which gauges the greenback vs. a basket of its main competitors, stays under pressure around the 99.60/50 band ahead of the FOMC event.
US Dollar Index offered on data, looks to FOMC
The index is down for the fourth consecutive day so far on Wednesday, coming under renewed downside pressure following last week's failure to break above the 101.00 mark, which is acting as quite a tough barrier this month.
The better mood in the risk complex plus month-end flows have been also weighing on the buck as of late, particularly following encouraging news that the coronavirus outbreak continues to ebb in Europe."
TNX appears to be repelled by its Cycle Bottom resistance at 6.12.  A breakout above that level may send the 10-year yield soaring.  Today may be the last day of weakness, giving way to strength through options expiration.  The long UST trade is very crowded and may lend fuel to the rally in TNX as longs get taken behind the woodshed.
Crude oil futures rose to 20.45,  continuing their rally toward Wave equality at 21.76.  It may be stopped at Cycle Bottom resistance at 21.01.  Should it break through, the rally may extend to options expiration, climbing a wall of worry.  Otherwise the decline may resume in the next week with the next Master Cycle low due the end of May.
Investing.com – Oil markets edged higher Friday, as OPEC and its allies began a record output cut. However, the gains are tentative amid worries about the potential of another trade war between China and the U.S. which would impact an oversupplied market.
AT 8:05 AM ET (1205 GMT), U.S. crude futures traded 6.2% higher at $20.02 a barrel, while the international benchmark Brent contract rose 1.8% to $26.96.
The OPEC+ supply cuts agreed upon early in April, of 9.7 million barrels a day, are scheduled to take effect today.
ZeroHedge reports, "The energy industry is truly reeling.
One day after Shell unexpectedly cut its dividend for the first time since WWII, supermajor Exxon Mobil reported its first quarterly loss in 32 years amid a glut of oil, a global recession, and a pandemic that has forced billions of people to stay indoors instead of driving, destroying petroleum demand.
The company reported a $610 million loss for the quarter ending March 31, equivalent to a 14c loss per share in 1Q versus earnings per share estimates of around 55c Y/Y.  First-quarter results are a reminder that the worst has yet to come, as lockdowns only began around mid-month, so the quarter only captured about 15 days or so of demand destruction. "
Gold futures extended losses as far as 16.76 this morning.  It is on a sell signal beneath the Cycle Top support/resistance at 1707.73.  A continued decline may take it through May options expiration. However, take care that gold does not rise above its Cycle Top.  In that case, the outcome would be a continued retracement rally.
ZeroHedge reports, "Something unusual is coming…
First we had unprecedented dysfunction in the gold futures markets with dramatic paper and physical price divergences amid virus-inspired geographical shortages for deliverables.
"I've never seen that before," said one gold trader who has been in the market for 30-plus years.

Saxo Bank's head of commodity strategy, Ole Hansen, observed that a lockdown is occurring in two biggest gold hubs in the world, New York and London,  so many traders are working from home. "This has caused a breakdown in the marketplace", he said.

"There is no price discovery in the market right now," he said Tuesday morning. "If you need to borrow gold in the OTC [over-the-counter] markets right now, you are going to pay a king's ransom."