April 30, 2020
2:00 pm
The St. Louis Fed just updated its Velocity of Money Chart for the first quarter of this year.  It was already in a long-term decline and took another nosedive in the first quarter.   This is a compelling reason why borrowing money to jump start the economy is a bad idea.
9:45 am
Some updates worth reading:
8:00 am
SPX futures are declining and threatening to cross beneath the Ending Diagonal trendline at 2900.00.  Should that transpire, the CTAs and hedge funds looking to add to their longs above 2900 may be put on hold.
ZeroHedge reports, "US equity futures dipped on Thursday, reversing an overnight rally that pushed the S&P just shy of 3,000 as traders turned nervous at the end of the strongest month for stocks in 50 years with investors awaiting the weekly jobless claims data, while Nasdaq futures rose after upbeat earnings from Facebook and Tesla.
Futures for the S&P 500 turned lower on Thursday following a drop in European shares after a three-day surge as investors weighed corporate results, more dismal data and the latest virus news. Despite the wobble in the Emini, the underlying S&P index remains on track for its best month since 1974."
VIX futures are making new highs this morning, having reached 33.85 and still climbing.  The next high may occur during May options week.  Hardly anyone is paying attention to the VIX at this time.
TNX is declining as investors fleeing stocks seek a safe haven in bonds.  While TNX may sink to its Master Cycle low at 5.43, it may not go lower.  The Cycles Model suggest strength may develop over the weekend to propel TNX higher.
USD futures challenged the 50-day Moving Average at 99.41, but has bounced back near breakeven.  USD may show strength over the weekend.  If so, it may continue consolidating in the short-term.
The June crude oil contract made a new retracement high at 17.80.  The Cycles Model shows strength going into early next week where it may make a Master Cycle high.  I had previously mentioned that crude may elevate to as high as 26.00, but that upper limit.  It now appears that Wave A equals Wave C at 21.76.
April 29, 2020
5:00 pm
It seemed that the world was waiting for the Fed statement at 2:00 pm.  Sure enough, the markets started to sell off after the statement was released, but quickly caught a bid and went higher.   There was another flurry of selling into the close, which was negated when Microsoft and Facebook announced earnings after hours.
The NYSE Hi-Lo reports only 4 companies made new 52-week highs today.  The air is so thin at this level that it is barely sustainable.  However, the next level of resistance may be the mid-Cycle resistance at 3008.14 which is a 68% retracement.  The DJIA has yet to make its 61.8% retracement at 25308.12.  NDX has made a 76% retracement thus far with only 26 companies making a new 52-week high.  Perhaps the month end has some bearing on the ebullience of the equities market.  There seems to be no other technical or fundamental reason for stocks to go higher.  Just more insanity.
3:30 pm
Yesterday I mentioned that the SPX may "crawl" along the upper trendline, which is what it is doing today.  Should it close above 2900.00, it may be an invitation for the CTAs and certain hedge funds to ramp up their long positions tomorrow.  At this point it leaves no visibility for what's next.  The rally has run its course, making the 61.2% Fib retracement at 2934.98.  The rally is at an ideal 26 days as well.  However, the closing price may dictate tomorrow's action, regardless the technical indicators.
What makes it more interesting is that the VIX quit declining and the Hi-Lo appears to be approaching the close at 4.00.  Hardly a vote of confidence.  Come what may, I have gone short the SPX with no stops.  Sell in May and go away!
10:30 am
Agricultural prices appear to be bottoming out with a new Master Cycle low made yesterday.  It appears that there is a huge bottleneck at the processing level and many farmers are being forced to cull their herds.  That means meat shortages are developing with prices at the store rising and bare shelves at the meat counter as well.
ZeroHedge reports, "US live cattle futures plunged last week to levels not seen since the 2008-09 financial crisis as impacts from the coronavirus pandemic are being realized.
Livestock traders continue to exhibit concern that uncertainty for meat demand is a full year story as restaurants remain closed, and meatpacking facilities have shuttered operations leaving farmers with overcapacity among herds."
10:15 am
TNX has made a little more than a 61.8% retracement (5.88) of its rally off the Master Cycle low.  It is due for a period of strength that may last through the weekend as it prepares for a breakout above the Cycle Bottom resistance at 6.40.  Today the 10-year Treasury notes are up for auction.  This may be a turning point.
Yesterday, ZeroHedge reported, "Following two spectacular coupon auctions, with a surge in buyside demand for both the 2Y and 5Y Treasury auctions held on Monday, moments ago the Treasury sold $35BN in the week's final coupon issuance in this truncated week, which priced at a yield of 0.525%, tailing the When Issued 0.524% by 0.1bps, if well below last month's 0.68% and the lowest 5Y auction yield on record.
Unlike yesterday's remarkable 2Y auction which saw the Bid to Cover surge to a 6 year high, the internals today were not nearly as pretty, with the BTC dropping to 2.565 from last month's 2.758, although in fairness that was the highest ratio since Jan 2018 so it was hardly concerning. Indeed, the six auction average of 2.50 was below the April bid to cover.
Finally, and once again confounding Lloyd Blankfein, there was no shortage of foreign buyers, with Indirects taking down 66.45%, the most since November, and with the Direct takedown also rising from the 9.1% in March to 12.3%, Dealers were left with 21.3% of the auction, the lowest also since November."
9:52 am
Today finally resolved the issue of where the previous Master Cycle ended.  It ended on March 23 with a 21.5 day decline (4.3 x 5) and a Master Cycle total of only 241 days.  I have not seen this early an ending since 2008.  Then I realized that it was during the last bear market.
The interesting part is that the subsequent rally is now approaching 25.8 days (4.3 x 6) between, 10:00 am and 11:00 am.   It is also approaching the 61.8% Fibonacci retracement at 2935.98 and the upper trendline of a new Orthodox Broadening Top which I identified last week.
ZeroHedge reports, "With news that the Gilead Remdesivir trial had reportedly met its primary endpoint hitting "coincidentally" just seconds before the Q1 GDP print, and with newswires initially reporting the GDP erroneously as a positive 4.8% print, it was clear that the real number would be a disaster, and sure enough moments later newswires reversed and reported that Q1 GDP was in fact, a worse than expected negative 4.8%, the biggest drop since March of 2009, and officially marking the start of the US recession. Current-dollar GDP decreased 3.5%, or $191.2 billion, in the first quarter to a level of $21.54 trillion, after increasing 3.5% in the fourth quarter."
8:00 am
Good Morning!
SPX futures are higher, peaking at 2904.88, but subsiding back beneath 2900.00.  The bar chart in the futures shows very light, sporadic volume.  The Google earnings wasn't enough to power the SPX to new highs.
ZeroHedge reports, "S&P index futures jumped on Wednesday, following another solid day for European and Asian stocks, wiping out yesterday's sharp post-consumer confidence swoon, after Google reported upbeat quarterly results (despite warning of a sharp drop in March ad revenue, which however stabilized in April ), while investors braced for the worst GDP print since the financial crisis and a Fed announcement this afternoon amid what may be the busiest day of Q1 earnings season
NDX futures reached a high of 8856.50, a 75% retracement of yesterday's decline, before sliding back to 8800.00.
Bloomberg observes, "In a crisis, large companies can have an edge. As the
 

pandemic

 

has forced the shuttering of local stores and restaurants, grounded consumers streamed Tiger King on

 

Netflix, stocked up on groceries and supplies with

 

Amazon, and gathered together on

 

Zoom. Hardly any company is immune from the economic shutdown, but big business has more resources to weather the pandemic and, in some cases, may be able to gain market share.
On Wall Street, that's exacerbating a divergence between small and large companies that's been frustrating stockpickers for some time. The Russell 2000, a benchmark for small companies, has lagged the big-name S&P 500 index badly over the past two years. This year, the small stocks, with a median market valuation of about 

$525 million

, have lost 23%; the S&P less than half of that. The Nasdaq 100, which tracks the largest tech stocks, is up about 1%. The S&P 500's companies now make up 82% of the entire U.S. stock market's value, a percentage that's been steadily rising this century.
The NDX Hi-Lo Index shows 55 companies making new highs yesterday and on a buy signal.  I must apologize for not following this more closely since the NYSE Hi-Lo only reached a high of 22 and is borderline, at best.
VIX futures made a higher low at 31.05, establishing yesterday's low as the Master Cycle low on an extended day 278.  Normally we see the VIX leading the NYSE, inverted of course.  However, it appears that the VIX may have been used as a tool to extend the rally in SPX, since the VIX is a small index.  It is akin to the tail wagging the dog.  This may be misleading to investors who view the VIX as a fear gauge.
Bloomberg observes, "Market turbulence has calmed down since the mid-March extremes, but a couple of recent moves may bode particularly well for stocks.
The Cboe Volatility Index, or VIX, closed below its second-month future on Monday for the first time since Feb. 21, going back to a more typical structure. Since contracts dated further out would tend to carry more uncertainty than those closer in, they would normally trade higher — though that hadn't been the case in recent weeks because of the massive concern caused by the spread of COVID-19 and ramifications for public health, economies and financial markets."
April 28, 2020
2:50 pm
SPX retreated below 2900.00 after the initial probe.  Should it remain beneath it, the CTAs may be held at bay.  The rally appears complete and the Cycles Model suggests a potential decline through early June.
3:45 pm
Prepare for a potential 100+ point decline.
10:20 am
NDX turned down after a 30.1 hour (4.3 day) rally from the Master Cycle low at 8159.84.  A fast moving decline may confirm the top is in.  The NDX appears to be taking the lead in this next decline which threatens to surpass the March rout.
ZeroHedge reports, "After plunging in March, expectations were for The Conference Board confidence survey to crash even further in April as COVID concerns began to really rage and lockdowns went nationwide.
The Conference Board's headline index plummeted by 31.9 points, the sharpest drop since 1973 to its lowest since May 2014…"
8:00 am
SPX futures have hit a nigh of 2909.12 in the morning session.  This is likely a test of the upper trendline of the Orthodox Broadening top formation.  Be prepared for a potential rejection at the trendline.  The alternate view is a gradual crawl up to the 61.8% retracement at 2935.98 that may take more time.  However, this morning's open marks 4.3 days from the April 21 low, which counts best as a Master Cycle low.
ZeroHedge comments, "About one year ago, corporate profits didn't matter and stocks would continue levitating day after day because "any minute now" Trump would complete a Phase 1 trade deal with China. Well, one year later, profits again don't matter and probably never will again now that the Fed taken over capital markets (in fact, profits have been devastated and according to JPM won't recover their 2019 levels until 2022), but stocks are again levitating, this time on optimism about the economy's imminent reopening from the coronavirus pandemic.
U.S. stock index futures reversed early losses, and surged alongside European and Asian stocks on Tuesday, rising above 2,900 for the first time since March 8, ahead of a barrage of quarterly earnings reports, as investors are keenly looking at the safety and progress of reopening economies hit hard by the coronavirus-induced shutdowns."
WTIC futures declined to 10.19 this morning as ETFs and a major index bailed out of the June contract, fearing negative prices.  This may be a Wave B, with another swing higher after the "roll" is complete.
ZeroHedge reports, "Since we showed the renewed crash in the oil complex overnight, crude prices have roller-coastered dramatically after a major index tracked by billions of dollars in funds bailed out of near-term contracts for fear prices may turn negative again.
June futures fell over 21% in New York before paring most of the decline, only to collapse back to the lows overnight… and drag the rest of the curve with it…
S&P Dow Jones said it will roll all of its West Texas Intermediate contracts for June into July on Tuesday, due to the risk that the nearer contract will go negative."
NDX futures ratcheted up to 8945.38 as it nears completion of its corrective rally.  There is a strong attraction to round number resistance at 9000.00, which may be a final target.  The Cycles Model suggests the period of strength may  have ended yesterday, suggesting a momentum high may be near.  Final Waves in an impulsive Cycle often lack in breadth and volume and appear to "coast" toward their final target.
RealInvestmentAdvice observes, "Market rises as the economy reopens.
The question, however, is what happens next? While there has been much debate from the economic perspective, the market has risen in anticipation of the event. Is it an "all clear," for the bulls, or are there still longer-term concerns.
To analyze what potentially happens next, let's review where we left off. 
"On a very short-term basis, the previous 'deep oversold' condition that provided the 'fuel' for the rally has been reversed. Also, all primary 'overbought/sold' indicators are now fully extended into overbought territory."
VIX futures have declined further to 30.54 and a 75% retracement of Wave [3].  Wave [4]s can be stealth waves, since they may decline all the way to, but not overlap Wave [1] at 17.99.  This virtually assures Wave [5] will be a multiple of Wave [3].
TNX has backed away from yesterday's high that challenged the Cycle Bottom resistance at 6.57.  The Cycles Model suggests that a period of strength may be building through the weekend after a brief pullback.
Bloomberg reports, "The mortgage market has been disrupted by millions of borrowers postponing payments because of coronavirus. But lenders and veterans of the 2008 financial crisis warn the real chaos won't start until the pandemic passes.
The problem is confusion over what will happen when borrowers have to make up those payments. Federal agencies that back most of the market have introduced policies, some of which could require documentation that overwhelms servicers, leading to lengthy wait times and, in extreme cases, foreclosures.
Industry executives say Fannie Mae, Freddie Mac and their regulator are attempting to unveil a program in coming weeks that could alleviate many of the problems. Mortgage lenders say they hope the companies and their watchdog come up with a plan that prevents a repeat of the turmoil that followed the 2008 financial crisis, when confusion and delays hindered borrowers in trying to resume payments.
USD futures have declined to a morning ow of 99.45, just above the 50-day Moving Average at 99.37.  It has slipped beneath the Intermediate-term support at 99.99, verifying a sell signal.
CNBC reports, "The U.S. dollar fell across the board on Monday as several countries laid out plans to ease restrictions on businesses that have been closed due to the novel coronavirus outbreak, boosting risk appetite and reducing demand for the safe-haven U.S. currency.
"Reopening plans have fed into positive market sentiment to start the week," said Win Thin, global head of currency strategy at Brown Brothers Harriman in New York. "The dollar is under some pressure."
April 27, 2020
Good Morning!
SPX futures are challenging the original Head & Shoulders neckline at 2855.00 for a second time in the retracement.    It may go as high as the 61.8% Fibonacci retracement at 2835.98, which is still within a 3% range of the neckline.  That means it may remain a valid resistance marker in a highly emotional broadening formation (evident on the 2-hour chart).
Broadening formations are highly unpredictable at this point.  They can break down before reaching a new high above 2879.22, or they may probe the upper trendline near 2920.00-2935.00.  Either way is valid.  However, the Cycles Model indicates a probable failed high as the Master Cycle appears to have ended on April 21 at the 2727.10 low.  You may recall that April 21 was my original Master Cycle ending date until the Orthodox Broadening Top formation became evident only last week.  See Friday morning's chart to view the formation.
ZeroHedge observes, "S&P futures climbed alongside stocks in Europe and Asia to start the week after the BOJ went full Brrr earlier when the central bank announced it would buy unlimited amount of bonds (even though nobody actually wants to sell to the BOJ) as more state and countries edged toward reopening, even as earnings season is shaping up to be an even greater disaster than expected (US EPS of -24% yoy is coming in some 9% lower than consensus expectations), while oil prices plunged again, with the June WTI contract plunging below $13.
Futures for the three main US benchmarks all pointed to a second day of gains with the Emini approaching its resistance level around 2850 amid continued talk of easing the lockdowns that have been used to help contain the coronavirus…
NDX futures have reached a weekend high of 8897.00, but did not top the April 17 futures high of 8966.75.  This leaves open the possibility of a lower cash high as well.  This may indicate a weakening of the megacap companies that populate the NDX and SPX.  The April 21 low at 8359.21 appears to have been the Master Cycle low.
ZeroHedge observes, "With a third of companies having reported Q1 results so far, earnings season has proven to be neither a spoiler nor a catalyst, with modest market reaction to some truly horrific numbers as investors are now ready to ignore earnings until well into 2021 when a V or U-shaped recovery is expected to kick in.
That said, the numbers have been mixed, for anyone monitoring rather than looking through them because they are the fuzziest figures since Q1 2009 just after Lehman's bankruptcy. While 65% of US companies that have reported beat estimates (vs 50% in Europe and Japan), this represents the worst margin in a decade."
VIX futures made a marginal new low at 35.43 this morning, showing a potential weakening in the decline.  The dealers know that the CTAs, hedge funds and retail investors will continue to buy as long as the VIX is in decline.
DailyFX observes, "VIX INDEX SPIRALS LOWER AS CRUDE OIL PRICE RECOVERS; VOLATILITY STILL ELEVATED DESPITE UNDERAPPRECIATED CORONAVIRUS RECESSION RISK
Crude oil futures plummeted to 14.00 this morning as the reality of "no bid" sinks in.  The lockdown has destroyed demand.  The next three weeks may see an unmitigated disaster fall upon the oil patch.  Options expiration may be particularly painful.
ZeroHedge reports, "Back in the late fall of 2014, when Saudi Arabia broke up OPEC for the first time and unleashed a torrent of crude oil on the world despite the protests of its fellow cartel members, oil prices crashed as a result of what then seemed to be a "calculated" move by Riyadh which hoped to put US shale out of business amid a flawed gamble betting that shale breakeven prices were around $60-80. They, however, turned out to be much lower, which coupled with Saudi misreading of the willingness of junk bond investors to keep funding US shale producers, meant that despite a 3 years stretch of low oil prices, US shale emerged stronger than ever before, with the US eventually eclipsing both Saudi Arabia and Russia as the world's biggest crude oil producer.
Fast forward to March 2020, when Saudi Arabia doubled down in its attempt to crush shale, only to avoid angering long-time ally Donald Trump, the Crown Prince pretended that the latest flood of oil was an oil price war aimed at Moscow not Midland. And this time, unlike 2014, with the benefit of the global economic shutdown resulting from the coronavirus pandemic, the Saudis may have finally lucked out in the ongoing crusade against US oil, because as Bloomberg writes with "negative oil prices, ships dawdling at sea with unwanted cargoes, and traders getting creative about where to stash oil", the next chapter in the oil crisis is now inevitable: "great swathes of the petroleum industry are about to start shutting down."
TNX appears to be rallying from its Master Cycle low of April 21.  This  may be the confounding of investors as rates rise while equities and commodities tank.
USD futures fell to test Intermediate-term support at 99.83 this morning.  While a failed attempt to overcome the Cycle Top resistance suggests a sell signal, it may be confirmed by a drop below 99.83.  The Cycles Model suggests the decline may continue through the end of May.
  CNBC reports, "The U.S. dollar fell across the board on Monday as traders turned more positive and less averse to risk amid an easing in coronavirus lockdown restrictions in several countries.
The U.S. dollar was weaker against the Japanese yen and the euro as investors turned slightly more positive on Italy and saw the Bank of Japan continuing to support an economy battered by the virus."
April 24, 2020
11:10 am
The S&P Is Caught In A Gamma Trap, Preventing Turmoil From Record High Valuations
ZeroHedge observes, "Over the past three days, despite a barrage of negative news about the global economy and crushed hopes about Gilead's Remdesivir treatment which according to the FT was a "flop", stocks have been stuck in a tight range around the 2,800 S&P level, and there is a specific reason for that. As Nomura's Charlie McElligott notes, the S&P 2,800 has emerged as the "Neutral Gamma" zone for the market "and again, is likely to remain that way, as the 3 largest aggregated Gamma strikes on the board have the S&P surrounded" as follows: $1.128B at 2750, $1.357 at 2800 and $1.154B at 2850:"
9:00 am
Good Morning!
SPX futures are higher this morning which bring up a distinct possibility of another probe higher before this is over.  An Orthodox Broadening Top need not make a new high on Point 5 to be legitimate.  In fact, a failure to reach a new high on point 5 raises the probability of a prompt follow through to new lows.  However, we take what the market gives us.  This should be no surprise with the efforts by the Fed to liquify the market and a resurgence of bullishness by the retail investors and certain hedge funds.
ZeroHedge reports, "S&P index futures reversed earlier losses as the U.S. House of Representatives passed a $484 billion coronavirus aid package, while China's central bank cut another policy rate as expected. Sentiment was helped after US Covid-19 infections rose at the slowest pace in three weeks, and the potential easing of lockdowns in Europe.
Europe did not share US enthusiasm and the Stoxx 600 dropped after the region's leaders failed to agree on a long-term stimulus package and news the Remdesivir coronavirus drug was a flop. Food and beverages was the only gaining industry group to advance after food giant Nestle reported its fastest sales growth since 2015 as consumers loaded up on frozen food. Travel, oil and bank shares led the decline.  The banking index led the declines in European stocks after S&P cut Commerzbank's credit rating by a notch and lowered its outlook for Deutsche Bank to negative from stable."
VIX futures declined to 38.48, possibly to challenge the Wave [4]  low.  Today is day 274 of the old Master Cycle.  The usual limit on extensions is 275 days (258 + 17.2 days).  If so, that may push the new Master Cycle through June options expiration, which may be devastating.
TNX appears to be consolidating in place as we watch and wait.  It may also make a new Master Cycle low should the Fed fire its liquidity cannons, but it would be a last ditch effort against a juggernaut.
Forbes opines, "Remarkably, we are still fond of the one asset that we had opined was near the end of its rope:  long-dated treasury bonds. Like it or not, those more-than-plentiful Uncle Sam IOUs, now with their lowest yield in history, have proven time and again, including during the COVID CRASH, to be excellent sources of protection from equity risk. Every time we think that the asset class has given all it has to give and should be retired; it steps back up to the plate. Longer term we believe there is limited return potential from the asset, but recent data indicates there may still be enough for another winning season.
According to Ned Davis Research, bond sentiment has shown uncharacteristic pessimism. This is confusing because an asset that is in a 35-year bull market should be over-believed with tons of speculative dollars chasing it. Nevertheless, over the last 3 months, Bloomberg data shows that over $4G has been withdrawn from the TLT (iShares 20+ year treasury bonds) ETF. TLT is up 25% over that period. Couple that with the reality that the Federal Reserve is buying large swaths of the treasuries through QE and has removed the requirement for banks to hold reserves against them. This is all a formula for much lower yields on the long end of the curve."
USD futures appear to be consolidating beneath its Cycle Top at 100.72.
CNBC reports, "Four days of U.S. dollar gains ended on Friday, although broader concerns about the euro's outlook kept dollar bears at bay.
The dollar is still set for its biggest weekly rise since early April, after a European Union meeting on Thursday to build a trillion-euro emergency fund disappointed investors.
Despite an agreement by EU leaders to fund a recovery from the coronavirus pandemic, French President Emmanuel Macron said differences continued among EU governments over whether the fund should be transferring grant money, or simply making loans. "They just delivered on the basics and fell short of surprising markets positively and that is weighing on the euro," said Ilan Solot, a currency markets strategist at Brown Brothers Harriman in London referring to the EU meeting."
April 23, 2020
1:22 pm
Crude oil futures have risen to 18.26 thus far.  It may rise as high as 26.00 before the next decline.  The rally may continue through the end of the month with the next crisis developing at the next options expiration (May 15) with a final bottom (at 2.00 or lower) potentially during the first week of June.   Retail investors are buying USO with no thought that this ETF may vanish in the course of the next month.
ZeroHedge comments, "West Texas Intermediate, the oil grade most associated with American production, plunged down to -$40 April 20. You read the right. For a while this week, sellers had to pay people forty bucks to take a barrel of crude.
As with any product, the business of oil isn't a once-and-done. It must be produced, shipped and processed, and then the refined product must be shipped and retailed. What happened April 20 is a bottleneck in that process. Production surged ahead of pipeline shipping capacity, leaving some producers with nowhere to put their crude.
The real kicker is that this is not the "negative prices" outcome I predicted a couple weeks back. "All" the April 20 event was was a single facility in a single country running out of future leased storage capacity for the month of May. The April 20 price crash will happen again in the same place and it will be bigger: June WTI futures contracts are now spazzing, and America's Cushing oil storage and transport nexus undoubtedly will be actually full by then. But even this is nothing but the warmup for the big show."
ZeroHedge explains further, "The Great Lockdown continues to turn markets on their head.
Last week, Visual Capitalist's Jeff Desjardins dug into the unprecedented number of initial jobless claims coming out of the United States, which topped 22 million in a period of four weeks.
It's just days later, and we already have our next market abnormality: this time, traders were baffled by West Texas Intermediate (WTI) crude — the U.S. benchmark oil price — which somehow flipped negative for the first time in history.
How is that possible? And how does it tie into the COVID-19 oil price crash in general?"
9:00 am
Good morning!
SPX futures are rising toward the50-day Moving Average at 2820.00 and the Head and Shoulders neckline at 2855.00 by rising to 2806.38 this morning.  There seems to be no conviction in either direction, so the big money moves the futures in a low liquidity environment.  The market opens on hour 22 (4.3 x 5 = 21.5) of the new Cycle, so this may be the final gasp of a minor Wave 2.
ZeroHedge reports, "US equity futures and global stock markets were surprisingly uneventful on Thursday on the back of a continued modest rebound in oil prices despite a record collapse in European business activity, as investors braced for another staggering jobless claims report as sweeping lockdown measures hammer economic growth.
The S&P500 jumped on Wednesday on a recovery in oil prices and signs Congress was set to pass $500 billion more in relief for small businesses and hospitals. The bill is expected to clear the House of Representatives later in the day. Still, the benchmark index is 17% below its February record high as statewide shutdowns sparked layoffs and crushed consumer spending. Surveys on U.S. manufacturing and services firms are likely to mirror dismal readings from Asia and Europe issued earlier on Thursday. As noted earlier, a composite European business index plunged to its lowest print on record.
Data set to be announced shortly is also likely to show a record 26 million Americans sought unemployment benefits over the last five weeks, confirming that all the jobs created during the longest employment boom in U.S. history were wiped out in about a month."
VIX futures made a low of 39.94 in what appears to be an irregular correction this morning.  The 50-day Moving Average is at 43.08making a good long re-entry on the premise that the VIX may rise even higher.
TNX is mildly higher, but wating on the unemployment numbers.
ZeroHedge reports, "In the last week 4.427 million Americans filed for unemployment benefits for the first time.
Source: Bloomberg
That brings the four-week total to 26.5 million, which is over 10 times the prior worst five-week period in the last 50-plus years."
USD futures continue to test the Cycle Top at 100.69 this morning.  A failure to overcome that level condemns the USD to a further decline through the middle of June.
BusinessInsider comments, "The dollar could weaken against other currencies making credit spreads more attractive than equities during the coronavirus economic meltdown, according to UBS Global Wealth Management.
Hartmut Issel, head of Asia-Pacific equities, chief investment office at UBS Global Wealth Management, told CNBC on Thursday in a phone interview: "Since the last month or two, the dollar does not have too much to offer anymore. Across the board we should see strengthening of the yuan and the yen in the second half of the year at the expense of the dollar."
April 22, 2020
9:56 am
European banks and insurance companies are bracing for their next Master Cycle low at the end of May.  It is no coincidence that it is in line with the crude oil Master Cycle, also expecting to bottom then.  One has to wonder which US banks are also tied into the same Cycle.
ZeroHedge observes, "Last week showed higher provisions for loan losses among US banks and this week the first European banks will report earnings. Today Svenska Handelsbanken reported a jump in credit losses to SEK 538mn SEK from SEK 288mn a year ago. Loan losses tend to go up over time as higher loan portfolios increases the provisions for loan losses which flows to the loan loss reserves. But Handelsbanken reported that SEK 400mn in additional provision requirements for expected credit losses. This is the direct impact from COVID-19 beyond what was set aside during normal times. The amount is still small and Handelsbanken is one of the best banks in Europe, but the loan loss reserve ratio is currently set to 0.2% against the peak of 0.21% in 2009. Given this crisis could become deeper, and especially for Sweden relative to the financial crisis of 2008, and thus a loan loss shock could come to Swedish banks.
Also today UniCredit reported €900mn in extra reserves as the bank is preparing for losses due to the extraordinary decline in economic activity from the lockdowns in Europe. Besides the general impact from the COVID-19 on loans the recent oil price collapse will have a significant impact on loans to the energy sector and according to Bloomberg the European banks with the highest exposure to oil companies are Natixis, Credit Agricole and DNB. European banks are flirting with the lows from March and our worry is whether the European banking sector is strong enough to weather the recession from COVID-19."
8:00 am
Good Morning!
SPX futures tested the gap at 2785.54 before easing back down.  As mentioned yesterday, this morning gives the indices the setup for another gap down beneath Intermediate-term support at 2727.30.  There appears to be a heightened awareness of risk but a singular lack of action yet.
ZeroHedge reports, "S&P futures rebounded alongside European and Asian stocks on Wednesday as oil pared its recent historic losses and upbeat quarterly earnings reports lifted investor sentiment following a two-day selloff due to a record crash in oil prices, even as companies warned of more pain in the coming months. Treasurys and the dollar dropped while gold gained, rising above $1700.
Emini futures climbed after the cash index dropped more than 3% a day earlier, when investors shrugged off the progress of a fresh relief package to counter the economic hit from the coronavirus. The Stoxx Europe 600 Index rose broadly in the wake of Tuesday's slump.
VIX futures declined, but remained above the 50-day Moving Average.  This action, combined with the NYSE Hi-Lo beneath its mid-Cycle support provides confirmation of the sell signal.
Bloomberg reports, "U.S. stocks are likely to see new lows if VIX patterns from yesteryear hold sway, according to Bank of America Corp.
The current bear-market rally most closely resembles what occurred in 2008, and suggests there's limited further upside before a turn that drags the S&P 500 to fresh lows, strategists led by Benjamin Bowler wrote in a note Tuesday. They drew that conclusion by measuring from the peak of volatility in the three most recent major sell-offs and comparing those with the present one."
TNX is on the rise again after making its Master Cycle low on day 258 yesterday.  One of the phenomena that I have observed is that the Cycles have become more precise during the crash.  The Model now suggests a Master Cycle high at options expiration in May.  The long UST is a crowded trade, so a rising yield may provide the fuel for a pretty spectacular rally in TNX.
CNBC reports, "Treasury yields turned higher on Friday after the Federal Reserve dialed back the pace at which it plans to buy government bonds.
The yield on the benchmark 10-year Treasury note, which moves inversely to price, rose 4 basis points to 0.64%, while the yield on the 30-year Treasury bond was also higher at 1.24%.
The central bank said Friday that it would buy securities at a pace of about $15 billion a day, slower than around $30 billion a day this week. The Fed launched an unlimited quantitative easing program, aggressively purchasing Treasuries to cushion the economic blow from the coronavirus pandemic."
USD futures are easing away from the Cycle Top resistance at 100.64.  This is happening 4.3 market days after the Master Cycle low on April 14.  The deck is cleared for the next decline through mid-June.
CNBC reports, "The dollar fell slightly on Wednesday, erasing some of the previous day's gains, but safe-haven currencies remained in demand even as the markets began to stabilize while oil prices recovered from another slump.
The dollar was down 0.2% against a basket of comparable currencies but still up around 0.4% on the week as investors sought safety amid market turmoil. The Japanese yen maintained its gains from the past week versus the dollar, up around 0.1%."
Crude oil futures are up over 20% this morning.  It appears that the Master Cycle has made its bottom yesterday.  The next Master Cycle low may occur at the end of May.  If consumption does not increase appreciably, the anticipation of no storage for the next futures will tank the prices again.
ZeroHedge comments, "Forget Turnaround Tuesday. Oil is a "dangerous market to trade in right now," said Pierre Andurand, founder of Andurand Capital Management LLP, in a Bloomberg TV interview. The market needs shutins to happen now, he said.
"This has changed everything," said Monica Malik, chief economist at Abu Dhabi Commercial Bank.
"So much of the recent recovery was based on the fact that the oil price had been above $50-$60, providing support to economic activity, and that's just been decimated."
This "price slump was psychologically very important," said Eugen Weinberg, Commerzbank AG's head of commodity research.
"There is a possibility it will change perceptions forever."
and again, "With chaos in the crude space getting worse by the day, and with some predicting that oil could plunge as low as negative $100 per barrel, every day is now a scramble for survival for the largest oil ETF, the USO, which is desperate to avoid the liquidation that its smaller peer, the OIL ETN which was fully redeemed, succumbed to yesterday. And to survive, it will succumb to the lowest tricks in the book including puffing up its stock price using such cheap gimmicks as reverse stock splits.
On Wednesday morning, USO manager USCF said in an 8K filing that "it will execute a one-for-eight reverse share split that will be effective for shareholders of the United States Oil Fund."
Some more details from the 8K:"
April 21, 2020
3:38 pm
NDX bounced from its 50-day Moving Average at 8353.63 today.  It may close above that level, but it appears primed for a morning gap down beneath it tomorrow.  Wave IIIs don't offer large or long retracements.  This could be what kicks off a very large panic decline.
2:58 pm
TNX made a new corrective low at 5.43 on day 258 of the Master Cycle.  Time to call in any UST longs as the tide is about to turn on treasuries.  TBT may be the ETF of choice.
ZeroHedge reports, "It's not the WTI May contract that shocked investors when it traded as far negative as -$40 on the historic date of April 20: also dipping into negative territory was another benchmark indicator, arguably far more important than an oil future contract: General Collateral.
As Curvature's Scott Skyrm writes, Repo GC rates began trading in the negatives in the morning [on Monday] and traded as low as -.25% [on Monday] afternoon. Unless there is a crisis or it's quarter-end, it's very rare for Repo rates to trade this negative.
So maybe there is a crisis but with equities now directly backstopped by the Fed, nobody told stock traders?"
Talk about bad timing, ZeroHedge reports that Michael Hasenstab, manager of the Templeton Global Bond Fund, has closed his US Treasury short position.
2:45 pm
Crude oil futures crashed to a low of 6.55 today on day 258 of the current Master Cycle.  Anyone short Crude should take profits immediately, as a bounce may evaporate any profits from today.  I am not sure that today is The End of Primary Wave [5].  It may just be the end of Intermediate Wave (3).  The next Master Cycle low is due at the end of May, so we may still see the price of Crude hit $2.00 at that time.  I wonder if the US government is the buyer of last resort with storage in the Strategic Reserve.  It would be a pity if it weren't.
1:35 pm
June WTI Futures Crash 45% To $10 Handle In Repeat Of Monday Massacre
1:22 pm
The NYSE Hi-Lo Index has given a confirmed sell signal by crossing beneath the mid-Cycle support at -20.70.  This, coupled with the VIX buy signal gives the all-clear to sell longs and go short equities.  Of course, one cannot help but notice what is happening to crude oil, which is an harbinger for the economy and equities.
Charles Hugh Smith (OfTwoMinds) has this observation, "Sadly, as markets stall and crash, participants will still be in their seats thinking all is well.
The tragic 2009 crash of Air France Flight 447 offers an apt analogy for the global economy and central bank-driven false signals. Flight 447 entered an area of frigid turbulence over the Atlantic which caused the air-speed sensors (pitot tubes) to ice up. A few minutes later, the autopilot disengaged, and the co-pilot flying the aircraft over-corrected in the turbulence.
Deprived of accurate airspeed readings, the co-pilot misjudged the situation and attempted to climb, causing the aircraft to stall. Unable to recover, it crashed into the Atlantic, killing all on board.
The co-pilot's last recorded words are haunting: "We're going to crash! This can't be true. But what's happening?"
8:00 am
Good Morning!
Crude oil is in he headlines as the May contract expires, with knock-on effects rolling into the June contract.  Crude futures plummeted to an overnight low of 11.89  as the realization emerges that there is no bid…anywhere.  In the meantime, those holding the May contract must accept delivery.  My long-term outlook for crude at $2.00 a barrel, as unbelievable at it may sound, may be coming to pass…or worse.
I recall an acquaintance who bought soybean futures just before the bottom fell out.  The CBOT literally backed up a grain truck into his driveway and dumped the soybeans on the spot.  He had to pay a local farmer to have it hauled away.  ZeroHedge explains what is happening.
Bloomberg reports, "The oil meltdown accelerated, with huge losses sweeping through markets as the world runs out of places to store unwanted crude and grapples with negative pricing.
West Texas Intermediate plunged below zero on Monday for the first time in history with the contract for May nearing expiration, leaving traders in a panic as they tried to avoid taking delivery of physical barrels. On Tuesday the losses spread to the next month — highlighting the massive glut in the market causing the rout rather than any technical quirk."
ZeroHedge observes, "When recapping yesterday's day of devastation for oil prices – and amateur oil traders – we quoted from the latest Goldman report (the bank's strategist Damien Courvalin has been spot on and well ahead of the curve in predicting the drop to negative prices as far back as a month ago), who said that a similar "price dynamic could play out again tomorrow, the last trading day of the May contract. After that, the physical reality of a still massively oversupplied oil market will likely exert downward pressure on the June WTI contract (currently still trading at +$21/bbl)."
He was spot on, because on Tuesday morning, the panic selling that originated in the May contract, which expsires today at 230pm and which settled at just shy of -$38 yesterday, has spread to the June contract – just as we warned would happen yesterday – which briefly dropped as much as 42% to $11.79 a barrel, and was last trading just above $16 even as the May contract remains deep in negative territory."
…and the news keeps rolling in.  ZeroHedge reports, "
U.S. OIL FUND HALTED FOR PENDING NEWS
* * *
After posting his best month ever in March (up 63.5%), Pierre Andurand – manager of The Andurand Commodities Master Fund, considered by many to be the world's largest oil hedge fund – is someone worth listening to when it comes to the oil markets."
SPX futures have clearly broken down out of the Broadening Wedge formation which implies an immediate decline to the March 23 low.  This isn't going to be just a retest.  It is probable that Wave [A] may go to 1806.00, the target for the Orthodox Broadening Top, shown In the weekly chart.  By declining beneath the new Head & Shoulders neckline shown on the daily chart, we  derive the final target for Wave III beneath 1000.00.  Should this scenario prevail, the next bottom (1806.00) may occur during options week ending May 15.
Bloomberg reports, "U.S. equity-index futures retreated along with stocks in Europe and Asia on Tuesday as uncertainty about the health of North Korea's dictator introduced more unease into markets roiled by the ongoing oil collapse and the coronavirus epidemic.
Contracts on the three major American gauges surrendered gains after reports that North Korea's Kim Jong Un was in critical condition. All industry sectors were in the red as the Stoxx Europe 600 index fell for the first time in four days, with energy companies leading the decline. The dollar climbed against most major currencies, with the won and ruble tumbling and the yen edging up. Treasuries headed higher with core European bonds."
VIX futures leaped to 47.56 in the overnight session.  The next target is to clear the Cycle Top at 54.79.
Josh Ortner at SeekingAlpha writes, "When I last wrote, "The VIX Is Catching A Bid From Coronavirus," on February 26th, I didn't have a clue to what extent the equity markets would plunge. The CBOE VIX has a way of quantifying fear and greed levels among retail investors and institutional money managers. I would have never thought I would be updating readers on a VIX level in the thirties, being inexpensive, and cautionary, again. The VIX again is warning those investors who are declaring, "death to the bear market," and signalling that the global financial markets have not been eradicated of the coronavirus."
TNX has found a new low at we reach day 258 of the Master Cycle.  It appears most probable that today may be the low, but either a deeper low or a retest may occur early next week.
ZeroHedge observes, "As commission-rakers and asset-gatherers cheer the rebound in stocks as if it means anything – remember, stocks are a discounting mechanism (like they were in February?) – bond markets are saying this is far from over.
5Y Treasury yields are now at record lows…
10Y yield is back within a few bps of the record low plunge…"
USD futures appear to be edging toward Cycle Top resistance a 100.61, but without conviction.  Today and Friday appear to be days of strength, according to the Cycles Model.  Afterwards, it appears that the decline may resume with an ultimate low by mid-June.
The FinancialTimes has an analysis of what may be transpiring in the USD.
Gold futures have crossed beneath the Cycle Top support, creating a sell signal.  As attractive as gold may seem, the market is becoming so illiquid that the "good" is being sold with the "bad."
KitcoNews reports, " Gold and silver futures prices are trading sharply lower in early U.S. trading Tuesday. The world marketplace is still buzzing and even shaken after Monday's astonishing trading action in Nymex crude oil futures, in which the expiring May contract fell deep into negative price territory by the close. Oil prices are sharply down again today, in the active futures contracts. The unprecedented price action in crude oil futures so far this week has most buyers in many commodity markets, including the metals, opting to stand on the sidelines at present. June gold futures were last down $33.20 an ounce at $1,678.20. May Comex silver prices were last down $0.804 at $14.81 an ounce."
April 20, 2020
4:30 pm
This chart does not tell the whole story for crude, since it illustrates the June futures contract.  However, it's the nearly-expired May contract that is causing the bloodbath.
ZeroHedge reported at 3:00 pm, "The entire financial world is watching in stunned amazement as the May WTI contract crashed as low as -$40, an unprecedented – until today – event, and one which is sparking frenzied speculation who will be oil's "Amaranth", the nat-gas trader which remains the best example of how futures-spread positions can go wrong.
But sooner or later, investors will ask themselves the next question: where will roughly 100 million barrels of oil be delivered. That is roughly the equivalent of the outstanding May WTI open interest of some 109 thousand contracts."
After the close, ZeroHedge explains, "How did you end up with negative oil prices today?  This happens when a physical futures contract find no buyers close to or at expiry.
Let me explain what that means:
A physical contract such as the NYMEX WTI has a delivery point at Cushing, OK, & date, in this occurrence May.  So people who hold the contract at the end of the trading window have to take physical delivery of the oil they bought on the futures market.  This is very rare."
8:00 am
Good Morning!
SPX futures appear to be gapping down at the open, leaving an island reversal in place.  This type of formation signals a potential end of a short-term trend.  A further decline beneath last week's low at 2761.64 confirms the reversal.
Bloomberg reports, "U.S. equity futures fell alongside European and Asian stocks on Monday as investors grappled with everything from the spread of the coronavirus to oil's collapse and the next raft of corporate earnings. The dollar gained.
Contracts on the S&P 500 extended their decline through the European morning as the price of West Texas oil cratered. A big part of that slump is because the May futures contract expires on Tuesday, but crude has been under immense pressure as demand disappears and a glut develops. WTI tumbled below $13 a barrel on Monday to the lowest level in 21 years.
VIX futures soared above the 50-day Moving Average, creating a new buy signal.  The Cycles Model suggests that a period of strength ay last the entire week in the VIX.  In addition, the new Master Cycle may extend into early June!
ZeroHedge observes, "Vol liquidity is in shatters. Lower absolute vol levels have led to a phantom perception that market liquidity has recovered from last month's stress. Nothing could be farther from the truth.
While top of the book spreads are tighter, there is no depth to support the market in anything larger than social amounts.
Combination of reduced investor activity and skeleton staffing in dealing rooms means the pool of participants in implied space is appreciably smaller. Publicly reported volumes support this argument. For example, in March volumes were ~ +27% higher from the same time last year. Based on MTD data April is projected to be ~-19% lower than 2019!"
Crude oil futures have plummeted.  Note that the futures are quoting the June contract, while the May contract has not yet expired.  But in certain regions where storage capacity has been filled, oil is languishing and may have further to decline.
Bloomberg reports, "Oil plunged below $15 a barrel in New York, a fresh 21-year low, as inventories soar because of the supply-demand mismatch that's been created by the coronavirus.
The most immediate West Texas Intermediate contract fell as much as 22% to $14.19 a barrel. While a major part of the slump is because the May futures contract expires on Tuesday, the collapse nonetheless reflects a fast-growing glut of oil, and rapidly expanding stockpiles in Cushing, Oklahoma, the American pricing hub."
ZeroHedge further explains, "Oil prices crashed on Monday, with the May WTI futures contract hitting its lowest level since 1999, plunging to $12.50 or down 37%, depressed by concern that U.S. crude storage will soon be full even as companies prepare to report the worst quarterly earnings since the financial crisis, while tens of thousands of people continue to die every day from the coronavirus pandemic.
While Brent was only down $1.12, or 4%, at $26.96 a barrel on Monday morning, the carnage took place in the more landlocked WTI, whose May fell $5.70 to its lowest since March 1999 with an $11 handle, though the sell-off was exaggerated by the contract's Tuesday expiry because no one wants to be left long to take delivery. There's nowhere to put the stuff. In any case, the 37% drop was the biggest one day drop in WTI on record!"
USD futures appear to be testing Cycle Top resistance at 100.58 this morning.  This week may have the last show of strength for the USD that may lead to a 2-month decline.  Should it break through the Cycle Top, there appears to be a trendline at 101.50 that may provide a reversal point prior to the decline.
BKX appears to be a leading indicator. It made a weak (35.6%) retracement high on April 9 and has begun its decline.  Banks have been furiously setting aside loan loss reserves this quarter.  However, they may have misjudged the severity of the credit cycle.
ZeroHedge observes, "These days, we hear a lot that banks were the problem in the 2008 crisis and now they are the part of the solution. 
Banking was not the main problem of the 2008 crisis, but one of the symptoms that indicated a more serious disease, the excess risk taken by public and private economic agents after massive interest rate cuts and direct incentives to take more debt coming from legislation as well as local and supranational regulation. Lehman Brothers was not a cause, it was a consequence of years of legislation and monetary policies that encouraged risk-taking."
TNX continues its decline into this week.  Today is day 257 in the current Master Cycle, which most likely gives us just a day or two to find the bottom of this Cycle.
April 17, 2020
12:37 pm
SPX appears to have been stopped at the 50-day Moving Average at 2862.49.  It has made a 55.8% retracement in 18 days after a 22-day decline.  A fitting place for a reversal.
ZeroHedge reports, "One of the reasons cited for the explosive move overnight in futures – along with the sketchy STATnews/Feuerstein leak of Gilead's remdesivir coronavirus trial – is optimism over the upcoming reopening of the US. However, as Nomura's Charlie McElligott writes this morning, "the "TL;DR version" of the U.S. reopening guidelines = there is no "plan," as there are 1) no deadlines; there are 2) no guidelines or protocols to businesses on protective gear / temperature checks / testing / sanitizing; and 3) offers little to no federal assistance, with states being asked to "independently" secure PPE and medical equipment for their hospitals."
So why this tremendous surge in risk assets, which pushed Russell emini futures limit up overnight?
It is certainly not coming form hedge funds, which according to Goldman, saw the largest monthly dollar net selling since Aug '16 in the month though April 15, with all 11 US sectors sold MTD, led by Cyclical sectors. In other words, hedge funds are not driving this rally, but instead are (panic) selling in droves into it."
8:00 am
Good Morning!
SPX futures soared on the news of the re-opening of the economy, challenging the 50-day Moving Average at 2871.87.  However, it has since fallen back considerably and threatens to open beneath the April 14 high.
ZeroHedge reports, "Even though the Gilead "miracle drug" report was refuted by the company itself, which slammed the market-moving Statnews article (sourced reportedly from hedge funds who were seeking to take profit in GILD) as "anecdotal reports with no statistical power", and even though Trump's plans to reopen the country turned out to be far less pressing than expected, with Trump effectively handing power into the hands of states, this morning futures and global stocks have continued their move higher after blasting off last night on the Gilead/reopening speculation, with the euphoria persisting overnight as the small steps toward restarting the world's largest economy helped investors look past mixed progress on curbing the coronavirus and the latest dismal data from China, where GDP posted its first contraction in four decades, sliding 6.8% or more than expected."
Meanwhile, NDX futures tested its 2-hour Cycle Top at 8974.62 before easing back down.  Remember, it had not declined beneath its 8.5-year trendline and was still officially in an uptrend, while the SPX and Dow had broken their respective trendlines.  At the same time, the Cycle Top resistance may provide a technical barrier to further rallies.
VIX futures made an overnight low at 37.63 and did not exceed the April 14 low at 37.31.  In other words, the VIX is not responding to new highs in the SPX.  A buy signal resides above the 50-day Moving Average at 41.05.
TNX appears to be rising off its corrective low put in yesterday at 5.94.
ZeroHedge reports, "While daytraders look transfixed at a stock market which continues to surge higher even as the US has lost around 22 million jobs in the past month alone, something far more nefarious is taking place behind the scenes: the Fed is nationalizing (or privatizing, depending on whether one views the Fed as a public, or a private – which it actually is – entity) the entire capital market at a pace unseen before in history.
AS the following chart from DB's Torsten Slok shows, the current pace of weekly Treasury purchases is simply staggering, unparalleled by anything seen before in history.
It's not just the Fed: with QE officially back (and not in the cute "Not-QE" variant, but full blown global debt monetization), every single central bank is now actively injecting billions of liquidity into the stock market."
April 16, 2020
8:00 am
Good Morning!
SPX futures began a roller coaster ride from a low of 2747.38 to a high of 2805.38.  At present it is back where its started near the close.  There is still a fight as to which side gains dominance, but thus far there are lower highs.  A low beneath Monday's low at 2721.17 confirms the reversal.
ZeroHedge reports, "Europe rebounded from yesterday's slump, reversing earlier weakness in Asia, pushing global stock markets higher on Thursday as tentative moves to reopen parts of the some of its larger coronavirus-hit economies offset some truly stinking global economic numbers. U.S. stock index futures edged higher on Thursday, with investors weighing the prospects of the economy re-opening against worsening macroeconomic data, dour first-quarter earnings reports and a 4th consecutive jobless claims report that will print in the millions. Oil rebounded from yesterday's plunge, while Treasury yields dropped and greenback continued its surge from a day earlier.
VIX futures are higher, but still within yesterday's trading range.  However, the VIX closed above its 50-day Moving Average at 40.64, giving it a buy signal.
TNX probed lower this morning to an 81.5% retracement of the rally off the low at 5.68.  There is an anomaly that allows TNX to go beneath 5.68 in a possible Master Cycle low in the next few days.
April 15, 2020
6:30 pm
ZeroHedge comments, "Michigan Live reports Over 1 Million Michigan Residents Have Filed for Unemployment.
More than 1 million people – over a quarter of Michigan's workforce – have filed for unemployment during the COVID-19 pandemic, the state's top labor official said Monday.
Last week, Michigan reported more than 828,800 unemployment claims filed in the state from March 8 to April 4. Michigan's pre-coronavirus record for new unemployment claims occurred during the Great Recession in January 2009, when there were 77,000 claims in a week."
It should be no surprise that a backlash has already begun.  ZeroHedge reports, "As we have noted, the evolution of the virus pandemic is not just a public health crisis nor a financial meltdown but could transform into a social unraveling. And, oh boy, it appears we could be right.
But before we cover today's events. Several weeks ago, what piqued our interest was a warning from the Federation of Red Cross and Red Crescent Societies of how "a social bomb" was ready to explode over major Western cities "in a few weeks." And it appears, those few weeks have just expired, as protests begin:
On Wednesday afternoon, massive crowds, organized by a conservative group, have surrounded Michigan's state Capitol building. Protestors are angry at Gov. Gretchen Whitmer's (D) stay-at-home public health order during the pandemic.
Supporters of the Michigan Conservative Coalition have requested Whitmer to reopen the economy on May 1 and ease restrictions to return life to normal."
2:52 pm
The NYSE Hi-Lo Index has declined beneath 0.00.  A confirmation of the reversal is a decline beneath the mid-Cycle level at -18.00.  While not confirming the reversal, it has left a Master Cycle high at 17.00 yesterday.  There is little doubt that the markets will retest their March lows.
ZeroHedge reports, "There was only bad news in the latest Fed Beige Book.
After years of "modest" and "moderate" growth across the US, in the latest Fed Beige Book released this afternoon, the assessment of the economy downgraded sharply with the Fed reporting that "Economic activity contracted sharply and abruptly across all regions in the United States as a result of the COVID-19 pandemic" with the hardest-hit industries—because of social distancing measures and mandated closures— were leisure and hospitality, and retail aside from essential goods.
To be sure, this will hardly come as a surprise to anyone who has looked at the latest US macro surprise index, which just suffered its biggest 4-week crash on record.
2:44 pm
SPX made an impulsive decline and a 38.2% retracement at 2795.97.  This is an excellent short entry as the retracement has stayed beneath the 2800.00 level.
ZeroHedge observes, "Until today's catastrophic economic data – which saw industrial production, housing, retail sales, and New York manufacturing all plunging at or near record levels and which sent stocks sliding – some Wall Street strategists had become confident that the worst of the crisis is behind us and the market lows are in, if for now other reason than last week's 10% torrid rally in the S&P, almost as if those retail traders who were caught in the most vicious short squeeze in history "knew" something instead of merely scrambling to close out losing positions."
8:00 am
Good Morning!
SPX futures have plummeted to 2789.25 in an abrupt reversal after completing a top-to-top Cycle of 264 hours (37.7 days) on day 264 of its Master Cycle.  I don't know if there is any relationship.  It just seems odd.
ZeroHedge observes, "Late last week, we showed a chart from Credit Suisse which we described simply as "insanity" because it demonstrated that as the US careened into a depression, with GDP crashing and the unemployment rate soaring, between the latest Fed-driven surge in stocks and the collapse in earnings estimates, the PE multiple on the broader market had eclipsed the previous record of 19.0x set during the market's February all time high, and had now hit a new all-time high of 19.4x. In other words, the market has never been more overvalued than it is right now.
Following today's market surge, this disconnect got even greater because as earnings estimates fell further…"
In other words, its going to get much worse than anyone can imagine.
ZeroHedge reports, "US index futures slumped on Wednesday for a second time this week, reversing Tuesday's sharp gains after a plunge in oil prices pressured energy stocks ahead of what is expected to be a dismal round of first-quarter earnings reports. The dollar and Treasuries gained as investors fled risk assets, while WTI crude plunged below $20, to the lowest level since 2002 after the IEA said oil demand will drop by over 9 million barrels a day this year, wiping out a decade of consumption growth.
Contracts on all three major U.S. gauges retreated after the S&P 500 closed at a one-month high on Tuesday, with the Emini trading back under 2,800. UnitedHealth Group, the biggest U.S. health insurer, reported a fall in quarterly profit, but its shares rose 2.6% in premarket trading as it maintained its 2020 profit outlook at a time when major companies have withdrawn forecasts due to the coronavirus pandemic. J.C. Penney slumped 14.7% as sources said the retailer was exploring filing for bankruptcy protection after the virus outbreak upended its turnaround plans."
VIX futures rose to a morning high of 41.97 thus far.  We may see the VIX rising to the Cycle Top resistance at 53.85 in the next day or so.
TNX has declined this morning in a knee-jerk reaction to the liquidity flowing out of stocks.  But this is a corrective move that may not last.
WTIC futures hit a new 22-year low at 19.21 this morning.  The simple fact is that there is no more storage space for all the excess capacity.
ZeroHedge reports, "WTI crashed below $20 (tagging $19.20) overnight after API reported huge inventory builds and was not helped by comments from the International Energy Agency that a historic production cut deal won't be enough to counter a record demand slump this year.
This appears to confirm a key gauge of the oil market's health which is at its weakest in more than a decade as supplies build and futures contracts roll over. West Texas Intermediate crude for May delivery traded at more than $7 a barrel below its June contract on Tuesday, the deepest contango since 2009. The May contract is nearing expiration and exchange-traded funds, including the United States Oil Fund, have been selling front-month contracts and buying second-month futures.
Bloomberg reports, "In the latest sign that the oil market has gone off-kilter: crude oil is once again set to move from the U.S. Gulf Coast to Cushing, Oklahoma, reversing years of flows as tanks along the coast fill up.
Enterprise Interstate Crude LLC, a subsidiary of Enterprise Products Partners LP, said in a filing to regulators Monday that it planned to start a temporary service using leased pipeline capacity after receiving interest from at least one shipper to move oil inland to America's biggest storage hub. Enterprise plans to ship from its station in Katy, Texas, which is on its Seaway dual-pipe system, from May."
BKX tested its Cycle bottom at 69.04 yesterday after registering its Master Cycle high last Thursday.  The BKX is a leading indicator of moves in equities, so we should not be surprised to see the sudden turn in the SPX this morning.
ZeroHedge reports, "Bank of America joined JPMorgan and Wells Fargo in setting aside billions of dollars for upcoming loan losses as the bank braces for a surge in defaults and delinquencies on its loans amid the complete US economic shut down.
The bank reports $22.8 billion in revenue (missing the exp. $22.91BN) generating $0.40 in EPS (missing the exp. $0.46) and $4.0 billion in profit, which was down 45% from the $7.3 billion last year…
… as the bank allocated $4.76 billion for loan losses (above the $3.93BN expected), an increase of $3.7 billion Y/Y and the most since 2010, as its business and household clients reel from the coronavirus pandemic. The bank joins competitors JPMorgan and Wells Fargo which posted their highest provisions in a decade Tuesday (JPMorgan set aside a little over $8 billion, Wells used $4 billion as the appropriate number)."
Gold futures made a low of 1732.30 this morning as it reverses from an extended top at 1788.80.  Yesterday was day 257 of its Master Cycle.  Usually we would wait a few days to confirm the reversal, but the decline is severe enough to warrant an aggressive sell at this point.  Broadening formations are highly emotionally charged at the top, especially when its a double formation.  There will be attempts to buy the dip that will only meet with failure.
——————————————————————————
April 14, 2020
12:45 pm
NDX has risen above its 50-day Moving Average at 8449.96 and is challenging its 61.8% Fib retracement at 8604.07.
8:00 am
Good Morning!
This morning's chart of the BKX highlights the problem we face in the coming months.  The decline has matched the February 10, 2016 low and left a potential Head & Shoulders formation that has a negative outcome.  Is this possible?  Yes.  The March 9, 2009 low was 17.75 in a huge Super Cycle Wave (a).  At best, if Super Cycle Wave (c) equals (a), then the outcome may be a low of 13.73.
The outcome suggests either a possible nationalization of the banks or a system so crippled by bad debts as to be ineffective as an institution for the next 13 years.  My credit union that is one of the best run institutions in the country has now limited withdrawals to $5000.00.
Here is JPM's announcement.
Wells Fargo Reports 1 Cent Profit After Loan Loss Provision Soars To $4 Billion
ZeroHedge observes, "Tomorrow JPMorgan and Wells Fargo will usher in a historic earnings cycle, one which will see S&P500 earnings plunge the most since the (first) financial crisis…
… which in turn is a walk in the park compared to the -30% EPS crash expected in Q2…
SPX futures have surged to 2806.75 overnight on good earnings news from China, but await the first shoe to drop on bank earnings.
ZeroHedge reports, "Global stocks jumped and US equity futures traded just around 2,800 on Tuesday after Chinese trade data came in better than expected and some countries tried to restart their economy by partly lifting restrictions aimed at containing the coronavirus outbreak.
Wall Street indexes ended mixed on Monday. The Dow and S&P 500 fell, but a 6.2% gain in Amazon shares helped the Nasdaq end higher."
VIX futures continue to be suppressed with a new overnight low of 39.90.  Whether they remain suppressed after JPM and Wells report 1st quarter earnings.
——————————————————————————
April 13, 2020
Good Morning!
SPX futures have reached an overnight low of 2717.25 and have bounced to nearly a full recovery.  However, the damage may have been done.  Thursday was day 258 of the old Master Cycle and it has left a Wave II high.  The chart contains the alternate view and it isn't pretty.  Should this be correct, then the new Head & Shoulders neckline at 2191.86 may be activated.  My first target was due to a miscalculation.  The correct H&S target is 989.00.
If the Cycle and Wave structure are correct, the next Master Cycle low may occur during the first or second week of June.
ZeroHedge reports, "S&P index futures declined as much as 1% on Monday along with Asia stocks (Europe was still closed for Easter) after a torrid 27% rally last week, with investors bracing for what will be the worst earnings season since the financial crisis. Even if EPS do not drop by as much as the catatrophic 30% that Goldman is expecting…
… the decline will last well into 2021 making the S&P now more overvalued than it was at the February all time highs…"
VIX futures are higher this morning, having reached a high of 44.74.  There is still no breakout, but it may be only a matter of time.  The VIX Master Cycle agrees with the SPX Master Cycle.  It appears that the Master Cycle low occurred n Thursday at day 259.
Bloomberg reports, "Last week, which much of the world took to celebrate great religious festivals, turned out to be a great one for risk markets. Global stocks had their best week since the Lehman crisis of 2008, while the U.S., as judged by the S&P 500, had its best week since the Second World War. Meanwhile, junk bonds had their single best day on record.
Roughly half of the market value lost during the Covid-19 crisis has been recouped. Could the bottom be in, and a new bull market already be underway?
First, we should bear in mind that markets tend to move around a lot after a shock, and it would be surprising if we didn't have another big move ahead. This illustration from Dec Mullarkey of Sun Life Capital Management shows that the VIX index is neatly retracing moves after the Lehman bankruptcy — when a further spike in volatility lay ahead:
TNX is higher this morning.  This rally is quite strong, indicating a Wave (3) or higher degree move.
April 12, 2020 – Easter Sunday
Happy Easter!
SPX futures are open and in decline, as anticipated last week.  As of Thursday, the SPX made a 50% retracement of the decline, as it did on March 3 in Wave II.  There are still two Wave structures to deal with.  The one on this page is the "best fit" so far, but not the only one.
Not shown in the 2-hour chart is a massive Head & Shoulders formation with a neckline at 2191.86 that has a "minimum target" of 989.00.  The problem is, the most reliable Head & Shoulders formations occur at the base of Wave I due to the fact that Wave III is often the longest Wave, not Wave V.  If the neckline (not shown) is at the bottom of Wave III, then the accuracy of this formation may be questioned, since it may exceed the length of Wave I, which is a common denominator for Wave V.    In this case, the Head & Shoulders may become valid when Wave V is 2.382x Wave I, or greater.
In addition, the Cycle Bottom in the monthly  chart is at 1441.00, which implies the next decline that may be 2.5x Wave I and  greater than the total decline experienced thus far.  The problem with both of these calculations is that their targets are below 1700.00 where the upper trendline of a massive, 20-year old Orthodox Broadening Top resides.  A decline that large also revives the alternate scenario.  We may know later this week which it is.
A decline to 1708.00 would constitute a 61.8% retracement of the entire rally from March 9, 2009.
RealInvestmentAdvice comments,
"Market Completes A 50% Retracement
"If you wonder why we're seeing such a HUGE divergence the past 3 weeks between the economy and where investor psychology has taken the market…just remember…it's all about the Fed.
Market psychology is having a 'V' shaped recovery from total panic while the economy still looks horrible. S&P futures implied volatility is down 50% from the 'max panic' level it hit mid-March.
Can the 'psychological rally' be sustained? Is this just a vicious 'Bear Market Rally?' Will the 'reality' of a devastated global economy pull the market back down? And if market price action shows us that investors are growing fearful again will the Fed just throw up their hands and say, 'Sorry, we gave it our best shot and that's all we could do?' I don't think so. In for a penny…in for a pound." – Victor Adair, PI Financial
Victor is correct.
As I noted in Friday's #MacroView:
"In the short-term, the Fed is massively increasing the liquidity of banks (excess reserves) through the various 'Q.E' facilities to stave off a second 'financial crisis.' Given the banks do NOT want to loan out any funds not guaranteed by the Federal Reserve, the excess liquidity flows into asset markets."
VIX futures also remain frozen in time from yesterday's close.  Nothing to do until the market opens.
April 9, 2020
11:15 am
NDX just fell into the red.  Remember that I said that the NDX may have the worst decline of all the indices in the final Wave down.  NDX is in an expanding diagonal (SPX may also be).  In each successive Wave the magnitude is more than 1x the previous Wave.  In this case, Wave III is 1.39x Wave I.  Using the Fibonacci 1.382x, the next Wave down may exceed 3000 points.  The original Orthodox Broadening Top gives us a possible target of 4539.00.  That would be near a Fibonacci 1.75x  Wave III.  All we can do is wait and see…
The Wave/Cycle situation remains fluid.  The current Wave structure is the "best fit."
ZeroHedge reports, "Well that's not supposed to happen…
Nasdaq has puked back all The Fed gains…"
The Fed has reached saturation.  No one in his right mind would borrow money with a high potential of loss on his investment….unless there is a moral hazard involved.
8:45 am
Fed Unveils New Bailout Program, Will Provide Up To $2.3 Trillion In Loans To "Support Economy"
ZeroHedge reports, "In our report from last night that JPM has halted all non-government guaranteed small business loans on what we surmised was fears of a default tsunami set to hit America's companies, we asked "just how bad is it going to get" and implicitly, if not commercial banks, then who will fund America's "main street" businesses?
We got the answer this morning when the Federal Reserve announced its latest series of sweeping steps to provide as much as $2.3 trillion in additional aid during the coronavirus pandemic, including starting programs to aid small and mid-sized businesses as well as state and local governments.
According to the Fed, the "funding will assist households and employers of all sizes and bolster the ability of state and local governments to deliver critical services during the coronavirus pandemic."
8:00 am
Good Morning!
SPX futures have recovered somewhat, bringing up the possibility of an extension in the rally.  The Cycles Model allows a 1-2 hour variance at the pivot points and the SPX has not reached the 50% retracement level at 2794.64.  In addition there is an allowance for a final probe higher with Wave 5 = Wave 1 at 2782.00.
However, the shocking news of 17 million Americans filing for unemployment this week may put an end to any bullishness.  The market may become very chaotic this morning.
ZeroHedge reports, "U.S. stock index futures dipped on Thursday, reversing a 3-day rally as investors braced for another staggering weekly jobless claims number, while European stocks clung to modest gains on the last trading day before the Easter holiday. Oil initially rose in the wake of Russia signaling readiness to cut output although US resistance to join the conversation has sparked concerns today's OPEC+ meeting could end up a major disappointment.
Early in the overnight session, futures continued their multi-day ramp on early signs the coronavirus outbreak in U.S. hot spots was close to peaking, with the S&P 500 ending more than 3.4% higher after President Trump suggested the government could reopen the country in phases and maybe ahead of schedule. However, sentiment has warned as the session continued ahead of today's plethora of risk events."
VIX futures are higher, but haven't yet broken out of their prior trading range.  What appears to be transpiring as also a slingshot move that may be the most powerful move in the VIX ever seen.  It is possible that VIX may more than double in value in the next week or so.  Never before have the analysts been so wrong.
Bloomberg opines, "The gap between volatility gauges for stocks and Treasuries has climbed to a level that may portend gains in U.S. equities, according to The Leuthold Group.
While the Cboe Volatility Index and the ICE BofA MOVE Index have surged as the hit to growth from the coronavirus pandemic weighs on sentiment, only the Treasuries gauge has significantly dropped since. The VIX remains around its 99th percentile and the MOVE index has collapsed to around its 16th percentile as the Federal Reserve staged a massive intervention, according to analysis going back to 1990 from Jim Paulsen, the firm's chief investment strategist.
"This relatively rare condition of intense stock market fear, combined with a generally calm bond market, has proved to be a powerful combination for ensuing stock market returns," Paulsen wrote in a note Tuesday.
USD futures were calm in the overnight session.  The Cycles Model calls for another 1-2 weeks of decline.
CNBC reports, "The U.S. dollar edged higher on Wednesday in choppy trading, attracting safe-haven bids, as optimism faded that the coronavirus crisis may be nearing a peak and investor concerns remained over the economic fallout of the pandemic.
The greenback's firmer tone came after U.S. equities ended lower on Tuesday. Wall Street shares traded higher in morning trading on Wednesday, but not many analysts were betting they would remain so by the end of the day."
TNX has eased as money moves out of stocks.  However, the Cycles Model indicates a strong Master Cycle inversion (high) in the next two weeks.  A probable target may be the Cycle Top resistance at 23.30.
April 8, 2020
12:15 pm
SPX is approaching a multiple pivot point (43, 60 and 86-90 hours) in the next 1-3 hours that compels me to reassess the Elliott Wave Structure.  We're back to an earlier Wave Structure that never really left the table.
Today a final probe above yesterday's high at 2756.89 locks in this structure.  It may end as early as 1:00 pm, but may last until the close.  Be prepared for multiple panic down days and a possible market closure.  In wave III we had three 7% circuit breakers hit.  In Wave V we may see several 13% circuit breakers and possibly a shut down after a 20% down day, especially around options expiration on April 17.  Be prepared to take profits early and often, as there may not be enough liquidity to be paid at the bottom.
8:00 am
Good Morning!
SPX futures are hovering just above its 8.5-year trendline, testing it with a low at 2621.12 before a mild bounce.  (In this case a bounce less than 2% is considered mild.)
The Cyclical calculation for the rally from 2191.86 to 2756.89 was exactly 10.75 days.  That puts yesterday's high on day 256 of the Master Cycle.  There are two possible paths from here.  The first is an 8.6 market day to 12.9 market day panic decline that may be an all-time record.  That would be an appropriate extension to this Cycle.  In my opinion, this is the most likely outcome.  Yesterday was day 48 of an average 60-day crash pattern.  The decline may speed up dramatically.
The second is a possible decline through early June.  Yesterday's high may reset the Cyclical pattern to begin a new 60-day decline.
ZeroHedge observes, "S&P futures rebounded and European stocks fell as investors were conflicted by Tuesday's late plunge – which saw stocks close red after the biggest surrender of gains since Oct 2008…
… and the latest data surrounding the coronavirus economic, as well as the ongoing political chaos in Europe. The dollar trimmed a gain and Treasuries slipped."
VIX futures are hovering inside yesterday's trading range.  Thus far it is trending constructively to the upside.  An SPX break beneath the trendline may trigger a surge in the VIX.
CNBC opines, "CNBC's Jim Cramer on Tuesday broke down a trusted technical analyst's findings in the chart action of the S&P 500 and volatility indexes to gauge the market's next movements.
The "Mad Money" host took a pointer from volatility expert Mark Sebastian, founder of OptionPit.com, who cautions that the recent upside in the market is likely ephemeral.
TNX is trending higher, but still inside Yesterday's very large range.  Yesterday's mediocre 10-year Treasury auction may have been a reason for yields to spike higher, even though it re-opened an earlier note for auction that sold in February at a higher yield.
CNBC reports, "Long-dated Treasury yields climbed on Wednesday as investors monitor efforts to slow down the coronavirus pandemic in the U.S. and around the world.
The yield on the benchmark 10-year Treasury note, which moves inversely to price, rose 2 basis points to 0.75%, while the yield on the 30-year Treasury bond edged higher to 1.34%."
USD futures appear to be retesting the Cycle Top resistance at 100.44 this morning.  The Cycles Model suggests the decline may not be over and may intensify in the next week.
April 7, 2020
2:52 pm
The question is, if the SPX makes a new low, how far can it go?  Hourly and even daily charts don't have the answer, since we haven't ever seen this move before.  A look at the weekly chart reveals a potential Head & Shoulders pattern.  In fact, the right shoulder is 566 points vs. the left shoulder at 594 points, showing a remarkable uniformity, despite the slight diagonal of the neckline.
In additionally, the monthly charts shows the Cycle Bottom at 1442.46.  This gives us a probable range for Wave 3…from 1442.00 to 1554.00.  Remember, the Head & Shoulders at the bottom of Wave I gives us a MINIMUM potential target.
2:04 pm
The NYSE Hi-Lo opened barely positive both today and yesterday.  However, yesterday's close was negative and today is trending in that direction.  It appears locked and loaded for an even deeper decline than occurred in March.
2:00 pm
SPX topped out at 2756.89 and has declined beneath its mid-Cycle support at 2617.72.  This puts the SPX back on a sell signal for those who have covered their shorts.  From the Wave II high at 2641.39 to this morning's high took 33 hours.  That leaves a potential 27-30 hours of decline in Wave [C] of III.  There are 24 hours from today's peak to the close on Good Friday.  That may delay the Wave III low until noon or later on Monday, assuming that this Cycle will take a full 60 hours.
ZeroHedge remarks, "For two weeks in a row the clients of top Wall Street firms – first Goldman then Morgan Stanley – had just one question for their highly paid financial advisors: was March 23, the day the Fed went all in and announced unlimited QE and corporate bond buying, the market bottom, similar to the start of the Great Depression or in a repeat of 1987, will stocks stage another sharp drop – similar to the events after Black Monday – only to recover faster?
The truth is that for all the highly convicted debate – especially among the bulls none of whom foresaw this crash but are now absolutely certain it is ending – nobody knows what happens next, especially since following the Fed's latest barrage of market bailouts, any link between asset prices and underlying fundamentals has been completely severed and replaced with Fed promises, backstops and excess liqiudity which is keeping all risk assets propped up artificially at least until a new round of questions about Fed credibility emerges.
As such the most probable answer for what is behind the violent rebound in the past two weeks belongs to Nomura quant Masanari Takada, who writes this morning that the steep rally in global equities is nothing more than a giant "bear squeeze" rally, driven by panicked exits from shorts that investors accumulated during the downturn, something we pointed out yesterday when we showed that Monday's action was the 2nd biggest marketwide short-squeeze in history."
8:00 am
Good Morning!
The Fibonacci levels put the rally back into perspective.  Until yesterday, the retracement has not exceeded the 38.2% retracement at 2650.89.  SPX futures went on another roller coaster ride last night, first declining to 2623.75, then rallying to 2744.88 this morning.  The resistance that was challenged overnight is the 2-hour mid-Cycle resistance at 2732.40.
This is not the beginning of the next bull market.  What we are witnessing is a rare Wave [B] extension.  It's as false as a $3 bill.  It may collapse at any time.
ZeroHedge reports, "Global markets rallied for the second day as signs of progress against the coronavirus in both Europe and the United States and more aggressive helpings of stimulus kept investors charging back in.  US index futures bounced for a second straight day on Tuesday as risk appetite returned on tentative signs that the coronavirus outbreak was starting to plateau in hard-hit U.S. states."
NDX futures rose to 8302.88, above the 50% retracement level at 8254.24 in the overnight session.  They have settled down to that level as we approach the market open.  Remember, the NDX has not declined beneath its 8.5-year trendline, yet.  This leaves the NDX in less pain than the blue chips.
ZeroHedge observes, "Not even in Khruschev's wildest dreams did central planners ever conceive of anything so absolutely batshit insane as what is taking place in US "markets" right now.
With the US economy sliding into a depression which will last at least one quarter, and if Evercore's Ed Hyman is correct  well into the second half if not 2021…
… it is not a surprise that according to the latest New York Fed survey of consumer expectations, virtually every metric having to do with one's financial well being – income, wealth, debt sustainability and earnings expectations – is cratering.  For example the expected probability of losing one's job jumped to an all-time high of 18.5%; the probability of missing a minimum debt payment over the next three months surged to 15.1%, and expected earnings growth tumbled to just 2%.
While the above data may not have been surprising, what was shocking is what the Fed reported was the average consumer expectation for stock prices in the future: according to the NY Fed, the mean probability that US stock prices will be higher one year from now surged to 47.7%, the highest on record."
VIX futures declined to 43.63 in the overnight session.  It did not make a new low, suggesting the decline may be over.  Nobody wants to discuss the VIX, as there seems to be no consensus regarding what may happen next.
TNX is on the rise again with a second double digit surge out of Friday's low.
MarketWatch observes, "Treasury yields rose sharply Monday as a global rally in risk assets drew demand away from government paper on hopes that the spread of the COVID-19 disease was beginning to slow in the U.S. and Europe.
Investors will see a holiday-shortened week in observance of the Good Friday holiday. The Securities Industry and Financial Markets Association recommends bond markets to end trading early at 2 p.m. Thursday, and to fully close on Friday."
USD futures dropped back to the 99-handle as trendline resistance ruled the day.  The downtrend may  resume in the next two weeks as a Master Cycle low may be due.
April 6, 2020
11:21 am
The trap door is now set.  The SPX is now ready for a 1000-point plunge.  The market needs more than just hope.
ZeroHedge remarks, "One market is saying "hope"…
Dow Futures are up over 1,000 points, topping 22k…
While another is yelling "nope"…"
8:00 am
Good Morning!
SPX futures appear to be stalled at the Cycle Bottom resistance at 2572.12 after having exceeded it.  Further resistance is at the Fibonacci 61.8% retracement value of 2567.32.  If needed, final resistance is at the 8.5-year trendline near 2650.00.  A similar rally occurred in the premarket on Black Monday prior to the crash in 1987.  Should the SPX open above 2538.18,  it may delay the bottom of the Cycle to Friday in a 4.3-day decline.
ZeroHedge reports, "As prompted by Trump's optimistic speech on Sunday evening in which the president said he saw signs the pandemic is beginning to level off, which came after a sharp drop in the latest number of NY corona cases, an optimistic mood of trader euphoria that the peak of the coronavirus pandemic is behind us helped boost stocks around the globe, and sent US equity futures as much as 4% higher.
Besides a potential inflection point in the global coroanvirus epicenter of New York, which however was challenged that there appears to be an odd decline for the second weekend in a row which then rebound sharply…"
VIX futures declined to a new Wave (2) low at 43.65 before a slight rebound.  A revision of the 2019 Summer Cycle from July 5 to July 25 puts day 258 on Wednesday of this week.  It has a good probability of extending until Friday.  Meanwhile, the media offers hope that the worst may be over.
Bloomberg comments, "A slowdown in the growth rate of new U.S. coronavirus cases may help put a floor under stocks and dampen volatility, according to JPMorgan Chase & Co.
The Cboe Volatility Index has been tracking data associated with the global spread of cases and has shown a relationship with growth at the U.S. state level, technical strategists Jason Hunter and Alix Tepper Floman wrote in a note Friday. The number of states with growth rates above 20% dropped to under 10 from over 40 in the past two weeks, a trend which could keep pressure on the VIX and moderate any equity declines — if it continues, they said."
TNX has risen mightily from is Friday low as the rise in the TNX to its Cycle Top resumes.  The current Master Cycle completes in about two weeks.  Wave (3) equals 2x Wave (1) at 23.04.  The media is silent about rising rates.
USD futures rallied over the weekend, but remained beneath Friday's high.  The Cycles Model is suggesting a (new) low in about 2-3 weeks.
 (Reuters) – The U.S. dollar stalled against most currencies on Monday but continued its rise versus the Japanese yen as the rate of deaths from coronavirus in Europe slowed while deaths in Japan and elsewhere in Asia accelerated.
April 3, 2020
11:21 am
The VIX exceeded the 61.8% Fib retracement at 48.80 this morning, but may now be going higher.  Wave (3) cannot be the smallest Wave, so going with the assumption that it may be a Fibonacci multiple larger, Wave (3) may be 1.382 time the size of Wave (1) to reach 94.00.  It may go considerably higher, including a possible "broken" VIX above 100.00.  Waves (3), (4) & (5) may all take place in the next 4.3 days.
10:58 am
The Crash Begins Here!
I have modified the Elliott Wave structure to fit the Cycles Model.  What may lie ahead of us is a 4.3-day crash of 1000 points, possibly more.  I had speculated last week that the next crash bottom might occur either on Tuesday, April 7 or Thursday, April 9.  It appears that the latter date may be the one.
ZeroHedge reports, ""Well, this is a warzone, a medical warzone," Dr. Arabia Mollette told CBS New York at Brooklyn's Brookdale Hospital Medical Center, which has been at maximum capacity after a huge influx of critical COVID-19 patients. "Every day I come, what I see on a daily basis is pain, despair, suffering and healthcare disparities."
Currently there are over 51,000 confirmed cases in New York City, after earlier this week Gov. Cuomo predicted as many as 16,000 deaths would result across New York state. "This is not just New York," he said, citing projections produced by the Gates Foundation. "If you believe these numbers — 16,000 deaths in New York — that means you're going to get tens of thousands of deaths outside of New York."
8:45 am
March Jobs Disaster: 701,000 Jobs Lost, Unemplyment Rate Soars As US Slides Into Depression
ZeroHedge reports, "Just like that the 113 record straight months of employment growth is over with a bang.
While today's payrolls report was expected to be not quite as terrible as the recent initial claims suggested, especially since the March survey week took place around March 13 or ahead of the big shutdown and layoff announcements, it ended up being catastrophic nonetheless, with the BLS reporting moments ago that a whopping 701K jobs were lost in March, 7x more than the 100K expected, and just shy of the worst payrolls prints recorded during the financial crisis.
That this happened well before the worst of the cronavirus induced coma hit, suggests that what comes next will be truly biblical. "
Good Morning!
SPX futures are lower this morning , but have not exceeded Wednesday's low at 2447.49.  Unless some catalyst pushes the morning low beneath that level, the odds are that the correction may continue with a rally to or above the 50% retracement value at 2544.44.  Today being the last day of the week gives the Fed and its minions incentive to maintain the market values steady, if not pushing them higher.
The March Employment Situation Report is due at 8:30 and may provide that catalyst.  The Cycles Model has reached its next 17.2-hour pivot point at yesterday's close, suggesting that the decline may be possible.
ZeroHedge reports, "S&P futures have erased much of yesterday's late day ramp alongside European stocks with investors awaiting data on non-farm payrolls and business activity to assess the extent of the economic hit from the coronavirus pandemic which has now infected more than a million people around the world. Bond yields dropped and the dollar surged as attempts to ease liquidity strains appear to be failing again as traders hunkered down ahead of March payrolls data that are expected to decline for the first time since 2010. And while the NFP will be bad, it is already old news in light of the last two initial jobless claims which showed 10 million layoffs in just the past two weeks.
The drop erased some of Wall Street's Thursday 2% rally when oil soared on hints of a Saudi-Russia deal, but doubts returned on whether the rebound would last as demand tapers off due to the health crisis.  Walt Disney said on Thursday it would furlough some U.S. employees this month, while sources said luxury retailer Neiman Marcus was stepping up preparations to seek bankruptcy protection.
Putting the past month in context, one month ago, on March 3, there were 92,000 coronavirus cases primarily in China. Today there are over one million cases worldwide, with the US and EU account for the biggest portions. In the US, over 75% of individuals and 90% of GDP is under a stay at home order, including 38 state-wide orders."
VIX futures have declined beneath the Cycle Top support in the morning session.  The correction is in the final stage, so there may be an abrupt turnaround by the open.
USD futures are higher at this time, but subject to a pivot down later today or Monday.  The futures hit a high at 100.78 and may be turned back at the Broadening Wedge trendline at 101.00.
TNX revisited the low, but did not exceed it.  The Cycles Model suggests that TNX may have finished its correction and may resume its rally through the week of April 20.
CNBC reports, "Treasury yields fell on Thursday after data showed unemployment claims in the U.S. surged for a second week amid the coronavirus crisis.
The yield on the benchmark 10-year Treasury note, which moves inversely to price, was lower at 0.58% while the yield on the 30-year Treasury bond was down at 1.22%. The two-year Treasury yield hit a low of 0.202%, its lowest level since May 2013.
The number of Americans filing for unemployment benefit totaled
more than 6.6 million
in the week ended March 28., the Labor Department reported Thursday. That follows nearly 3.3 million filings the week prior.
April 2, 2020
11:20 am
SaxoBank's "worst case scenario" may be optimistic.
10:57 am
The NYSE Hi-Lo Index made a bit of a recovery from yesterday's closing low of -100.00.  However, it appears to be moving lower again and remains beneath the mid-Cycle resistance at -11.40.
ZeroHedge narrates, "Instead of narrating – often in mind-numbing detail – how broken markets are, for once we will let the charts do the talking. In the visual odyssey through today's  broken market, we summarize various measures of market dislocation and stress across asset classes.
Some highlights:
In DM credit markets,

 

the CDX-cash basis in both IG and HY has compressed notably but remain at historical wides. Agency MBS OAS has reversed much of the widening, while CLO and ABS OAS continue to tighten.
In the rates market, some pressure in front-end funding markets has begun to abate with some of the announced Fed facilities underway, visible in the recent stabilization of cross-currency bases. However, unsecured front-end spreads (such as CP and Libor) on the whole remain at elevated levels.
In emerging markets, while cross-currency bases on average have reversed most of the recent widening, swap spreads remain notably wider.
In equity markets, market depth and liquidity remain dismal."
10:45 am
The SPX rose to Short-term resistance at 2527.00 and has pulled back from there.  A decline beneath 2500 tells us the retracement may be over at 2533.22.  However, it appears incomplete and the 50% retracement level is at 2544.44.  The likelihood remains that there may be one more probe higher to complete Wave [c] of 2.
ZeroHedge reports, "After a surprise tumble in January (before the virus impacts really hit), US Factory Orders were expected to rebound modestly in February (data released today and still lagging the current effects of the lockdowns and supply chain disruptions).
However, unsurprisingly, Factory Orders were flat (0.0% MoM) in February (below the +0.2% expectations). However, this did lift the YoY change in factory orders into the green (barely) at +0.1% YoY – the first annual gain  since July."
8:43 am
US Equity Futures Crash Into Red, Gold Spikes After Record Jobless Claims
ZeroHedge reports, "Another hope-filled overnight session crushed on the shores of reality…
A worse than expected and simply unprecedented surge in jobless claims has sent Dow futures careening back into the red after a strong night…
And gold is spiking (perhaps on expectations that more helicopter money is coming)…"
8:00 am
Good Morning!
SPX futures rose to an overnight high of 2501.88, but lost all of the gains as the unemployment report was released.
ZeroHedge reported at 8:24 am, "The market rollercoaster is back, if somewhat less stomach-churning, with US equity rebounding from yesterday's plunge which – now that the pension fund frontrunning trade is over – was the worst start to a new quarter since the Great Depression.
S&P futures rose 1.9%, trading just below 2,500, and keeping track with the bounce in European stocks on Thursday morning…"
VIX futures revisited the Cycle Top support at 51.21 this morning, but have regained part of the loss.  VIX has another probe higher left in its arsenal.  A Fibonacci relationship implies that 94.00 may be the target.
MarketWatch reports, "Here's one reason stock-market investors aren't convinced the bear-market rout triggered by the global COVID-19 pandemic hasn't bottomed out: a stubbornly high reading for an index known as the VIX.
A closely watched measure of stock-market volatility often used as a proxy for investor anxiety, the Cboe Volatiity Index VIX, -2.822%, typically referred to by its ticker, was lower Monday at 58.74. That puts it on track to break a 10-session streak of closes above 60, a run that's eclipsed the previous record eight-day stretch in November 2008, in the midst of the financial crisis. The index, which has a long-run average around 20, hit an all-time high earlier this month as stocks plunged deeper into a bear market.
"While the S&P 500 rallied 20%+ from its low during the week, VIX remained stubbornly elevated along with stock implied correlations," said Julian Emanuel, chief equity and derivatives strategist at BTIG, in a Sunday note. "True bull markets tend to be low volatility and uncorrelated — December and January seem so long ago."
TNX tested it correction low this morning.  The futures appear to be lower than the cash market.  It appears that the correction may have reached its maximum at 78.6%.  However, TNX may linger near the low through the weekend.
USD futures are hovering beneath the Cycle Top resistance at 100.28.  The Cycles Model suggests the decline may resume until mid-April.
SouthChinaMorningPost observes, ""The dollar is our currency but it's your problem," US Treasury secretary John Connally told other finance ministers at the G10 meeting in Rome in 1971. Almost half a century later, absolutely nothing has changed. The coronavirus pandemic has yet again illustrated the centrality of the greenback to the global financial system.
The pandemic will pass, but its financial consequences will still have to be addressed, and the way the US dollar has behaved recently may be a poor guide to how it will perform once the coronavirus crisis recedes.
In the first instance, the overwhelming importance of US dollar liquidity in the functioning of the global financial system that has been profoundly disrupted by the pandemic resulted in a dash for greenbacks. Firms and financial institutions scrambled to secure dollars in efforts to stay afloat."
April 1, 2020
3:58 pm
BKX has made double the decline that was made by the SPX.  The next possible target for the BKX may be near 32.50.  If this Wave count is correct, the final target may be in the teens.
ZeroHedge observes, "Until now, the media and financial commentariat had been very careful to frame the coronacrisis as merely a one-time shock to the global economy and a non-recurring hit to corporate earnings as the world is put into an induced coma, with hopes that once the coronavirus pandemic passes, the world can simply be woken up and a V-shaped recovery can commence.
Alas, the longer the coma lasts, the more unlikely the recovery is V-shaped, something a recent research report from the San Fran Fed admitted by looking at the aftereffects of some of the world's most notable pandemics, to wit: "Significant macroeconomic after-effects of the pandemics persist for about 40 years, with real rates of return substantially depressed."
Bloomberg confirmed as much today in "Trump's Dire Forecast Reinforces Outlooks for Deep Economic Hit."
nd yet while the debate rages on whether the economy and corporate profits are due for a V-shaped recovery or instead a W- or even L-shaped "recovery" is more appropriate, so far nobody had mentioned, or rather dared to mention, the possibility that beyond a one-time economic shock, the corona-crisis could also affect the financial sector. Read: the banks. After all, the last thing the crippled economy needs now is a bank run to go with the total shut down of most businesses and cash flows.
That changed today when none other than CNBC anchor-at-large Bill Griffeth unexpectedly asked a "serious question" on behalf of bank depositors:
Was a global pandemic one of the scenarios in the bank stress tests?? Asking for the world's depositors
3:50 pm
SPX made a 7.6% decline from yesterday's Wave [B] high.  This is only Wave (1) of [C].  SPX is likely to bounce to the gap at 2522.75 or possibly Short-term resistance at 2538.23.  The bounce may be completed overnight, leaving another gap down and a much larger decline tomorrow.
ZeroHedge remarks, "It's officially zero hour for both landlords and tenants alike as today marks the first day that mortgages and rents are due since the nation has addressed the coronavirus on a national scale with a lockdown and stay-at-home orders.
Meanwhile, in the balance hangs $81 billion in rent payments. Renters are warning they're not going to pay, putting property owners in precarious positions and forcing them to have conversations with their tenants. Meanwhile, the government is doing their best to try and keep the economy slowly moving along despite essentially advising the nation that it must remain shut down.
And nobody, especially in the real estate industry, understands how this unprecedented event will play out.
Willy Walker, chief executive officer at commercial real estate lender Walker & Dunlop Inc, told Bloomberg: "The hardest thing right now is that nobody actually knows how bad it's going to get. That's driving everybody crazy."
8:00 am
SPX futures are approaching a limit down at 2455.00 this morning.  After a 2.15-day Wave [B], it appears that SPX may embark on a 4.3-day to 6.45-day decline.  Either way, the SPX may decline another 1000+ points in the process.  This is a Cycle Wave III which maybe stronger and more panic-prone than anything seen yet, especially if it must make the target in 4.3 days.
ZeroHedge reports, "With the only question on traders' mind whether the March 20 liquidation cascade was the market low, the market itself may be ready to give us the answer, because on the first day of the new month and new quarter – when the speculation of pension fund buying is now gone for another 90 days – US equity futures tumbled along with stocks in Europe and Asia as investors were spooked by a warning from President Trump who said a "painful" two weeks lay ahead, as the latest US coronavirus figures are set to surpass 200,000 today sparking new fears about the pandemic's impact on corporate profits and dividends. Amid the renewed rush for safe havens, the dollar climbed alongside with Treasuries."
VIX futures rose to an overnight high of 60.59 as hedging efforts redouble.  The VIX Cycle is very long in the tooth, as today is day 271.  The Cycles Model indicates strength may surge through Friday.
Bloomberg reports, "Investors are using the stock rally to reset hedges rather than chase upside, signaling little conviction in the rebound, according to Credit Suisse Group AG.
The S&P 500 Index is up 17% from its March 23 close, after gaining in four of the last five days. But it's been a turbulent time for stocks — and indeed, all asset classes — as market gurus and economists struggle to assess the impact of the global coronavirus pandemic. The Cboe Volatility Index, or VIX, ended at 57.08 on Monday and hasn't closed below 40 since March 5. Compare that with its lifetime average of about 19.2."
TNX appears to be revisiting its correction low at 5.99.  The correction has already made a 76% retracement, so the downside in yields is limited.  What the pundits don't see is that treasury bonds are on the verge of one of the largest losses in history as yields skyrocket as SPX declines.
Bloomberg reports, "The first three months of 2020 have been dreadful. This is mainly because the world has been afflicted by a pandemic that has forced many of us to live in social isolation. But also, a lot of people have lost money.
As we survey the wreckage at the end of the quarter, however, we can see ways to have avoided the damage. The default position for long-term asset allocators is 60% in stocks and 40% in bonds. As this chart shows, long U.S. bonds did so well as everyone rushed for safety that the losses for a 60/40 fund were trivial, despite the 20% plunge for the S&P 500: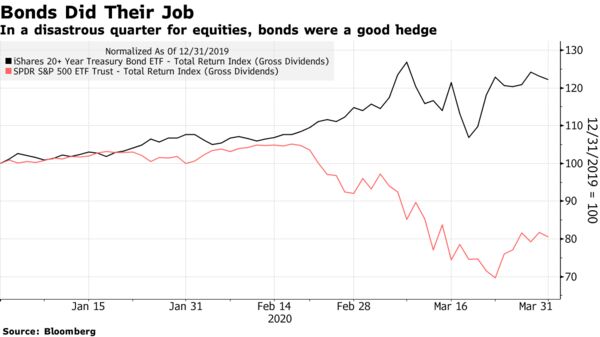 To be precise, a 60/40 fund would have lost only 2.8%, while a very conservative 50/50 allocation would have made 1.4%. If they rebalanced quarterly, they would both now be poised to buy a lot of stocks and sell bonds to do it."
USD futures are on a bounce to a high of 99.78.  However, they remain on a sell signal beneath the Cycle Top resistance at 100.26.
---
---
---