October 30, 2020
11:05 am
SPX bounces near its 2 hour Cycle Bottom.  Note the trading bands are pointing down, offering little or no support.  The Lip of the Cup with Handle appears to offer some support, so there may be a larger bounce there.  However, a decline beneath 3209.45 seals the fate of the SPX.
ZeroHedge observes, "Another mass liquidation day?
Stocks, bonds, bullion, bitcoin, and black gold are all being sold.
Nasdaq is back at overnight lows…"
11:27 am update:
ZeroHedge observes, "Moments before 11am, with stocks tumbling and at session lows, we had just one question: where was Jerome Powell, the man who according to NY Mag's very own Fed apologist and sycophant, Josh Barro, is now the people's Hero 2.0 (not to be confused with Hero 1.0 as defined by another socialist rag)?
Well, we literally got the answer just milliseconds later when Bloomberg headlines hit that the Fed would further ease terms on its Main Street Lending Program targeting smaller businesses:
*FED LOWERS MINIMUM LOAN IN MAIN ST PROGRAM TO $100K FROM $250K
*FED: PPP LOANS OF UP TO $2M CAN BE EXCLUDED FROM BORROWER DEBT
*FED: MAIN ST. TO DATE HAS MADE ALMOST 400 LOANS TOTALING $3.7B
Clearly the Fed felt that it needed a flashing red Bloomberg headline to stop and reverse the rout, and as such it huddled early on Friday, when it decided to adjust "the terms of the Main Street Lending Program in two important ways to better target support to smaller businesses that employ millions of workers and are facing continued revenue shortfalls due to the pandemic."
7:30 am
Good Morning!
SPX futures declined to test the Lip of the Cup with Handle formation at 3209.45 in the overnight session.  It has bounced, but remains beneath yesterday's close.  Should the decline be a Wave [b] and the bounce be a Wave [c], the bounce may revisit yesterday's Wave [a] high at  3341.05, though the likelihood given by the Cycles Model is small.  Resistance is at 3300.00 which indicates the selling may resume this morning, leaving a probable irregular correction.
This morning's low give the SPX more than a 9% decline, which has been orderly thus far.  A decline beneath the Lip of the Cup with Handle changes the whole picture as a little more than 4 days are left in this Cycle.
By the way, I was in error yesterday regarding the timing of the high.  The actual time for the 12.9-day high was shortly after 3:00 pm, not 11:00 am.  The reason for my miscalculation was that the Wave (2) high on October 23 was a few hours early and I had calculated from that pivot, rather than the October 12 high where the 17.2 market days begin.
ZeroHedge reports, "On Monday we presented readers with the latest observations from BofA quants  who pointed out that Q3 earnings "smacked of the tech bubble" because despite impressive beats, in many cases stocks dropped (or outright tumbled) in kneejerk response as virtually everything has now been priced to (and beyond) perfection with little chance of upside surprise. Nowhere was this more obvious than Thursday afternoon when the world's 4 biggest tech companies all reported blockbuster earnings and yet all but Google sank subsequently with the exception of Alphabet which popped after hours (while Twitter plunged as countless conservatives bailed on the ultra-partisan and liberal social network)."
NDX futures bounced from round number support at 11000.00 this morning in a wild swing to new lows.  NDX may also revisit yesterday's high at 11467.37 near the open.  However, the bounce may not last as the selling pressure is about to resume, despite the effort to reignite upward momentum.
ZeroHedge reports, "After a surprisingly exuberant day in the stock market, filled with hope at all the optimistic awesomeness that the mega-tech hegemons would "told you so" to any naysayers who weren't already balls-deep long these over-valued and over-hyped names, things have gone just a little bit turbo after hours.
It wasn't pretty with only GOOGL shares higher…"
VIX futures pulled back modestly in agreement with the SPX and NDX moves.
BusinessInsider reports, "Wall Street's favorite gauge of stock-market volatility rocketed to its highest level since mid-June on Wednesday as rising COVID-19 cases and renewed lockdown efforts spurred fears of a prolonged economic slowdown.
The Cboe Volatility Index, or VIX, climbed as high as 38.98, its highest peak in more than four months. The VIX has traded at an average of 26.30 since the start of August after registering multiyear highs in March."
The NYSE Hi-Lo closed yesterday well below the Cycle Bottom support/resistance at -42.58.  It is solidly on a sell signal and may remain there for another 4 days before gaining strength again.
USD futures eased back to an overnight low of 93.77 as consolidation takes place.  While there may be a high right after the election, there may be a greater high near Thanksgiving, according to the Cycles Model.
TNX appears to be in consolidation this morning.   It appears to be gathering strength for the next move higher which may begin later today.  It also is due for a Master Cycle high near Thanksgiving week.
October 29, 2020
12:27 pm
SPX peaked at 3306.28 near 11:30 am and has eased lower.  The next move down below 3300.00 and especially beneath yesterday's low at 3259.82 will beget more selling…which begets even more selling…until utter exhaustion as we enter the most powerful Wave of the series.
ZeroHedge explains, "Despite the scary stock market headlines, there was no real panic yesterday, as the selling felt fairly mechanical and controlled as the marked was pulled down through 3300 in the S&P 500…
However, "large lot" sellers were very evident as Nomura's Charlie McElligott notes, as Asset Managers reduce their exposure from the 93rd %-ile since 2006 creating an "additional source of supply" into this move."
10:30 am
At 11:00 am the decline will have completed 12.9 of the 17.2 days projected in the Cycles Model.  That is why I suggested a couple hours of rally…just prior to the last (and most brutal) 4.3 days of the decline.  This is where we may see a departure from all other declines, as the distinct possibility of a 44% panic flush of nearly all assets may be about to happen.
9:35 am
"All Hell Could Break Loose"
ZeroHedge observes, "Yes, yesterday's furious 3.5% equity selloff – the biggest since June 11 – was painful, but in isolation it should have been manageable for investors using legacy balanced 60/40 (or risk parity) portfolios. However that was not the case because as BofA's Hans Mikkelsen writes overnight, what was truly unique about the Wednesday rout is that as stocks cratered, Treasury yields were up and gold is down, or as the BofA strategist puts it "everything on sale", in other words a perfect liquidation.
Such a selloff is so against the core tenets of conventional market flows, that this combination – of stocks, bonds and gold down on the same day – only happened twice in market history – on March 11 and March 18th – during the liquidity crisis where nearly all assets where liquidated as risk-parity funds were hammered."
9:05 am
US GDP Soars By A Record 33.1% In Q3, Smashing Expectations
ZeroHedge reports, "What goes down, must come up, and one quarter after US GDP collapsed by a record 31.4% annualized, moments ago the BEA reported that in Q3 the US economy rebounded by a similarly record high 33.1%, the biggest annualized increase in history.
The GDP number beat estimates for a 32% increase, which was already well above forecasts three months ago for an 18% gain. The surge in growth was mostly driven by personal spending, which climbed an annualized 40.7%, also a record, while business investment and housing also posted strong increases."
8:00 am
Good Morning!
SPX futures initially declined lower to 3256.12, then made a 36% retracement off the new low.  However, it was all given back by the time I write this report.  Some very large players (Softbank, perhaps?) have switched to the short side overnight.  The Cycles Model suggests a bit more of a bounce lasting about two hours this morning before resuming its decline.
ZeroHedge reports, "US equity futures, European stocks and commodity markets rebounded after Wednesday's rout which sent the S&P lower by 3.5%, the biggest one day drop since June 11, but they struggled to stabilize after a return to national lockdowns in Europe's biggest economies.
"What I think has changed in the last few days is the significant spikes in the virus in Europe and the U.S, especially the U.S." said Kempen Capital Management's Chief Investment Officer Nikesh Patel. As a result, "the W-shaped scenario for the economy has now become consensus in the market" rather than one where economies broadly stabilize."
In a wild night of trading, the NDX futures made nearly a 30% retracement of its losses from the 11633.15 top before giving up a substantial amount of its overnight gain.  It may open in the black for the next couple of hours, but is due to resume its decline imminently.
VIX futures made a new high at 41.16 in the overnight session before giving it back at the approach of the opening bell.  The futures have eased back into the red, but maintain above the Lip of the Cup with Handle at 30.28.  The breakout has been noticed and now smart money may be taking advantage of the pullback to go long volatility.
Investing passes this on: "(Reuters) – U.S. stock index futures rose on Thursday following the S&P 500's worst day in nearly five months as focus shifted to Big Tech earnings, but sentiment was fragile with five days to go before the Election Day."
The NYSE Hi-Lo closed at the lowest level since April 3.  While oversold, the Cycles Model suggests the current Master Cycle may not end until Thanksgiving.
TNX may be consolidating after rising above the mid-Cycle support/resistance level at 7.70, anticipating today's 7-year Note auction.  However, the current Cycle proposes a continued climb in the TNX through Thanksgiving.  It may prove to be a game changer.
ZeroHedge reports, "One day after the Treasury sold a record amount of 2Y paper at the second lowest yield on record, moments ago it repeated this exercise when a record $55 billion in 5Y notes were just auctioned off, pricing at a yield of just 0.33% (0.5bps below the 0.335% When Issued) and which was just 5.5bps above the record auction low hit last month at 0.275%. Considering the slide in yields today on the back of the rout in risk assets, one may have expected an even lower yield.
And in keeping with yesterday's 2Y auction, the size of the auction rose from $53 billion to an all time high of $55 billion.
The other metrics of the auction were forgettable: the Bid to Cover sliding from 2.52 to 2.38, below the six-auction average of 2.53%. The internals were almost identical to last month, with the Indirects unchanged at 61.9% (above the 61.1% recent average), and with Directs taking down 14.0% or just below the 15.4% recent average, Dealers were left holding 24.1%, above the 20.7% in September and the 23.5% six month average."
USD futures have risen to 93.80 this morning, with a possible push higher by the GDP numbers.  The Cycles Model suggests a peak in USD the day after the election.  The USD may be considered the most widely held safe haven as stock selling and higher 10-year rates boost the value of USD internationally.
The decline in West Texas Crude futures is acceleration as it tumbled beneath mid-Cycle support at 36.47 in the overnight session.  It is down nearly 6% as I write with more to come as the election approaches.
ZeroHedge notes, "The last three days have seen a total bloodbath in black gold as WTI plunges to a $34 handle and Brent drops below $37.
"It's all about the coronavirus still, and the reaction to the rise in cases, especially in Europe," said John Kilduff, a partner at Again Capital LLC.

"These lockdowns are serious and a blow to what's been seen as good progress in terms of demand coming back."
Some have blamed this last leg on the ECB:
Lagarde warned that there's a clear deterioration in the outlook and the recovery in the euro area is "losing momentum more rapidly than expected."
Gold futures made a  new overnight low at 1859.45.  It has been on a sell signal since early October an may remain so through the end of November, according to the Cycles Model.
October 28, 2020
2:49 pm
The next stop may be beneath 3200.00…and the Lip of the formidable Cup with Handle formation.  The next hour and overnight action may tell all.  Five more days left to go.
11:00 am
RealInvestmentAdvice explains what may happen, "What The Hunt Brothers Can Teach Us About Gamma Squeezes
"Almost anything is better than paper money. Any fool can run a printing press." – Nelson Bunker Hunt
A year ago, the phrase "gamma squeeze" would have caught many of Wall Street's most astute investors off guard. Today, both traditional and social media regularly parrot the phrase. It won't be long before the shoeshine kid tells the Bank President about his gamma squeeze exploits.
A Gamma squeeze is just the latest innovation in centuries of market manipulation schemes. Given this activity is a source for significant volatility and instability, it is worth exploring.
10:48 am
NDX has now wiped out the advance for the entire month of October.  We now look at the Cup with Handle and Broadening Wedge formations for guidance.  Both agree that the March low may be taken out.
ZeroHedge remarks, "Overnight losses are accelerating as the cash market opens.
There was a massive sell program at the open (4th biggest of the year)…
Which pushed Nasdaq down 7% from mid-October's bounce highs…
And into the red for the month, along with S&P and Dow as Small Caps are holding gains for now…"
10:40 am
VIX has broken above the Lip of the Cup with Handle formation foretelling more advances to come.  There may be a short pause in the rally, but the die is cast.  In this case, the Cycles Model tells us that VIX may continue its ascent until the end of November!
Update 12:05 pm
ZeroHedge reports, "As the liquidation across asset-classes accelerates, equity protection costs are exploding.
VIX topped 40 for the first time since June…
And, as Nomura's Charlie McElligott notes, vol-of-vol (VVIX) is going absolutely BONKERS, as folks are grabbing at "tails" again into atrocious market illiquidity, election scenario freakouts (folks getting arms around tax implications of "Blue Sweep" yet again?! – or the massive downsizing of prior fiscal stimulus expectations with Republican Senate) and COVID shutting Europe back down as the "European Renaissance" trade again false-starts…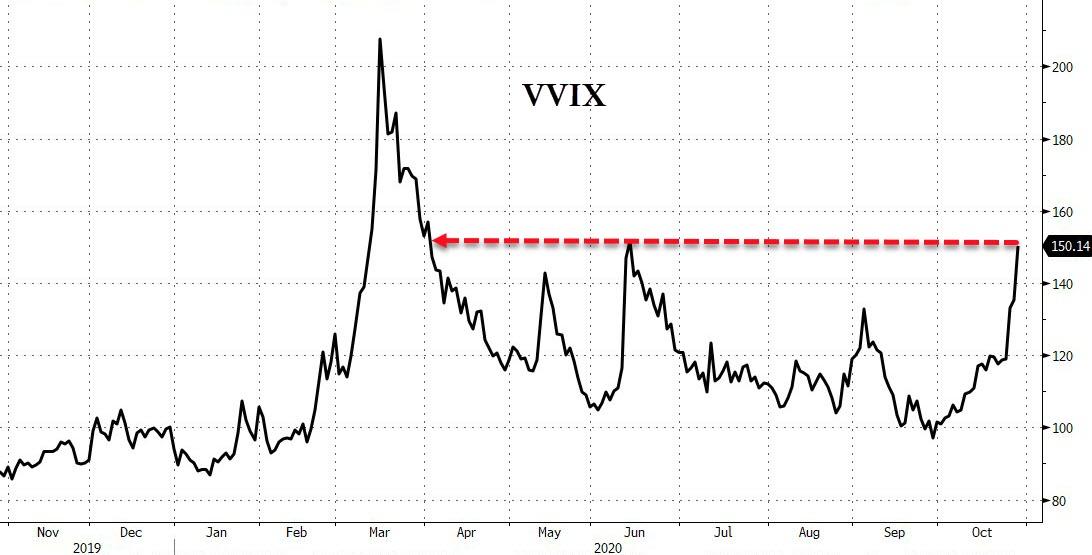 And in "flight to liquidity" fashion with a "short squeeze" positioning kicker, US Dollar is ripping higher, while SPX term structure btwn now and election is exploding higher as well in major cringe-fashion:"
10:35 am
There went 100 points in a hurry!  SPX is bouncing as its challenges the 3300.00 level.  The market has clearly swung to bearish with not only selling, but hedging and shorting as well.
ZeroHedge comments, "An ugly overnight session for US equity markets echoed Europe's bloodbathery but has shifted the underlying technicals in the market to favor the downside. DAX is now down 12% from its October highs.
As Art Cashin wrote earlier
".. the heaviest part of the selloff coincided with announcement that Macron of France would make a national address at 8:00 p.m. Paris time (around the New York close). Speculation runs to multi-week lockdown and possibly even closing the borders."
8:00 am
Good Morning!
SPX closed beneath the CTA sell trigger at 3395.00, resulting in a sell-off overnight.  SPX futures reached a low of 3328.62 in the overnight session thus far.  The Cycles Model posits that the decline may continue until the day after the election, leaving six days of panic selling ahead.
ZeroHedge reports, "U.S. futures continued their slump, hitting a three-week low as shares in Europe and crude oil tumbled after tighter covid restrictions in Germany and France sparked fear of even broader lockdowns. European stocks dropped to a 5 month low with  all 20 sectors were in the red, while safe havens such as the dollar and Treasuries rose. Oil and gold slipped, while Bitcoin surged to the highest since January 2018. The VIX Index climbed to the highest level since June, rising as high as 37 overnight."
NDX futures declined beneath the 50-day Moving Average at 11541.75 and mid-Cycle support at 11469.20 to a low of 11436.00 this morning.  Currently it is on a dead cat bounce that may not last after the open.
VIX futures have risen to an overnight high of 36.93 as it makes its way to the Lip of the Cup with Handle formation.  A breakout above it may be imminent.
USD futures rose to an overnight high at 93.51, surpassing the 50-day Moving Average at 93.28 and challenging Intermediate-term resistance at 93.50.  The standard retracement would be to 95.50, where Wave C is equal to Wave A.  However, there appears to be strength in this rally to retest the mid-Cycle resistance and trendline at 96.63.
TNX has slipped beneath mid-Cycle support at 7.65 and appears to be declining toward the 50-day Moving Average at 7.20.  Today or tomorrow may be the last day of the decline, as Cyclical strength appears to be ready to surge at the end of this week and into next.
West Texas Intermediate futures have reached a new low at 37.62 and may decline considerably lower.  Analysts, having been used to the two-month consolidation, are neutral oil.  This decline comes as quite a surprise to many and there is more to come with the next expected low after the election.
CNBC reports, "Oil prices slid about 2 percent on Wednesday, giving up most of the previous day's gains, as a surge in U.S. crude stocks and growing coronavirus infections in the United States and Europe fanned fears of a supply glut in oil and weaker fuel demand.
Brent crude was down $1.59, or 3.86%, to trade at $39.61 per barrel, having climbed nearly 2% the previous day. U.S. oil was down $1.84, or 4.65%, to trade at $37.74 per barrel, after gaining 2.6% on Tuesday."
Gold futures also plummeted to a low of 1876.60 in the overnight session.  Goldbugs are still looking for higher prices, so this comes as a surprise, as well.  The Cycles Model suggest the decline may continue until Thanksgiving week.
KitcoNews reports, "Gold and silver futures prices are solidly lower in early U.S. trading Wednesday. The precious metals are again being pressured by a stronger U.S. dollar index on this day. Much to the consternation of the bulls, the safe-haven metals can't catch a bid at mid-week despite the keener risk aversion in the marketplace. Once again the shorter-term gold futures traders are paying more attention to the daily movements of the U.S. dollar index. December gold futures were last down $21.50 at $1,890.20 and December Comex silver was last down $0.62 at $23.97 an ounce."
October 27, 2020
2:02 pm
I hadn't counted on a day-long consolidation, but upon further study, I realized that this is the perfect setup for a 6.45 day panic decline.  This consolidation can last through the rest of today, with a possible probe higher at the end or overnight.
This is absolutely not tradable.  the HiLo has rallied to 19.00, but significantly beneath the 50-day Moving Average at 59.02.  The VIX remains steadfast above mid-Cycle support at 32.24.  The trap door is set and about to open to a decline not seen before.
ZeroHedge observes, "Are retail bagholders about to get "muppet"-ed again?
Nomura's Charlie McElligott warns that the "election narrative overshoots" continue to swing wildly on the imminent event-risk approach – and partially as a function of horrific market illiquidity, with banks / dealers on facilitation lockdown, as per Risk Management "VaR shock" muscle-memory from 4 yrs ago:
First, it was the "Extended Election Chaos" scenario as vols out into Dec and Jan went super sticky 'bid' into what was at the time an almost consensual "buy-in" to the worst-case-scenario of a disputed outcome with vote recounts / Supreme court involvement, fraud allegations, civil disorder and general policy confusion which in-turn scared hedgers straight and saw the bid vol expiries well past the event itself;"
:40 pm
TNX has reached its mid-Cycle support at 7.70 this afternoon.  It may now be ready for a very strong rally over the next week.
ZeroHedge reports, "The most remarkable fact about today's 2Y Treasury auction is that at $54 billion, it was $2 billion more than the September 2Y auction and the largest on record. As a reference, all 2Y auctions in the period 2015-2017 were $26 billion, or more than 50% smaller than what the Treasury currently needs to keep funding itself.
The second most remarkable fact about today's record-breaking big auction, is that the yield of 0.151%, which tailed the WI of 0.150% by 0.1bp, was the second lowest on record, just fractionally above the previous record low of 0.136% hit last month. All of this, of course, is due to the Fed depressing short-term yields to unprecedented levels courtesy of $120BN in QE every month."
8:00 am
Good Morning!
SPX futures appear to be completing their bounce to the 50-day Moving Average at 3410.49 as I write.  The Cycles Model calls for an immediate resumption of the decline.  The 50% Fibonacci retracement value is 3415.50, so there may be a slight extension beyond the 50-day.  While the CTAs and hedge funds appear to be ready to start paring their longs beneath the 50-day, there seems to be an eagerness to "buy the dip" among the retail investors.
ZeroHedge reports, "U.S. index futures and European stocks rebounded on Tuesday following the S&P 500's worst day in a month as investors parsed through strong corporate earnings which offset Monday's SAP shocker, while bracing for volatility ahead of Election Day, assessing rising coronavirus cases across the globe and conceding that a fiscal stimulus deal just won't happen now that the Senate has closed for recess after rushing through the appointment of Amy Coney Barrett to the SCOTUS late on Monday night, which was also Hillary Clinton's birthday. AMD's $35 billion acqusition of Xilinx also helped boost trader optimism."
NDX futures appear to be testing the neckline at 11600.00, having exceeded the 50-day at 11535.33.  The overlap in declining Waves tells us there may be a large extension to the downside.
VIX futures are challenging the mid-Cycle support at 32.15 this morning.  This appears to be a normal pullback prior to another probe higher.  It is possible that the Lip of the Cup with Handle formation near 38.50 may be challenged today.  VIX continues on a buy signal.
Yesterday, ZeroHedge observed, "Earlier this morning, our "Greek geek" friends at SpotGamma pointed out that SPX 3,400 was a critical support for the market as it represented the so called Zero Gamma, or the level at which dealer gamma flipped from positive to negative (below which selling becomes self-reinforcing due to delta-hedging of puts by dealers), and as such a drop below 3,400 "could add some selling pressure."
It didn't take long for the S&P to do just that, and once the gamma flip level was breached less than hour after the open, the selling accelerated, eventually dragging Eminis as low as 3356."
This morning we get the (revised) closing value for the NYSE Hi-Lo.  This confirms the Hi-Lo sell signal.   Note the squeeze in the Cyclical bands.  The Cycle Bottom is at -34.85.  This suggests a powerful downdraft may begin once the Hi-Lo declines below -35.00.
TNX may be on its final probe to the mid-Cycle support at 7.70 before resuming its rally.  The Cycles Model calls for a double dose of strength over the next week.
Investing relays this article, "(Bloomberg) — Even the bond bears are starting to wave warning flags about the degree to which markets are leaning toward a clear win by Democrat Joe Biden in next month's presidential election, with his party also taking control of Congress.
Not long ago, investors were bracing for volatility in the weeks after the Nov. 3 vote, given the risk of a contested outcome. But President Donald Trump has been trailing by double digits in some national polls, spurring speculation a Democratic sweep will pave the way for supersized fiscal spending.
That backdrop gave fresh impetus last week to bets on a reflating economy, pushing the yield curve to its steepest since June. And it also may be setting the market up for potential pain if the scenario doesn't pan out."
USD futures appear to be consolidating inside yesterday's trading range.  The Cycles Model suggests a very strong upsurge in the USD through election day.
YahooFinance relays this article, "
(Bloomberg) — The world's biggest money manager is shorting the dollar on expectations that unprecedented fiscal and monetary stimulus will prolong its losses — regardless of who wins the U.S. election.
BlackRock Inc. holds a "modest" short in the greenback against the likes of the Chinese yuan, Indian rupee and Indonesia rupiah, said Neeraj Seth, head of Asian credit in Singapore. The three Asian nations are among those best positioned to benefit from a weakening dollar as investors seek out higher-yielding assets and growth."
October 26, 2020
3:45 pm
VIX has moved above mid-Cycle resistance at 32.15 and has stalled there since 3:00 pm.  Something fishy with the SPX as well, remaining frozen at 3386.24 since 3:00 pm.  Have the market feeds been switched off?  Curious minds want to know.
ZeroHedge observes, "Earlier this morning, our "Greek geek" friends at SpotGamma pointed out that SPX 3,400 was a critical support for the market as it represented the so called Zero Gamma, or the level at which dealer gamma flipped from positive to negative (below which selling becomes self-reinforcing due to delta-hedging of puts by dealers), and as such a drop below 3,400 "could add some selling pressure."
It didn't take long for the S&P to do just that, and once the gamma flip level was breached less than hour after the open, the selling accelerated, eventually dragging Eminis as low as 3356."
11:28 am
The NYSE Hi-Lo Index plummeted to -4.00 this morning after closing at 49.00 on Friday.  The 50-day moving Average is at 52.88, so it was a close call.  However, this morning's action confirms the decline into the election.
11:20 am
SPX has fallen through the 50-day Moving Average at 3410.30 and appears to be challenging mid-Cycle support at 3395.05.  The trendline at 3390.00 may be at risk as well.
ZeroHedge observes, "Update 1035ET: WH Economic Advisor Larry Kudlow – normally full of market-buffering optimism – admitted that there "remains a number of areas in Pelosi's cornonavirus plan that Trump cannot accept" – something we all knew for weeks, but this has taken the shine off Nasdaq's renaissance and sent the rest of the market legging lower once again…
The Dow and Small Caps are down around 1.9% from Friday's close and Nasdaq is tumbling back towards the lows of the day…
…well that re-escalated quickly!"
*  *  *
Good Morning!
This morning I go to get some medical tests.  I may not return until the afternoon.
SPX futures appear to have broken beneath the neckline, thereby nullifying the potential for higher values.  If correct, Friday began the second half of a 17.2-day decline into the election.
This morning ZeroHedge reports, "Futures were hammered right off the start on Sunday evening amid what Bloomberg describes as "pessimism that a U.S. stimulus deal can be reached before the Nov. 3 election." Which is great, only it's dead wrong as the ridiculous "deal or no deal" narrative has been meaningless for weeks now and only 5-year-old Robinhooders still pretend it is a catalyst to asset prices.
What has, however, changed is a dramatic shift in online polling sentiment regarding what until just days ago was a certainty that a "Blue Sweep" would take place."
VIX futures ramped up over 30 again this morning, but have not exceeded mid-Cycle resistance at 32.07.  That is the next step in confirming the higher Cup with Handle formation.
NDX futures have also nullified it's Head & Shoulders formation by declining beneath 11600.00.  The 50-day Moving Average at 11528.07 is within striking distance, confirming the potential decline into the election.
October 22, 2020
1:06 pm
The breakout in TNX is being recognized by traders and hedge funds as the "real thing."  The brief consolidation mentioned earlier may be due to the fact that the following article reports what has already happened.
ZeroHedge remarks, "
The recent breakout in 10Y yields to the highest level since June…
… accompanied by the "triple top" in the 2s10s which hints at an imminent breaking out curve steepening…
… has prompted questions what is behind the recent puke in rates.
One answer comes from Nomura's quant Masanari Takada who writes that in bond markets,
global macro hedge funds have started unwinding long positions in UST futures
CTAs have responded by stepping up the pace of their exits from long positions in 10yr UST futures (TY).
7:30 am
Good Morning!
SPX futures are on the rise toward Short-term resistance at 3464.48 and a trendline at 3475.00.  The VIX/Hi-Lo signals tell us to remain short.  Perhaps a cross above the trendline, should it happen, or a change of signal from the VIX/Hi-Lo may tell us what change in direction, if any, may ensue.
From a Cyclical point of view, we are arriving at day 8.6 of a probable 17.2 market day Cycle from the high on October 12.  That suggests a secondary peak may occur by mid-day, followed by an 8.6 day decline.  This may be worse than the 1987 Crash, since it only lasted 12.9 market days.  The 1929 Crash has more similarities to today's Cycle.
NDX futures have risen to 11681.62 this morning, still short of Short-term resistance at 11760.38.  NDX and SPX are on the same path, Cyclically.
FinancialTimes explains possible reasons for the tech bubble.
VIX futures declined to a morning low at 27.58, above the 50-day Moving Average at 26.17.  The Cycles Model in the VIX presents a more complicated structure.  It posits a 34.4 market day Cycle from the October 9th low that is just going into its 10th day.  That compares with a 34.4 calendar day Cycle ending on March 18 (a 10-day difference).
TNX continues its rally that may not terminate until Thanksgiving week.  The rally may become especially strong toward the latter part of next week after a brief pause.
SeekingAlpha observes, "Betting against long-term bonds has been a losing strategy for several decades, and this form of contrarian pain has been especially deep in the past two years. It's debatable if it's different this time, but bond bears have a new reason to hope as rising yields weigh on long Treasury prices, which have fallen below a key technical support level.
Over the past week, long maturities for US government bonds led a broad decline in fixed income, based on a set of ETF proxies through October 21. The iShares 20+ Year Treasury Bond ETF (TLT) has tumbled for five straight days, leaving the ETF below its 200-day moving average for the first time in nearly two years.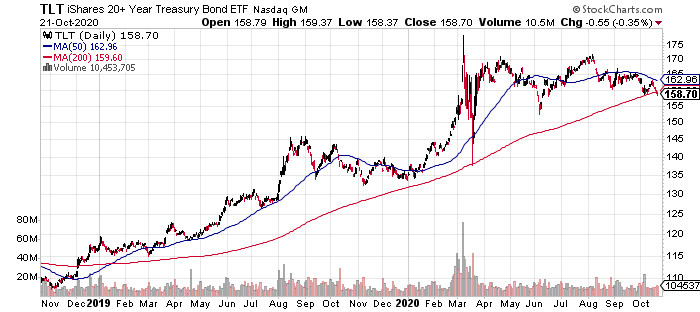 USD futures are consolidating, having declined to 92.66 this morning.  Wednesday's Master Cycle low was overdue, so I don't expect the USD to linger near the bottom.  The Cycles Model suggests a strong spike higher in the USD early next week and during Elections week.
October 21, 2020
1:27 pm
There's a major battle between the bulls and the bears going into election time.  I have never seen such a setup such as this, where there are two very strong formations fighting it out to the death.  I credit NorthmanTrader for pointing out the opposition.
Since late September I have pointed out the very bearish Cup with Handle formation that foretold the probable return of the bear market.   I have been watching the 50-day M.A. support at 3407.97, thinking that, should it get broken, the bear case becomes a reality.  However, the 50-day may have been saved by the neckline of an inverted Head & Shoulders at 3431.00.
Granted, it went beneath that level twice, which raises doubts about the validity of the Neckline.  In addition, the SPX made what appears to be a Leading Diagonal formation, which would be a valid beginning of a bearish decline.  However, it must make a retracement…and there's the rub.  In other words, until election day (the next Master Cycle terminus) the market may go either way.
This morning I announced that there are 10 days left in this Cycle.  The question remains unanswered.  Will it be another 7% rally, or a potential 45% decline?  We'll only know if support at 3431.00 is broken again…and soon.
By the way, the bearish case persists in the fact that the NYSE Hi-Lo is at 29.00 , beneath all bullish supports.  I would not go long unless this indicator tells me the bull case is gaining strength (above 58.00).
7:30 am
Good Morning!
SPX futures tested the 50-day Moving Average at 2407.02 before a bounce that remains in negative territory.  You can literally see the battle of the algos for control of the market as it slips lower with each bounce.  The 50-day may be the key battlefield today.  Above it and the FOMO crowd may still attempt a rebound.  Beneath it lies mid-Cycle support, another last-ditch effort to remain bullish.   10 days remain until what appears to be the next Master Cycle low.
Yesterday ZeroHedge observed, "Update 1235ET: Did Schumer burst the optimism bubble with his attack on McConnell?
*SCHUMER SAYS VOTE ON SCALED-BACK GOP AID PLAN IS A 'STUNT VOTE' (as opposed to all the House votes?)
*SCHUMER SAYS BIGGEST OBSTACLE TO AID BILL IS MCCONNELL (or Democratic willingness not to bail out blue state pensions)
Stocks erased all the Pelosi pump…
ZeroHedge reports, "S&P futures traded lower, alongside shares in Europe and most of Asia – but since rebounded from overnight lows – as worries about a delay to U.S. economic stimulus, surging virus cases across Europe and concerns about tonight's final presidential debate and election interference weighed on sentiment. Investors also braced for another high level of weekly jobless claims, while with just 12 days to go until the US election and Europe's struggle to contain second waves it's become increasingly tricky for markets, according to Citi. As risk sentiment soured overnight, the USD bottomed out at yesterday's lows, while oil and cryptocurrencies rose.
ES futures tumbled to session low just above 3,400 late on Wednesday night, when the top U.S. spy chief accused Iran of making its most direct efforts to interfere in the closing days of the presidential election, saying the Islamic Republic faked a series of intimidating messages to Democratic voters."
NDX futures made a new low at 11593.62, but did not test the 50-day.  However, it appears that it may be the next target.
The NYSE Hi-Lo indicates the loss of upward momentum in stocks as it closed beneath both the 50-day Moving Average at 60.81 and  Mid-Cycle support at 54.97.  Having closed beneath both levels confirms the sell signal in the NYSE.
VIX futures tested yesterday's top tick, but did not exceed it this morning.  It is on a buy signal which may remain through the election.  We may see a brief pause in the rally, but the trend is to go higher.
USD futures appear to be consolidating above yesterday's low, which appears to be a belated (day 266) Master Cycle low.  A sudden reversal here may send the USD on a 2-week rally that may test the mid-Cycle resistance at 96.73.
TNX consolidated this morning after breaking out above mid-Cycle resistance.  The Cycles Model suggests an entire month of rally may follow after a brief pullback.
ZeroHedge reports, "There was solid bid-side demand for today's auction of $22 billion in 20Y (technically a 19-year 10-month reopening) bonds.
The high yield of 1.370% stopped through the When Issued 1.371% by 0.1bps, well above last month's 1.213% and the highest yield for the tenor since the 20Y auction was brought back after it was phased out in 1986.
Perhaps it was the "solid" yield that sparked investor interest, but whatever the reason, the stats on the bond were impressive: the Bid to Cover rose from 2.39 to 2.43, the highest since June. The internals were also quite solid with Indirects taking down 62.9%, the most since July, and above last month's 60.7%. And with Directs taking 15.6%, in line with last month's 15.3%, it meant Dealers held on to 21.5% of the auction, down from 24.0% last month and the lowest since July.
Overall, a solid auction if hardly exceptional with most metrics coming in line with recent prints."
October 21, 2020
7:00 am
Good Morning!
SPX futures spent the overnight market consolidating beneath Short-term resistance at 3452.02.  Could it be that SoftBank's attempt to corner the FAANG market is meeting headwinds?  The Cycles Model suggests that, should the SPX/NDX break their respective 50-day Moving Averages, the decline may be exceptionally strong.
ZeroHedge reports, "There was a curious twist in the traditional "stiumulus is good" market narrative this morning.
In early overnight trading, futures initially ticked higher on Wednesday as investors pressed bets for a fiscal stimulus deal after Nancy Pelosi said she is hopeful for a stimulus this week, even though negotiations blew past her own self-imposed Tuesday deadline for agreeing on a pre-election deal. Her enthusiasm was echoed by White House Chief of Staff Mark Meadows who said everyone is "working really hard" to get a package agreed by the weekend, adding that there are still outstanding issues, while Mitch McConnell warned the Trump administration not to agree to anything like Pelosi's proposal ahead of the election (McConnell plans to seek a vote on the Republican scaled-down package in the Senate today). In any event, this initial "optimism" was enough to get futures to ramp sharply higher in early overnight trading…
… before reversing sharply after 10Y yield spiked above 0.8% for the first time since early June on too much reflationary stimulus deal optimism!"
NDX futures also tested Short-term support at 11713.04 before resuming its decline.  The 50-day Moving Average awaits at 11495.10.  The likelihood of a bounce there is strong, but the Cycles continue to point down through elections day.
MarketWatch reports, "The 33rd anniversary of the "Black Monday" stock-market meltdown is upon us, and if hedge-fund managers are scared of history repeating itself, you certainly wouldn't know it from the massive overhaul in their positions they've undertaken over the past week.
Read: This is the last chart investors need to see right now
After establishing one of their biggest short positions in U.S. tech stocks in more than a decade earlier this month, hedge-fund managers poured their money into Nasdaq futures at a near-record rate, according to Commodity Futures Trading Commission datacited by Bloomberg."
VIX futures have broken the resistance at 30.00, having climbed to a new monthly high at 30.53.  While there may be a brief pause at mid-Cycle resistance at 31.89, the Lip of the Cup with Handle appears to be the next resistance level.
SeekingAlpha observes, "As we prepare for a third wave of coronavirus, investors should brace for another wave of market volatility. Back in February, I wrote a piece titled, "The VIX Is Catching A Bid From Coronavirus." I didn't have a clue to what extent the equity markets would plunge or to what extent risk assets would rally back and reach new highs. However, I find myself more recently asking, "are market participants really pricing in a third wave of coronavirus, or are we pricing in a second & third wave of fiscal stimulus"? Whatever your belief is on the recent price action of risk assets, we should all pay close attention to the VIX, also known as the fear gauge."
USD
USD futures have broken down to new lows, indicating the trend may be down for the next two weeks.  Instead of a rally over the next two weeks, we may see a new low at the Cycle Bottom instead.
TNX broke out over its mid-Cycle resistance and previous high at 7.99.
October 20,2020
12:42 pm
VIX remains beneath its October 6 high of 30.00 this morning.  Many see this as a shorting opportunity for the VIX.  But the Master Cycle allows us at least two more weeks before it turns bearish.  The put-to-call ratio is now the highest in a decade.  The sign of a bottom?
ZeroHedge reports, "While everyone is familiar with the exploits of the notorious vol trader Ruffer LLP, better known in the market as "50 cent" for his penchant for buying deep OTM VIX calls which while usually expiring worthless, occasionally make a killing, such as the $2.6 billion the fund made during the March crash when VIX soared, a new and heretofore unknown player has emerged in the vol space. And because this particular trader's bet appear to be on a reduction in volatility Perhaps we can call him minus 50 cent?
According to Bloomberg, which first reported the mystery trader's exploits, so large were the fund's block trades that it moved the market's entire Put to Call ratio from near record lows to the highest in a decade!"
12:34 pm
SPX has just vaulted above the 38.2% retracement level.  The most likely target is the 61.8% retracement at 3479.00 where Wave (c) equals Wave (a) in the correction, but maybe I'm being too optimistic.  The top is close by and may be made in the next hour.  Stay on the alert for a reversal.
8:00 am
Good Morning!
SPX futures have bounced, challenging Short-term resistance at 3447.11, but have settled back below it.  Thus far a 23.7% retracement has been made.  An attempt has been made to reverse the decline, so we may  expect to see some success in pushing the retracement higher, but it may be too soon to reverse the downward trend.
ZeroHedge reports, "If futures are higher, it's due to stimulus optimism; if futures are lower, then stimulus fears dominate etc, you know the drill by now… so by that logic with Eminis trading 0.7% higher this morning, optimism is apparently on the rise again after yesterday's rout, even as we approach today's deal ultimatum, or "do-or-die" moment as Bloomberg called it, for Nancy Pelosi and Steven Mnuchin to clinch a pre-election virus relief deal. Late on Monday, the two were said to narrow their differences after a 53-minute telephone conversation on Monday where they "continued to narrow their differences" about the coronavirus aid package, and will talk again today but still remain at odds over the scope of aid. In any case, the good news is that after today the farce may finally be over at least until after the election. Treasury yields rose and the dollar slipped, while oil and gold fluctuated. The Aussie slid after an RBA official suggested short-term rates may fall below zero.
Sure enough, as Reuters puts it, "stock index futures rose on Tuesday on expectations that Washington lawmakers would be able to settle their differences for an economic stimulus bill to pass before the Nov. 3 presidential elections." And as Reuters also adds "Uncertainty over the fiscal stimulus weighed on Wall Street's main indexes on Monday, with analysts expecting market turbulence to increase with only two weeks left until Election Day." So simple, a 99 cent algo could write this market narrative."
NDX futures also challenged Short-term resistance at 11701.56, but eased back beneath it.  This follows the 5th straight day of losses in the NDX, nearly erasing the "Nasdaq Whale" gains of August.
ZeroHedge reports, "Update (0825ET): The Google news has rattled the market, as investors contemplate the prospect of the DoJ, partnered with the state AGs, launching historic lawsuits against more Big Tech firms, thereby pulling the rug out from under the market.
* * *
Just as we previewed roughly 6 weeks ago following a report published in the New York Times, the DoJ has finally brought a sweeping anti-trust case against Google, according to a WSJ scoop."
VIX futures appear to be recovering from a brief foray down to 28.29.  While already on a buy signal, the VIX has a breakout point at 30.00, where traders may recognize its bullish potential.
SchaeffersResearch reports, "… as potential election volatility continues to be a popular media theme, perhaps scaring many out of equities, there has been an interesting development is the Cboe Volatility Index's (VIX—25.00) second consecutive close below its 252-day moving average on Friday. This occurred after it traded above this important moving average for all but one day since August 31st. The VIX also closed below its 30-day moving average, which I have been following closely…The bullish VIX signal was concurrent with the S&P 500 Index's (SPX—3,477.13) close back above 3,400 and its February high, the Russell 2000 Index (RUT—1,637.55) close above 1,600 — which acted as resistance in August and September…a contrarian play to the media's higher election volatility theme would be to position for lower volatility and higher stock prices in the days before and after the election. If the VIX moves back above its 30-day and 252-day moving averages, all bets are off. "
The NYSE Hi-Lo Index closed just above its 50-day Moving Average at 62.50 yesterday after spending the majority of the day beneath it.    Those of you who took this as a sell signal, shouldn't fret.  Today's early morning action may reinforce the decline to lower levels and a potential close beneath the 50-day.
TNX appears to be challenging mid-Cycle resistance at 7.88 this morning.  A breakout here is important, but a breakout above the previous high at 7.99 may be recognized universally as a resumption of the uptrend.  Usually breakouts are followed by a pullback, causing investors/traders to overlook the event.  However, the Cycles Model implies strength may follow over the next two weeks.
CNBC reports, "Treasury yields rose on Tuesday as investors closely monitored the potential for a new coronavirus stimulus package ahead of next month's presidential election.
The yield on the benchmark 10-year Treasury note gained 2 basis points to 0.789%, the highest level since Oct.9. The yield on the 30-year Treasury bond rose 4 basis points to 1.585%, also the highest level since Oct.9. Yields move inversely to prices."
ZeroHedge observes, "One of the most bizarre decouplings in capital markets following the March crash, was the directional divergence between real and breakeven rates, something we addressed two months ago in "What's Behind The Bizzare Break Between Breakevens And Crashing Real Rates." However, in recent weeks, this unprecedented divergence appears to have finally ended, because since the start of August, US 10y rates have increased from 51bp to 74bp on the back of inflation expectations moving higher alongside real yields (+10bp).
As Goldman's Alessio Rizzi puts it mildly, "a positive correlation between 10y breakevens and real yields has not been a feature of 2020″, which after hitting 7 months before finally inflecting, has been one the longest periods with breakevens and real rates moving in opposite directions."

USD futures declined to 93.16, but did not break down beneath their prior low at 93.00.  This is key to the resumption of the uptrend through the election.
FXStreet comments, "DXY navigates the area of multi-day lows in the 93.20/15 band on Tuesday, extending at the same time the recent failure at the 6-month resistance line.
A deeper pullback further south of the 93.00 neighbourhood is expected to pave the way for another visit to, initially, the mid-September lows in the 92.70 region.
While below the 200-day SMA, today at 96.80, the negative view on the dollar is expected to persist."
Gold futures appear to be testing round number support at 1900.00 again.  A breakdown here may be the beginning of a month-long decline for gold, according to the Cycles Model.
BKX crossed beneath its mid-Cycle support at 77.88 yesterday and may challenge the 50-day Moving Average at 76.39 shortly.  This may give us a doubly-confirmed sell signal in the BKX.
October 19, 2020
11:12 am
The NYSE Hi-Lo Index rose to its mid-Cycle resistance at 574.00.  Further resistance is the 50-day Moving Average at 62.50.  This is selling territory, provided we don't see it rise above the 50-day by day's end.  That, plus the VIX rising above 28.00 puts the SPX on a sell signal again.  This may give us some whipsaw, but that's the price of being early.  Most traders won't sell/go short until the SPX declines beneath the 50-day Moving Average at 3403.60.  The top of the Master Cycle occurred on October 12.  The end of a Master Cycle gives us a minimum of 3 weeks in the opposite direction.
11:02 am
SPX declined to support at 3475.00.  Beneath this may be an appropriate sell trigger with confirmation at or below 3403.60.  It appears that Friday's Gamma run was used to protect options positions at 3500.00.  With options expiration behind us, there may be little incentive to maintain that level.
ZeroHedge reports, "US equity markets have very quickly erased their overnight gains on no obvious news-driven catalyst this morning.
It looks like the ramp was to erase the late-day plunge on Friday, run stops…
10:00 am
Nasdaq Shorts Crushed By Second Biggest Short-Squeeze In History
ZeroHedge reports, "At the end of September, we observed that the sharp if brief selloff in tech stocks last month has resulted in the second-highest ever pileup of shorts in the Nasdaq, and warned that a short squeeze was imminent:
Amusingly, none other than SoftBank tried to give the squeeze some juice, when it reverted to its notorious massive call spread buying strategy in early October that defined the epic meltup of August when it emerged that Masa Son's conglomerate had bought tens of billions in call premia in an attempt to ramp up its recently purchased stocks for its tech portfllio."
8:00 am
Good Morning!
SPX futures are on a runaway Gamma train, as SPX calls are purchased, provoking dealers to buy the underlying asset in a repetitive loop.  The use of leverage makes this doubly dangerous, as massive numbers of shares may be dumped when the reversal occurs.  What started as a "rescue" of the options market from Thursday's drop has now gained a life of its own…for now.
ZeroHedge reports, "Bulls will breathe a sigh of relief that on the 33-year-anniversary of Black Monday (when the Dow dropped 22.6% on this day in 1987) futures are sharply higher, at least for now.
Emini futures rebounded from Friday's drop, undoing most of the late Friday swoon, climbing alongside shares in Europe and most of Asia, on the back of what the media called "renewed optimism" about the progress of fiscal stimulus talks when what really happened is that on Sunday, Nancy Pelosi set a Tuesday ultimatum  for more progress with the White House after lengthy discussions at the weekend with Treasury Secretary Steven Mnuchin. In other words, not only was there no progress, but after tomorrow, there may no longer be any "optimism" either until after the election. None of that mattered to algos, which pushed the S&P 0.8% higher, while TSY yields rose, and oil and the dollar declined.
NDX futures rose to a weekend high of 11947.50 before easing back.  It had bounced off trendline support on Thursday near 11850.00.  In fact, that may provide a sell signal once the trendline is breached.
Black Monday is on people's minds on the 33rd anniversary (to the day).
ZeroHedge observes, "The following exchange took place between President Reagan and reporters after the market close on Black Monday, October 19, 1987.  Leaving to visit the First Lady in the hospital, President Reagan spoke just after the market lost over 20 percent of its value on the day.
Q: What about the market? Tomorrow will it go down again?

President Reagan:  I don't know. You tell me.

Q: Is the market your fault?

President Reagan: Is it my fault? For what, taking cookies to my wife?

Q: Reaganomics?

President Reagan:  I just told you. Good Lord, we reduced the deficit over last year by $70 billion. And all the other things I've told you about the economy are as solid as I told you. So, no, I have no more knowledge of why it took place than you have."
VIX futures are higher this morning, which may be an indication that all is not well.  Yet the Master Cycle low on October 9 tells us that the rally off the trendline may continue through the election.
TNX rose higher this morning and may challenge mid-Cycle resistance at 7.94.  As mentioned previously, TNX may have been on a secular uptrend since early August.  A breakout may confirm that view with the rally potentially continuing until Thanksgiving week.
USD futures appear to have fallen beneath the 50-day Moving Average at 93.32 this morning.  Should it persist below 93.00, the Cycles Model suggests a falling USD through election day.
October 16, 2020
10:50 am
The Wave pattern turned more complex. (What do you expect for options expiration?)  The new probable target is near 3520.00, but the 78.6% retracement is at 3526.53.  The retracement may be over by noon.
9:05 am
Robinhood Raises Margin Requirements On "Widely Held Stocks" As Election Volatility Nears 
ZeroHedge:  "Just hours after the Robinhood reported a massive hack, an email surfaced on Twitter showing the company warning users about an imminent increase in "margin maintenance requirements for several widely-held stocks" which was to be implemented before the market open on Friday.
The warning, titled "How margin is changing ahead of the 2020 election," was tweeted by Packy McCormick, a millennial daytrader, around 22:00 ET Thursday.
"If you hold any of the affected stocks on margin, your buying power may decrease or your account may be in a deficit after these changes go into effect. If you end up in an account deficit and you don't resolve it by the end of the trading day on Oct. 16, you will be issued a margin call. If you do not resolve the margin call, we may need to sell off some or all of your stock to cover the call," the warning continued."

8:00 am
SPX futures are mildly higher, with a potential final price near 3495.00.   There is a possibility of maintaining price levels under 3500.00 for the rest of the day.  But if it fails, the outcome may be a panic decline reminiscent of March.  The declining wave is incomplete and requires at least one more push down to or below the 50-day Moving Average at 3394.82.
ZeroHedge reports, "US equity futures were modestly green in a quiet overnight session, as optimism about a fresh stimulus package collapsed, while investors assess the potential return of lockdowns in Europe as the region struggles to contain the virus spread. S&P 500 futures were little changed, while Nasdaq contracts rose 0.2%. Eminis were up 0.2% to 3,482 boosted by Boeing and Pfizer shares (see below) which helped push futures on the S&P 500 and Dow Jones Industrial Average into the green after they drifted most of the day. Treasuries held gains, while the dollar slipped with crude oil.
NDX futures were unable to close the gap at 11985.00 this morning.  This is a good indicator that the sellers maintain the upper hand, despite the bounce.
Bill Blain offers these thoughts, ""Tell him I've just worked out a completely new strategy. It's called running away."
Not a lot to cheer in markets this week as politics and Covid dominate the stage. The slide in European stocks highlights increasing concerns for what look likely to become a double dip Virus hit. Rising US job claims suggest it's also going to suffer a second pandemic knockback. On the other hand, companies are still making money, the global economy pootles along and investors will see dividends from sectors having a "good pandemic" remain strong. The world is divided into winner and losers: the Occident vs Orient, Tech and Services vs Hospitality, Property and Travel.
Interesting comment from Goldman which says it's time to buy value stocks and sell some Tech. They say is due to some mumbo-jumbo about three-four month trading patterns they observed back in the last crisis regarding reversals into cyclical shorts, but to be honest life is literally too short to read analyst's turgid prose. I suspect most bank research is written to please compliance officers, and approved by committees to make sure no one is offended.
But the thing is – I totally agree! Time to sell some Tech."
VIX remains flat this morning.  The risk to equities hasn't appeared yet.  However, the Cycles Model suggests a particularly strong finish to options expiration and lasting into next week.  There is a remarkable similarity between the month of February and the current setup in the Cycles.
TNX is higher this morning.  This may be a reaction to the strong bounce in equities yesterday and overnight.  It is due for a Trading Cycle low early next week, so there may be an about-face and decline finishing off options week.
USD futures are down this morning, but may also resume their rise during or after options expiration.
October 15, 2020
3:20 pm
Four hours ago I underestimated the market's ability to keep rebounding.  Despite nearly erasing nearly all the losses from this morning's gap down, there appears to be at least one more decline in store.  This is not the time to take our downside profits.  Tomorrow may be a real mind bender.
11:10 am
SPX may be completing its bounce which puts the mid-Cycle support and 50-day Moving Average at 3395.21 in play.  Things may get messy for the bulls beneath that level, especially with options expiration for indices, stocks and ETFs due tomorrow.
ZeroHedge discloses, "A double-whammy of 'soft' Mnuchin confirmation that a fiscal "deal" pre-election is unlikely and the reacceleration of COVID-19 restrictions and closures across Europe, sparked a significant 'risk-off' move overnight with Nasdaq almost erasing all its gains for the week…
But, as Nomura's Charlie McElligott details, with stocks are the forefront of cross-asset risk sentiment, the talking-point on the desk is simple:
you cannot overstate the Gamma impact on the overall market of those single-name mega-cap Tech options expiring tomorrow"
10:07 am
The NYSE Hi-Lo Index sank to -5.00 at the open, confirming the sell signal issued yesterday.  Momentum has fallen off a cliff as dealers scramble with the gamma reversal.
ZeroHedge observes, "Amid the stock slide this morning, tech is getting hit especially hard, and one key driver for this is the overnight downgrade of the tech sector from Overweight to Neutral by Goldman Sachs, to wit:
We make four sector changes: we upgrade Banks and Autos to Overweight (bothfrom Neutral), and we downgrade Tech to Neutral and Food, Beverages & Tobaccoto UW (from Neutral). We also take off our long-held Long view on our Digital Economy basket(GSSBDIGI). We add a Long recommendation on our Recovery (GSSTRCOV)basket vs. SXXP.  This joins our Fiscal Infrastructure spending basket (GSSTFISC),which we continue to recommend."
8:00 am
Good Morning!
SPX futures fell to 3433.88 in early trading, leaving a potential Island Reversal.  This raises the certainty of the reversal turning into a panic decline.  Today is day 258 in the Master Cycle.  In reality, the top was made on Monday, day 255.  The New Master Cycle appears to have 17.2 days until its terminus, the day after the election.  Seat belts buckled?
ZeroHedge reports, "Just as "stimulus (and covid vaccine) optimism" was the go to "explanation" for the market's ramp in the past few weeks, so "stimulus (and covid vaccine) pessimism" is being trotted out to "explain" when stocks unexpectedly don't melt-up overnight. And sure enough, one day after stocks sank when Steven Mnuchin told the Milken Institute Global Conference yesterday that "getting something done" on stimulus before the election "would be difficult", the selling accelerated overnight in S&P futures which dropped over 1%, as Europe's biggest cities clamped down to curb the virus and hopes wilted for new stimulus from Washington.
Hopes for a U.S. package to boost the coronavirus-hit economy before the presidential election next month have also fizzled out after U.S. Treasury Secretary Steven Mnuchin said such a deal would be difficult.
Nasdaq futures suffered an even bigger drop, sliding 1.8% after Goldman Sachs cut its recommendation on technology stocks to neutral, saying a barrage of policy and economic shifts will temporarily put an end to the outperformance of the sector."
NDX futures fell to an overnight low of 11737.75, leaving a potential Island Reversal in the NDX, as well.  Going into options expiration, dealer gamma may have turned negative, forcing even more selling in a virtuous loop of even more selling.  Heaven help those who are leveraged.  They may be the next target.
ZeroHedge comments, "Two days ago we discussed Tuesday's berserk, 4% meltup in the Nasdaq, which was the result of a double whammy as both dealer gamma (which was net short) and net spec NQ futures positioning (which was extremely short), were squeezed sending the tech index 4% higher.
But while readers are by now familiar with how the Nasdaq whale forces a market-wide squeeze at will, some have asked how gamma manifests itself at the single stock level.
To answer that we go to a case study from SpotGamma  released today, which looks at Amazon.com stock, which "is interesting here after the prime day fizzle."
VIX futures rose to an overnight high of 29.06, which may leave a gap at the open.
The NYSE Hi-Lo Index officially closed at 69.00, only 4 points above the 50-day Moving Average at 65.04.  This reveals the declining bullish momentum in the NYSE.  Below 65.00 is an aggressive sell signal.  However, the preponderance of evidence tells us there may be nothing aggressive about it.
TNX appears to be challenging the Intermediate-term support at 6.97 this morning.  The Cycles Model calls for a possible low early next week in a (minor) Trading Cycle.  The potential target appears to be the 50-day Moving Average at 6.78.
USD futures made a new overnight high at 93.84 as the demand for cash as a safe haven rises.  It now appears that some dealers are "selling their book" as they are caught wrong-sided on the USD.
KitcoNews proclaims, "Investors should look into selling the U.S. dollar and buying silver into the election, according to two new reports published by Goldman Sachs Group Inc.
There is a growing risk that the U.S. dollar will plunge to its 2018 lows as Democratic candidate Joe Biden continues to extend his lead in the polls prior to the election on November 3."
Gold futures are struggling at round number support at 1900.00.  Tuesday's rejection at Intermediate-term resistance at 1926.79 is a probable sell signal.  This sell signal may last until Thanksgiving week, almost 6 weeks away.
MarketWatch opines, "Gold futures resumed a slump for the week early Thursday as the U.S. dollar rose in the wake of new lockdowns in Europe to combat rising coronavirus cases, while equities worldwide slipped on fears of slowing economic growth.
Gold has moved in line with the dollar's strength absent other catalysts of late but some longer-term investors believe that a resurgence of the pandemic and the belief that the viral outbreak may lead to further global fiscal stimulus has been considered a boon for bullion.
"Ultimately, gold will benefit as Europe unleashes more stimulus and as investors grow comfortable with a slight pause in aid from Washington DC," wrote Edward Moya, senior market analyst at Oanda, in a note."
BKX appears to be poised to break through the 50-day Moving Average at 76.28. confirming its sell signal.  The current Master Cycle is due for completion at the end of October, as the Fed starts pumping liquidity again, going into the election.  However, the damage may have already been done, as the Head & Shoulders neckline awaits this decline.  Note all of the loan loss reserves "pulled" back as profits in the third quarter.  Of course, this will affect bankers' bonuses.  Do they know something we don't?
ZeroHedge reports, "Concluding a rather quick earnings season for financials which has seen mixed results from money-center banks, whose sharp revenue declines and tepid outlook on loss provisions – and outright misses in the case of Wells and BofA – sent their stocks lower, offset by strong performance by pure-play "hedge funds" such as Goldman, moments ago Morgan Stanley reported Q3 earnings which smashed expectations thanks to another quarter of stellar revenue from both equity and FICC sales and trading.
Morgan Stanley reported Q3 net revenues of $11.7 billion, up 16% from $10.0 billion a year ago, and solidly beating expectations of $10.6BN. Net income was $2.7 billion, or $1.66 per diluted share, up 25% from $2.2 billion, or $1.27 per share, a year ago, while adjusted EPS also jumped from $1.21 to $1.59, beating expectations of $1.28 (EPS was adjusted by tax benefits of $113 million which had an impact of $0.07 per diluted share; as a result, the effective tax rate was 21.1% vs. 18.2% y/y, below the expected 23.5%). As Bloomberg observes, it is "fascinating that some of these firms, including Morgan Stanley, were able to pull off better results than a year ago despite being in the middle of a pandemic."
October 14, 2020
3:00 pm
Mind the Gap.  While the market is prone to whipsaw a shorting attempt, I am suggesting an aggressive short may be in order.  The reason is that the gap appears to be filling with (at least) one more probe lower.  With the Master Cycle at day 257, that may give us our aggressive sell signal, so I am calling it early.
NorthmanTrader comments, "As our see no risks market continues chugging along near all time highs again you may have noticed that many of the gains since the September lows are again coming via magic overnight gaps.
So what you say? If the market doesn't mind it doesn't matter. And it's true as Art Cashin once said: "All gaps fill, if ever". A cheeky hint that gaps can remain unfilled for a long time or never fill.
But if the entire rally construct is dependent on open overnight gaps one has to wonder."
10:15 am
ZeroHedge comments, "If there is one constant during earnings season, it is that no matter what the other banks do, Wells Fargo will always shit the bed, and this time was no different, with the stock sliding after reporting that Q3 earnings missed again as its Net Interest Margin dropped to a fresh all time low, while issuing an ominous warning that customer payment deferrals in the wake of the pandemic may delay the recognition of net charge-offs and delinquencies.
Wells reported Q3 EPS of just $0.42, down more than 50% from the 0.92 a year ago, and missing expectations of $0.45 even as Revenue of $18.862BN beat estimates of $18.0BN, but plunged 14% from $22BN a year ago. The bank reported Q3 net income of $2 billion, which was up $4.4 billion from the previous quarter, but down 56% from $4.6BN a year ago, on "lower provision expense and higher non-interest income on broad-based growth including higher mortgage banking income, partially offset by lower net interest income and higher noninterest expense, which included restructuring charges."
9:15 am
BKX slipped beneath the mid-Cycle support at 78.55 yesterday, putting it on a sell signal after Monday's Master Cycle high at 80.75.  So why are bank stocks declining after blow out earnings reports?  Could it be that their bonuses are based on quarterly earnings?   The fact is, insider selling is prohibited until after the quarterly earnings are reported.  So, as (fake) earnings come out, selling begins at the top.
ZeroHedge reports, "Unlike JPM, BofA, Citi and Wells, Goldman Sachs is lucky that it remains a pure play trading operation (the joke that is Marcus notwithstanding), and perhaps that's why Goldman provided a ray of hope for the battered banking sector after BofA's dismal earnings report and yesterday's lackluster results from JPM and Citi.
Unlike BofA's disappointing sales and trading results, Goldman reported revenues and EPS which smashed expectations, with Q3 revenues of $10.78BN, up 30% Y/Y, and smashing exp. $9.40, resulting in Q3 EPS of $9.68, double the $4.79 reported a year ago, and also trouncing the estimate of $5.52."
Again, ZeroHedge reports, "After yesterday's results from JPMorgan and Citi which initially surprised with the plunge in their Q3 loss provisions (which however the banks explained was not due to some optimism over the economy but merely due to previous overprovisions), today this trend continued when Bank of America reported Q3 results which were generally in line however boosted largely by another far lower than expected provision for loan losses.
The bank reported that in Q3, revenues tumbled by 11% to $20.3BN, down from $22.8BN a year ago, pressured "by low interest rates", and missing estimates of $20.8BN. This resulted in Net Income of $4.9BN and adjusted EPS of $0.51, also well below last year's $5.8BN and $0.56, respectively, but slightly better than the $4.3BN and EPS $0.49 expected."
8:00 am
Good Morning!
SPX futures have tested the 3500.00 round number support this morning.  However, it has bounced and remains near the closing price.  Chart action gives us a sell signal under 3475.00, where the gap is closed.  Otherwise the open gap may act as support for a final probe higher to Cycle Top resistance at 3560.78.  Today is day 257 in the Master Cycle.
ZeroHedge observes, "US equity futures and world stocks were flat below recent record highs after several days of ramping higher driven by strength in tech, while Europe's STOXX 600 slipped, reversing an earlier gain with markets in Frankfurt, London and Paris were down around 0.3% following moves to address rising coronavirus infection rates in Europe.
The market was unsure what to do after a downbeat day on Tuesday, when stocks dropped after two COVID-19 trials were delayed, and U.S. stimulus hit an impasse. The losses began when Johnson & Johnson said it was pausing a COVID-19 vaccine trial after a study participant suffered an unexplained illness. Eli Lilly and Co later said it too had paused the clinical trial of its COVID-19 antibody treatment because of a safety concern, leading the U.S. equity market to deeper losses. J&J shares lost 2.3% and Eli Lilly closed down nearly 3%. Oil driller Concho Resources Inc. jumped after a report that the company is in talks to be acquired by ConocoPhillips."

NDX futures remain in a consolidation pattern this morning.  The nearest chart sell signal may be made by a decline beneath 11700.00.   However, we will also be watching the VIX and Hi-Lo for signals, as well.
NorthmanTrader observes, "
Amazing times all around. Most astounding perhaps the level of complacency building in markets into the US election and into year end.
Most of the market appears to have adopted a see no risk attitude. Hear of no risk, see no risk, speak of no risk.
No matter who wins the election it's bullish, no matter what happens more stimulus is coming. And besides, if all else fails the Fed will just print more."
VIX futures revisited its 50-day Moving Average at 25.50 this morning, but is now creeping back into positive territory.  Today is options expiration for the VIX.  Its behavior may be dependent on gamma chasing algos as the expiration approaches.
TNX continues its decline toward the 50-day at 6.76.  A trading Cycle pivot awaits TNX early next week, so this correction may be short-lived.
USD futures have pulled back to the 50-day Moving Average at 93.31.  This may be the final test of support prior to a possibly explosive move higher.
DBA is nearing the end of the current Master Cycle with a proposed target being the 50-day Moving Average at 14.54.  The Cycles Model suggests a reversal may be due by Monday, if not sooner.  Remember, this represents food prices at the producer level, not the consumer level.
ZeroHedge reports, "Following yesterday's mixed bag for consumer prices (used cars soaring, rent/shelter slowing), producer prices were expected to shift back into very modest inflation YoY in September (and after 5 straight months of deflation), and across the board PPI printed hotter than expected.
PPI Final Demand rose 0.4% MoM (double the +0.2% exp) sending PPI up 0.4% YoY (against expectations of a 0.2% rise) – the first inflationary print since March…
MichaelSnyder comments, "There was a time when preppers were relentlessly mocked, but nobody is laughing now.  Today, most Americans are thinking about stockpiling food, and this massive shift in our national mindset has been sparked by concern about what is going to happen in the months ahead.  Many Americans believe that another wave of the coronavirus pandemic is coming, others believe that our ongoing economic depression will get even deeper, and yet others are convinced that the upcoming election could produce widespread violence.  Of course there have always been people that have been deeply alarmed about future events, but we have never seen anything quite like this.  In fact, a brand new survey has found that over half of all Americans are currently planning "to stockpile food and other essentials"…
Slightly more than half of Americans in a recent poll from Sports and Leisure Research Group say they already have or plan to stockpile food and other essentials. The chief reason: fears of a resurgent pandemic, which could lead to disruptions such as new restrictions on businesses. On Oct. 2, the number of COVID-19 cases in the USA was its highest in almost two months.People still remember the shortages that we witnessed earlier this year when the coronavirus pandemic first erupted in this country, and those that ended up being stuck at home without enough toilet paper would rather not repeat that experience."
October 13, 2020
1:57 pm
VIX is making new highs above its 50-day Moving Average.  This would be considered an aggressive buy (SPX sell) signal until confirmed by the Hi-Lo (at 99.00/60.00 is the sell point) or a decline beneath the open gap in the SPX.
1:38 pm
BKX is hovering over it's mid-Cycle support at 78.55, beneath which it is on a sell signal.  Confirmation of that signal comes at the crossing of the 50-day and Intermediate-term support at 76.96.  The liquidity proxy is now losing ground and may have an effect on equities.  Banks are becoming even more reluctant to lend as the following article explains.
ZeroHedge reports, "There was a remarkable disclosure in the latest JPMorgan earnings report: the company reported that in Q3, its average deposits rose by a whopping 30% Y/Y, and up 5% from Q2, to just over $2 trillion, even as the average amount of loans issued by the bank were virtually unchanged Y/Y at $991 billion, and down 4% from Q2.
In other words, for the first time in its history, JPM had 100% more deposits than loans, or inversely, the ratio of loans to deposits dropped below 50% for the first time ever:
10:44 am
Gold futures took a tumble beneath round number support at 1900.00 this morning, hitting a low of 1889.65.  This appears to be the end of a corrective bounce from the low at 1851.00 on September 24, less than three weeks ago.    The slump was so recent that the media hasn't caught up, the majority still being bullish.
10:17 am
NDX suddenly "switched gears" at the open after making a new high in the futures, opening beneath that level and declining back to yesterday's close.  Should yesterday's gap be filled on the downside at 11700.00, a potential sell signal may be generated.  The would create a "Key Reversal" in the futures.
The NDX Hi-Lo opened at 19.00 and has since risen to 58.00, beneath the 50-day at 78.76, after hitting a Master Cycle high at 223.00 yesterday.  This may not be a sell signal yet.  We want to see where the Hi-Lo closes.  Beneath the 50-day would be an aggressive sell.  With the large caps dominating, we would want to see the Hi-Lo drop beneath 0.00.  Still, this puts us on alert to the sudden loss of momentum in the NDX.
ZeroHedge reports, "Nasdaq was on a charge again overnight, incessantly bid from the open in Europe, after yesterday's three-legged meltup – the biggest day in six months – on the heels of what appeared to be the re-emergence of 'Nasdaq Whale', which Softbank vehemently denied was them last night (thou doth protest too much?)…
As we detailed yesterday, the combination of extreme short speculative futures positioning and the 'Gamma-Squeeze' is driving Nasdaq – and thus the mega-tech names – virtuously higher…
…the same "gamma squeeze" dynamic we observed in mid/late August when Masa Son's SoftBank ended up buying billions in call spreads, sparking a meltup in tech names is back and just like in August, liquidity is dismal which likely means that SoftBank is back for round three (after a failed attempt to squeeze the Nasdaq higher two weeks ago)."
Good Morning!
SPX futures are nominally lower, but not a threat to the uptrend.  Unfortunately, the uptrend isn't threatened above 3396.10 by chart standards.  However, this is where the VIX and Hi-Lo Index may be helpful.  Both appear sensitive to a reversal near this level.  The Cycles Model calls the shift in trend on Thursday, but the markets are stretched to an extreme that may not last until then.
ZeroHedge reports, "Global stocks and S&P futures struggled on Tuesday amid concerns over a Johnson & Johnson vaccine setback, which overshadowed Chinese trade data that pointed to a buoyant recovery, while yields dropped and the U.S. dollar edged away from a three-week low.
S&P 500 contracts were modestly in the red after falling as much as 0.6% after a late Monday report that Johnson & Johnson's Covid-19 vaccine study has been paused due to an unexplained illness in a participant. BlackRock rose in pre-market trading after earnings beat estimates and assets under management surged to a record, while JPMorgan climbed after revenue and EPS topped expectations as a result of a massive reserve release.
However while the S&P was trading with fractional losses, Nasdaq futures were sharply higher again as the European open appears to have triggered a continuation of yesterday's gamma squeeze which sent the Nasdaq up as much as 4% in what many believe is another attempt by a Nasdaq whale such as SoftBank to squeeze shorts in either options or NQ futures, as we explained yesterday."
RealInvestmentAdvice observes, "As discussed in Hopes Of More Stimulus, the market has rebounded following the September decline. Unfortunately, the market has again gotten quite ahead of the fundamentals as money continues to chase performance. In the Q3-2020 review of the Commitment Of Traders report (COT,) we can see how positioning has moved back towards extremes. Once again, "everyone's back in the pool." 
The market remains in a bullish trend from the March lows but has returned to more extreme o0verbought conditions on an intermediate-term basis. Despite valuations on a 2-year forward basis at more extreme levels, economic growth recessionary, and a significant risk of a failure to pass more stimulus, investors continue to chase markets."
NDX futures rose even higher this morning to 12248.75 in a possible effort to reach the Cycle Top at 12391.75.  Momentum speculators are pushing the envelop for all its worth to reach new heights.  However, we are days, if not hours, away from the Master Cycle top.  The race against time may fare badly for those rising this wave.
ZeroHedge observes, "Heading into the weekend, we observed that despite the recent drift higher in the Nasdaq last week after its September correction, institutional investors remained skeptical with a near-record number of non-commercial spec shorts in the Nasdaq 100 mini according to the latest CFTC Commitment of Traders report, and after spiking to a historic level just two weeks earlier, the negative bets on the Nasdaq stubbornly persisted…
… perhaps in response to the recent surprisingly bearish note from Morgan Stanley which warned that the tech plunge would accelerate, and which forced many institutions into bearish positions."
VIX futures are hovering at the 50-day Moving Average at 25.50 as SPX futures lose momentum while NDX futures surge.  It appears that VIX has an itchy trigger finger.  A solid crossing above the 50-day gives us an SPX sell signal.
The NYSE Hi-Lo closed at a very high 176, but down from its intra-day high at 232.00.  A decline in the Hi-Lo beneath mid-Cycle levels at 51.63 may trigger a sell signal.
TNX is now in a corrective mode that may last a week or more.  The probabilities are that TNX may decline to its 50-day Moving Average at 6.72 or retest the trendline near 6.50.  This represents a flight to safety from equities.  However, it may not last since the declining Wedge formation has been broken to the upside, limiting the downside gains with a very strong support.
USD futures appear more buoyant on day 258 of the Master Cycle.  The morning high was 93.27, not yet testing the Intermediate-term resistance at 93.37.  A breakout above that level give the USD a buy signal with a possible target being the Broadening Wedge trendline and mid-Cycle resistance at 96.89.
CNBC reports, "Goldman Sachs has recommended short positions against the U.S. dollar, arguing that the risks arising from vaccine trials and the U.S. election are skewed to the downside for the greenback.
In a note to investors Friday, Goldman analysts said they saw "low odds" for the most dollar-positive outcome by the end of the year. They named this as an electoral victory for President Donald Trump, combined with a meaningful delay to vaccine progress."
BKX took a stab at its 220-day Moving Average at 81.21 yesterday.  Today is day 256 of its Master Cycle, so I would not position myself for a run above the 200-day.  In fact, I am looking for an imminent reversal in BKX, despite its perceived "breakout" above its September high.
ZeroHedge reports, "One of the intended consequences of the Fed's now relentless intervention in markets, has been the gradual eradication of all stock and ETF shorts, which as the following chart from Deutsche Bank shows, have collapsed to near all time lows (the Y-axis is inverted), thanks to the market's relentless grind higher which has made shorting stocks an especially masochistic ordeal (and a source of recurring alpha for all those who take the opposite side).
One of the unintended consequences of this near-extinction of market bears is that financial companies that traditionally make money from lending out shares to shorts are hurting, badly, as the collapse in short has resulted in a sharp revenue drop for those asset managers and brokers who mediate such trades.
According to Reuters, which uses figures from research firm DataLend, stock lenders' revenue plunged almost 15% in the year to Sept. 30 from 2019, while revenue for the September quarter alone was $1.8 billion, the lowest in the four years of comparable records."
October 12, 2020
7:40 am
Good Morning!
SPX futures are rising on the morning of day 255 in the Master Cycle.  Having reached the 61.8% Fibonacci retracement on Thursday, it may be targeting  round Number resistance at 3500.00 or the 78.6% retracement level at 3507.08.  SPX futures have clearly exceeded Friday's high which occurred at a Cycle pivot point, but now doesn't appear to be the turn we are looking for. The next scheduled turn may be late Thursday afternoon.
ZeroHedge reports, "As Mohamed El-Erian says, this is market that will just keep going up no matter what, and will goalseek whatever narrative it needs to "explain" the levitation catalyzed by $90 trillion in central bank liquidity. Today, that narrative is focusing on – what else – fresh optimism about fiscal stimulus despite there being virtually no hope of Congress reaching a deal before the elections, as well as "improving corporate earnings" with Q3 earnings season set to begin officially tomorrow when US banks start reporting.
All of that combined to push S&P futures 0.5% to fresh five week highs of 3,492 and less than 80 points away from the all time high of 3,568 hit on Sept 2, with the index rising in a straight line for 160 points from its Tuesday lows, while global stocks hit a five-week high led by China's post-holiday surge as investors bet on a steady recovery for the world's no. 2 economy, offsetting "worries" about rising COVID-19 cases in Europe and the United States. Oil fell, the dollar rose and Treasuries are closed for Columbus Day. House Speaker Nancy Pelosi and Treasury Secretary Steven Mnuchin are expected to talk more this week about an economic stimulus plan.
NDX futures failed to meet the 61.8% Fib retracement on Friday, but is making it up this morning by surging to 11927.75.  The current Master Cycle has had 14 days of decline to September 23.  As of Friday it completed 12 days of rally.  One sign of a bear market is that the corrective rallies are shorter in time than the declines.  We must stay alert for the possibility of the next decline beginning sooner than Thursday.
SPX futures are rising, which should give us pause.  Futures challenged the 50-day Moving Average at 25.50, but pulled back.  However, after the pullback on Friday, crossing the 50-day puts us on high alert for a change in direction in the market.
TNX opened above Friday's closing price in its final day of strength before a possible week-long pullback.  A rally above the mid-Cycle resistance at 8.20 may extend the rally, but for now the more likely event may be a pullback to the 50-day Moving Average at 6.68.
USD futures are hovering beneath the 50-day Moving Average at 93.31.  Today is day 257 in the Master Cycle and we are now looking for a strong, sustained rally (up to 3 weeks) to begin in the next few days. It is likely for the rally to reach the mid-Cycle resistance at 96.91.
October 9, 2020
Good Morning!
SPX futures are higher, as projected at the close yesterday.  The overnight futures high was 3459.62, translating roughly to 3470.00 cash.  This may have been the top, although we won't know until the open.  The Cycles Model suggests a significant turn may be made by noon today.
ZeroHedge reports, "ust two days after a Trump tweet "crushed" hopes for any more fiscal stimulus talks, optimism for not just a stimulus deal but for a "large-scale" deal is back front and center, after the White House reversed again late on Thursday after media reports that Trump was concerned by the market reaction to him walking away from stimulus discussions, and signaled that the administration is again leaning toward a large-scale stimulus bill after House Speaker Nancy Pelosi pushed back on the idea of individual measures for parts of the economy hit by the Covid-19 crisis. According to a Pelosi spokesman, Mnuchin told Pelosi in a 40-minute call that President Donald Trump wants agreement on a comprehensive stimulus package, which was enough to send futures blasting higher, and hitting 3460 overnight, a level last seen on Sept 4 just after the market slumped from its all-time highs. The MSCI world equity index was up 0.1% at a more than one month high; yields and the dollar dropped, while the Chinese yuan and gold surged.
NDX futures show an overnight high at 11601.12.  It has since backed down, as well.  It appears to have made a new high, whether it hits the trendline or not.
VIX futures revisited the 50-day Moving Average at 25.50 in the overnight session.  It appears that the original Cup with Handle trendline at 24.84 may have been offering support during the pullbacks.
Quartz opines, "Wall Street traders think a contested US presidential election is becoming less likely, as polls suggest Democratic candidate Joe Biden is increasing his lead over president Donald Trump.
Derivatives linked to volatility had jumped in recent weeks, after Trump claimed mail-in ballots were subject to fraud and refused to commit to a peaceful transfer of power. These futures contracts are tied to the VIX volatility index, sometimes called the "fear gauge," and they allow traders to speculate on whether stock market price swings will increase or decrease."
TNX is moving higher this morning and may be aiming for mid-Cycle resistance at 8.26 and a possible breakout.  However, should TNX not break above the June high at 9.57, it may, in fact, go dramatically lower into the Master Cycle ending the week of Thanksgiving.
ZeroHedge observes, "We previously showed that when it comes to Wall Street bets on what the Treasury yield curve does next, there has never been greater confidence in even more steepening: as the below chart of leveraged and speculator net positions in 30Y futures shows, traders have never been more short, with the latest CFTC data showing combined net shorts in long bonds both at records with a combined net short of over 620,000 contracts.
The rationale is simple: with virtually everyone is expecting a fiscal stimulus flood whether before or after the election which Wall Street is now convinced will be won by Biden – as a reminder, Goldman recently predicted that the "increasingly likely" Blue Sweep would mean up to $7 trillion in new fiscal stimulus and a surge higher in 10Y yields…"
USD futures have been challenging the 50-day Moving Average at 93.30 in the overnight session.  That potential loss of support may further the decline as agreement on the stimulus bill becomes the next catalyst for devaluing the USD.
FXStreet observes. "The second stimulus bill currently under negotiation may be the next catalyst for the decline in US Dollar. The negotiation between Democrat and Republican gained urgency last week as President Trump contracted the virus and required hospitalization. House Speaker Nancy Pelosi and Treasury Secretary Steven Mnuchin continues to negotiate a proposal to send second stimulus check and other aids to Americans. The Democrats offered a $2.2 trillion package whereas the White House administration offered $1.6 trillion. There is currently still a $600 billion gap between the two parties. However, both sides have come closer compared to weeks ago when negotiations broke down."

BKX is in day 252 of its Master Cycle and may be approaching its 200-day Moving Average at 81.55.  This has been a very ragged corrective pattern that appears to be nearing its end.  BKX is a proxy for liquidity which has been on the rise.  However, this re-liquification is based on the promise of more stimulus.  Should that not occur, the bottom falls out.

Food prices have been rising, leading the Agriculture Fund to test its Head & Shoulder neckline.  Should it break above 15.00, the Head & Shoulders target may become activated.  However, DBA is within a week of its Master Cycle terminus.  That suggests a possible breakdown to lower levels since the rally appears corrective thus far.
ZeroHedge reports, "Food prices continue rising during the coronavirus pandemic, jeopardizing food security for tens of millions worldwide.
On Thursday, the Food and Agriculture Organization (FAO) of the United Nations said world food prices rose for the fourth consecutive month in September, led by surging prices for cereals and vegetable oils, reported Reuters.
FAO's food price index, which tracks the international prices of the top traded food commodities (cereals, oilseeds, dairy products, meat, and sugar), averaged 97.9 in September versus a downwardly revised 95.9 in August.
FAO's cereal price index jumped 5.1% in September and is 13.6% above its value one year earlier. "
October 8, 2020
3:57 pm
SPX finally hit the 61.8% retracement of its September decline.  In addition, it may be within hours of a major Cyclical turn.  The upthrust still has room to rise to 3475.00 by Elliott Wave rules.  By noon tomorrow the entire Cycle from September 2 (top-to-top) will have elapsed 25.8 days.  Tomorrow is day 252 of the Current Master Cycle and could very well end as an inversion.
ZeroHedge reports, ""I'm quite concerned," warned Goldman's Abby Joseph Cohen (AJC) this morning during an interview with Bloomberg TV as the infamous permabull from The DotCom era has changed her tune dramatically on stocks and appears to disagree with her colleagues."

Good Morning!
SPX futures appear to have made a new retracement high this morning, at least in the futures.  There has been a brief pullback beneath Tuesday's high, but the damage may have been done.  Interestingly enough, the Cycles require a minimum of 4.3 days for a crash.  A high today would put the bottom of the decline precisely on next Thursday, day 258 of the current Master Cycle.  Should the SPX not make its high today or overnight, then a more complex series of events may take place.
ZeroHedge reports, ""Explanations" for overnight market moves have drifted from the merely comical and veered into the surreal. Case in point, this morning Bloomberg writes that "futures contracts on U.S. equity indexes rose, suggesting gains on Wall Street will be extended to a second day on stimulus optimism" and Reuters chimes in that "futures rose for a second straight day on Thursday as bets of a piecemeal fiscal stimulus deal lifted sentiment" while just hours earlier the Financial Times led with this:
In short, whichever direction stocks drift, that's where one can find "stimulus sentiment" at any given moment. The only question we have is what is the direction of causality.
In any case, S&P futures rose for a second straight day after yesterday's 1.7% surge because "there were more buyers than sellers" or whatever, with the S&P now back above the level where the S&P puked on Trump's infamous "no more talks" tweet."
NDX futures appear to have broken above its recent trading range to a high to 11577.75 this morning.  This puts the trendline resistance at 11750.00 back in sight.  It may only be momentary, so hang on!
VIX futures are probing Tuesday's low in morning trading.  It has not violated the 50-day Moving Average at 25.47, but may test it later today.

The NYSE Hi-Lo Index extended its Master Cycle high to yesterday at a daytime high of 163.00.  The next Master Cycle (low, I presume) is due on November 25.  This tells me that we may not know the election results until the day before Thanksgiving.
TNX appears to be consolidating in place as the next move is contemplated.  What follows may be serious indeed, since the current Master Cycle doesn't end until Thanksgiving!
ZeroHedge writes, "Unlike yesterday's record large 3Y auction, today's auction of benchmark 10Y paper sold "only" $35BN in new paper, the same as last month and down from the all time high of $38BN in August.
However, like yesterday's 3Y auction, today's sale of 10Y paper also stopped at a higher yield than last month, printing at 0.765%, on the screws with the When Issued, and up 6.1bps from last month's 0.7040%. With today's auction, the trend of rising auction yields continued for a forth month after hitting an all time low of 0.653% in July.
Perhaps due to the higher yield, and modest supply, the Bid to Cover rose from 2.30 last month to 2.47, the highest since July and just below the 2.48 six-auction average."
USD futures are also consolidating, but may move lower for the next few days.  It has a Master Cycle low due next Tuesday, after which USD may soar for more than a month.  In other words, the Cycles are telling us the trend is up through Thanksgiving.
FXEmpire reports, "EUR/USD managed to stay above the key support level at 1.1750 and continues its attempts to gain additional upside momentum as the U.S. dollar is losing ground against a broad basket of currencies.
The U.S. Dollar Index is currently trying to settle below 93.50. If this attempt is successful, U.S. Dollar Index will have a chance to test the recent lows at 93.35. A move below this level will provide material support to EUR/USD."
October 7, 2020
11:24 am
SPX gapped higher at the open to the 61.8% Fibonacci retracement at 3404.17 where it remains stalled.  It appears very sensitive to the tweets of Donald Trump, but any news could trigger a strong reaction.
ZeroHedge remarks, "Futures initially pushed lower to 3330 overnight before recovering to 3375, squarely between the large 3350/3400 interest areas.
The overnight update to SpotGamma's Gamma Index shows both SPX & NQ are sitting with very flat gamma positions. It appears Trump took to Twitter offering various "light stimulus" proposals which has helped stabilize things.
There was some interesting SPX volume yesterday with ~30k each (puts/calls) at 3400 and a decent uptick in 3350 put positions (~10k). You can see here how put OI increases as the market slides lower."
7:40 am
Good Morning!
SPX futures have bounced from their evening low and appear to be hovering just above the 50-day Moving Average at 2268.65.  The 38.2% Fibonacci retracement level is at 3384.35.  The mid-Cycle resistance is at 3389.90, beneath the 50% retracement level at 3393.28.  It's too soon to tell how far the retracement bounce may go, but the bounce appears weak at this time.
Yesterday's high was exactly 22 market days from the September 2 high.  The current Cycle [Wave (3)] may take as little at 6 more days.  The decline may also be incredibly strong, as the Cup with Handle formation suggests a low near 1872.20 in this phase of the decline.
ZeroHedge reports, "It's been a rollercoaster 24 hours for markets, which initially surged on Tuesday on fresh fiscal stimulus hopes, only to see said hope crushed by Trump at exactly 2:47pm, when the president tweeted that had had "instructed my representatives to stop negotiating until after the election when, immediately after I win, we will pass a major Stimulus Bill that focuses on hardworking Americans and Small Business." The tweet unleashed a furious selling spree, which saw S&P futures drop as low as 3,330 overnight after closing 1.4% lower, more than 90 point from their pre-Trump tweet highs.
The tweets sparked the worst session for the S&P 500 and the Dow in two weeks, while airlines sank 3% as the move appeared to scuttle $25 billion in new bailout for the industry. All this happened just hours after Fed Chair Jerome Powell called for more help for businesses and households to keep a nascent economic recovery from faltering."
VIX futures eased to a low of 29.24 and remains beneath yesterday's close.  It has not broken above the mid-Cycle support, but remains on a buy signal above the 50-day Moving Average at 25.43.
SchaeffersResearch observes, "Last Thursday's trading session stood out to me, as the S&P 500 Index (SPX – 3,348.44) gapped and closed higher in a choppy session. I noticed that the CBOE Market Volatility Index (VIX – 27.63), after trading below two key moving averages that I have monitored closely – specifically the 30-day and 252-day moving averages – closed the day above both trendlines. My immediate thought is that no matter what equities do in the month ahead, volatility due to election uncertainty will remain elevated.
I also thought that chances were pretty good that Friday's opening could be weak, as the VIX had a chance to close below its 252-day moving average, but it did not, despite the market finishing the day fairly strong. It was overnight news that U.S. President Donald Trump and First Lady Melania Trump tested positive for COVID-19 that sealed the deal for a weak Friday opening, and calls for higher volatility amid more uncertainty."
USD futures may have found support at the 50-day Moving Average at 93.34 and begun the final probe higher.  This may be short in time but dramatic nonetheless, should equities fall out of bed.  The target may be mid-Cycle resistance at 96.97, or possibly even higher.  It is possible to rally to the Cycle Top resistance at 102.41.
DailyFX reports, "Haven inflows may fuel the US Dollar's rebound higher in the coming days, as Federal Reserve Chairman Jerome Powell's warnings of tragic economic consequences in the absence of additional fiscal aid went unheard by President Donald Trump.
Mr Trump decided to pull the plug on Congressional stimulus negotiations ahead of the US Presidential Elections on November 3, stating that "I have instructed my representatives to stop negotiating until after the election when, immediately after I win, we will pass a major Stimulus Bill that focuses on hardworking Americans and Small Businesses".
This abrupt cessation in bipartisan talks may concern Chair Powell given his recent remarks stressed that "the expansion is still far from complete [and] too little support would lead to a weak recovery, creating unnecessary hardship".
TNX ramped higher this morning as uncertainty about the stimulus rises while the Fed balance sheet shrinks.  The Cycles Model suggests this may continue for another week.
ZeroHedge remarks, "After three consecutive record-large 3Y Treasury auctions, which also priced at progressively (record) lower yields, moments ago the Treasury sold another record amount of 3Y paper, when it auctioned off $52BN, up $2BN from $50BN a month ago, but in a notable reversal from the recent trend, the yield on today's auction was 0.193%, which not only tailed the 0.191% When Issued by 0.2bps, but was the first 3Y auction since June that did not price at a new all time low yield, printing 2.3bps higher than the 0.17% in September.
Despite the headline weakness which was largely a result of the recent steepening and selloff across the curve (but mostly in the long-end), the rest of the auction was actually stronger than last month's, with the Bid to Cover rising from 2.28 in Sept to 2.44, above the 2.42 six-auction average. The internals were solid as well, with Indirects rising from 50.7% to 55.7%, the highest since July and above the 54.2 recent average. And with Directs taking down 12.6%, Dealers we left with 31.7% of the auction, down modestly from the 36.3% last month, and the second lowest Dealer takedown of all 2020."
October 6, 2020
3:34 pm
SPX has declined from its peak at 3431.56 and has challenged the 50-day Moving Average at 3368.74.  It may retreat to mid-Cycle resistance at 3390.04 before moving lower.  The turning point came at 3:00 pm as suggested in this morning's report.  We now have an aggressive sell signal which becomes confirmed beneath the 50-day Moving Average.
ZeroHedge reports, "We have been warning for weeks that no stimulus deal would happen before the election, and moments ago none other than president Trump confirmed just that.
Trump, who has been in the White House less than a day since his return from Walter Reed, just crashed stocks, bond yields and sent the dollar soaring, when he tweeted that due to Nancy Pelosi's "bad faith" negotiations, he has instructed representatives "to stop negotiating until after the election" and instead to focus on approving Amy Coney Barrett to the Supreme Court."
11:39am
NDX peaked on Thursday and appears to be leading the decline from the Wave (2) peak.  A Wave (3) decline may prove to be powerful as the Cup with Handle portends.  NDX has already declined beneath Intermediate-term support at 11453.22 and has given an aggressive sell signal which becomes a confirmed sell signal beneath the 50-day Moving Average at 11293.00.
The Cycles Model targets Thursday, October 15 as the strongest day of the decline.  Whether the decline ends (even temporarily) there is yet to be determined.  Friday, October 16, is options expiration.  Keep in mind that we may see a repeat of  Thursday, September 18, 2008, where we saw a low of 1133.50 only to see an overnight ramp to 1265.12 on Friday morning in time for options expiration.  Thousands of put contracts were wiped out in that overnight raid.  No one expects a panic decline in the next two weeks.  However, Wall Street may need to protect itself against a negative gamma implosion going into options expiration.
8:00 am
Good Morning!
I spent the entire day driving home and arrived late.  I have only now caught up on my rest.  thank you for your patience.
SPX futures have been challenging the 3400.00 area, but have retreated beneath it.  The 50% retracement level of the September decline is at 3398.12, suggesting heavy resistance.  The Cycles Model suggests the next turning point may be this afternoon.  Re-crossing the 50-day Moving Average at 3360.08 tells us the new decline is underway.
ZeroHedge reports, "During yesterday's market ramp, Eminis hit a brick wall at exactly 3,400 which according to SpotGamma yesterday is exactly where the "gamma wall" in the S&P was to be found.
However, now that the trading range has reset higher and the S&P is set to open around 3,400 what are the key "gamma" levels for the market?  For the answer we go to the latest note out of our friends at SpotGamma who note this morning that not surprisingly, the largest interest area shifts from 3350 up to 3400.
As the derivative experts explain, if the market can sustain the rally up into 3500, "gamma notional levels increase which should add some stability to S&P prices" however, the tricky part for bulls here is that the modeled "Call Wall" did not roll up much overnight. That said, they see 3410 as the largest positive gamma strike "which indicates resistance and/or a tendency for markets to mean revert should this level be broken."
In addition, ZeroHedge observes, "S&P futures drifted following yesterday's surge to 3,400 following news that Trump was returning to the White House ahead of a 1040am ET speech by Fed Chair Powell in which expected to repeat that the Fed has done as much as it can and the recovery is now in the hands of lawmakers. Oil and treasurys climbed while the dollar was little changed as investors focused on President Trump's health and awaited progress on an American virus relief package, where Politico reported that Nancy Pelosi said that stimulus negotiations with Steven Mnuchin were going "very slowly" during a Monday night conference call with Democratic leaders.
VIX futures are down to a low of 26.01 overnight, but still above the 50-day Moving Average at 25.37.  A breakout above the mid-Cycle resistance at 31.08 gives us our first indication of a resumption of the rally in VIX.
SeekingAlpha comments, "Oil going negative. The Swiss Franc de-pegging from the US Dollar. The Dow losing 1000 points in 36 minutes in the flash crash. These were all outlier events there in plain sight, reported ad nauseum in the financial press. But the largest front month VIX index loss during a down month in the S&P 500 in the past 10 years, that's not quite front-page news for the Wall Street Journal. And, to be honest, it was a bit of a non-event except in the small circle of traders and investors who utilize the negative correlation between the VIX and stock market to structure dynamic market hedges. But in that small circle, September was as crazy of a month as most of them can remember."
TNX emerged from its Triangle formation last week and is now surging higher, roiling the shorts and giving the wrong "signal" to the other markets.  The Cycles Model indicates  a high level of strength over the next week or so, suggesting a breakout above the June high is possible.
The NYSE Hi-Lo Index opened beneath the 50-day Moving Average at 58.98, indicated overhead resistance.  We'll be watching that indicator as the day progresses.
USD appears to be completing its test of its 50-day Moving Average.  The Cycles Model suggests a spike higher is in the works.  The natural target appears to be the mid-Cycle resistance at 96.99 or the Broadening Wedge trendline just beneath it.  The next Master Cycle turn appears to be next mid-week.